Tryon calls on the middle-order to pull their weight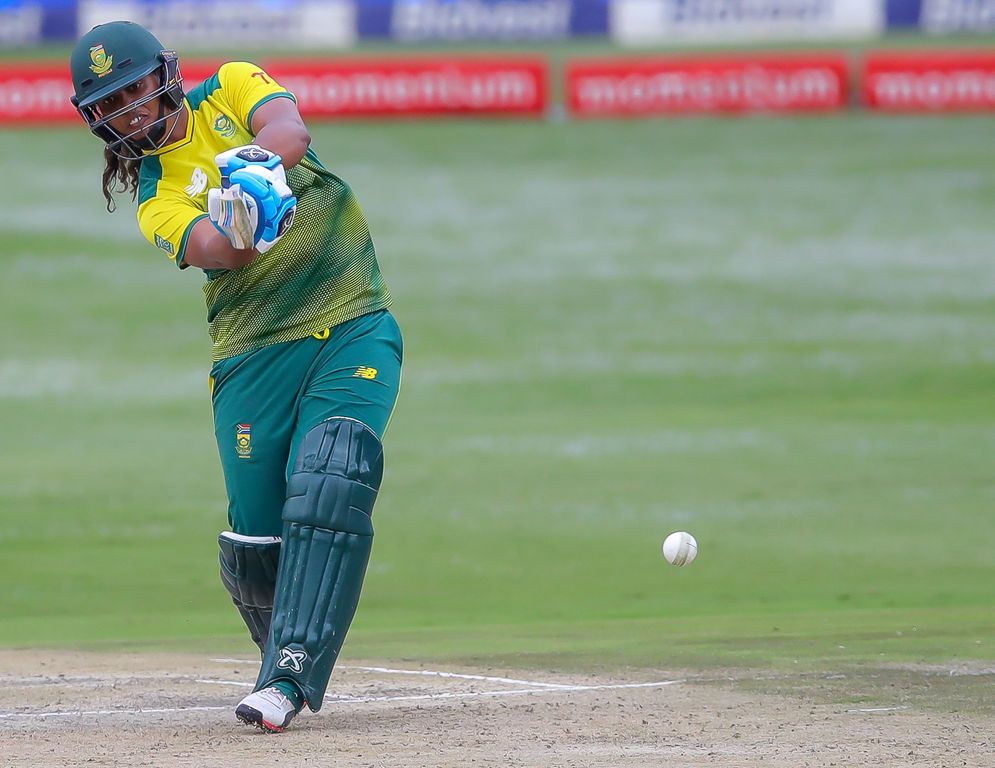 Proteas women's vice-captain Chloe Tryon believes the team boast some of the best batters in world cricket but admits that they have not capitalized on opportunities offered consistently enough.
She spoke ahead of the team's second unofficial warm-up match against India in Antigua on Wednesday and expressed her hopes to see the batting unit finally click during the 2018 ICC Women's World T20 which will be played in the West Indies from 09-24 November.
South Africa lost their first unofficial warm-up match by 17 runs to England on Monday, but Tryon says the team took a lot of positives out of that exercise.
"The first warm-up game we struggled a bit, especially the middle order with the bat and it's something that we're addressing," she commented. "We started really well up front with Lizelle (Lee), but we just couldn't carry on that momentum. That middle period of the seventh to the 15th over, we need to capitalize on. The girls have taken a lot in and have been working on a lot of specifics today and we're looking forward to tomorrow. We know that India is going to be bowling a lot of their spinners, so we've been working on a lot of different options and running between the wickets is going to be really key for us."
Batting collapses have plagued the team in recent times, but Tryon is adamant that it is not a skills problem but rather a mental and confidence issue that each individual needs to address. She said that the unit is working hard at keeping focussed and on playing positive cricket rather than allowing themselves to be sucked into playing the way the opposition want them to.
She said; "Obviously it's an area of concern but I feel that we put a lot of pressure on ourselves and then we end up not playing our own game. It's just about going out there and executing our plans and playing our brand of cricket that we always say we want to play. We need to go out there and express ourselves and give ourselves a really good start up front and really look after that middle period and then finish well."
Looking ahead to the warm-up match against India, the KwaZulu-Natal native is confident the team will continue to lay the building blocks towards their World T20 campaign and will use their vast knowledge of the opposition as they look to walk away with a positive result.
"We've played a lot of cricket against India and we know what we're up against," Tryon explained. "Conditions-wise, we're going to have to look at the pitch tomorrow and be able to adapt as quickly as we can and communicate with each other about what we're experiencing at the crease to the rest of the team."
The senior players will have a big role to play in the success of the team and the vice-captain is delighted to have the added experience of Shabnim Ismail in the bowling attack to share the load with Marizanne Kapp and Masabata Klaas. She said the fast bowler brings a lot of knowledge and experience to the side and plays the mentor role well with the youngsters who are just starting out in their international cricket careers.
"We've always had a big and fiery bowling unit and it's so nice to have Shabnim back. She's a senior player and the girls like to listen to her a lot and she gives a lot of input and gives great insights as well. It's nice to have another senior player up front with Marizanne (Kapp) who's been really good. All that together just gives the youngsters more people to feed off from. It's been good to see them working on different things for themselves like variations. We are in the West Indies so the wickets are a bit slow so they know they will need to have different options to work on and they implemented those really well in the first warm-up match. It's really good to see that we've got one department that's really firing at the moment and hopefully the others (batting and fielding) can join in as well," she continued.
On the World T20, Tryon said the format has become very batter friendly and she's looking forward to seeing many big sixes and innovations from the teams participating. It is also a format that makes it difficult to predict winners and with that in mind, cautioned against taking any team for granted.
"I feel like it's more of batter's game at the moment, but obviously the bowlers are working very hard. All around the world, the batters have been on top form and it's become a 360 (degree) game where they hit the ball everywhere," she exclaimed. "You can see girls playing incredible shots and I feel like there'll be a lot of sixes but also a lot of running between the wickets and a lot of fancy shots.
"I'm really looking forward to it, I think it's going to be an exciting one, everyone's ready for it and you can't take any team for granted. Take a team like Bangladesh who toured against us (in South Africa) and we whitewashed them, but they went on to win the Asia Cup, so it's nice to see that character from them. I think it's going to be a really good T20 World Cup."
On the state of her own batting form and the look of the team ahead of the World T20 she said;
"I've been working really hard back home. I really enjoy playing in the West Indies. I know what I can do and what I'm capable of and I just need to back myself. I want to be that big hitter, but I also want to be a match winner, I want to win more games for South Africa. There's still a lot left in the tank and I feel like I'm only starting to get to where I want to be.
"I think this is going to be a really good World Cup for the team. I think that if we play well as a team then individuals will shine. I told the girls during the West Indies series that we can win this. It's just about the belief. When we chat and we're socializing, we're always just talking about cricket and we want to win, that's all we want. I feel like we've got the talent, it's just about the belief."
The warm-up match on 1 November will start at 15:00 local time (21:00 SAST) at Coolidge Cricket Ground. Updates will be available on Cricket South Africa's social media platforms on Facebook (www.facebook.com/cricketsouthafrica) and Twitter (www.twitter.com/officialcsa).
Proteas ICC Women's World T20 Squad:
Dané van Niekerk (captain, Eastern Province), Chloe Tryon (KwaZulu-Natal Coastal) Lizelle Lee (North West), Suné Luus (Northerns), Shabnim Ismail (Gauteng), Masabata Klaas (North West), Mignon du Preez (Northerns), Marizanne Kapp (Eastern Province), Laura Wolvaardt (Western Province), Zintle Mali (Border), Robyn Searle (Gauteng), Tumi Sekhukhune (Easterns) Saarah Smith (Western Province), Trisha Chetty (Gauteng).
Management: Hilton Moreeng (Head Coach), Salieg Nackerdien (Assistant Coach), Sedibu Mohlaba (Manager), Abram Ramoadi (Performance Analyst), Russell Clarke (Strength & Conditioning Coach), Molebatsi Theletsane (Physiotherapist), Sipokazi Sokanyile (Media Liaison).