The 2019 Cricket World Cup Petulance Index
Before this World Cup begins, I feel like we really need to work out who's most likely to have a massive childish meltdown during one of the matches.
It is, quite simply, unavoidable. Pit a hundred-and-odd players against each other, all of whom care very deeply about the outcome of each game, and someone's going to get frustrated at some point. And it's going to be hilarious, because while it's the World Cup and it all matters enormously, it's also a game and therefore doesn't matter enormously at all. That one simple fact means you're always going to look a bit petulant whenever you lose your temper during a cricket match.
So who's it going to be? How do we work it out?
Like all forms of cricket forecasting, we'll have to approach this methodically. We'll look at a few of the more obvious candidates and assess the likelihood of them having a whopping great strop by rating them across three different categories. We'll score each category from 1 to 10 because that makes it sound like science even though it absolutely isn't.
The three categories are:
1. Ability – This is the player's resting petulance level. What are they actually capable of at their best/worst?
2. Form – Is the player on a hot streak of temper tantrums or are they in something of a trough?
3. Response to pressure – Cricketers are competitive people. Knock-out matches can often exacerbate this
We might as well start with David Warner because we're all thinking about him already anyway.
David Warner, Australia
Ability: You can all easily think of half a dozen petulant David Warner moments, but to my mind the purest example was when his team-mates had to hold him back from Aiden Markram after Nathan Lyon ran AB de Villiers out last year. A man who almost literally frothed a send-off at a batsman who wasn't even dismissed is a man who has demonstrated elite petulance. 11/10
Form: Pretty poor, actually. The peaks are so high that it's easy to forget that Warner's temper waxes and wanes considerably. (He was The Reverend for a while, remember.) Coming back from a year-long ban, this definitely feels like a period when Warner will be very self-consciously 'on his best behaviour'. 3/10
Response to pressure: Opponents know what buttons to press and Warner's ability to shrug off abuse is inversely proportional to his ability give it out. Halfway through his ban, he actually stormed off the pitch mid-innings during a grade match because somebody sledged him (only to storm back on again shortly afterwards). 11/10
Total: 25/30
Joe Root, England
Ability: You're thinking this is a weird choice, but Root is actually one of the stroppiest batsmen around. Next time he's dismissed, watch him drag his bat like Linus from Peanuts drags his security blanket. Joe Root does full-on sulky like no-one else. 8/10
Form: Same as always. 5/10
Response to pressure: He just hates getting dismissed. He'd be the same in the back garden, I reckon. Maybe this was a bad choice now that I get to putting numbers to it. 5/10
Total: 18/30
Shakib al Hasan, Bangladesh
Ability: His own board have previously said that Shakib has a "severe attitude problem". He's fallen out with coaches and fans. He's gestured at his crotch on live TV. As captain, he once asked his batsmen to come off the field because he thought a no-ball should have been called. He once threatened to hit someone with his bat because they'd been moving near the sight screen. 8/10
Form: Pretty decent. Shakib isn't in Bangladesh's team photo because he went home before it was taken. 7/10
Response to pressure: No clear link to pressure in any of this. 4/10
Total: 19/30
---
SEE ALSO:
ICC Cricket World Cup 2019: Full squad lists
ICC Cricket World Cup 2019: Fixtures, results and standings
ICC Cricket World Cup 2019: All you need to know
ICC Cricket World Cup 2019: Pitch Reports
ICC Cricket World Cup 2019 Form guide: Who's in nick and who's Pakistan
---
Kagiso Rabada, South Africa
Ability: The man's an absolute shoulders-brushing, send-off-giving demerit point magnet. 8/10
Form: Not much has been happening recently. Maybe he's saving it all up. 4/10
Response to pressure: Definitely a 'competitor'. 7/10
Total: 19/30
Virat Kohli, India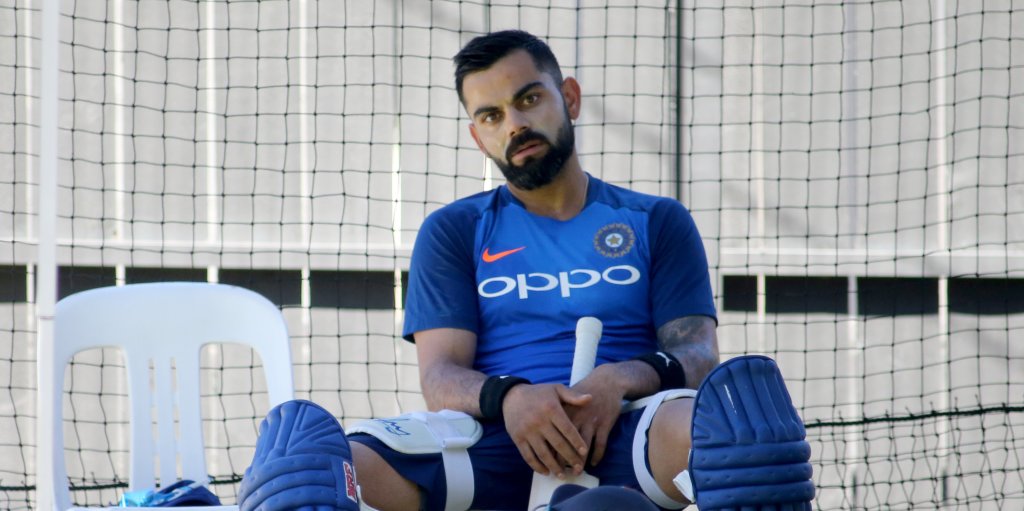 Ability: India's captain is possessed of a rare ability to become completely irritated with almost anyone or anything at a moment's notice. Nobody can go from nought-to-fury quite like Kohli. 10/10
Form: Solid. Accused the umpires of having their eyes closed because one of them missed a no-ball during the IPL. 7/10
Response to pressure: Kohli is a man who very much does not want to lose. Loses a point for playing better when the pressure's on and thus diminishing the likelihood of that happening. 7/10
Total: 24/30
Wahab Riaz, Pakistan
Ability: Is sarcastic clapping petulant? I don't know, but I do know that Wahab definitely lost his rag when bowling to Shane Watson during the last World Cup. Exhibit B is the famous altercation that ended with Jonathan Trott grabbing Wahab Riaz by the throat. That reportedly involved the two of them throwing batting pads at each other first, which is very fine. 8/10
Form: During a Pakistan Super League match earlier this year, Wahab was hit for six by Mohammad Shehzad and then bowled him the next ball. He followed this up with the four Ss: a scream, a stare, a send-off and a shove. 8/10
Response to pressure: Didn't like being hit for six. Definitely got a bit hot and bothered while playing in the World Cup previously. 8/10
Total: 24/30
The Final Scores
Joe Root (definitely a mistake including him) – 18
Kagiso Rabada and Shakib-al-Hasan – 19
Virat Kohli and Wahab Riaz – 24
David Warner – 25
David Warner is most likely to have a childish meltdown during this World Cup because of course he is.