Cricket World Cup Week Five Winners and Losers
The semi-finalists are decided. They were the same four teams that have been the top four for all but one day since the 14th game of the tournament. Poor old Pakistan. Here are the winners and losers from the last week.
Winners
England
"There is," we wrote last week, "one desperately convoluted and potentially spurious reason to be cheerful for England. If – a word doing a quite superhuman amount of carrying in this sentence – they can qualify from here they will almost certainly be in a better position to win the tournament than if they'd dominated qualifying and had, say, eight wins from nine.
"In that situation, the pressure on the semi-final would be huge. England would have done nothing in a serene group stage to address the issue of their supposed vulnerability in high-pressure one-off games because they wouldn't have had any.
"Now, though, if England reach the semi-finals they will have almost certainly won consecutive games against their fellow semi-finalists under the most extreme of pressure. They will feel great."
They have, they did, and they do. While the questions against a format that allows a team to so easily get away with consecutive performances as supine as England's against Sri Lanka and Australia remain, that is not for England to trouble themselves with now.
England have beaten India convincingly and utterly demolished New Zealand, at least one of whom they will face again if they are to lift their first men's World Cup.
Their swagger is back, the runs are flowing again and the bowlers are getting the job done.
The only doubts remaining are about their ability in a chase. Can they win two more tosses?
New Zealand
Winners who have lost their last three games to ensure they end the group stage having beaten none of their semi-final rivals. But the key phrase there is 'semi-final rivals'.
Before the tournament the consensus was that only one semi-final place was realistically available, with India, England and Australia's progress all assumed to be a given. New Zealand's major mistake, if we can call it that, was to pretty much nail down that fourth place as early as they did.
New Zealand's qualification for the semi-final has long since ceased to be a notable achievement and been a given. From the moment Trent Boult took that catch, New Zealand were through in all but the unlikeliest of scenarios.
That such an unlikely scenario came so (relatively) close to transpiring is clearly a problem. The format of this tournament always left the possibility open for a team to hit the semi-finals in terrible form, but even so to reach the knockouts on the back of three straight defeats is at the extreme end of what was possible.
The problem for New Zealand is the utter collapse of their batting. Even when things were going well – and we've spoken before about the soft landing the fixture list gave them – it was New Zealand's bowlers that really shone.
New Zealand scraped home chasing what should have been straightforward totals against both Bangladesh and South Africa and haven't reached 300 once in the tournament. Of their semi-final rivals, England have done so six times, India and Australia four apiece.
They have beaten none of their fellow semi-finalists, while England and Australia have each won two of their three such games and India one, their clash with New Zealand – crucially as it turned out – becoming a victim of the Great Rains in the first fortnight of the tournament.
The Black Caps look horribly outmatched and outgunned. But they're still here.
Avishka Fernando, Nicholas Pooran & Ikram Ali Khil
There were far fewer dead rubbers in this tournament than at one stage appeared likely, but they weren't eliminated altogether. The usual clichés are wheeled out in such circumstances, 'playing for pride' the worst of them.
In truth, there is little a team can gain from matches once their tournament is mathematically over. England's nine-wicket win over Afghanistan at the end of the 2015 World Cup is not remembered fondly.
But for players, there can still be much to gain. Avishka Fernando and Nicholas Pooran both made superb centuries at Durham to announce themselves as potential stars of the future, while Ali Khil's 86 against West Indies was arguably more impressive still. Afghanistan's keeper-batsman is still only 18; their prodigious young talents have until now been mainly spin bowlers.
When Ali Khil first came into the squad in place of Mohammad Shahzad, he batted down the order. He has nudged up the order until coming in at three against the Windies in Leeds and producing an innings of pure class. Crisp shots all round the wicket, drives hit with authority and power, dancing feet to the spinners. His keeping is tidy as well.
In a painful campaign in so many ways for Afghanistan, here was a welcome reminder that this could and should be only the start and not the end of their journey. Gulbadin Naib hinted afterwards that more like Ikram exist: "We gave him the chance, we have more talent in Afghanistan, so this kind of performance, like Ikram, I can hope that other guys, if you give the chance, they can prove as well."
Batting First
Fifteen of the last 18 matches at this World Cup have been won by the side batting first. Captains have belatedly realised that batting first is the only way to go – although we must acknowledge that the predictably far superior weather for the 'northern' half of the tournament has been a factor. No matter what the stats tell you it's pretty tough to walk out at 10am under leaden skies to look at a damp, green pitch and decide to bat first.
It took them a while, but captains have realised that batting first is the way to go in this tournament. #CWC19 pic.twitter.com/PHrKefdjuy

— Ben Jones (@benjonescricket) July 5, 2019
England, having been almost unbeatable in a run-chase at home for the last three years, have now become the ultimate bat-first team. They've lost three of the four games where they've chased, and won five out of five when batting first, including four of the five wins at this tournament by a 100+ runs.
MS Dhoni
An average of 77 and a strike-rate of 120 in his last two games. Great stats, great player.
Shakib Al Hasan
He's been in the Winners section of every edition of this column since week two. Not sure how we'll get him in next week now Bangladesh have been knocked out but we'll do it.
Because it's worth saying as many times as possible that this is a ridiculous tournament he's having. Only three men have ever made more than 600 runs in a single World Cup. Shakib has joined Sachin Tendulkar and Matthew Hayden on that particular list – and they both played 11 games to Shakib's eight. Only two men have ever made seven scores of 50 or more at a single World Cup. Sachin, meet Shakib. He's joined another of your exclusive clubs.
Throw in the fact that he's taken as many wickets – 11 – as any other spinner in a pace-dominated tournament and you start building a case that he's not just the player of this World Cup; there is a strong argument that this all-round show is the best individual performance at any men's World Cup.
And best of all: never, ever again will a commentator ever be able to get away with expressing surprise that this fella who's been the world's top-ranked all-rounder for basically a decade can play a bit.
Mustafizur Rahman
Back-to-back five-wicket hauls in a tournament that has featured only featured 10 of them in total. The Fizz is back.
Rohit Sharma
Successive hundreds against England and Bangladesh to make it a record-equalling four in a single World Cup. Will be mildly miffed not to have gone on to make either of them a really big hundred given his fondness for such things, but that's nit-picking. When the greatest ODI batsman of all time says you're the best ODI batsman in the world then you must be doing something right.
Jonny Bairstow
Two first-ball ducks and now back-to-back centuries. And that blue-stickered Gray-Nicolls is lovely as well. His return to form and Jason Roy's return to the side are not unrelated, and the two rip-roaring starts they gave England in their must-win games were crucial.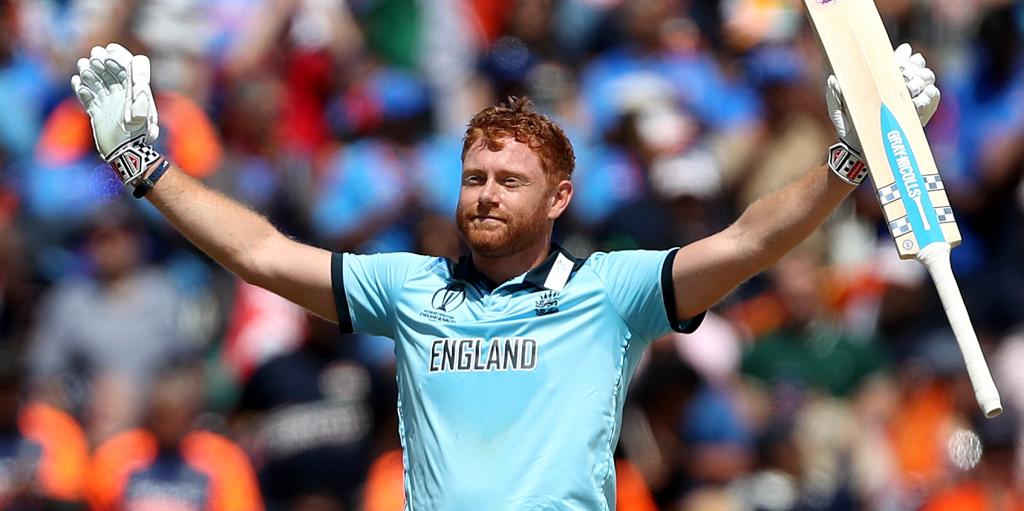 Michael Vaughan
Has now inspired two more ODI centuries in the last week than he scored in his entire career. Bravo.
FTA TV
Sky's announcement that next Sunday's World Cup final will be made available on free-to-air television should England make it is welcome indeed. It clearly won't solve everything – and the fact the move has only been made under pressure and only if England qualify is not ideal – but nor were Sky ever really the villains in this story.
Sky Sports will make the #CWC19 final available on free-to-air television should #ENG make it to the showpiece event at Lord's on Sunday, July 14.

— Sky Sports (@SkySports) July 5, 2019
The Sky Sports tweet specifically mentioned FTA television, giving little wriggle room to hide behind something like using its Sky Sports Mix or Sky One channels (which are not available on Freeview platforms) or a YouTube stream. That suggested Pick, the Sky-owned Freeview channel, as the only realistic option for such a broadcast.
Yet reports suggest there are talks with Channel 4, which would represent something of a coup for FTA cricket campaigners and the channel itself. Best of all, though, Channel 4 is already showing the British Grand Prix that day. Top-level cricket, a chance for England to make history, live on Channel 4 until it gets bumped to a minor channel in favour of demonstrably sh*tter and duller sport. It truly would be a return to the 2005 glory days.
Liam Plunkett
An impressive list of scalps at this World Cup now includes Quinton de Kock, Hashim Amla, Chris Gayle, Virat Kohli and the Sky Paywall.
Is there any way Brexit could be solved by a cross-seam short ball?
Shaheen Shah Afridi
Like Pakistan, ended the tournament looking better and better. Three wickets against New Zealand, four against Afghanistan and then six against Bangladesh. The first teenager to take a five-wicket haul in a men's World Cup game. Only five bowlers have taken more than Afridi's 16 wickets in the tournament and he played only five games.
Just think; if he'd been in the side earlier in the tournament we might not be hearing anything at all about Net Run-Rate right now.
Losers
Pakistan
Oh, Pakistan. They certainly keep things interesting.
Amid all the 1992 parallels, nobody thought to consider that the twist this time could be Pakistan themselves would be on the wrong end of the washouts when attempting to sneak out of the group stage.
Because let's be clear. There are reasons to feel sympathetic towards Pakistan, but those really only revolve about the dumb bad luck of their washed-out game being against Sri Lanka and New Zealand's being against India.
There are no perfect ways of separating teams who finish level on points. It is further unfortunate for such a tie-breaker to be required at the one spot in the table where it is of absolute importance.
There are ways of splitting ties that would have put Pakistan through and that would be fine. But fundamentally the point is this. To finish in the top four of a 10-team tournament with fewer than six wins, you're going to need a bit of luck. Pakistan didn't get that luck, but they are still responsible for creating a situation where they needed it.
They won two of their four games against the semi-finalists, losing to India and Australia. Those two defeats are not what cost them, though. It was the defeat to West Indies on the second day of the tournament that mattered in every way.
Pakistan lost to a West Indies team who lost to everyone else apart from the two teams either side of them in the bottom three of the table. Pakistan lost to a side that didn't win a game for another 34 days. Pakistan lost to that team by getting bowled out for 105 in 21.4 over of abject surrender.
You can feel sorry for Pakistan not making it. You can think they would have been a better and more exciting semi-finalist than New Zealand (though let's not forget some New Zealand's early games were pretty good fun). You can compose perfectly fair alternative tie-breaking methods – head-to-head being the obvious one – by which they rather than New Zealand would have made it.
What you cannot do is bemoan Pakistan's fate as unfair. If this format had one thing going for it, it is that nobody could truly say after nine games that they did not get a fair crack of the whip.
Everyone knew the rules when the tournament started. Everyone knew that in such a format the chances of NRR being required was reasonably high. Everyone knew that getting bowled out for buttons could be costly.
Some of the complaints about Pakistan's exit dwell on the idea that they are being unfairly punished for one bad game. When that game is as bad as Pakistan's was against a side that, and we can't stress this enough, didn't win again for basically five weeks, it's a flimsy argument. Also, do you know another time when you get punished for one bad game? In the semi-finals and the final. Getting heavily punished for one bad game is something that happens in tournaments.
Net Run-Rate
All that said, Pakistan's demise has put the focus on Net Run-Rate, which remains a fundamentally flawed tie-breaker. The 2015 World Cup New Zealand v Australia group game provides the best known and certainly an extreme example of its flaws: the closest game of the tournament through up a NRR of +3.80 for New Zealand and -3.80 for Australia, who were one Mitchell Starc yorker away from victory. Had they secured such a victory, their NRR gain would have been negligible.
And that's because NRR overlooks something quite important. Wickets. Doesn't give a single shiny sh*te about them, until such time as you lose all 10.
It doesn't feel right. Wickets matter. A chasing team in a one-day game has two resources at its disposal. Overs and wickets. Net Run-Rate is concerned only with the former. A one-wicket win is treated the same as a 10-wicket win; only the overs remaining matter.
The solution is obvious. Plenty of variations have been touted, including on this site: if the side batting first wins by 50 runs, they get +50 and the losers get -50, then use DLS par scores to calculate an equivalent runs figure when a chasing team wins. And then remember that Pakistan's seven-wicket defeat to West Indies would still have been catastrophic, while New Zealand's quick-fire 10-wicket win over Sri Lanka the following day would have been rewarded even more handsomely.
The only decent argument against this is that nobody really understands DLS. But almost nobody in cricket understands NRR either. Nasser Hussain earned his place on that at this World Cup when claiming – and nobody corrected him – during the game against Sri Lanka that England's NRR "would obviously improve with a win". This erroneous proclamation would prove incorrect for more direct reasons, but still.
White Dog Dirt
I tell you what you don't see much these days. World Cup tables with 'Rain' in them. Whatever happened to World Cup tables with 'Rain' in them, eh?
All The Other Teams Who Didn't Qualify For The Semi-Finals
Pretty much by definition. Read about where it all went wrong for those lads here.