Cricket World Cup Week Three Winners & Losers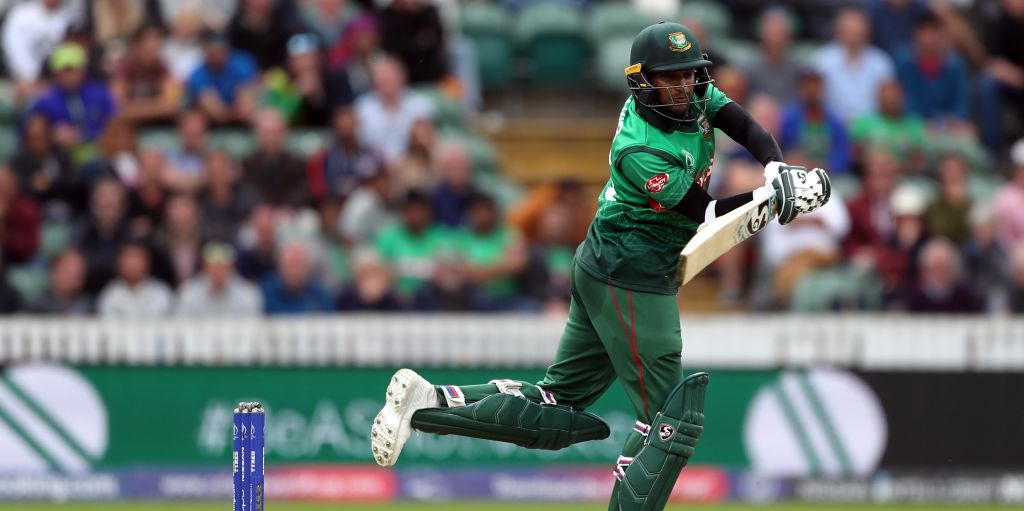 Another seven days of World Cup action in which Eoin Morgan hit all the sixes, the top four continued to make serene progress, and South Africa added another chapter to their big World Cup book of banters.
Winners
New Zealand
There remains a sense that the world has fallen into place for New Zealand in a way that is surely unsustainable, but that need not trouble them for now.
The washout against India was a decent result for a team that had already won its first three, and the scramble to victory over South Africa in a game short on quality but long on drama means the semi-finals are now within touching distance.
They have made hard work of what should have been routine chases against both Bangladesh and South Africa, but have come out the other side of them with the right result. They are doing what New Zealand do when major tournaments come around.
If they can spend the rest of the tournament somehow manoeuvring themselves to a semi-final against Australia then back-to-back World Cup finals are firmly on the cards.
Bangladesh
England may be the side plundering the biggest totals and continuing to set the batting standards that others must try to follow, but the way Bangladesh hoovered up a chase of 322 with seven wickets and more than eight overs to spare to stun – and effectively eliminate – West Indies has been the standout batting performance of the first three weeks.
In a sane format it's a win that would mean far more than a likely fifth-placed finish. But Bangladesh are the one side – Afghanistan apart, I suppose – for whom finishing fifth is at least slightly meaningful. A distant fifth-placed finish for South Africa, say, or Pakistan means little. It would be akin to England's in 2007.
For Bangladesh, though, it continues their growth and roots them further into the pack of genuine contenders. Having been runners-up in last year's Asia Cup they look odds-on to once again be Asia's second-best ODI side in a major tournament. Fifth place here, on the back of a quarter-final in 2015 and a semi-final in the 2017 Champions Trophy,  would also represent another highly commendable result in conditions that do little to assist them.
Shakib Al Hasan
If this ridiculously-formatted procession of a tournament's only positive legacy is belated acknowledgement of Shakib's place among the greats then we're okay with that.
The world's best all-format all-rounder for most of the last decade has taken his game to greater heights. He's done a perfectly adequate job with the ball – only two spinners and no other finger spinners have taken more than his five wickets – but with the bat he has gone stratospheric.
It was not until last year that he made his permanent move from the middle-order to number three, but the results are in: it's been a good move.
His overall batting stats in ODIs are solid enough, with over 6000 runs at around 37 and a half. But at number three he averages 60 at a strike-rate of 90 and has passed fifty 10 times in 19 innings.
And at this World Cup he has been even better still. Two early half-centuries set the tone for what was to come, with his back-to-back hundreds against the pace and aggression of first England and then West Indies a pair of absolute masterpieces.
During the innings against England in forlorn pursuit of a distant target of 387 for victory, Michael Holding said on commentary that on another day Shakib would play an innings like this one and lead his side to victory. It turned out he and we had only to wait three days.
England
Imagine how exciting it might be if we had a World Cup format where England's shock defeat to Pakistan in one of the tournament's few genuinely gripping and close games actually meant something.
That is not the World Cup we have, though, and that's not England's fault. No, scratch that. It is England's fault, but it's not the England players' fault.
West Indies and Afghanistan have been dispatched, net run-rate boosted, top spot briefly reclaimed and it's a weak Sri Lanka side who have beaten only Afghanistan (rather fortunately at that) next up on Friday at Headingley.
The injury to Jason Roy is the only significant (metaphorical) cloud on the horizon, but even here the format helps them out with captain Eoin Morgan able to admit that England could take a wait-and-see approach to any replacement with a semi-final spot looking all but assured.
England's bowling remains their weaker discipline, but Jofra Archer and Mark Wood have proved an effective combination. In the absence of a left-arm option, England's variation has come from having two such different 90mph men, Archer tall and accurate with a bouncer that comes from nowhere, Wood shorter and skiddier.
And England's bowling would have to be something truly extraordinary to be more effective than the batting. Suggestions that England only scored their runs so much faster than the rest of the world because of flat home pitches and that the ICC taking control of preparation would find them out have proved unfounded.
England have passed 300 four times out of five, the fifth a chase of 213 with eight wickets and 16 overs to spare. They are scoring at seven an over across the tournament, close to a full run per over faster than anyone else.
England have made comfortably the two biggest totals of the World Cup so far. They have five of the leading 11 run-scorers in the tournament, and have scored more individual centuries than Afghanistan, Australia, Bangladesh, New Zealand, Pakistan, South Africa, Sri Lanka and West Indies combined. Four different England batsmen have reached three figures, while Jonny Bairstow has a 90 and Ben Stokes an 89.
They remain the favourites purely because the ceiling for their totals and the number of huge threats the opposition has to handle is still so much higher than everyone else's – even India's.
Eoin Morgan
That was quite something. A man who had to stand for his press conference four days earlier after a back spasm then produced one of the great innings. There were helping hands along the way from Afghanistan's bowlers and fielders, as there was for much of the day. The no-ball that gave him a free hit when one not out off seven balls. The misjudged and then dropped catch on the boundary when he had 28.
But never mind all that. As a display of clear-headed clean striking it is hard to imagine it being bettered. Someone will one day – very possibly in the next couple of weeks – score more than the world-record 17 sixes Morgan plundered here; it's hard to think anyone will do so without any of them coming from anything other than the middle of the bat. None of Morgan's sixes went behind square, all of them coming in an arc between square-leg and long-off. Every ball seemed to be a potential six opportunity. Short balls were pulled over midwicket. Length balls went the same way. Full ones were swept square or driven straight.
Morgan surprised even himself. It's easy to forget now, but the statesmanlike leader of England's one-day renaissance was once the flashy flair player. He was all England fans had to cling to in the years of setting a platform and trying to swipe and swish a hundred in the last 10 to get a competitive 280, which Australia or Sri Lanka or whoever would chase down in 42.
Now when his back spasm threatened to rule him out, the immediate concern was for how England would cope without his leadership rather than without his batting. A timely reminder that the man who freed his team-mates from the shackles of England's ODI history remains capable of matching the very best of them.
@Eoin16 hit 1406 metres worth of sixes yesterday. Ben Nevis – the highest mountain in the British Isles is 1345 metres high.

— Benedict Bermange (@Benedict_B) June 19, 2019
Rohit Sharma
One of the ODI all-time greats. Made scoring 140 in the heat of a World Cup clash with Pakistan look as easy as eating 25 fried eggs. No wait, he made it look as easy as something easy, not something difficult and inexplicable. Two hundreds for the India opener in a side that has been able to ease through the first few weeks of the tournament without being stretched.
There is, you feel, only one side capable of doing so, even after the news of tournament specialist run-machine Shikhar Dhawan's injury woes. His absence certainly piles yet more responsibility on Rohit's shoulders. But that's not going to faze a man who can take down a whole hotel buffet single-handed.
Joe Root
Having spent a while feeling a bit overawed by the sheer power and hitting range of those around him in the England order, Root now seems to have settled happily into his role as some kind of turbo-charged super-Trott.
He has distilled the modern ODI anchor role to its essence; he is able to score at a run a ball yet has effectively eliminated all risk from his batting until such time that the situation demands it.
He has scored two hundreds and two half-centuries in this tournament, yet to focus on landmarks is to ignore the point of Root and this England batting line-up in general; those milestones are to be celebrated, but they never become the focus.
Steered England to victory as a makeshift opener in the absence of Jason Roy against West Indies, being there at the winning moment of far greater importance than the round number of runs he happened to have made for himself, while as Eoin Morgan smashed records against Afghanistan Root eschewed the chance to quietly help himself to another century. Knowing the hitting power that was to come, he too looked to go big and holed out for 88.
Root is matching or outperforming all those tasked with a similar role. Virat Kohli, Kane Williamson, Steve Smith. Root is scoring as quickly as Kohli and far quicker than the other two. He is scoring 24 more runs per hundred balls than David Warner, 15 per 100 more than Quinton de Kock.
He has found a way to make his more old-fashioned game an integral part of this new England. An extraordinary cricketer.
Kane Williamson
Kane Williamson, though. If Root has made scoring run-a-ball centuries look facile, Williamson made a 137-ball hundred against South Africa look anything but.
That should not be taken as a criticism. Williamson never looked in anything like his best form until the moment he smashed Andile Phehlukwayo for a score-levelling six with four balls to go. He has previous for this kind of nerveless, Dhoniesque nonsense, of course, and while he remained at the crease New Zealand never looked lost despite the fraught nature of the chase and his own uncharacteristic scratchiness.
There is something particularly admirable about a century made despite your form rather than because of it. Even more so when that comes in a World Cup, and even more so when it comes in a game that may well now be the one that truly defines this group stage. Only Bangladesh can really change that now. Which leads us to…
Australia
Everything that applied last week still applies this week, except Australia are now one win closer to the semi-finals and the chasing pack have made no impact. Beat Bangladesh on Thursday and the job is all but done.
Mitchell Starc, Mohammad Amir and the power of the southpaw
A left-arm quick has been leading or joint-leading World Cup wicket-taker at four of the last five World Cups, from Geoff Allott to Mitchell Starc and Trent Boult via Chaminda Vaas and Zaheer Khan.
Starc and a resurgent Amir loooking good to repeat the trick.
Mark Wood
Jofra Archer is taking the headlines – and does look the likeliest man to break the lefty monopoly – but England's other 90mph man deserves a mention. His 2/40 against Afghanistan means he has now taken at least two wickets in his last seven ODI appearances. He only took two or more wickets in six of his other 37 games.
He is also developing into a handy tournament specialist for England. In a career where his overall average remains the wrong side of 40, he has now taken 14 wickets at 23 in eight World Cup and Champions Trophy games, with an economy rate of 4.50.
Losers
The Format
With 20 whole games of the group stage remaining, the current top four are now all 1/16 or shorter to stay there.
If Australia beat Bangladesh on Thursday and England beat Sri Lanka on Friday, it will be more like 1/100.
There is now a not particularly far-fetched sequence of results that has the top four mathematically confirmed with an India win over West Indies next Thursday. That would leave 11 dead rubbers. Eleven games where the TV commentators have to pretend that spending a quarter of the tournament deciding whether Australia will play India or England in the last four is exciting and good. Eleven games where the battle for fifth becomes suddenly very important for some reason.
The aftermath of England's victory over Afghanistan told us how such a thing will be spun. Afghanistan's undeniably dreadful performance shows there should be fewer teams in the tournament, not more. The calls will be to reduce an already misnamed event yet further.
These calls will be bollocks.
The problems with this tournament are entirely down to the format, and what's more they are entirely predictable.
The problem is not Afghanistan, or South Africa. The problem is keeping any struggling team in a tournament for nine games. The problem is a format that not only increases the likelihood of mismatches and dead rubbers, but makes them more likely the further into the tournament you go. These problems were known. But a format that does nothing to reduce one-sided games and adds a whole bunch of dead rubbers, a format that does nothing to shorten the tournament was sold to people as both. Continuing the growth of the game was sacrificed to give India nine guaranteed games.
On the day that New Zealand's win over South Africa left the tournament facing two-and-a-half weeks of impatiently waiting for the semi-finals, there was the first ever men's ODI played during but outside the men's World Cup. In that game, the Netherlands beat Zimbabwe. An associate beating a full member.
Don't let anyone tell you that sides like Netherlands or Scotland shouldn't be here. Don't let anyone use a format brought in for disingenuous reasons that has delivered precisely the sort of procession its detractors predicted it would be used to make reaching a World Cup harder still for the lowlier full members and top associates.
Afghanistan
They really have shat the bad for their former associate colleagues, though. Unsavoury stories are emerging of a squad in crisis and one of the great sporting stories of modern years appears unravelling on the biggest stage of all.
They should have beaten Sri Lanka, and may well have done had one or two things fallen differently. But they have lost their other four games by huge margins and are staring now at played nine, lost nine. A no-result might now be their best hope.
South Africa
I thought South Africa were going to limp apologetically out of this World Cup with none of their usual sense of spectacle and catastrophe. I was wrong to doubt them and for that I apologise.
Just look at those strike-rates. A thing of throwback beauty #NZvSA #CWC19 pic.twitter.com/n9RH9SJept

— Andrew Miller (@miller_cricket) June 19, 2019
From the tentative retro batting which at one point so a run of five batsmen with strike-rates in the 60s, a run only ended by a batsman with a strike-rate in the 50s to the bungled run-out chances, dropped catches and failure to review an erroneous caught-behind decision against Kane Williamson, South Africa once again brought the chuckles in what marks their departure from the tournament as meaningful competitors. And at Edgbaston too.
The only silver lining for South Africa right now is that the last time a big team did this badly at the World Cup they tore up their whole playbook and came back four years later as the best in the world.
Hashim Amla
Played the most selfish innings of the World Cup in South Africa's nine-wicket win over Afghanistan, butchering a chance for the Proteas to give their NRR the sort of boost it would likely need if they were to squeak into the top four at the last.
Backed that up with a stinker of a 50 against New Zealand at Edgbaston, sucking the life from the innings and leaving the side playing catch-up for the rest of the game.
The key phase of the game today was overs 1-40 of SA's innings. NZ bowled well but SA did not attempt to transfer pressure back onto the bowlers—particularly CdG—& allowed NZ to dictate the game. SA were passive; not proactive, and it cost them (51% WinViz to 26%). #CWC19 pic.twitter.com/qBkExlZQLg

— Freddie Wilde (@fwildecricket) June 19, 2019
Nobody else with 100 runs at this tournament has scored them slower than Amla's 59.02. He has been a great, great player for a very long time, and every now and then there's a drive that reminds you of the player he was. But if South Africa are to emerge from this disaster with an England-style renaissance then time is surely up for their Ian Bell.
Chris Gayle and Andre Russell
Suddenly looking very old and very tired.