Is Trevor clever? The final examination of Trevor Bayliss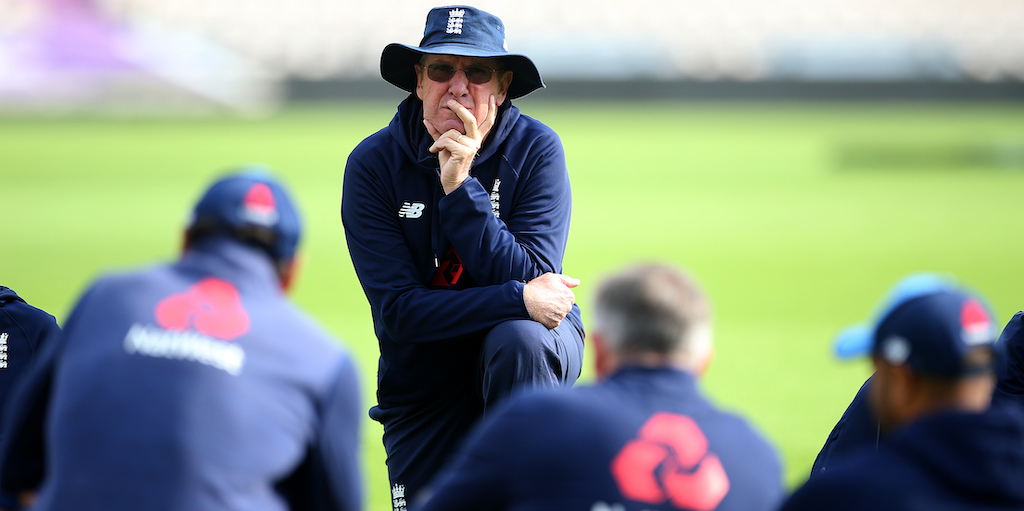 Remember the months, weeks or few days (delete as applicable) cramming for exams, believing your life would be dictated by the scribblings entered on to that blank page? At least in that scenario there was the safety net of re-sits.
For England coach Trevor Bayliss the World Cup and Ashes series that follows will determine his legacy. And there are no second chances. If he turns over that exam paper and finds no answers people will quickly forget his diligent and conscientious preparation.
There is huge weight of expectation on the host nation as they embark on this World Cup campaign. Much of the last four years has led the nation's best ever one-day side to this point.
Throughout that period, their Aussie coach has steered the ship. Englishman Peter Moores had failed to take England as far as the quarter-final stage at the 2015 World Cup Down Under and, after a turbulent 18 months, the clamour to turn to a foreign coach saw Bayliss installed.
There have been ups and downs. Losing the Ashes 4-0 in Australia the biggest low. The blade of Carlos Brathwaite punishing England and denying Bayliss the World T20 crown. And then the rise of England to number one in the world ODI rankings his greatest success.
If England emerge from the 2019 summer bathed in glory a huge amount of credit must also be directed to former ECB director of cricket Andrew Strauss. Strauss had the vision to identify what the England team needed. With the World Cup on English soil in 2019, he plotted a white-ball course that has seen England develop into world-beaters.
Strauss too had the foresight to recognise the qualities of captain Eoin Morgan when others might have taken the new broom to sweep him away from the rubble too.
And Morgan and Bayliss, with assistant Paul Farbrace until his departure to Warwickshire, combined to develop England's one-day side into a relentless machine that are firm favourites to win this World Cup.
Bayliss' England side don't just win one-day cricket matches, they play a brand of cricket that the English public has never seen before. The way they bully opposition bowling attacks is, at times, bordering on Grievous Bodily Harm. Gone are the collapses (almost), the soporific middle-overs of an innings where a run-a-ball will do. Gone are the days where winning positions were thrown away, where supposed heroes wilted in the glare of the fight.
This England team know how to win and win with gusto, pride and panache. They play 50-over cricket as if it were two-and-a-half T20s and flipping heck, it's a joy to behold.
But there is always that little voice inside every Englishman's head whispering 'we're going to mess this up' or 'when it gets to the knockout stages, we will put in a bad one'. Because, despite their brilliance, like any team, they have a poor performance within them. That is the nature of sport. There is no such thing as a dead cert as the 2017 Champions Trophy semi-final exit to Pakistan proved.
Bayliss announced in January 2018 that he would step down as England's coach at the end of the 2019 Ashes series. These next few months will dictate the glow of Bayliss' CV. His legacy depends upon success.
---
SEE ALSO:
ICC Cricket World Cup 2019: Full squad lists
ICC Cricket World Cup 2019: Fixtures, results and standings
ICC Cricket World Cup 2019: All you need to know
ICC Cricket World Cup 2019: Pitch Reports
---
How times have changed. After the 2015 World Cup, one-day England were in a shambolic mess. Four years on and, for many, the bare minimum for England this summer is for Eoin Morgan to lift the country's first global 50-over trophy on July 14. Tough taskmasters expect the Ashes to easily follow.
That double success would see cricket front and centre of the nation's consciousness. The sport in England would receive a much-needed shot in the arm. And, like in 2005, the protagonists that capture the nations hearts will become household names and be set for life.
If England fail Bayliss will vacate the scene, a man with a plan he could not deliver.
If England succeed, he will be begged to stay. He and his team will scoop awards galore and the Queen will be tapping a sword on his shoulders.
There are often fine margins between heroes and nearly men. This is the toughest exam paper that Bayliss will ever sit. He's attended every class – well documented that he lives and breathes the game and rarely sleeps in his home bed. His preparation and revision, in hotel rooms around the globe, have been spot-on.
Now, come on Trevor. Turn over that examination paper and give us some A-grade answers.
Your adopted country expects. England needs you!