Jekyll, Hyde and the weight of expectation: Are England ready to secure World Cup glory?
Heading into a huge summer of cricket in England, there is without a doubt a weight of expectation upon the home nation for both the Cricket World Cup and the Ashes.
In fact, England are actually 11/4 favourites to win the former, with India, Australia and South Africa all behind. Trevor Bayliss' side are the only team odds-on to reach the World Cup final at 8/11 – which says a lot about how big an opportunity this is viewed as.
For all the optimism currently floating around England fans, for every person who utters the infamous phrase 'This is our year', there is always the realist who looks back at history and almost takes comfort from the fact that while the hosts may be favourites, they'll probably find a way to mess it up.
England's 2-2 ODI series draw with the West Indies out in the Caribbean is probably the perfect example of why excitement should be thoroughly managed.
The first One-Dayer at the Kensington Oval in Barbados was quite simply a marvellous spectacle, with England completing their highest ever ODI chase (the fourth-highest ODI chase of all time, and the highest ever by a touring side) to stun the hosts.
Chris Gayle made 135 to help West Indies post an over-par score of 360-8, but Jason Roy scored a lightning 123 off 85 balls and Joe Root chipped in with 102 off 97 as the target was chased down with eight balls to spare and six wickets in hand.
With the ball, Ben Stokes was impressive for England taking 3-37 off 8 overs, while Adil Rashid took 3 wickets but at the expense of 74 runs. Chris Woakes took 2-59 from his 10 over allocation, but Mark Wood, Moeen Ali and Liam Plunkett all struggled massively and all went at 7-an-over or more.
England made a huge chase look routine in the first ODI, but they were left shellshocked after their collapse hunting down 290 to win in the second ODI in Barbados.
Shimron Hetmyer made an unbeaten 104 as the Windies made a competitive 289-6, with England's bowling unit only taking four wickets (with two run-outs). Mark Wood improved, going for just 38 from his ten overs – but this time Tom Curran and Stokes went at above a run a ball, and Moeen took some stick once again.
Despite this, it was with the bat the the away side managed to let themselves down. Having built a platform and put themselves in a position to win the game, England lost their last six wickets for 35 runs as they folded like a deck of cards to 263 all out.
Sheldon Cottrell took a career-best 5-46, with Jason Holder dismissing Jos Buttler and Tom Curran in consecutive balls. Just before the eighth wicket fell on 260, England needed a manageable 30 to win from 22 balls – but it wasn't to be.
On to Grenada – and while the third ODI was washed out, the fourth instalment of a memorable series certainly did not disappoint. The tourists amassed an incredible 418-6, powered by Joss Buttler's 150 off just 77 balls, while captain Eoin Morgan also made 103 in a destructive partnership of 204 from 124 deliveries.
England's third-highest ODI total was almost not enough though – as Gayle made a monumental 162 to help guide the hosts to a manageable mini-chase of 32 runs from 18 balls at the start of 48th over. Adil Rashid – with 800 runs having been scored in the day – started his final over with less-than impressive figures of 1-83, and fittingly ended the game with four wickets in five balls.
If hope was in the air that England could exact revenge for their defeat in the Test series heading into the final ODI in St. Lucia, they were thoroughly obliterated within two hours.
West Indies ran through England, dismissing them for a dismal 113 despite six batsmen reaching double figures. To add insult to injury, they chased it down in just 73 balls, with Gayle making a destructive 77 off 27 balls – including nine sixes.
It doesn't take a brain surgeon to see the theme that developed over the four ODI's. England put in Jekyll and Hyde performances (in order, too) over the series, and it leaves us questioning so many aspects of their game.
England's shortcoming at major tournaments (the 2010 T20 World Cup aside) has always been their inconsistency. No matter how good their form is going into it, no matter how good they are through the group stages, you are only ever one bad performance away from packing your bags – and England always seem capable of a meltdown.
Going from a mightily impressive chase in the first ODI to a fatal collapse in the second, winning a barn-burner in the third thanks to a magnificent batting effort, before being absolutely skittled in the final stanza – if that doesn't perfectly display the consistency problem that is haunting this team, then what does?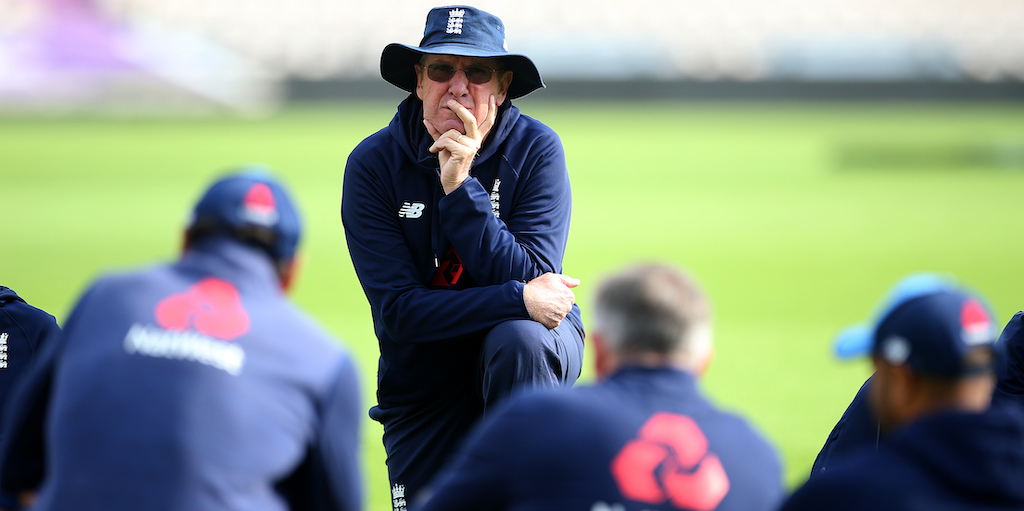 Trevor Bayliss admitted his frustration at the rollercoaster nature of his side's performances.
"The gulf between our good matches in this series and our bad one is huge," he told the Test Match Special podcast.
"We've been trying to be more consistent but today was a very poor performance. The only explanation is this wicket is the type we don't play a lot on – it had a lot of bounce in it.
"There's no wickets like this in England. It was the steepness of the bounce which we don't often get to face.
"After only a few overs and a few wickets it was obvious with the bouncing ball, we'd have to let a few go and a score of 200 would see us right in the match.
"We just went out and carried on playing exactly the same and made the same mistakes and got the same result.
"I've seen the guys disappointed before but in the changing room today I think there's a bit of embarrassment."
You could absolutely make the argument that England are rightly favourites going into the World Cup. They have a good pace unit which on its day can be brutally effective, and it should have its day more often on home soil. That can be nicely coupled with Rashid's ability (and he needs to be backed more) to take big wickets at key times in the game.
That isn't even the strength in the side though – a top seven of Bairstow, Hales, Root, Morgan, Buttler, Stokes and Moeen is enough to frighten any opponent.
"Other people have put us down as favourites for the World Cup – and yes, we are one of the favourites – but five or six teams could win the tournament," Bayliss admitted recently.
Last year, Calum McLeod's stunning 140* helped Scotland rack up 371 against England in Edinburgh, a score which the visitors ended up falling six runs short of despite needing just 10 to win with two wickets and 12 balls remaining at one stage.
The 2017 Champions Trophy is perhaps the best indicator of why expectation is dangerous. A 100% record in the group stages had pre-tournament favourites England off to the perfect start, but Pakistan bowled out the tournament hosts for 211 in a gutting semi-final defeat.
The stats are there to back up the optimism though. No other team boasts a higher runs per over average since the last Cricket World Cup back in 2015. England have six batsmen in the top 10 in the world since the last World Cup when it comes to strike rate.
Since that tournament, there have only been five team scores above 400, and England have four of them.
Meanwhile, nobody has taken more wickets in one-day cricket since 2015 than Rashid. If England do get over the line, then he will be key.
Perhaps former captain Michael Vaughan sums up how we are all feeling at the moment in his assessment of England's chances.
"England, I expect, will finish in the top four at the World Cup. I have them as favourites to win the World Cup," he said.
"They have got everything in terms of ability. They have everything that is required apart from the fact they are prone to a moment of madness."
After St. Lucia, he tweeted: "I never won a World Cup – didn't get close – but watching teams who do win World Cups, they don't just whack it all the time on all surfaces.
"They play smart, clever cricket. This England World Cup campaign needs a realisation check that they need to add smartness!"
No matter how stacked the batting line up is, no matter how much the conditions seem to be in favour, you simply never know which England is going to show up on a given day. Isn't that the beauty of cricket though? Roll on the summer.