Cricket World Cup 2019: England v Pakistan as it happened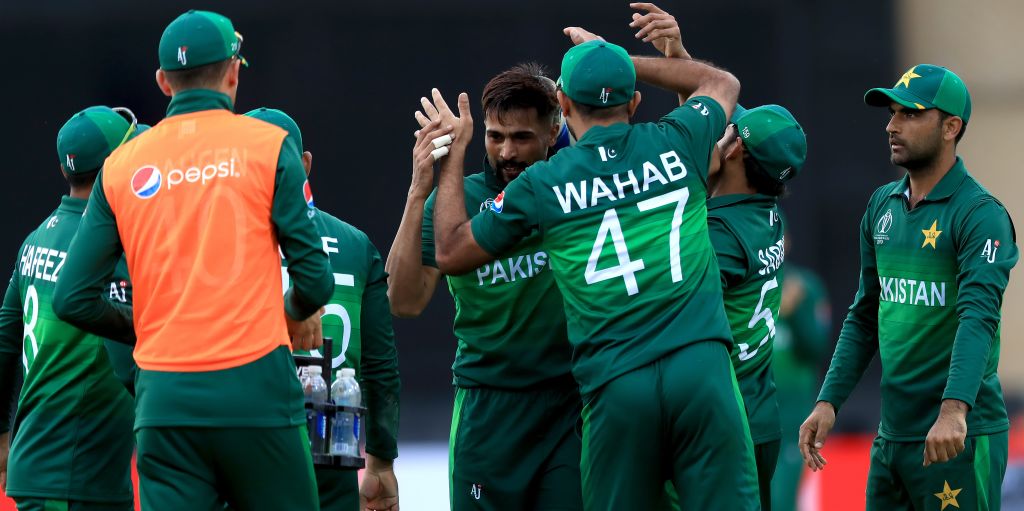 Click here for full England v Pakistan scorecard
---
1930 BST: Check out the latest standings here, with six teams now on two points and England missing the chance to go top of the pile.
Eoin Morgan pinpoints the fielding as the difference between the two sides, probably quite correctly, while Joe Root reckons his might have been a #MatchLosingHundred, which is probably a bit harsh tbf. After the early wickets, England were always pretty much all-in on a Buttler special. Basically, Root provided Buttler with the loaves and fishes.
1848 BST: England 334/9 (50 overs) – PAKISTAN WIN BY 14 RUNS!
The equation comes down to 19 from one ball. Wahab just jogs in off four paces and lets Wood have four of them. Tits to NRR, and it's a brilliant 14-run win for Pakistan that snaps their 11-match winless streak in what is, in hindsight, the most obvious way possible. Unleash all the cliches. The mad mercurial loons. Superb game, just like yesterday's, and just what the tournament needed after three successive mismatches.
1845 BST: England 324/9 (49 overs)
England need 25 from the last over. Wood and Rashid will have to score them. More likely, a Wahab hat-trick. Wood on strike…
WICKET! Jofra Archer c Wahab Riaz b Mohammad Amir 1 (2 balls, SR: 50.00)
Almost there. Can't keep Wahab out of the game at the moment as he gathers the ball in at third man as Archer gets a top edge on a huge heave outside off.
1839 BST: England 321/8 (48 overs)
Slower ball to get Moeen, quicker ball to get Woakes. Great, great bowling.
WICKET! Chris Woakes c Sarfaraz Ahmed b Wahab Riaz 21 (14 bal;s, 1×4, 1×6, SR: 150.00)
Two in two for Wahab, and surely – surely – that is that. Short ball again, tucking Woakes up. He can only edge it to the keeper and England now need 29 off 12 with two batsmen at the crease yet to face a ball. That's… tricky.

WICKET! Moeen Ali c Fakhar Zaman b Wahab Riaz 19 (20 balls, 1×4, SR: 95.00)
Moeen's struggles end as he toe-ends a slower-ball bouncer straight up in the air. Might not actually be the worst thing for England. Still batting to come, and Moeen was middling nothing.
1835 BST: England 320/6 (47.4 overs)
Huge six from Woakes over long-off! What a caper. Target down to 29 off 14.
1832 BST: England 311/6 (47 overs)
Woakes edges the first post-Buttler boundary for England, and a couple of wides from Amir keep England just about sniffing something ridiculous. Moeen then finally finds something, nailing a pull for four to end the over. Fifteen from it, and the equation now 38 from 18.
1828 BST: England 300/6 (46.2 overs)
England are going to lose, but they have become only the second team ever to make six successive scores of 300 in ODIs. So there's that. Australia in 2007 by the way.
1825 BST: England 296/6 (46 overs)
Mo has a go, but he's in dreadful nick with the bat. Two swings and misses, before a plink down the ground brings a scampered two on a misfield.
1821 BST: England 291/6 (45 overs)
Feels like it's time for Moeen to just swing out of his boots here. Not as consistent a striker as Buttler, but capable.
WICKET! Buttler c b Mohammad Amir 103 (76 balls, 9×4, 2×6, SR: 135.52)
Buttler gets his hundred, but Pakistan get the match. England surely done for now as Buttler toe ends the ball to Wahab Riaz at short third-man and the Pakistan fans erupt. It's theirs to lose now.
1815 BST: Jos Buttler 103* (75 balls, 9×4, 2×6, SR: 137.33)
Buttler scuds one of those arrow-like drives of his wide of mid-off for four to bring up his first World Cup hundred and England's fastest. "He's a freak," says Nasser Hussain on commentary.
1812 BST: England 284/5 (44 overs)
England score 10 off the over without a boundary. Moeen gets three for a slightly mishit drive that squeezes between cover and mid-off, and Buttler twice carefully drops the ball into the legside and scampers two. Gets a single from the final ball to move to 99. It's testament to the match situation that nobody cares about that right now. Least of all Buttler.
1808 BST: England 274/5 (43 overs)
Shadab's final over is knocked around for six. Something has to give in the next one, you'd think.
1804 BST: England 268/5 (42 overs)
Another good over for Pakistan. Just five from it again. The required rate now above 10, and you wonder whether it might be time for a calculated Buttler attack.
1800 BST: England 263/5 (41 overs)
Dropped catch/missed stumping from Sarfaraz as Moeen gets a thick edge attempting to whip a Shadab googly into the legside. The catch was fiendishly difficult, but could he have gathered the loose ball and still get the dismissal as Moeen toppled forward? Good over, though, just five from it.
1756 BST: England 258/5 (40 overs)
If you were wondering how Buttler would react to the Root setback, 'slapping a cover-drive for four' is the answer. Ten from Wahab's over, and England need 91 from the last 10.
1751 BST: England 248/5 (39 overs)
That over has changed the whole mood. Really did feel like England were taking control for the first time today. No longer. Root meanwhile, has now gone joint top with Kevin Pietersen on the list of all-time England century-makers at the World Cup. With two. England and this tournament, what a laugh.
WICKET! Root c b Shadab Khan 107 (104 balls, 10×4, 1×6, SR: 102.68)
And the game twists again. Good from Shadab, ramping up the pressure on Root with a couple of dot balls before a quicker one is carved to Hafeez at backward point as Root looks to engineer something. England could probably afford to lose Root more readily than Buttler here, but Root's ability to give Buttler plenty of strike is not to be sniffed at. England have plenty of hitters to come, but getting Buttler on strike is the key. The required rate has also slipped above nine for the first time after an over that brings only two runs.
1745 BST: England 246/4 (38 overs)
Low-key hundred celebrations from Root, as you'd expect with the match very much in need of winning. Having got to the hundred he crashes his very next ball to the point boundary as 10 come from Wahab's over. England now really into the sort of position where they not only could win but should.
1744 BST: Joe Root 100* (97 balls, 9×4, 1×6, SR: 103.09)
💯 The first century of this year's @cricketworldcup goes to Joe Root.

A superb innings, @root66 👏#CWC19 pic.twitter.com/aUaRbvQ0cB

— Lord's Cricket Ground (@HomeOfCricket) June 3, 2019
1742 BST: England 236/4 (37 overs)
Root one run away from the first individual hundred of the tournament. England need 113 from 78.
1737 BST: England 231/4 (36 overs)
Bad end to a good over from Hasan, dragging the ball down to Root who is able to place his pull shot at leisure between long-leg and deep square-leg. Root moves to 97 and the momentum is heading their way. "You're not singing any more" rings around the English sections of the crowd…
1732 BST: England 221/4 (35 overs)
Back-to-back boundaries through the offside for Buttler off Amir, and that's an 80-ball hundred partnership. The smashiest of smash-and-grabs starting to loom large here. Pakistan have been the better side for the vast majority of the first 80 overs here, but the game is still very much there to be won. It's 50-50 on the Win Predictor, for what it's worth.
1728 BST: England 211/4 (34 overs)
Root uppercuts to third-man for a couple and moves into the 90s – his odds with Betway to get to 100 are now incredibly short. Incredibly, on day five and match six of the tournament, he is the first man to do so in this tournament.
1724 BST: England 204/4 (33 overs)
A pair of good overs from Hasan and Shadab. Just five singles from the last 12 balls, but you do feel like Pakistan need wickets to win. Buttler will not be restricted.
1720 BST: England 201/4 (32 overs)
England have gone 51-49 favourites on the Win Predictor. Clearly nonsense, but testament to the fact that even science isn't immune to Jos' charms.
1713 BST: Jos Buttler 50* (34 balls, 5×4, 2×6, SR: 151.42)
Just a ridiculously silly cricketer. This is just a flick. Against a spinner. And it sends the ball over the ropes at midwicket. Buttler's second six and it takes him to 50 in 34 balls. Slowly – well, not that slowly – but surely he's dragging England back into this.
1709 BST: England 187/4 (30 overs)
No slip for Wahab, which is just insane right now. Get Buttler, win the game. He edges four through the slips. The man belatedly comes in. Another edge, squeezed along the ground this time, still finds its way through and down to the boundary. Could be an epic 20 overs ahead here.
1705 BST: England 176/4 (29 overs)
Huge moment in this game as Pakistan go upstairs for an lbw review against Buttler. Looked a great shout in real time from Shadab, but it's bounced too much and would've cleared the stumps. No reviews left now. Initially I was surprised to see how far over the top that was apparently going, but when you see how full the delivery it is and then seeing it hit just above the knee it has to be going over the top.
1656 BST: England 166/4 (27 overs)
Shadab is back. Buttler creams him through cover for four, and then repeats the shot for three. This is the game right here; another hour of Jos and we're in for a treat. He's in the mood here.
1652 BST: England 156/4 (26 overs)
Buttler fakes to go legside then instead goes to the off and ramps Wahab over the keeper for a one-bounce four. That was 142km/h. Utter brilliance.
1646 BST: England 148/4 (25 overs)
Hafeez's seventh over proves one too many. Buttler and Root both clearing the ropes in what is a cleverly calculated assault; this was the 10th over of Hafeez/Malik and therefore in all likelihood the final one.
1642 BST: England 133/4 (24 overs)
Buttler clumps Shoaib down the ground for four. Malik and Hafeez have done a grand job here, but surely time for Shadab and one of the quicks. Get Buttler early and this game is done.
1636 BST: England 120/4 (22 overs)
No exaggeration now to say this is the wicket of Buttler away from becoming a NRR damage limitation exercise. But Pakistan will not be fully confident of victory until he's gone.
WICKET! Ben Stokes c Sarfaraz Ahmed b Shoaib Malik 13 (18 balls, 1×4, SR: 72.22)
The part-time spinners continue to make hay. Stokes falls away off a cut shot against Shoaib and can only nick it to the keeper. Loaves and fishes time, Jos…
1630 BST: England 118/3 (21 overs)
England have scored just 10 runs in the last three overs, bowled by fill-in options Hafeez and Shoaib Malik. That simply can't continue if England are to get out of this with a win. Hafeez, meanwhile, briefly threatens to mankad Stokes which I'm sure will get the usual measured sensible reaction from everyone.
1622 BST: Joe Root 50* (47 balls, 6×4, SR: 106.38)
Not his most fluent innings, but potentially still a hugely important one. And it's come at a perfectly decent rate as well. Hafeez, meanwhile, has snuck through four overs for just 16 and the wicket of Morgan. Huge bonus for Pakistan.
1619 BST: England 108/3 (18 overs)
An outrageously perfect and classical straight drive from Stokes brings four. Just gorgeous.
1618 BST: England 103/3 (17.4 overs)
Root gets a square-cut away for four and then survives a huge lbw shout from Hasan. My word it looks close. Pakistan opt against the review, and that's a very correct decision; Ultra-Edge reveals the tiniest scratch of an inside edge.
1610 BST: England 89/3 (15.3 overs)
Is it simplistic to put all England's failings today down to some idiot deciding to do a cricket version of Three Lions and several other idiots not only failing to prevent this atrocity but actively encouraging it?
WICKET! Eoin Morgan b Mohammad Hafeez 9 (18 balls, 1×4, SR: 50.00)
The fifth bowler not looking a problem for Pakistan right now. Morgan plays back to a quicker, flatter, straight one from Hafeez and is clean bowled. More and more of England's eggs being placed in the basket marked 'Jos' here.
1558 BST: England 84/2 (13.4 overs)
Root, after a torrid start, beginning to find his feet and look a bit more secure. Pulls Hafeez for four and then collects another boundary off Hasan Ali with a trademark back-foot punch through point.
1550 BST: England 73/2 (12 overs)
England clinging on to a foothold in the game here, but neither Root nor Morgan looking remotely comfortable. Morgan gets his first boundary with a top-edged hook that sails over the keeper's head.
If The British Monarchy had any sense of humor, they should've taken Trump to Trent Bridge and made him sit along with a section of Pakistan fans and made Farage explain cricket to him while at it. Free milkshakes for the punters obvs.

— couch (@cricketcouch) June 3, 2019
1541 BST: England 62/2 (10 overs)
Pakistan now lead 4-1 on Phases Won, apparently, with one phase a draw. It's a commanding lead.
1534 BST: England 60/2 (9 overs)
England's Test and white-ball captains together. They're smiling as they discuss the challenge ahead, but things are not going according to plan just now.
WICKET! Bairstow c Sarfaraz Ahmed b Wahab Riaz 32 (30 balls, 4×4, 1×6, SR: 103.22)
Bairstow tries to run a short ball from Wahab down to third-man but can only feather it through to Sarfaraz. England in bother with both openers gone inside nine overs and very nearly 300 runs still required.
1527 BST: England 50/1 (7.2 overs)
First shot of real authority from Root as he punches Amir through point for four to bring up England's 50.
1526 BST: England 46/1 (7 overs)
This has been a shambling start from England to be honest, but they're pretty much where they need to be as Bairstow gets Wahab away for successive boundaries, the first pulled off his hip deliberately fine to beat short fine-leg and the second pure luck as a thick inside edge whistles past the stumps and down to the fence.
1518 BST: England 33/1 (5.3 overs)
Big moment in the game and a couple of lucky moments for Root. First an inside edge down to fine-leg is generously awarded four after Hasan is adjudged to have been in contact with the boundary. Then, more importantly, a flashing edge sends the ball to the left of Babar at a wide floating slip. He has to dive to his left, and it's no sitter, but it's a catch you need to take at this level when getting two strong hands to the ball as Babar did there. Amir has Root well and truly shook here, mind.
1511 BST: England 28/1 (4.4 overs)
Shadab into a third over. Might be getting a bit greedy now. Bairstow beaten by an eerily similar delivery to the one that dismissed him on Thursday. This one just missing rather than kissing the outside edge. Bairstow responds by plonking one back over Shadab's head for six.
1501 BST: Something said as Roy is leaving the field and he momentarily turns back to the centre exchanging words with… someone. Sarfaraz gets a talking to from Marais Erasmus after Roy has left the scene. England have been a grumpy bunch today.
WICKET! Roy lbw b Shadab Khan 8 (7 balls, 2×4, SR: 114.28)
Not a good day for Roy, you'd have to say. Plumb lbw here trying to sweep a really full ball from Shadab and chucking away England's review in the process.
1457 BST: England 12/0 (2 overs)
Bairstow almost falls first ball again! Sliced in half by a beauty from Amir that nips back between bat and pad and narrowly misses the off stump. Bairstow's first runs of the tournament come from the last ball of the over, thrashed hard past a diving Imam at cover.
1452 BST: England 8/0 (1 over)
Is there any easier free hit for a captain than giving a spinner the new ball? Praised to the heavens if it buys a wicket, but you never hear any criticism if he gets carted around. Two half-trackers from Shadab means Roy is nicely into his batting work after that nightmare in the field, crunching successive boundaries through cover and midwicket.
1448 BST: The players are back out in the middle for the run-chase. It's going to be spin again first up with Shadab Khan in the Imran Tahir role.
1435 BST: How about reading some stuff in the innings break, yeah?
After a total of 348/8, what better than an ode to the innings when batsmen score precisely nothing?
Or if the barrel-based fish hunt of taking the piss out of The Hundred is your thing, here's the definitely real inside track on how London X bafflingly didn't get the thumbs up.
And talking of The Hundred, have a listen to James Buttler and chums here…
1424 BST: If England do it – and honestly, you'd be brave to bet against them – it will be the highest successful run-chase in the World Cup. England will remember the current leader of that particular list all too well.
327 – No team has ever chased down a total of 328 or more in a Cricket World Cup match. The biggest previous chase in the tournament was Ireland in 2011, beating England's first innings total of 327. Daunting. #CWC19 #ENGvPAK pic.twitter.com/PqfqZOxdv2

— OptaJim (@OptaJim) June 3, 2019
Mind, while I wouldn't completely discount what happened in the bilateral series between these two last month – this pitch isn't quite the same as those ones. There was turn there for Moeen, who bowled beautifully. Pakistan successfully smashing Rashid out of the attack after Roy dropped Hafeez was a crucial moment. Pakistan also have Shadab Khan today, who missed that series. On the flipside of that, Pakistan have only four specialist bowlers and will need 10 overs of Hafeez/Shoaib which could be crucial. It's certainly not a bad pitch for batting, and it's such a difficult ground to defend with its strange angles and short boundaries. England also haven't lost in their last 21 home ODI chases.
Think that's me covered for all outcomes now. The verdict? A tie.
1420 BST: Pakistan 348/8 (50 overs)
Shadab scores two boundaries from his four balls. Fittingly the second of them – from the final ball of the innings – beats the despairing dive of Roy, who has had an absolute horror day in the field. He gets up and strides furiously to the refuge of the dressing room. He's clearly about to either score 200 off 120 balls or get out slogging first ball. Either way, don't go anywhere in the break.
WICKET! Shoaib Malik c Morgan b Woakes 8 (8 balls, SR: 100.00)
Shoaib skies the first ball of the final over to Morgan at cover. A third wicket for Woakes to go with his four catches.
1415 BST: Pakistan 337/7 (49 overs)
The last ball of a chastening spell for Jofra Archer is hammered over long-off by Hasan Ali. Archer ends with 0-79 from his 10 overs. Ouch.
1410 BST: Pakistan 326/7 (48 overs)
Pakistan just running short of hitters now, though. Two overs left to get as many as can be got.
WICKET! Wahab Riaz c Root b Woakes 4 (2 balls, 1×4, SR: 200.00)
Fair play to Wahab, that's how you do it at this stage. First ball: four. Second ball: straight up in the air trying to deposit it somewhere outside Nottingham city centre.

WICKET! Sarfaraz Ahmed c&b Woakes 55 (44 balls, 5×4, SR: 125.00)
Clever slower ball from Woakes, and Sarfaraz can only pop it up in the air towards cover. Woakes – quite rightly, based on today's evidence – tells everyone very politely to piss off out of it and takes the catch himself.
#CWC19 pic.twitter.com/lkWFPN13Vw

— Vithushan Ehantharajah (@Vitu_E) June 3, 2019
1402 BST: Pakistan 314/5 (46.4 overs)
Shoaib Malik in for his first bat at a World Cup since 2007.
WICKET! Asif Ali c Bairstow b Wood 14 (11 balls, 1×6, SR: 127.27)
Asif Ali falls in the pursuit of quick run, carving Wood over the offside but just failing to clear Bairstow on the cover boundary. Ball was travelling at pace as Bairstow plucked it from the air above his head, making the catch look far simpler than it was.
1358 BST: Sarfaraz Ahmed 51* (40 balls, 5×4, SR: 127.50)
Is there a better way to bring up a milestone than four overthrows? No.
1357 BST: Pakistan 311/4 (46 overs)
This is excellent from Pakistan, really is. Whatever else happens today, they have massively, massively rattled England. Root throws at the stumps – and rightly so, Sarfaraz was out of his ground – but his throw is wild and with nobody backing up the ball runs away for four overthrows. England massively behind on over-rate again by the way. Innings should be finishing in three minutes.
1352 BST: Pakistan 297/4 (45 overs)
Another misfield – from the previously blameless Woakes – turns a single to the deep into an easy two. England have been incredibly sloppy in the field today, and a bit crotchety as well. The worry will be that if any of that seeps into the batting then they're going to have problems. Good over from Wood, though
1349 BST: Pakistan 292/4 (44 overs)
Asif Ali into his work in magnificent style here, waiting on an Archer slower-ball bouncer and then slapping it high over cover for six. Whole thing seemed to happen in slow motion, but the ball went miles. It's going to be 350-odd for England to chase. Fun times coming up.
WICKET! Hafeez c Woakes b Wood 84 (62 balls, 8×4, 2×6, SR: 135.48)
Boy did England need this. Superb innings from Hafeez ends this time as a sweetly-struck drive over the top picks out the one fielder that on today's evidence you don't want to be picking out. The easiest of the three Woakes has taken today, but still a smart one.
1339 BST: Pakistan 277/3 (42.1 overs)
Goodness me, what a shot this is from Hafeez, somehow sort of flick-chipping the ball high over the short boundary for an outrageous six as Wood gets an attempted leg-stump yorker slightly wrong. Roy is going to owe England a good few runs when England's innings starts. Hafeez has played an absolute gem of an innings here since getting that astonishing let-off on just 14.
1334 BST: Pakistan 265/3 (41 overs)
According to the 'Phases Won' – which is absolutely a thing and not in any way a load of subjective old bollocks – Pakistan are winning 3-1. They've certainly got England rattled, with Stokes howling into the void after getting smacked for a couple of boundaries and – even more annoyingly to him it seems – a couple of twos in this over.
1328 BST: Pakistan 252/3 (40 overs)
Sarfaraz whacks Woakes over mid-on for four to bring up the 50 partnership.
1325 BST: Pakistan 243/3 (39 overs)
Pakistan "bossing the game" reckons Rameez. He was right about how England should try and get Babar out, so maybe he's right about that as well. I think it's a bit strong. They've got themselves right into the game, but anything less than 100 runs in these last 11 overs and England will still be favourites based on everything we've seen from these two sides recently.
1321 BST: Pakistan 241/3 (38.2 overs)
Stokes back into the attack with a slower ball, that Hafeez drives past the dives of Moeen and Root. Stokes walks back to his mark with the fury of a man who finds it grossly unfair that he is the only bowler on earth who doesn't have the advantage of Ben Stokes in the field.
1316 BST: Pakistan 230/3 (37.1 overs)
"England really inviting Pakistan for an uppish display of power," says Rameez Raja on commentary with the confidence and authority of a man absolutely certain these words in that order mean something. Sarfaraz whacks the returning Woakes for four over midwicket, so he understood anyway.
1315 BST: Pakistan 226/3 (37 overs)
Moeen finishes his spell with 3/50. Top effort, really is.
1312 BST: Pakistan 224/3 (36.1 overs)
Another misfield – from twelfthers James Vince – turns one into two for Pakistan. With the honorable exception of Chris Woakes, England have not fielded well today.
1305 BST: Pakistan 213/3 (34.3 overs)
Roy again! Shocking day for one of the best fielders around. Total mix-up between Hafeez and Shahzad sees the pair stranded in the middle of the pitch. A clean pick-up would have given Roy his choice of ends to complete the run out. Even a fumbled stop might have given him a chance. But he misses the ball completely, and Pakistan survive.
1303 BST: Mohammad Hafeez 50* (39 balls, 5×4, 1×6, SR: 128.20)
Two fours for Hafeez off a rapid Wood over – pulled behind square and driven straight back down the ground – take him to 50. Had just 14 when Roy dropped that sitter, and has cashed in in some style.
1259 BST: Pakistan 200/3 (33 overs)
Pakistan still on track for something a long way north of 300, making Moeen's figures of 8-0-39-3 even more impressive.
3 – Moeen Ali has taken 3+ wickets in an ODI match for the first time since June 2018, taking four against Australia at Old Trafford. Timely. #CWC19 #ENGvPAK pic.twitter.com/xht6bgwDzC

— OptaJim (@OptaJim) June 3, 2019
WICKET! Babar Azam c Woakes b Moeen Ali 63 (66 balls)
Moeen very much the man for England today. He and Wood the bowlers who've managed to tie the batsmen down, and Moeen the only man to trouble the wickets column. Babar drags one into the legside, and Woakes takes his second smart catch of the day out there. England finally take Rameez Raja's advice.
1246 BST: Pakistan 189/2 (31 overs)
Rashid under huge pressure now. That dropped catch looking a pivotal moment in the innings. Tossed-up delivery is smacked back down the ground for six by Hafeez. The next ball is dragged down and pulled away for four more. That's 43 from Rashid's five overs now. His figures after 1.1 overs should have been one for four…
1242 BST: Pakistan 176/2 (30 overs)
Archer cutting a frustrated figure today. He's through six overs for 36 and hasn't quite got it right. Does send a 90mph bouncer whistling past Babar's ear in this over, while a direct hit from Morgan sees a run out appeal sent upstairs but the batsmen are safely home.
1237 BST: Pakistan 170/2 (29 overs)
One of the reasons Buttler v Bairstow for the gloves isn't more of a debate in the one-day team is Bairstow's ability as an outfielder. He show it here, turning a certain four into just two as Babar absolutely nails a cover-drive off Rashid towards the short boundary. Bairstow had no price when he began his scurry round the fence, but a sprint and full-length dive gets the job done.
1233 BST: Babar Azam 51* (50 balls, 4×4, 1×6, SR: 102.00)
1229 BST: Pakistan 160/2 (27 overs)
Three perfectly pitched deliveries from Rashid look to be dragging the over back a bit, but the last ball is dragged down and smacked away for four more. Quality batting, that. Field changed after the first two boundaries, and Babar just waited for the short ball. Pakistan getting back into a good position, but you already find yourself wondering whether Pakistan have already missed the boat by allowing the innings to coast as they did from basically the ninth over through to the wicket of Imam.
Babar Azam is exceptional when coming down the track against spinners. Across his career he has come down 134 times, scored 157 runs and only been dismissed twice. That's an average of 78.50 – superb consistency for a high-risk tactic. He's pushed mid on back as well. #CWC19

— The CricViz Analyst (@cricvizanalyst) June 3, 2019
1228 BST: Pakistan 156/2 (26.2 overs)
Okay, now England should look to dismiss Babar. Two glorious shots over the legside off Rashid bring four then six. Rameez knows his onions.
1225 BST: Pakistan 144/2 (25.4 overs)
I mean… I'm not even sure they actually should. He's only striking at 80 right now, and his hundred here in the bilateral series was very pretty and full of lovely shots but cost his side the game.
1224 BST: Pakistan 143/2 (25.3 overs)
Rameez Raja reckons England should try to dismiss Babar Azam. It's the sort of insight that you can only really get from those who've played the game at the very highest level.
1220 BST: Pakistan 135/2 (24.1 overs)
Drop! I've done him there. From point for Stokes, Roy moves to long-off for Rashid. Hafeez skies one straight to him… and he drops an absolute sitter. Could be a huge moment, that. Hafeez has started brightly here, but that was an awful shot.
1218 BST: Pakistan 134/2 (24 overs)
Couple of plays and misses from Babar against Stokes attempting fiddly little shots to third-man. High risk, low reward. Be better off playing a proper cut shot. Mind you, that would involve trying to get the ball past Jason Roy at point, so maybe it's just not worth it full stop.
1212 BST: Two righties in the middle now, so it's time for Adil Rashid.
1210 BST: Pakistan 128/2 (22 overs)
Hafeez races to 12 from six balls, hooking Stokes perfectly into the gap for four. The wicket of Imam, who had got rather stuck after a good start, actually injecting some life back into Pakistan's innings here.
Is it morally fair to take a catch as brilliant as that when the batsman has done very little wrong? Woakes with some questions to answer.

— Pavilion Opinions (@pavilionopinion) June 3, 2019
1205 BST: Pakistan 119/2 (21 overs)
Mohammad Hafeez thumps his first ball down the ground for four. A statement.
WICKET! Imam-ul-Haq c Woakes b Moeen Ali 44 (58 balls, 3×4, 1×6, SR: 75.86)
What a catch! Not quite a Ben Stokes, but a very decent effort from Woakes nonetheless. It's a beautiful-looking shot from Imam, driving Moeen in-to-out over extra cover. Only question appears to be 'six or four?' as the ball sails through the air, but Woakes covers 20 yards from mid-off and then dives to his right to pull off a very impressive and very important catch. England wresting back control.
1200 BST: Pakistan 111/1 (20 overs)
Pakistan are doing better today than on Friday FACT.
It has taken Pakistan 19 overs and the loss of just one wicket to surpass their total of 105 all out at this exact same venue last week against West Indies – made in 21.4 overs. #CWC19

— The CricViz Analyst (@cricvizanalyst) June 3, 2019
1156 BST: Pakistan 108/1 (19 overs)
Babar manages to break the shackles Moeen had applied, launching a beautiful drive over mid-off for a one-bounce four.
1154 BST: Pakistan 100/1 (18 overs)
Forty-four balls for Pakistan's first 50; 64 balls for the second.
1146 BST: Pakistan 90/1 (16 overs)
Babar gets himself up and running with a powerful pull shot that perfectly finds the gap between long-leg and deep square-leg.
Meanwhile, here's the science behind what was just a lovely bit of bowling from Moeen to get the breakthrough England needed…
Moeen's ball to dismiss Fakhar was a classic off spinner's wicket. Tossed up, it drifted in and turned away, opening up Fakhar, causing him to overbalance and eventually leading to him being stumped. #CWC19 pic.twitter.com/oP2sZBBq71

— The CricViz Analyst (@cricvizanalyst) June 3, 2019
1138 BST: Pakistan 85/1 (15 overs)
Pakistan have made just 28/1 in the last six overs. Good fightback from England.
WICKET! Fakhar Zaman st Buttler b Moeen Ali 36 (40 balls, 6×4, SR: 90.00)
Yeah, good work this from England. Clearly rattled during those first seven or eight overs, they've regained a foothold in the game, slowed the run-rate and now got the wicket. Lovely flighted ball from Moeen, drawing Fakhar forward before spinning past his defensive prod. Buttler does the rest as the left-hander overbalances.
Quick hands from @josbuttler! 👏 pic.twitter.com/elFByqHHTC

— ICC Cricket World Cup (@cricketworldcup) June 3, 2019
1131 BST: Pakistan 82/0 (14 overs)
A wide given against Wood for one that literally went over the leg stump. Doesn't seem right. Still, six overs for 20 from him and Moeen have dragged Pakistan back below a run a ball. For all the excitement and for all this remains a superb start for Pakistan – especially in light of Friday's disaster – they are actually behind where they need to be.
1130 BST: Pakistan 80/0 (13.4 overs)
Huge mix-up sees Fakhar stranded mid-pitch while Imam leans on his bat at the bowler's end. Morgan, though, throws down the stumps at the wrong end.
1126 BST: Pakistan 79/0 (13 overs)
Moeen has done a good job here of quietening things down a bit here. He's through three overs for 12 runs, while Wood has also started well. But Pakistan have the platform for something massive here.
1117 BST: Worth noting that Fakhar is doing all this great banter while wearing bright green boots as well. Superb.
1115 BST: Pakistan 69/0 (10 overs)
Excellent first over from Wood. Just two singles from it, and the last ball whistles past Imam's outside edge.
1110 BST: Pakistan 67/0 (9 overs)
Short balls… extra pace… Moeen Ali on in the ninth over. Superb counter-attack from Pakistan's openers. "Shane Warne reckons this pitch will spin," says Ian Ward on commentary, overlooking the fact that Shane Warne always thinks this.
1106 BST: Pakistan 60/0 (7.5 overs)
Two bouncers from Archer are called wide as they sail over Fakhar's head. In between, Fakhar slogs another one away through the legside for a couple. This is a great response from Pakistan to Friday's shambles.
1103 BST: Pakistan 53/0 (7.3 overs)
England slightly panicked here, and spaff away their review for an lbw shout foiled by an inside edge visible from space.
1100 BST: England might get a chance to score 500 today after all.
1057 BST: Pakistan 46/0 (6.3 overs)
Calling it. This from Fakhar is already the best innings of the World Cup so far. Slaps Woakes through cover for four then ramps the next ball to fine-leg for four more. Absolutely nails the next one, but Bairstow does superbly on the square-leg boundary to first cut off the four and then prevent them even getting back for two.
1054 BST: Pakistan 37/0 (5.5 overs)
This is already a great innings from Fakhar. He's slapped a couple of pulls away to the square-leg boundary and missed with at least four or five murderous heaves outside off stump. Archer gets one on target towards the ribcage, and Fakhar punches it over the now solitary slip for a single. England's bowlers just starting to become irked with his antics. Good stuff, this.
1050 BST: Pakistan 30/0 (4.4 overs)
Ten in two balls for Imam! Sashays down the track and smacks Woakes dismissively over long-on for six. Out comes the decadent third slip. The next ball goes exactly where you've already guessed off a thick outside edge and runs away for four more.
1048 BST: Pakistan 19/0 (3.3 overs)
Jos Buttler fumbles a take on the half-vollley and concedes a bye. His keeping becoming a bit of A Talking Point.
1044 BST: England have bowled no bouncers so far. The Narrative is displeased.
1043 BST: Pakistan 14/0 (3 overs)
Woakes bowls a beautiful maiden over to Imam, with three slips in place. The problem with your one-day cricket these days is that being a bowler is pointless. Might as well just replace them with bowling machines and have a home run derby.
1038 BST: Pakistan 14/0 (2 overs)
Jofra Archer gets his line wrong early in the over, leaking four leg-byes with one flying down the legside, but soon corrects things. Beats Fakhar with a couple of beauties before the left-hander ends the over with a wild swish outside the off stump.
1034 BST: Pakistan 9/0 (1 over)
Fakhar Zaman slaps Chris Woakes through point for a couple of fours to the most ludicrous of the Trent Bridge boundaries – you know the one. Where they built that new stand and cut a vast chunk off the corner of an already small ground.
1027 BST: God Save the Queen is such a sh*t anthem. A plea to someone who doesn't exist to protect someone who shouldn't. The fact Eoin Morgan has been bullied into singing along these days should shame us all.
1025 BST: The players make their way to the middle for the anthems. Eoin Morgan's mascot's cap keeps falling off.
1015 BST: Pakistan have loaded the team with batting after the other day. Fifth bowler a potentially huge issue for them later today…
Perhaps it will work for them, and change was inevitable after Friday, but Pakistan look like they've been spooked into picking too many batsmen. To rock up at Trent Bridge against this England side, with Hafeez and Malik as your fifth bowler, feels like a mis-step. #CWC19

— Ben Jones (@benjonescricket) June 3, 2019
1010 BST: The teams are…
England: Jonny Bairstow, Jason Roy, Joe Root, Eoin Morgan (c), Ben Stokes, Jos Buttler (wk), Moeen Ali, Chris Woakes, Adil Rashid, Jofra Archer,Mark Wood
Pakistan: Fakhar Zaman, Imam-ul-Haq, Babar Azam, Shoaib Malik, Mohammad Hafeez, Sarfaraz Ahmed, Asif Ali, Shadab Khan, Hasan Ali, Wahab Riaz, Mohammad Amir
1005 BST: Sarfaraz insists Pakistan's collapse against the short ball the other day was a one-off. Hmm.
1003 BST: Wood for Plunkett is England's only change.
1001 BST: England win the toss and bowl first. Sometimes it's almost like they're more interested in winning the World Cup than trying to score 500. Baffling.
0955 BST: Reports this morning strongly suggest Mark Wood will replace Liam Plunkett in the England XI today. Harsh on Plunkett, but an understandable response to Pakistan's attempts to deal with the Windies' aggression on Friday.
The sun is shining on beautiful Trent Bridge where England will soon announce that Mark Wood is coming into their side to face Pakistan ahead of Liam Plunkett….

— Paul Newman (@Paul_NewmanDM) June 3, 2019
0950 BST: England against Pakistan again. And it's at Trent Bridge again. That means there should be millions of runs, but the banter timeline dictates it will probably be another blowout – with Pakistan the winners.
Both sides are playing their second game of the tournament, and it would be fair to describe their fortunes in the opening games as 'contrasting'. England gave South Africa a right twatting – although the significance of that has perhaps been slightly downgraded by mounting evidence that South Africa might be bad – while Pakistan got demolished by the West Indies.
Mind you, we're all looking at that game wrong apparently. On the face of it, Pakistan lost by seven wickets in about three hours all told having been blown away for just 105.
"If you see the one-day series, we were not that far from England. They scored 1430-odd runs, we scored 1370 runs, so we were 70 runs short."

Do you think Pakistan will put up a fight against England in their #CWC19 clash today?https://t.co/OPhFyV8gOc

— ICC Cricket World Cup (@cricketworldcup) June 3, 2019
But after Pakistan coach Azhar Mahmood pointed out that Pakistan were only "70-odd runs" short of England in the recent ODI series, it turns out that actually they were only three runs short against West Indies in what was, in fact, a close-run thriller.
That one-day series, of course, ended in a 4-0 win for England. Pakistan have now lost their last 11 full ODIs as well as a World Cup warm-up game against Afghanistan. For full Pakistan points, they probably need to remain bad for another two or three games before going on to win the tournament as we all know they will. They're right where they need to be.
FURTHER READING:
ICC Cricket World Cup 2019: Full squad lists
ICC Cricket World Cup 2019: Fixtures, results and standings
ICC Cricket World Cup 2019: All you need to know
ICC Cricket World Cup 2019: Pitch Reports
ICC Cricket World Cup 2019 Form guide: Who's in nick and who's Pakistan