Cricket World Cup 2019 – England v Sri Lanka as it happened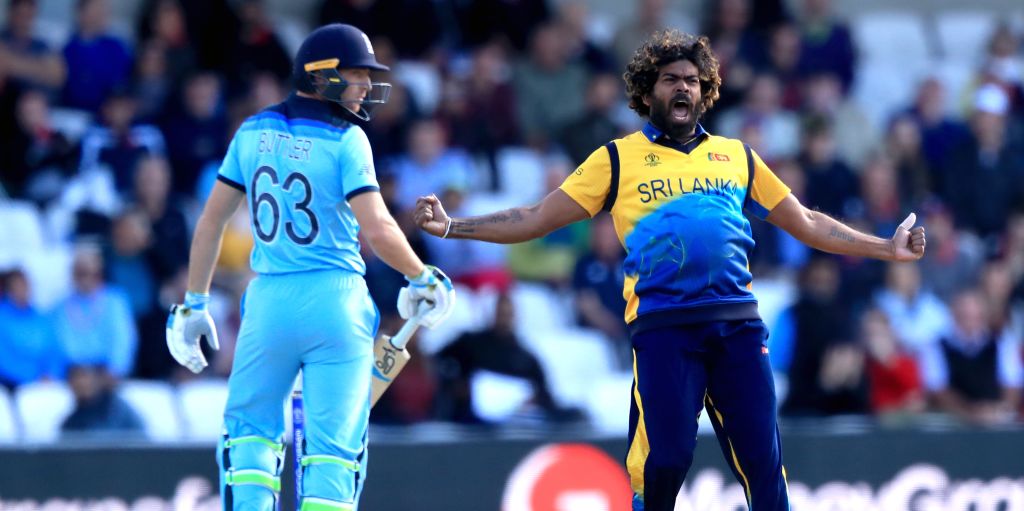 ---
ENGLAND 212 (47 overs) – SRI LANKA WIN BY 20 RUNS
A wonderful innings from Ben Stokes, who ends 82 not out, but it's a huge upset and a result that brings the group stage back to life. England may now need to win two from three against the rest of the big four. Sri Lanka are suddenly very much in the semi-final discussion, sitting fifth on six points just two behind England.
WICKET! Mark Wood c Kusal Perera b Pradeep 0 (4b)
It's all over! Stokes smashes two fours before once again leaving Wood one ball to survive. But this time he cannot do it, edging Pradeep – who thoroughly deserved this wicket for the way he bowled throughout – through to Kusal Perera! What. A. Result. England's semi-final spot suddenly looking way less secure.
1803 BST: England 203/9 (46 overs)
Biggest cheer of the day comes for the solid block Wood offers to the solitary ball he is left to deal with at the end of Udana's over. Stokes brilliantly got two earlier for a nudge to leg that never left the 30-yard circle before taking a single from ball five. There's England's 15-run over anyway…
1801 BST: England 200/9 (45.2 overs)
Back-to-back sixes from Stokes to start the 46th over! Udana smashed over long-on and long-off. England's 200 is up.
1759 BST: England 188/9 (45 overs)
Dropped! Stokes aims a big shot into the legside off Malinga, and deep midwicket can't hold a tough low chance. Stokes takes the whole of Malinga's final over, and a single off the final ball to keep the strike.
1752 BST: England 186/9 (44 overs)
"Hopefully I won't be needed. I'm pretty confident we'll do the job." England's new batsman Mark Wood, about four hours ago.
WICKET! Jofra Archer c Thisara Perera b Udana 3 (11b, SR: 27.27)
Sri Lanka are one wicket away! Archer's patience deserts him and he tries to send an Udana slower ball into the stands but picks out long-on. Moeen trying that was one thing, Archer another…
1747 BST: England 185/8 (43 overs)
England survive the penultimate over of Malinga. Archer faces five of the six balls in the over and copes admirably. The required rate, though, is nudging towards seven. The wickets have made the required rate a factor as well. Any England win here is probably going to need one over that brings 15 or so you'd think.
1742 BST: England 183/8 (42 overs)
Decent enough over from Udana, which costs five runs. But surely it's Malinga time now.
WICKET! Adil Rashid c Kusal Perera b de Silva 1 (2b, SR: 50.00)
Two in the over! It's Sri Lanka's game to lose now as Rashid follows Woakes in feathering a catch through to the keeper. Another smart take by Perera and England in all sorts of trouble now.
WICKET! Chris Woakes c Kusal Perera b de Silva 2 (4b, SR: 50.00)
Oh my. No need for Malinga as Woakes edges an attempted cut off de Silva through to the keeper.
1726 BST: Ben Stokes 52* (61b, 5×4, 2×6, SR: 85.24)
Genuine edge from Stokes off the unlucky Pradeep, and it races away for four to bring up a really good 50. He's very good in these situations generally. Have to wonder why there's no slip, though, even with Stokes batting so well. Sri Lanka can only win this game with wickets.
1724 BST: England 171/6 (39 overs)
That gets a right-hander in for Malinga as well. I'd be using his two overs straight away here. Woakes is hugely capable, don't let him get in.
WICKET! Moeen Ali c Udana b de Silva 16 (20b, 1×6, SR: 80.00)
Moeen does decide to have a go. Slog-sweeps a six – England's 50th of the tournament – but then takes on long-off and comes off second best. Hit it pretty well, but Udana takes the catch just inside the rope. England still need another 63 from 69 balls.
1719 BST: England 164/5 (38 overs)
Five runs from the Perera over, which is pretty much precisely what England require.
1716 BST: England 159/5 (37 overs)
Wonder if there's any case for Moeen having a bit of a dart here and letting Stokes just anchor the chase. Quick 30 and the game is settled, and Moeen always looks a better player when he's aggressive. Probably too risky when just batting the overs will get England home.
Stokes was the man who tried to bat "responsibly" in the Champions Trophy semi-final, and in the relatively low-scoring opener against South Africa. He suits these situations. #CWC19 https://t.co/arJDmP22ys

— Ben Jones (@benjonescricket) June 21, 2019
1712 BST: England 155/5 (36 overs)
Malinga's two remaining overs surely the key here. Can Sri Lanka risk saving them for when there's a right-hander in? Those yorkers so much less effective against the southpaws.
1704 BST: England 148/5 (34 overs)
A rarity today as a batsman manages to time a ball sweetly. Stokes nudging the ball off his hip through midwicket. Races away.
1659 BST: England 144/5 (33 overs)
Malinga now has 4/36 and still has three overs in the tank.
WICKET! Jos Buttler lbw b Malinga 10 (9b, 1×4, SR: 111.11)
Scratch that. It's a fourth wicket for Malinga and Buttler is gone. Full and straight and hitting Buttler on the boot. He reviews, but it's whacking leg stump. Three red lights, and Buttler has to go.
1648 BST: England 140/4 (32 overs)
Five singles from the first five balls of Thisara Perera's over, and then a genuine edge from Stokes beats the dive of The Other Perera and runs away for four. Time for drinks. Should still be a fairly comfortable England win from here. Should be.
Most World Cup wickets

Glenn McGrath: 71
Muttiah Muralitharan: 68
Wasim Akram: 55
Lasith Malinga: 50
Chaminda Vaas: 49https://t.co/tGeH4niGua #CWC19 #ENGvSL pic.twitter.com/fJB5PResRF

— ESPNcricinfo (@ESPNcricinfo) June 21, 2019
1644 BST: England 131/4 (31 overs)
That was also Malinga's 50th World Cup wicket. Fourth on the all-time list, going past Chaminda Vaas. And he's in some handy company. Only Glenn McGrath, Murali and Wasim Akram ahead of him now. Wasim's 55 very much within range as well. Murali's 68 and McGrath's 71 less so.
WICKET! Joe Root c K Perera b Malinga 57 (89b)
Huge moment! Root caught behind down the legside and Malinga has his third. Given not out on the field, and Sri Lanka almost didn't review it. But they'll be delighted they did; clear spike on the Ultra-Edge and Root has to go. That was the wicket Sri Lanka had to get to have any chance today.
1636 BST: England 126/3 (30 overs)
Stokes back in his box again after that flurry. Root carrying on just as he has all day. Nine singles from the last 12 balls.
1628 BST: England 117/3 (28 overs)
Ben Stokes has officially Had Enough Of This Nonsense. Hammers Jeevan Mendis straight back over his head and into the sightscreen for a flat six before rocking back and using all his power to send a short ball over the long-on boundary off the toe of the bat for six more.
1624 BST: England 103/3 (27 overs)
England reach a hundred! With a boundary! Good shot from Stokes, muscled through midwicket off Pradeep. Only the second boundary he's conceded in his seven overs today.
1620 BST: Joe Root 50* (78b, 3×4, SR: 64.10)
Root reaches 50 for the fifth time in six innings at this World Cup. It's been by some distance the toughest and slowest. He's up to third in the top run-scorer listings, joining David Warner and Shakib Al Hasan in the 400 club.
1616 BST: England 91/3 (25 overs)
I reckon England are probably more likely to have 91 on the board after 10 overs than 25 these days. However tricky the pitch, this is an amazing effort from the Sri Lankans.
1612 BST: England 88/3 (24 overs)
Three singles from de Silva's over this time. Root approaching another half-century, but it's been far tougher than his previous efforts.
1609 BST: England 85/3 (23 overs)
Stokes finally gets one away, pulling a short ball to the square-leg fence. They are the only runs from the over, though.
1605 BST: England 81/3 (22 overs)
Still just the occasional ones and twos for Root and Stokes. Stokes has just two runs from 11 balls.
1555 BST: England 76/3 (20 overs)
England finding things every bit as difficult as Sri Lanka did earlier. Very, very strange game this. The pitch isn't the easiest, but it's surely not as difficult as both sets of batsmen have made it look. The bowling from both teams has been excellent, mind. Let's give those lads some credit.
WICKET! Eoin Morgan c&b Udana 21 (35b, 2×4, SR: 60.00)
Great catch and game on! Morgan drills a low full-toss straight back at Udana, who plucks it out of the air in his follow-through.
1548 BST: England 70/2 (18 overs)
Huge appeal from Kusal Perera for caught behind as Morgan aims a drive at Thisara Perera. Nobody else is particularly interested, and there's clear daylight between bat and pad on the replay.
1541 BST: England 68/2 (17 overs)
A boundary apiece for Morgan and Root as Udana's first over brings 10 runs and takes the actual rate up to four and the required rate back down to exactly five. Morgan clips one fine of the man at long-leg, while Root's is a lovely whip through midwicket. Time for drinks after a tough start to the run-chase for England. They're still okay, though.
1537 BST: England 58/2 (16 overs)
Morgan, the man who hit absolutely everything out of the middle in that astonishing six-hitting exhibition the other day, aims something big at Perera but ends up playing a lovely 60-yard sand wedge to four feet and gets just two.
1533 BST: England 53/2 (15 overs)
Good from Thisara Perera and de Silva, backing up the excellent work of the new-ball bowlers and keeping the pressure on.
1529 BST: England 47/2 (13 overs)
The fact Root's 23 has taken 45 balls tells you an awful lot about how this innings is going. Slightly tricky pitch and some very fine bowling. The required rate is still only five, though, and that's going to be Sri Lanka's problem. Have to keep taking wickets to stay in this.
1524 BST: England 42/2 (12 overs)
Great spell from Pradeep. Desperately unlucky not to have any reward in the wickets column, but he's given up just 12 runs in six overs and goes past Root's outside edge again in this over.
1519 BST: England 41/2 (11 overs)
Spin for the first time in the innings – notable the success Sri Lanka have had with the quicks given the general strategy of starting with spin against England. Tidy first over from de Silva, just three from it.
1511 BST: England 35/2 (9 overs)
Two more gorgeous boundaries in this over, both driven. Morgan first, through cover, and then Root straight through mid-off. Fine spell from Malinga, but figures slightly marred by what is likely to be its final over.
1506 BST: England 26/2 (8 overs)
Malinga has the wickets, but Pradeep bowling just as well. Maiden over to Root. England's two highest ever ODI run-scorers at the crease now, and if Sri Lanka can separate them reasonably swiftly we've got a game.
WICKET! James Vince c b Malinga 14 (18b)
Two handsome boundaries for Vince but Malinga exacts revenge with an outswinger that draws a healthy outside edge and a smart catch from Kusal Mendis at slip. That over is James Vince's international career in microcosm. Credit to the captain too for keeping the slip in after those boundaries. Wickets are what Sri Lanka need, and wickets is what they have.
"He was looking good, James Vince, and then this happened."

Timeless commentary from Wasim Akram there.

— King Cricket (@TheKingsTweets) June 21, 2019
1455 BST: England 16/1 (6 overs)
Vince growing frustrated here, and aims a big yahoo at one outside off stump from Pradeep. Unlike assorted Sri Lanka batsmen earlier, his miscue bounces short of third-man.
1452 BST: England 15/1 (5 overs)
Root working exclusively in the area between third-man and point. And it's working pretty well.
1447 BST: England 10/1 (4 overs)
Root up and running now with that trademark back-foot punch through point played with both feet off the ground. Brings him four, before a similar shot earns two more. Almost gets in a tangle with the last ball of the over, though, driving on the up and only just short of cover. Ball hasn't quite come on to the bat today.
1444 BST; England 4/1 (3 overs)
Maiden over from Malinga to a frankly bemused Vince. Struggling to pick the ball up from Malinga's unique release.
There's something very wearing a T-shirt in a swimming pool about Malinga keeping his jumper on when he bowls. #CWC19

— Vithushan Ehantharajah (@Vitu_E) June 21, 2019
1440 BST: England 4/1 (2 overs)
Good first over from Pradeep as well. Just a single from it, and Root beaten by the last ball of the over as it shapes away.
1436 BST: England 3/1 (1 over)
It has not been a good game for opening batsmen.
WICKET! Jonny Bairstow lbw b Malinga 0 (1b)
Bairstow falls first ball again! Full and just about straight enough from Malinga to pin Bairstow, who had walked a long way across his stumps. He reviews it, but it's clipping leg and the original decision stands. The start Sri Lanka very much needed.
1430 BST: James Vince and Jonny Bairstow make their way out to begin England's run-chase.
1357 BST: Sri Lanka 232/9 (50 overs)
Mathews heaves the first ball of Archer's closing over for six over midwicket but can add only two more runs from the remaining five. Sri Lanka end on 232 and you wouldn't think that is going to be enough.
1353 BST: Sri Lanka 224/9 (49 overs)
Wood finishes his day with 3/40 from eight overs.
WICKET! Lasith Malinga b Wood 1 (5b, SR: 20.00)
Malinga gets Malingad, a searing leg-stump yorker from Wood far too good for Sri Lanka's number 10.
1347 BST: Sri Lanka 220/8 (48 overs)
Best moment for Sri Lanka since Fernando's innings here as Mathews arches his back to ramp an Archer bouncer over Buttler's head for four. Beautiful.
1342 BST: Sri Lanka 214/8 (47 overs)
Better over for Sri Lanka despite the wicket. Mathews adding another boundary off a high full-toss from Wood. Eleven runs from the over.
WICKET! Isuru Udana c Root b Wood 6 (6b, 1×4, SR: 100.00)
Udana smears a boundary but falls attempting to repeat the trick, splicing a short ball to Root at mid-off. Wood has his second wicket, making it eight straight games where he has taken two or more having only done it six times in his ODI career before that.
1337 BST: Sri Lanka 203/7 (46 overs)
Wasim Akram just accidentally called this a Test match on commentary. Understandable mistake to be fair.
WICKET! Thisara Perera c Rashid b Archer 2 (6b, SR: 33.33)
Third catch of the innings at third-man, and this is the best of them. Perera backs away and tries to swipe Archer over the offside but can only spiral the ball towards third-man where Rashid makes good ground off the boundary and takes a smart low catch. That's Archer's 15th wicket of the tournament, putting him joint top of the list with Mitchell Starc. Every chance he goes clear in the next couple of overs.
1330 BST: Sri Lanka 197/6 (45 overs)
Fine death over from Wood. Sri Lanka just cannot get going.
WICKET! Dhananjaya de Silva c Root b Archer 29 (47b, 1×4, SR: 61.70)
Slower-ball bouncer from Archer deceives Dhananjaya into a miscued pull that is smartly caught by a diving Root at mid-off. Thisara Perera the new batsman. Sri Lanka need something special from him. He's capable.
1320 BST: Sri Lanka 188/5 (42 overs)
Archer and Wood back into the attack. No change in the results, though. Some singles. This really is a touching tribute from Sri Lanka to the way England have played against them in recent World Cups.
1312 BST: Angelo Mathews 50* (84b, 3×4, SR: 59.52)
A return to form of sorts for Mathews as he dispatches a full-toss from Root behind square-leg for four to bring up a struggle of a half-century.
Angelo Mathews has faced 21 balls from seamers in this innings, and has scored three runs – a scoring rate of 0.85rpo. 47 of his runs have come off the spinners, at a scoring rate of 4.47rpo. #CWC19

— The CricViz Analyst (@cricvizanalyst) June 21, 2019
1309 BST: Sri Lanka 171/5 (40 overs)
Excellent and encouraging spell from Rashid, 2/45 off his 10. Sri Lanka, though, did nothing to put him under any pressure.
1305 BST: Sri Lanka 168/5 (39 overs)
England stick with spin. Root into the attack with his off-breaks and leg-breaks and that 'fork ball' that did for Jason Holder. Root trying all sorts of things. Sri Lanka, though, are sticking with what they know. Four singles.
1302 BST: Sri Lanka 164/5 (38 overs)
De Silva almost chops on off Rashid. But he didn't.
1259 BST: Sri Lanka 160/5 (37 overs)
Does Moeen Ali finishing his spell count as something? It'll have to do. Ten overs, no wickets, but only 40 runs conceded.
1242 BST: Sri Lanka 141/5 (32 overs)
Overs slipping away quickly for Sri Lanka with the two spinners now rattling through them. We're not writing anything else until something happens, which may well not be until England are batting.
1237 BST: Sri Lanka 135/5 (30 overs)
No hat-trick for Rashid, Dhananjaya de Silva pushing the hat-trick ball through cover for a couple.
WICKET! Jeevan Mendis c&b Rashid 0 (1b)
Two in two for Rashid, Jeevan Mendis chipping his first ball straight back to the bowler. All that patient rebuilding work from Kusal Mendis and Angelo Mathews undone in two balls.
WICKET! Kusal Mendis c Morgan b Rashid 46 (68b, 2×4, SR:67.64
What a catch! Mendis nails a slog-sweep off Rashid but Morgan in close at midwicket dives to his left and holds on.
1230 BST: Sri Lanka 128/3 (28 overs)
Singles, singles, singles, singles, singles. Forced upon them by the situation to an extent, but Sri Lanka firmly in mid-noughties ODI mode here.
1215 BST: Sri Lanka 106/3 (24 overs)
The run of singles reaches 14 before Mathews clumps Rashid over mid-on for his first four. Mathews looking far more comfortable now the spinners are on. Footwork was all over the place against the quicks, with Mathews looking every inch a player coming into the game on the back of scores of nine, nought and nought.
1212 BST: Sri Lanka 98/3 (23 overs)
There have now been singles from the last 11 balls.
1210 BST: Sri Lanka 92/3 (22 overs)
Spin at both ends now as Rashid enters the attack. Not been at his best in the tournament so far, and he's generally a bit too short in this opening over. Only five singles from it, but not a great start.
1207 BST: Sri Lanka 87/3 (21 overs)
Mendis belts a wide full-toss from Stokes past mid-off for four in a rare moment of aggression. Another tidy over from Moeen to follow.
1159 BST: Sri Lanka 79/3 (19 overs)
First bowl for Moeen on his 100th ODI appearance. Quiet start. Four singles.
1156 BST: Sri Lanka 75/3 (18 overs)
Brilliant fielding from Stokes off his own bowling almost engineers a run out from what looked like a pretty safe single. Swooped on the ball, turned and threw at the bowler's end but just missed the target. Touch and go. Sri Lanka going nowhere right now.
1152 BST: Sri Lanka 74/3 (17 overs)
Cracking over from Wood. Mendis just about manages to dig out a yorker before being beaten outside the off stump next ball.
1143 BST: Sri Lanka 72/3 (16 overs)
Mendis gets his first boundary, and it's nicely done. Half-volley from Stokes gives the opportunity, but it's beautifully taken as Mendis gets low and drives handsomely through the covers. Mathews is finally off the mark with a quick single from the 12th ball he's faced.
1135 BST: Sri Lanka 63/3 (14 overs)
Angelo Mathews has some history with England on this ground after that famous Test in 2014. Watchful start from a player in nothing like that form right now having made nine runs in three innings at this World Cup. Plays out a maiden from Stokes.
1132 BST: Sri Lanka 63/3 (13 overs)
Well that is a shame. Was enjoying that.
WICKET! Avishka Fernando c Rashid b Wood 49 (39b, 6×4, 2×6, SR: 125.64)
Oh what have you done? Sri Lanka's entertaining fightback comes to a juddering halt as Fernando steers a short ball from Wood straight to Rashid at third-man.
1116 BST: Sri Lanka 48/2 (10 overs)
Yes! Fernando pulls Archer for four off the front foot through midwicket and is then fully ready for the even shorter, even quicker ball that follows and pings it over fine-leg for six. Where has he been?
1112 BST: Sri Lanka 37/2 (9 overs)
Another classy boundary from Fernando, whacking Woakes for four over square-leg. This is far more like it.
1103 BST: Sri Lanka 31/2 (7 overs)
On this evidence, you have to wonder where Fernando has been in this tournament while Sri Lanka have struggled. He's just absolutely drilled Woakes back down the ground for four.
1059 BST: Sri Lanka 24/2 (6 overs)
That's more like it. Drive, pull, drive from Fernando: four, six, four. Archer and England given something to think about by the new man.
1049 BST: Sri Lanka 4/2 (4 overs)
Maiden over from Archer to back up the double-wicket burst. It's not been the ideal start for Sri Lanka tbh.
WICKET! Kusal Perera c Moeen Ali b Woakes 2 (6b, SR: 33.33)
Oh. Sri Lanka have been rubbish at this tournament, the one tiny saving grace being the form of their opening batsmen. That's that ruined. Perera follows Karunaratne, carving Woakes straight to Moeen at third-man. Quick game's a good game.
WICKET! Dimuth Karunaratne c Buttler b Archer 1 (8b, SR: 12.50)
Beauty from Archer. Little bit of movement off the pitch finds Karunaratne's outside edge. Buttler does the rest. What an addition to this side Archer is.
1034 BST: Sri Lanka 2/0 (1 over)
Good start from Woakes, nipping the first ball back to beat Karunaratne's inside edge. Both Sri Lanka's openers off the mark with singles.
1028 BST: The anthems are done. Sri Lanka's lasting its traditional four hours. England's anthem may be terrible, but at least has the benefit of brevity.
1002 BST: Sri Lanka have won the toss and will bat first. Eoin Morgan would have done the same on what looks a good deck. England are unchanged, which means a 100th ODI for Moeen Ali.
0945 BST: Can this tournament be saved from itself? Can Sri Lanka do what they did in 2011 but no team has done since and beat England in an ODI at Headingley? It seems really, really unlikely. But we are approaching the endgame here. An England win today and an India win tomorrow leaves the tournament in a sorry old state with a fortnight of group games still to play. The sun's out, though. Be quite funny if after all the rain and washouts in the first half of the tournament the 'northern half' of the tournament gets completed without a hitch.