Africa T20 Cup Wrap: Easterns ease into knockouts
Easterns qualified for the Africa T20 Cup semi-finals when they thumped defending champions Hollywoodbets KwaZulu-Natal Inland in Pool A to secure top spot in Pietermaritzburg on Saturday.
The Benoni-based side beat the hosts by 58 runs, before losing to Uganda by five wickets, although by then they had secured an unassailable lead in the group.
In the first game, Wesley Marshall (54 off 33 balls, 10 fours) and Sizwe Masondo (51 not out off 36 balls, 1 four, 3 sixes) both hit half-centuries to help their side amass 195 for five. In reply, KZNI were kept to 137 for nine.
Uganda then stunned Easterns when they beat them with three balls to spare after initially restricting them to 143 for six.
Riazat Ali Shah (2/23) and Henry Ssenyondo (2/16) were the stars after claiming four wickets between them, with Zephania Arinaitwe and Dinesh Nakrani hitting 34 apiece to guide the Africans to victory.
Elsewhere, Janneman Malan hit the highest score of the competition when he crunched a career-best 128 off 67 balls (13 fours, 7 sixes) as Western Province beat KZNI by 35 runs.
His performance helped the visitors post 220 for three after winning the toss and batting, with the home side replying with 185 for six.
Cody Chetty (66 off 39 balls, 11 fours) and Grant Roelofsen (53 not out off 32 balls, 7 fours) both hit half centuries in a losing cause.
Province did lose their other game on the day when they went down to Hollywoodbets KwaZulu-Natal by four wickets.
Qaasim Adams (60 off 48 balls, 2 fours, 2 sixes) and Andre Malan (52 off 35 balls, 6 fours) enabled the Cape side to post 152 for seven, but 60 off 35 balls (9 fours, 1 six) by Michael Erlank helped KZN get to their target with eight balls remaining.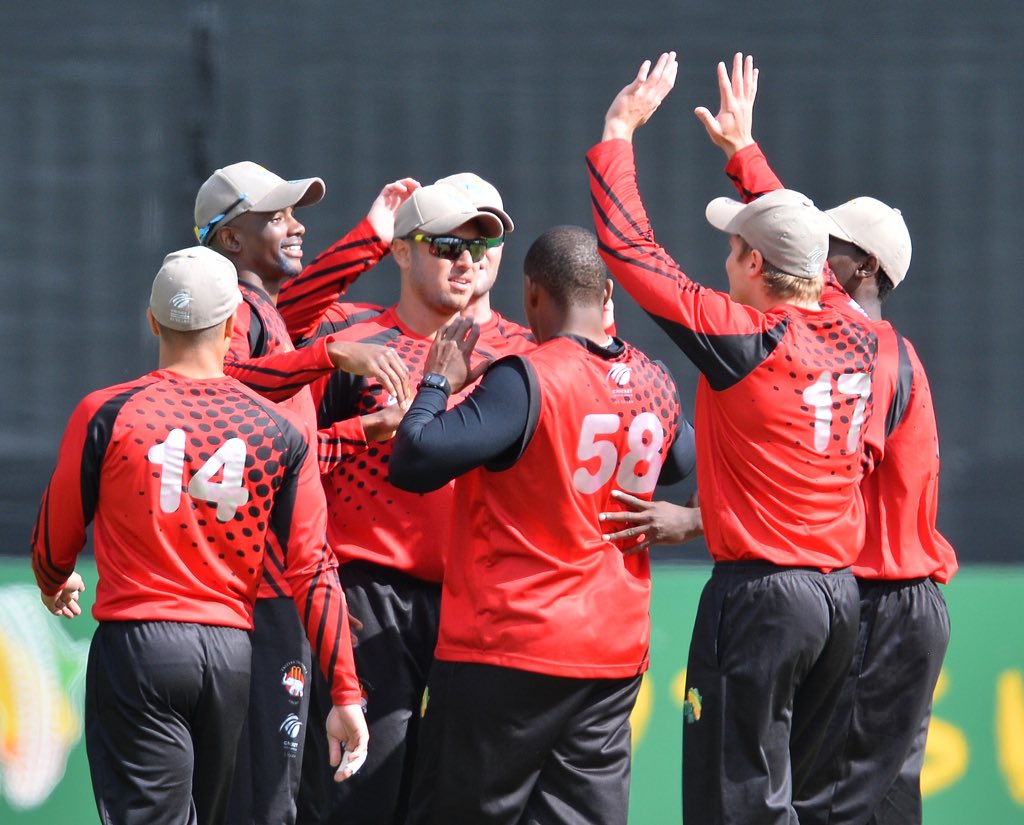 Half-centuries by Matthew Breetzke and Eddie Moore as well as three wickets from Thomas Kaber put Eastern Province in pole position to qualify for the Africa T20 Cup semi-finals from Pool C thanks to a big win over Kenya in East London on Saturday.
The Port Elizabeth side were 79-run winners after bowling out the Africans for 109 in pursuit of 188 for seven.
That was built around 69 (49 balls, 6 fours, 3 sixes) by Breetzke and 54 (31 balls, 6 fours, 3 sixes) from Moore.
Kaber then picked up three for 11 as the visitors were all out in 15.3 overs.
Elsewhere, Marco Marais blasted his second century in 24 hours as Border trounced Mpumalanga by nine wickets to give themselves hope of reaching the semis.
After hitting 103 not out on day one, the right-hander thumped an unbeaten 106 (55 balls, 7 fours, 8 sixes) to take his team to their 176 target with 15 balls to spare.
Marais is growing into a T20 superstar after making global headlines last season when he smashed the fastest triple century in first-class cricket history from only 191 balls.
For debutants Mpumalanga, Jared Fuchs hit an unbeaten 78 off 46 balls (7 fours, 4 sixes) but it proved in vein.
Marais then produced another devastating innings when he smashed 75 off 34 balls (10 fours, 3 sixes) in an eight-wicket over Kenya.
The hosts, who were chasing 131, reached their target in just 10.5 overs.
Their double win on day two gives them hope of reaching the last four, but they will need to beat group leaders EP on Sunday to secure progress.
Finally, rookies Mpumalanga were also heavily beaten by Namibia when they conceded 216 for four after Jan Frylinck thumped 82 not out (46 balls, 8 fours, 4 sixes). Michau du Preez was also amongst the scores with 65 (45 balls, 5 fours, 4 sixes).
Mpumalanga were dismissed for 150 in reply with three wickets each for Gerhard Erasmus (3/23) and Christopher Coombe (3/35).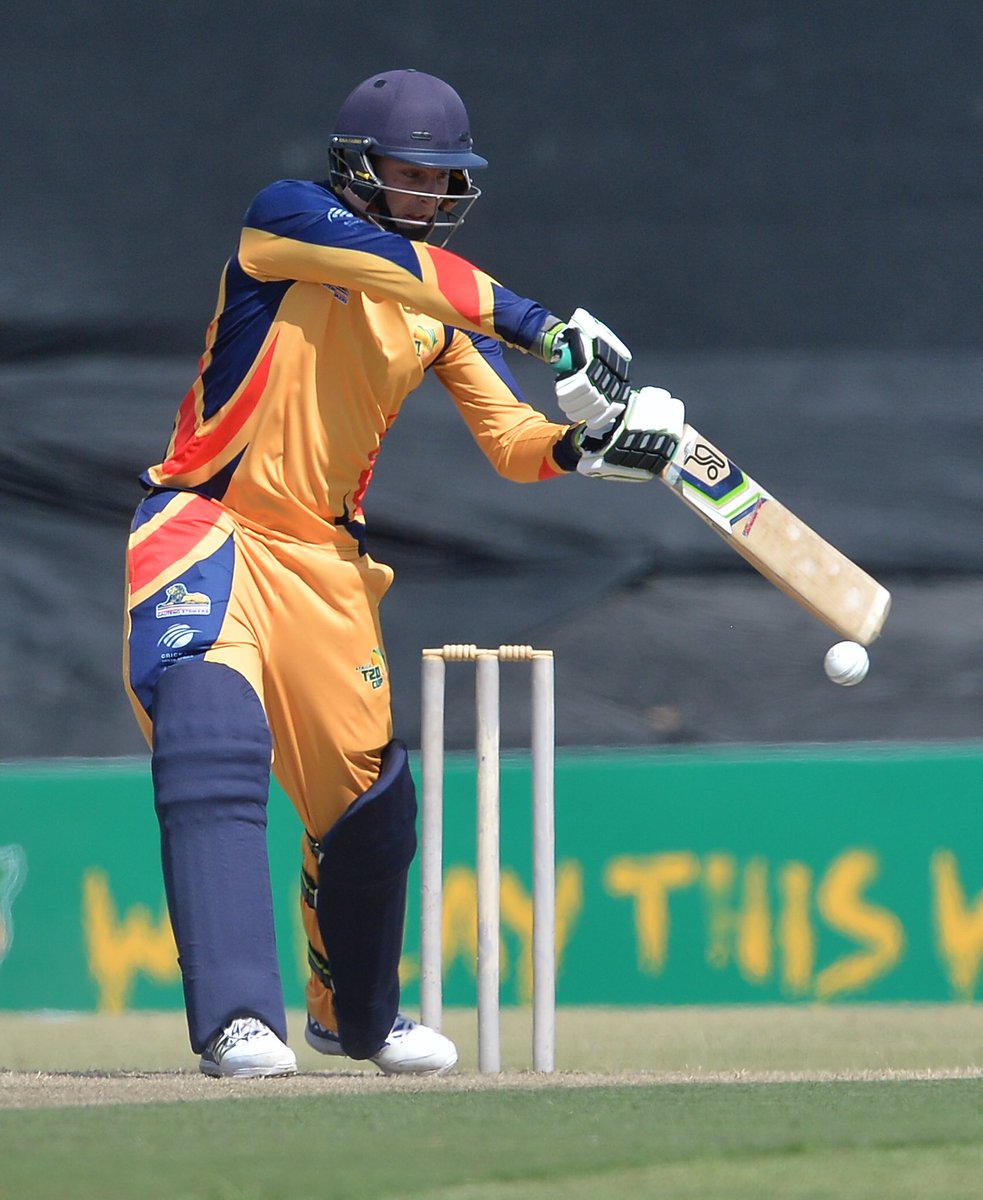 Delano Potgieter starred with bat and ball to help Gauteng secure their place in the Africa T20 Cup semi-finals thanks to a 35-run win over Free State on the second day of action in Oudtshoorn on Saturday.
The result meant that the Johannesburg-based side had now won all three games in their group to take an unassailable hold of Pool B with the final day to come.
Following successive wins on Friday, they only had one match scheduled for day two and they were comfortable winners thanks to the outstanding Potgieter.
The opener first struck 70 off 52 balls (6 fours, 4 sixes) to help amass 156 for seven after they had won the toss and elected to bat first. There was also a half-century from fellow all-rounder Wiaan Mulder, who made 50 (38 balls, 5 fours).
Potgieter was in devastating touch with the ball as he claimed a career-best five for 22 with his medium-pace to rattle through the Free State line-up.
Spinner Tumelo Tlhokwe was equally outstanding with three for five.
The bonus point win took Gauteng to 15 points, six more than Northerns, who won one and lost the other of their two matches on the day.
The Pretoria side were first outshone by Zimbabwe when they went down by six wickets. Captain Tarisai Musakanda was the star for the Africans after striking an unbeaten 67 (54 balls, 5 fours) in a chase of 138 to help his win with four balls to spare.
Northerns bounced back from that set-back thanks to a thumping nine-wicket win over South Western Districts following a career-best effort by South Africa Under-19 star, Jiveshan Pillay.
The opener made 75 not out (53 balls, 7 fours, 3 sixes) to help his side chase down 121 in just 15.1 overs as they secured a bonus point in the process.
In the other game of the group, Free State managed their only win of the weekend when they beat SWD by 24 runs. Andries Gous was the star man with the bat as he made 65 (41 balls, 6 fours, 2 sixes) out of a total of 174 for eight.
Jason Smith picked up three for 36 with the ball, but he was outshone by the FS bowlers – Thandolwethu Mnyaka (2/21), Corne Dry (2/26) and Eddie Leie (2/30) all picking up two wickets apiece.