An Ashes five-fer: Day 3, 1st Test, Brisbane
FUNKY FIELDS ARE COOL IF THEY WORK
Michael Vaughan used to set funky fields to jam up Hayden, Langer, Gilchrist and company in 2005 and Joe Root has taken on that mantle, albeit against a less stellar cast.
At one point, Steve Smith had scored only 17 runs from 66 balls in the first session.
The dizzying merry-go-round of leg side fielders were placed strategically, as if to scream at the Aussie skipper: "See, we are doing something to put you off." It did rattle Smith to be fair, but he's got that magic asterisk to his name.
During this Steve Smith innings, that pool couple has got married, had a couple of kids, separated, reconciled and moved to Perth. #Ashes

— Dan Liebke (@LiebCricket) November 25, 2017
ENGLAND CAN'T FINISH THAT TAIL
Before England were mentally Mitchelled, they had the Aussies at 6-132 on the first day at Brisbane four years ago. All looked well with the world.
Then Johnson came in and whipped a smart 64 in able support of Brad Haddin to push the Aussies up to 295.
Likewise. from a wobbly 209-7, Pat Cummins gave Steve Smith stellar support with a classy 42 as England again struggled to get rid of the tail.
Oh for a Darren Gough bag of tricks to knock them over.
TOO LONG IN THE FIELD TO TWO DOWN
You know that feeling when the dominant position turns into a deficit and there's a protracted hour of hostility to face against a revitalised attack? Fancy losing a couple of quick wickets? Box ticked.
The real interest now lies in how many England can get. It would be a shame for the "neutrals" (tough to spot, I grant you) if they crumpled. This match deserves a competitive fourth day.
Just overheard this epic conversation:

"Dad, who's your very worst England player?"

"Well, let's start at Cook and work our way down from there…"#Ashes pic.twitter.com/jtCTypjphf

— Henry Moeran (@henrymoeranBBC) November 25, 2017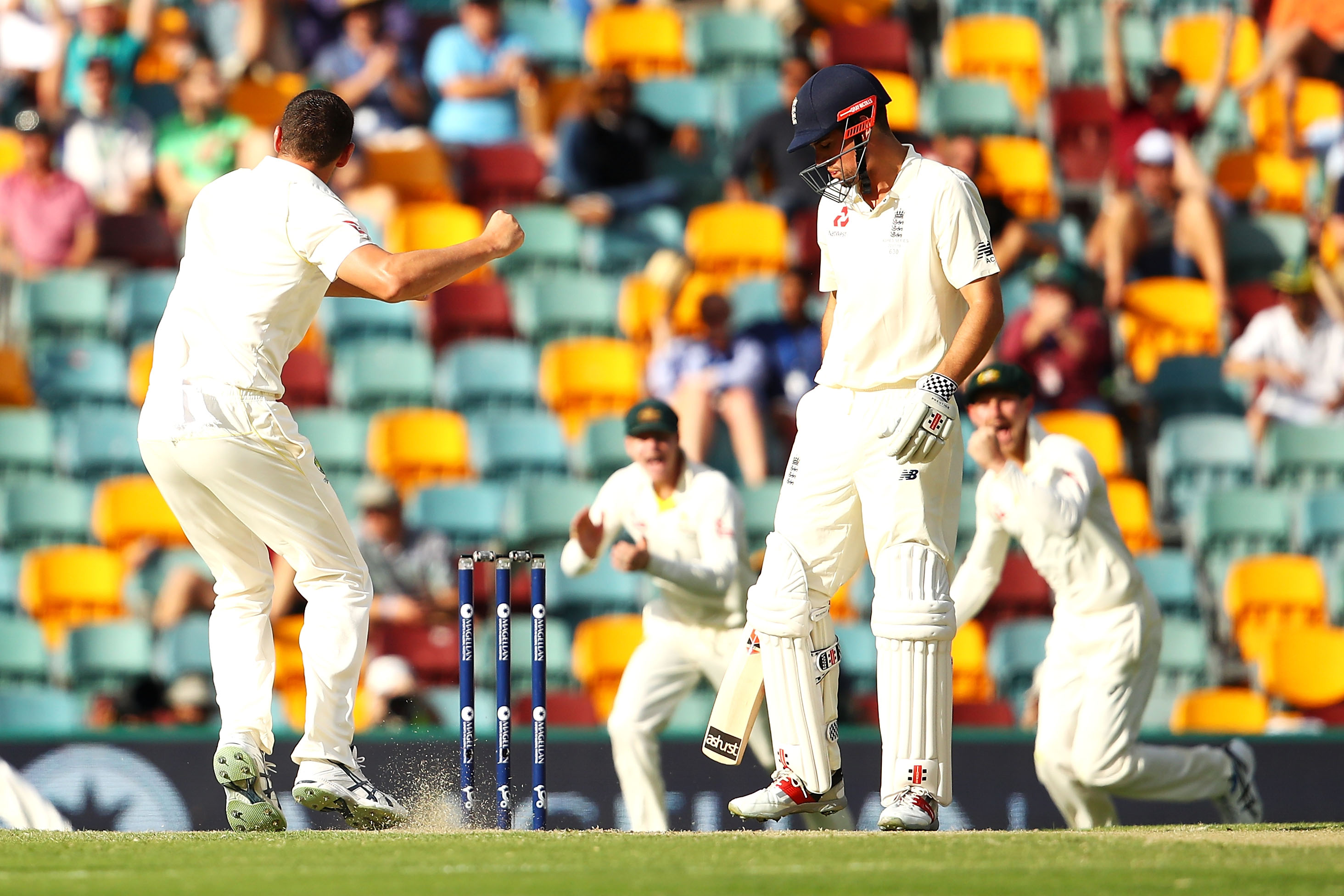 THE SPIRIT OF CRICKET LIVES ON
With Australian tails up, the pace attack that was so muted by the pitch on the first day suddenly cranked up the volume to vicious levels. Mitchell Starc and Cummins electrified their moustaches to Kenneth Branagh Poirot proportions.
Three years to the day since Phillip Hughes was fatally hit, the Aussie players immediately checked on Root's health after a 90 mph crack to the side of the helmet. Starc then bowled another short ball. That's the way it has to be.
STONEMAN MADE OF THE RIGHT STUFF
For a relative Test rookie, it wasn't so much the runs, but how Stoneman dealt with the whole situation, having also seen his skipper receive a sickening hit.
Many pundits have been saying nice things about how the Surrey man goes about his work. He's proved there is a chance for gnarled pros that may not have got a look in with a more cliquey England dressing room a decade ago.
Who would have thought Stoneman would look more secure than Alastair Cook?