The Official Cricket365 2019 Ashes Combined XI
Always good fun, these. Especially in this series because there haven't been 11 good players. We've gone early so that David Warner's double-hundred in Australia's successful Oval run-chase can't ruin anything.
Rory Burns
Probably the third name on the teamsheet behind the freak boys Smith and Stokes. In a normal series, Burns would have had a perfectly good one. In this series, it's a freakishly brilliant one. With opening the batting statistically an impossible job based on the numbers dished up by everyone else who had a go, Burns' century, two fifties and average of 39 are in their own quiet, awkward technique and Peaky Blinders haircut way every bit as ridiculous as Smith's. Okay not quite that ridiculous. But still ridiculous.
Joe Denly
Look, opening the batting is a specialist job. We can't just be chucking any old player in to do the role in our side that doesn't actually exist. We need the any old player who was chucked in to do the role in a side that does actually exist and then proved himself comfortably the second-best opening batsman on show in this series. That'll be Joe Denly, then, who was already inked in to this side before ending it with more runs in a day than Warner has managed all series.
Marnus Labuschagne
The man who played four Tests in the winter and was then named in Australia's squad for the Ashes before being named as the nominated batting sub in the event of a concussion replacement being required was plucked from quite literally nowhere to replace Steve Smith at Lord's and immediately established himself as Australia's second best batsman. Signature moves: leaving balls that are not hitting the stumps, having unpronounceable name
Steve Smith
Sneaks in.
Joe Root
Has he had a bad series? Yes. Has it been slightly less bad than any specialist batsman's bar Burns, Marnus and Smith? Also yes. A quick glance around the other batting options soon reveals Root actually gets in this side with something to spare, which in a way tells you everything you need to know about this series. Bats at five in our side because we're far more sensible than England.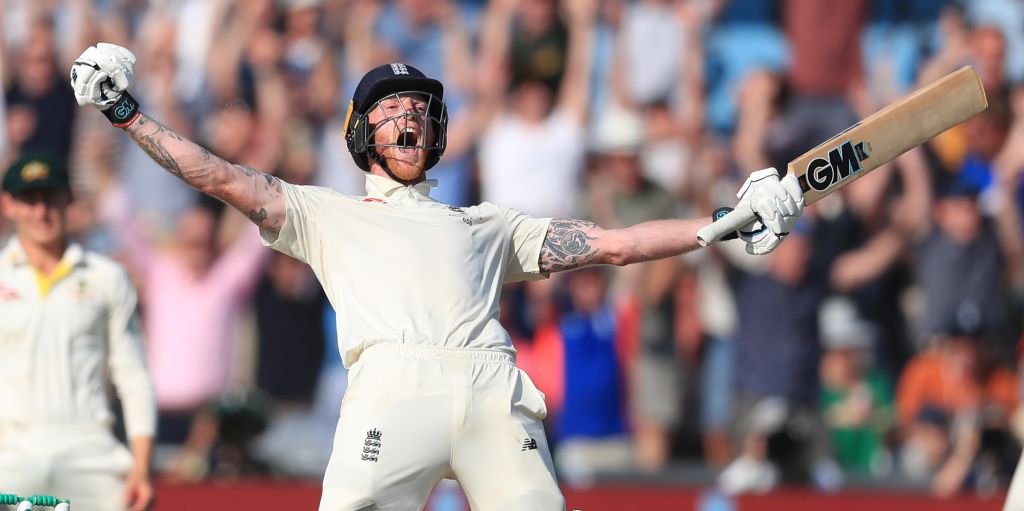 Ben Stokes
Eventually succumbed to the fatigue that plagued all England's World Cup heroes, but not before playing two of the great Ashes innings and producing a ridiculous spell of roughly 87 overs in that Headingley game. Still had just about enough energy left to make an important and increasingly authoritative 67 in his final dig of an astonishing summer.
Tim Paine
We're going to need a wicketkeeper. As with the opening position, it's a specialist job. Can't just be giving the gloves to anyone. Luckily, both teams have picked two genuine keepers each throughout the series. Surely one of them must have had a decent series. *Checks stats* Oh. Ah. Right. Paine gets the nod for successfully tricking absolutely everyone into thinking Australia are the good guys now and his always-entertaining use of DRS.
Pat Cummins
Here they all come. All the big lads. We start with the leading wicket-taker, who has almost as many five-wicket hauls in the series as Mitch Marsh. Despite taking 28 wickets in the series, every one of his spells seemed to deserve more reward than it actually got which can't be right. Just a brilliantly relentless, menacing, handsome presence throughout. Also played all five Tests in seven weeks, all but the last of them in a four-man attack. Deliberately didn't take a five-wicket haul in the series because he's not interested in your baubles and trinkets. A hero.
Jofra Archer
A lot of people seem determined to focus on the couple of innings when he didn't perform. Pfft. Let's focus on the searing, head-rattling pace and fire of that thrilling Lord's debut, the smarts with which he transformed himself into the ideal sort of traditional English seamer on that murky first day in Leeds, the 74mph knuckleball yorker that earned him a second five-wicket haul in just his fourth Test match. Just a brilliant debut series for a man who has had quite the summer.
Josh Hazlewood
The numbers say different, but if anything Hazlewood has been even better than Cummins. Running in with his Russell Tovey face and his fast-forward Glenn McGrath bowling style and his celebrappeals. Has he bowled a single bad delivery in the last four Tests? We can't think of one.
Stuart Broad
The old man of the England pace bowling ranks once James Anderson went lame on the first morning, and he's still learning a few new tricks. Bowled noticeably fuller with dramatic results and had all Australia's left-handers on toast. His bowling to David Warner alone earns him a place in this or any team. Yes it means we have no specialist spinner despite both Nathan Lyon and Jack Leach contributing some memorable moments. But the truth is they have just 11 wickets between them since Lord's and their most memorable moments in the last few games have come with bat rather than ball in hand. Root and Labuschagne have a wicket each in the series. They and Denly can help out in the unlikely event that the four big quicks and a 20-over spell from Stokes haven't got the job done in the non-existent matches this fictional team will never actually play.