Captain fantastic, a scary b*****d and Buttler MkII – the England, NZ combined T20 XI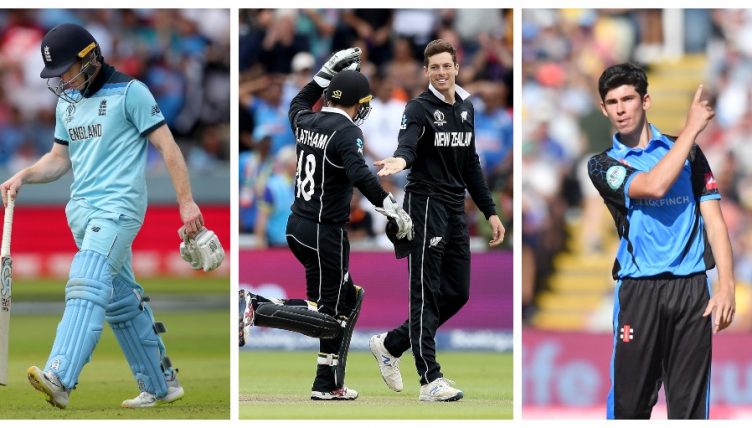 No Root, no Stokes, no Buttler, no Williamson. But if anything their exclusion has made us more excited for the upcoming T20 series in New Zealand. Here's out combined XI…
Jonny Bairstow
His ostracism from the Test side is good news for England's limited overs setup. Awful in The Ashes but superb in the World Cup, he's always at his best when he doesn't think about it. See ball, hit ball.
Tom Banton
Combine the reach, batting arc and power of Alex Hales with the rubbery wrists of Eoin Morgan and you've got yourself a Tom Banton. Or Jos Buttler MkII, as he will be known.
Colin Munro
Averaging 32 and striking at over 160 in 55 internationals for New Zealand, Munro's a very explosive T20 batsman, able to pick up any ball on his stumps and deposit it over the leg side, as England will remember…
Ross Taylor
In the absence of both Joe Root and Kane Williamson – who has been ruled out of the series with a hip injury – Taylor is the one remaining 'ticking the scoreboard over' batsman in either side. The elder statesman has a modest strike rate but also has one of the calmest heads in a run chase on shoulders capable of opening up and smashing the ball to all parts, should such acceleration be required.
Eoin Morgan (c)
Williamson is the only other captain that can be mentioned in the same breath as Eoin Morgan (that's right Virat – sorry). The "barest of margins" meant it was the Irish-Englishman that lifted the World Cup trophy over his Kiwi counterpart. Even if Morgan was not an incredible batsman – as he has proved time and again despite criticism in the not too distant past – his captaincy alone merits his place in this side. He's simply a wonderful man and a great ambassador for England cricket and the sport in general. Why not make him Test captain as well?
Dawid Malan
250 runs in 5 international T20 innings. Maybe not a fashionable selection from England – given the relative youth of the rest of the side – but definitely deserves his place given his stunning form in the T20 blast this summer, which saw him third in the run scoring stakes, behind only Babar Azam and Tom Banton.
Sam Billings
A shoulder injury prevented him from playing any part in England's World Cup triumph, but his form with the bat picked up towards the end of a stop-start season. Far from consistent, he warrants a place for his energy behind the stumps (and in the dressing room), and his innovative approach to run-scoring.
Mitchell Santner
Flies under the radar due to his unassuming nature – he's a world class T20 performer. A bowling average of 20 at an economy of just over seven, and if Specsavers deals were handed out purely on batting prowess, he would have been donning free glasses for years before Jack Leach.
Lockie Ferguson
A late graduate from the Mitchell Johnson school of scary, moustachioed fast bowlers, his aim is either to hurt or york the batsmen with unerring accuracy. The 28-year-old outperformed Jasprit Bumrah and Jofra Archer in the World Cup and we can fully expect him to be bowling as fast as f*****g possible. Can't wait.
Matt Parkinson
Capable of turning it square both ways, like Adil Rashid, and atypically accurate for a leg spinner, unlike Adil Rashid. His inclusion in both the T20 and Test squads suggest England have got big plans for the 23-year-old, and rightly so. A real talent.
Pat Brown
One of the abiding memories of The Hundred draft – other than Jos Buttler's reaction to Dane Vilas' selection – was 30-year-old Chris Woakes' excitement at being able to learn the 'knuckle-ball' from 21-year-old Pat Brown. The ability to bowl one delivery at 90mph and the next at 65mph – with no discernible difference in bowling action – is almost unfair.