England's Reece Topley cracking on with 'unfinished business with World Cups'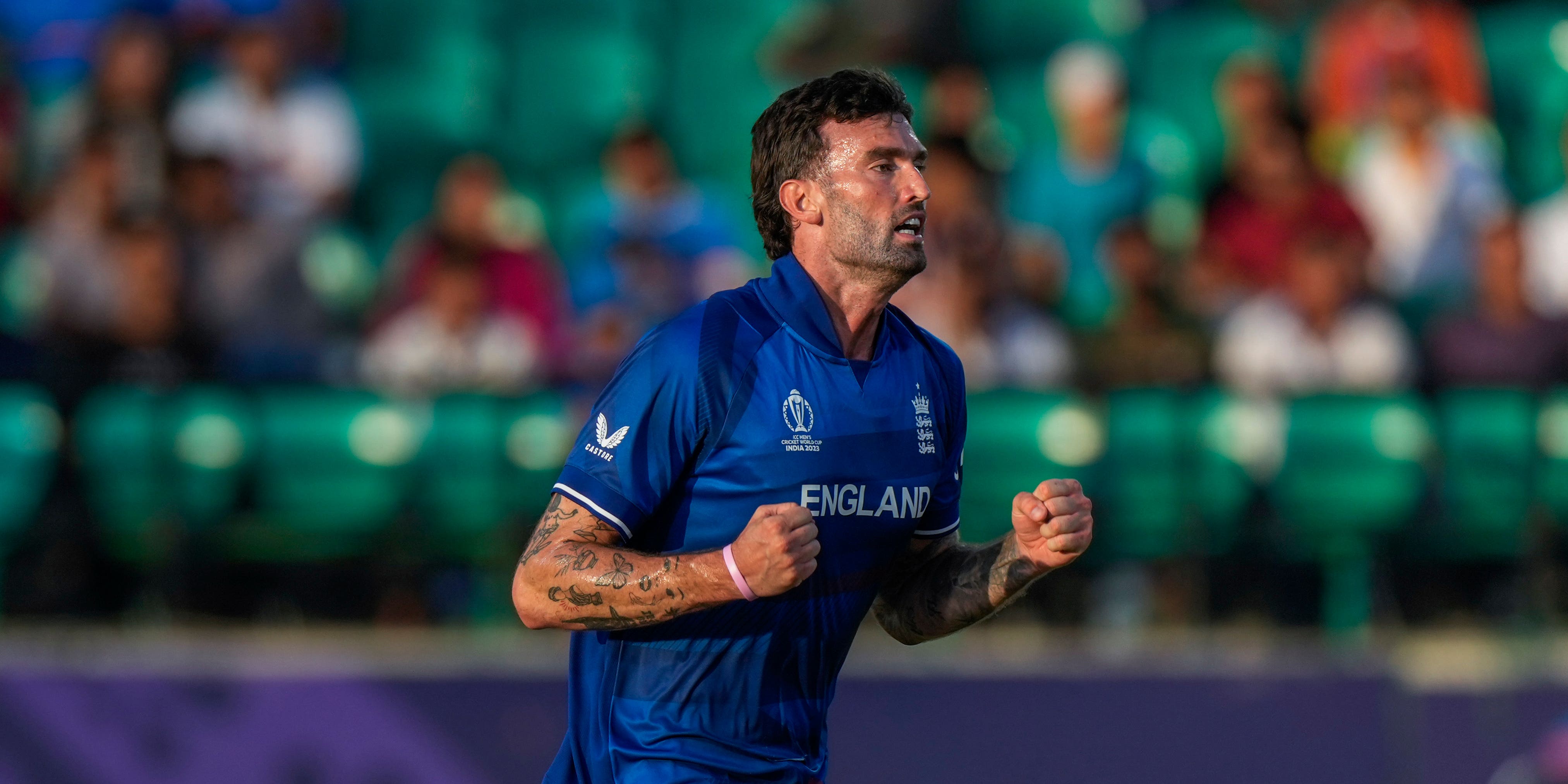 Reece Topley insisted he was just getting started on his "unfinished business" in World Cup cricket after blowing Bangladesh away with four wickets in Dharamshala.
Topley claimed four for 43 as England coasted to victory against the Tigers, making a big impression after being recalled to the side following defeat to New Zealand.
It was a welcome day in the sun for a 29-year-old who has had to endure more than his fair share of dark times due to a litany of injury problems that could easily have ended his career.
Five different stress fractures in his back left him sidelined for long periods and denied him the chance to push for a place in the triumphant 2019 campaign, while his luck got even worse on the eve of last year's T20 tournament in Australia.
The 6ft 7in left-armer had been lined up to play a key role with the ball, only to trip on a boundary sponge during a fielding drill and rupture ligaments in his left ankle. When England went on to lift the trophy at a packed MCG, it was hard for him not to imagine his own hands on the silverware.
Now he has a real chance to control his own story. With his body holding up well and his game in good order, things are finally falling into place.
"When I came out here I certainly felt like there was some sort of unfinished business with World Cups," he said.
"Last year it was certainly an opportunity missed, I was bowling really well in the lead-up and then sort of had the rug pulled out from under my feet.
"The last-minute injury was very disappointing, but I've been wrapped up in cotton wool this time and it's nice to be here. Hopefully there are more contributions because I don't feel like I've sort of scratched the surface with World Cups.
"Obviously being injured and not being able to do what you are good at, what you love, is awful. Watching others take your wickets or score your runs is another horrible thing.
"But you have to ask yourself what are the choices? Do you sit around and feel sorry for yourself or do you just have to crack on and get yourself back to full fitness?"
England's circuitous route around India sees them playing in eight different cities across nine group games – with Ahmedabad and Dharamashala already in the rearview and Delhi up next for Sunday's game against Afghanistan.
The constant cycle of internal flights and coach transfers means rotation has been discussed, especially among the fast bowling department, but Topley has already missed enough games for a lifetime and has no desire to sit out.
He described his omission in favour of spinner Moeen Ali against New Zealand as a "take your medicine" situation, but is willing to be a workhorse if required as the competition unfolds.
"There's a lot of chat about the schedule. To be honest, it's one game every five days, it seems," he said.
"I mean, county cricketers do much worse. If we play for Surrey, we'd be more tired. It's not really an excuse for us. Sevens games is 70 overs maximum.
"In our changing room, we've all played county cricket, which can be quite a torrid time. You have to play a lot more regularly than this seven weeks, so I think everyone in our team can handle it pretty well."