Ranking Stuart Broad's hat-trick of hat-tricks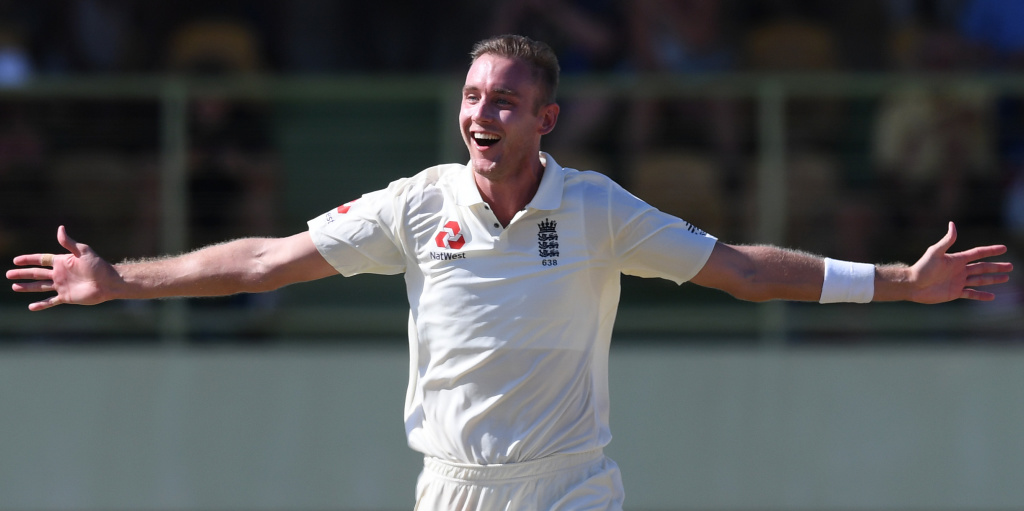 If there was ever a cricketer who would complete a hat-trick by taking the ninth, 10th and 11th wickets of an innings, Stuart Broad is that cricketer.
The man is a fine cricketer but more importantly a comedy cricketer of almost limitless range, whether he's just wandering off for a wee, taking seven minutes to have a sightscreen moved only to get bowled round his legs first ball or exposing the rank hypocrisy at the very core of Australian cricket by edging the ball and not walking.
Broad's third hat-trick for England is definitely his silliest, but, in typical Broad style, it's not actually his funniest. Here are the official comedy rankings for Broad's hat-trick of hat-tricks.
3. India, 2011: MS Dhoni, Harbhajan Singh, Praveen Kumar
Very disappointing. Barely funny at all. It did play a crucial part in England turning the Test round at Trent Bridge but that's not funny. Harbhajan did get a big inside edge on his lbw in the era when India were still refusing to use DRS, which is quite funny. For most bowlers, it would probably be enough to make it a funny hat-trick. Maybe even their funniest. Not Broad.
2. CWI President's XI, 2019: Alzarri Joseph, Miguel Cummins, Bryan Charles
Silly wickets in a silly match. Broad as both clown and ringleader. Of course the third wicket was the 11th of the innings. Just Stuart Broad doing Stuart Broad things. Sadly no video exists of this momentous moment, so have this instead.
A hungry visitor to our changing room! 🐓 pic.twitter.com/m549yDnUFN

— England Cricket (@englandcricket) January 16, 2019
1. Sri Lanka, 2014: Kumar Sangakkara, Dinesh Chandimal, Shaminda Eranga
Headingley; the scene of so many great moments in Test cricket. But surely none better than this. Stuart Broad is one of a select group of cricketers to take two Test hat-tricks. He is part of an even smaller group of players to take a Test hat-trick without actually realising it. Superb.
Like all the best oblivious hat-tricks, Broad began by dismissing one of the very greatest players ever to pick up a bat as Kumar Sangakkara drove loosely to give us a classic bit of Ian Bell catching nonchalance. Then in his next over he had Dinesh Chandimal caught at first slip and Shaminda Eranga caught behind.
With neither of these dismissals being at all funny, Broad had to think outside the box. He did so by not even realising that he'd taken three wickets in three balls and that this is known as a hat-trick, even though he had previously taken a hat-trick.
Broad being Broad, he's gone on to make this even funnier four-and-a-half years later by being acutely aware he had taken a hat-trick in a muck-about game where the opposition ended on 203/19.