September 2019 Ball of the Century: Hendricks to Kohli – ONE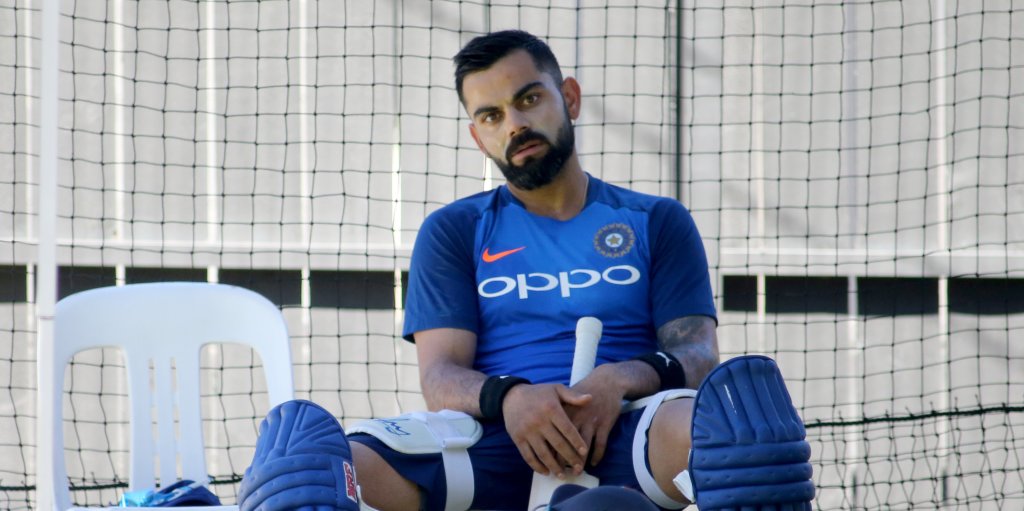 This month's ball of the century was bowled during the third T20I between India and South Africa, on September 23rd, when Beuran Hendricks delivered the fourth ball of the fifth over to Virat Kohli, who pulled it into the deep for a single. The run took India to 40/1. It also took Kohli to within shoulder-bumping range of Hendricks, an opportunity that the Indian captain did not waste.
An unremarkable moment in itself, you might think. But then, you're not the ICC. Unless, of course you are, in which case, you'd probably argue instead that it was a remarkable moment worthy of a reprimand and a demerit point. And not only argue it, but implement it too.
This is an obvious miscarriage of justice. Yes, Kohli can be a prickly customer and a fierce competitor (or perhaps vice versa), but this kind of thing happens all the time on a cricket field. Watch for the next time a wicket falls – particularly if that wicket is Kohli – and you'll see virtually every single fielder run in and strike the bowler on the back or shoulder with far more force than was applied to Hendricks in this instance.
Do any of those players ever receive demerit points for their plethora of blows to the bowler? Of course not.
Why, I've seen Bangladesh players smash their chests into one another like belligerent moose bucks striving for herd dominance, and escape without a skerrick of official punishment.
Now some might argue that the situation is different when it's teammate-on-teammate striking. But like a performance of Sweeney Todd that takes place in a children's playground, these hair-splitters will surely send us down a slippery slope.
---
---
As recently as 2013, Brad Haddin was poked in the eye by a wayward James Faulkner finger during the celebration of a wicket, forcing the Australian wicketkeeper to leave the field. Are we seriously suggesting that what Kohli did was worse than that? Hendricks wasn't injured by Kohli's minor bump. In fact, he took two wickets and conceded just fourteen runs from his four overs in a series-levelling victory for South Africa. If anything, it could be argued that some of Kohli's rare genius rubbed off on the Proteas fast bowler.
But let's assume the ICC continues to insist on inexplicably treating physical interactions with opponents differently to those between teammates. That still doesn't justify the harsh punishment meted out to the Indian captain.
One of the most famous photographs in all of sport shows Andrew Flintoff reaching out an arm that clearly connects with opposition player, and future Masked Singer parrot, Brett Lee's shoulder. And yet Flintoff received no reprimand for this act. Quite the contrary, he was lauded for his sportsmanship.
That was different, the defenders of the status quo will cry. It was one champion consoling another in a way that only elite future contestants on terrible reality television shows can understand. And, besides, it was after the game had finished.
But why should Kohli be punished for this simple quirk of chronology? Who's to say that he wasn't pre-emptively offering a shoulder bump of congratulations to Hendricks for a quality bowling display that would eventually see him awarded the player of the match. Do we dismiss Kohli's cricket brain so lightly that we think he couldn't have foreseen this outcome?
But, fine, let's take interactions with opponents after the match off the table too. We can still argue that Kohli has been treated too harshly.
[jwplayer 8yG2m4eF-yceS9uXa]
In the Second Test between South Africa and Australia in Port Elizabeth in the otherwise unremarkable 2018 series, Australian captain Steve Smith bumped Kagiso Rabada's shoulder. It was an obvious act of aggression from Smith, as noted criminal prosecutor Vernon Philander observed in a tweet where, despite admitting 'Havent really seen the fotage', he objectively concluded 'Steve Smith gave KG the shoulder. He could have avoided any contact'.
Yet despite Philander's compelling social media testimony that he later claimed to have been the result of a hack, it was Rabada who initially received a two-match suspension.
This decision set a clear precedent for who should be blamed when there is a collision of shoulders between two opposition players. Namely, the bowler. Or, more precisely, the South African bowler.
But in direct contradiction of this earlier finding, Hendricks didn't even receive a talking-to from the match referee for the contact with Kohli. Yet another example of the pro-Smith, anti-Kohli bias that sees the Australian leading the Test batting rankings as a result of performances in an Ashes series in which the Indian superstar is not even permitted to compete.
Any other player faced with the bias that Kohli is forced to endure would surely complain vociferously about their mistreatment. Not Kohli. Instead, he shrugged his criminal shoulders and accepted the demerit point.
It's Kohli's third demerit point since January 2018, and places him on the brink of suspension, a brink over which he will clumsily topple, Wile E Coyote-style, if he receives a fourth such point any time in the next four months.
It's a harsh penalty for a minor crime. But it can perhaps be mitigated by a simple renaming. Given the cool demeanour shown by Kohli in accepting these kinds of biased penalties without complaint, perhaps 'demerit points' should be renamed 'sportsmanship points'.
Furthermore, if he does receive a fourth unjust guilty verdict in the next few months, ruling him out of a match, then surely the absence of Kohli makes the contest much fairer for India's opponents. And that's the greatest act of sportsmanship of them all. So, yes, 'sportsmanship points' it is.
A straightforward change in nomenclature that makes one of cricket's gravest injustices an unprecedented opportunity for fair play. That's the kind of thing that makes Virat Kohli a champion. And that's why this simple act of shoulder-based sportsmanship is September 2019's ball of the century.