Review process will lead to a better Cricket Scotland – Pete Fitzboydon
Pete Fitzboydon revealed cautious optimism about the future of cricket in Scotland on the one-year anniversary of the "Changing The Boundaries" report by Plan4Sport.
The independent review concluded that the governance and leadership practices of Cricket Scotland were institutionally racist, and followed a consultation process which found 448 separate examples of racism and discrimination within Scottish cricket.
Since the publication of the report last July, there has been a huge amount of work undertaken by the governing body, in partnership with sportscotland, to address the findings and actions which were recommended by "Changing The Boundaries".
Fitzboydon, appointed Cricket Scotland's interim chief executive in April, reflected on the last year and said: "It's been a tough year for Scottish cricket; most people I speak to say it's been the toughest year ever.
"A lot of people are really hurt about what's happened, right across the sport.
"That's deeply regrettable. We remain committed to supporting all those affected throughout this process.
"This is a situation that Cricket Scotland should have done far better to prevent happening, and it's something that we must fix.
"We let the sport down as an organisation; we did not provide adequate support or have in place the correct measures, processes, or policies, and these issues were quite rightly highlighted.
"What the report did do is make the organisation really introspective and (make it) think differently about itself. What I feel will come out of the entire process will be a better Cricket Scotland, and a better sport of cricket.
"While I'm confident that can happen, that means there is a great deal of work to do, not only in improvements in our organisation's processes and policies, but also in bridge-building and healing the game and trying to encourage the cricketing community to unite.
"We have many plans to improve the sport and while some of these have already been implemented, there's still much more to do. But I do feel that Scottish cricket will emerge stronger and better for everyone."
Fitzboydon, previously chief executive of London Sport, revealed the results of "the biggest ever survey of Scottish cricket" will be published next week.
He said: "In recruitment during the last year, we've done a lot of pro-active work and have many of the right people in the right roles now, which is gradually allowing us to make the changes that we need to.
"That process is continuing as we speak, with the ongoing recruitment process for a permanent chief executive, chair and independent non-executive directors.
"It is imperative that we ensure cricket is available to everyone and inclusive for everyone, and that we start eradicating institutional racism from within our sport.
"Currently, there are still a large number of referrals to work through. That is a process that is not going to be easy, but it is a process that we need to carry out in a systematic way that provides absolute justice for all concerned, so that we learn from everything that has happened.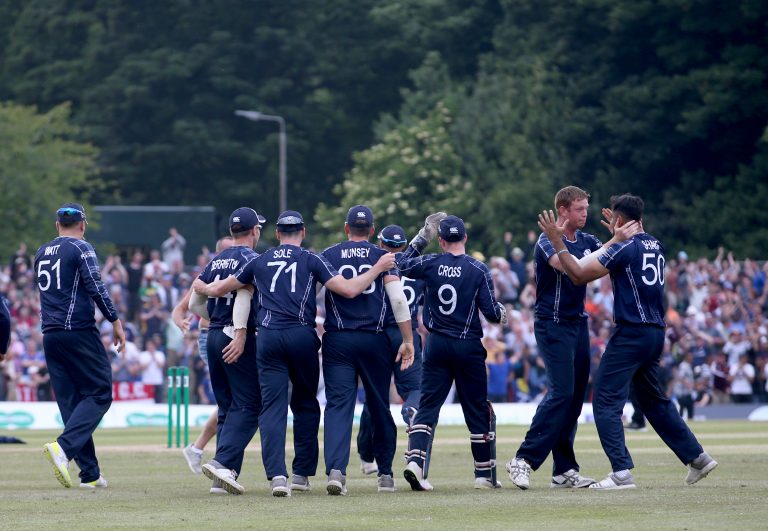 "We have recognised the need to work with our partners and the cricketing public. We've carried out the biggest ever survey of Scottish cricket, to ask our people what they think about us and what they want Cricket Scotland to be.
"The results will be published next week and will then lead on to further public consultation, not only about the proposed governance changes for the sport but also about the wider strategy of Scottish cricket, so we can move forward united.
"I'm optimistic about where Cricket Scotland is heading. Most people I've spoken to agree, and many are actually excited about where the sport can go in this country.
"We have the capability to run a more robust, compliant and inclusive sport and it will absolutely emerge stronger and better for the changes being made."
Kash Taank, head of equality, diversity and inclusion (EDI) for Cricket Scotland, said: "I think there's a huge amount of work to be done. The key aspect of that work is doing it in collaboration with the people and communities that play the sport of cricket. This work will be a unifier for the sport of cricket, for the communities and for Cricket Scotland.
"The anti-racism and EDI advisory group, which was established earlier this year but then broke down, has been reconvened.
"I'm delighted to say that that three of the four representatives who stood down from the group have now returned, and we recently held another meeting and agreed on the terms of reference. This is a hugely positive step forward, but it's only the start."