Cricket World Cup Week One Winners & Losers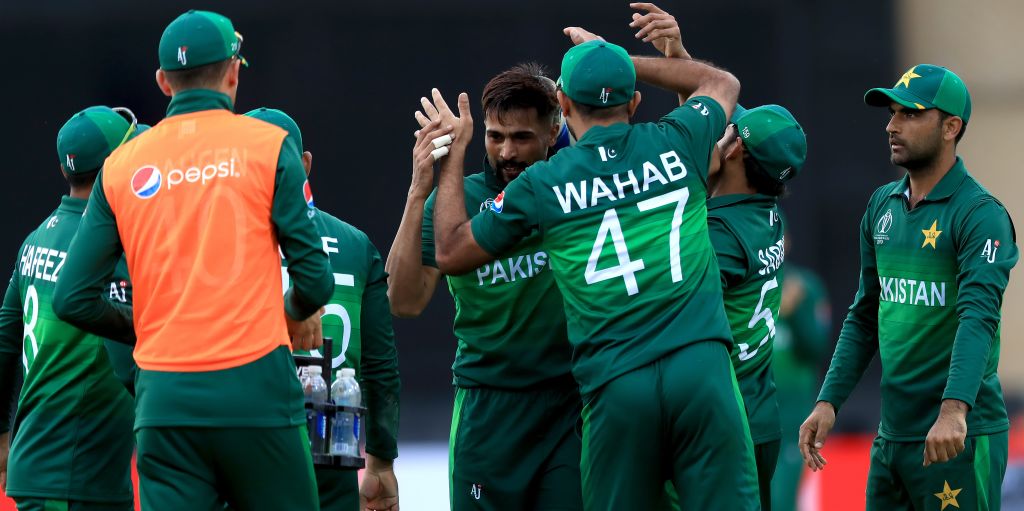 The 2019 Cricket World Cup is already a week old. Here's the good and the bad, from Ben Stokes' catch to South Africa's… everything and all points in between.
Winners
The ICC
The lucky bastards. They are, quite frankly, getting a lot of very good cricket matches that they really, really don't deserve right now.
Things looked encouraging for the first few days, when the 10-team tournament that definitely existed to ensure there were no mismatches and not in any way because it was the least awful way to ensure nine games for India served up four total mismatches. When you're clinging to a game won by 104 runs as an exciting close one, you're in bother.
Yet since then there have been a flurry of quite brilliant games. Bangladesh's win over South Africa was superb, Pakistan's over England better still. Sri Lanka and Afghanistan served up one of the very silly yet thrillingly bonkers games in which Cardiff seems to specialise for some reason.
The format is terrible, yet the cricket has been excellent. The ticketing has been a shambles, yet the atmosphere at the grounds has been excellent.
The ICC are helped here by the fact that even while Britain repeatedly and determinedly spends its days punching itself in the face it remains a spectacular place to hold a cricket tournament. The grounds are great, the travel times manageable and because of the multi-culturalism that so enrages the moronic nativist arsehats who have taken over the national discourse at every level, all teams have had great support within the stadiums. There are no home teams. It's been glorious.
The first game even provided precisely the sort of global viral "sh*t the bed, did you f*cking see that" moment that helps propel any tournament thanks to Ben Stokes' ridiculous catch.
Yes, there was briefly an eight-way tie on two points at the top of the table. Yes, South Africa have lost three games yet remain very much in the competition – something that Harsha Bhogle gamely attempted to suggest on commentary during the defeat to India was evidence of a good format rather than a terrible one – and yes, there have been one-sided matches polished off in the time it'll take Southern Brave and Trent Rockets to knock out a quick game of 100-ball cricketainment.
But the overriding sensation after the first week is that, despite the format, despite the absence of at least half-a-dozen teams who would have added so much to the event, despite match-going fans being treated with typical contempt, the World Cup has actually been great. Lucky, lucky bastards.
New Zealand
The only team to win twice in the opening week and sitting proudly atop the fledgling table.
New Zealand have been handed a kindly fixture list and taken advantage. Sri Lanka are terrible, and were swatted aside with minimal fuss. Bangladesh are not terrible, but nor are they among the five biggest threats at this tournament. The Blackcaps made harder work of that one, but emerged victorious thanks to Mushfiqur's disastrous error and Mitchell Santner's Ice Cold Librarian cover-drive.
Damn, Mitch Santner with the Ice Cold Librarian cover drive…. #iceicebaby #NZvsBAN

— Andre Adams (@AndreAdams) June 5, 2019
They've got Afghanistan next; the Kiwis may well be looking down on the rest at the end of week two as well.
Bowlers
A combination of damp-eyed nostalgia and an inherent dislike among the rest of the cricketing world for England being good at anything caused much of the World Cup build-up to be dominated by fears that bat's dominance over ball would make the tournament one-dimensional and boring. Every game would be 350 plays 340 – if we were lucky; if we weren't it would be 500 plays 280. Bowlers would be nothing more than an afterthought, there purely to provide the fodder for all the big boys to smack over the ropes. BORING.
Hasn't happened, has it? There have only been five totals above 300, two of them by England and one against, which, while a small sample size, bears out the wider data of the last few years that it really is only when England are batting or England are bowling that such totals truly are the norm.
Only in Pakistan's win over England and Bangladesh's over South Africa could the batsmen really be said to be the match-winners. Every other game has been won primarily or in some cases pretty much entirely by the brilliance of the bowlers.
The tournament began with a bowler running round The Oval in celebration. It set the tone.
Bangladesh
During their opening win over South Africa, Mark Nicholas suggested on commentary that most cricket fans would be surprised to see Shakib-al-Hasan at the top of the ODI all-rounder rankings.
You have to wonder which cricket fans Nicholas was referring to, because Shakib has been in the top three – and very often the top one – of that particular list every week for the last 10 years.
This, though, is Bangladesh's lot. Perceptions take a long time to change, and Bangladesh are still seen as the little guys. A high-class and well-deserved win over South Africa really should put paid to that.
Narrow defeat to New Zealand was a setback, amplified by the frustration of some self-inflicted wounds. But one win and one (narrow) defeat from games against South Africa and New Zealand still represents a solid opening week's work for a team still under-rated by everyone else – including us.
They are very much into the tournament now, and have an opportunity to stake a semi-final claim next week. They face an England team who will be under enormous pressure on Saturday before a game against Sri Lanka that they really ought to win handily based on everything we've seen so far and then face a West Indies side they've just beaten three times out of three in Ireland.
They were semi-finalists here two years ago in the Champions Trophy and nobody really took any heed. Repeating that in the World Cup looks very possible now and would force everyone to take notice. Finally.
India
Hello, India! How lovely of you to come! Granted an extra week off because of the exertions of the IPL (it's lucky no other countries had players involved at the IPL, otherwise this might look like slightly unfair preferential treatment) and yet the failure of anyone to win two games before they got started meant the possible negative of having ground to make up from ball one never materialised.
What had looked like a tricky opener against South Africa – in an alternate universe India would have been starting their campaign nervous and unsure against a team that had already won two games and full of confidence – was instead the ideal opening fixture.
But whatever advantages circumstance and the tournament organisers handed India, they still had to cash in and did so emphatically. Jasprit Bumrah's ferocious yet focused new-ball spell instantly made him the most impressive fast bowler yet seen – against some worthy opposition – while Yuzvendra Chahal and Kuldeep Yadav look set for a profitable six weeks if the weather and pitches remain dry.
Allowing South Africa's lengthy tail to wag was one point of concern for India in an otherwise blemish-free performance, but it also allowed Rohit Sharma time to complete just the third individual century of the first nine games, and the first to be scored in victory.
Pakistan
Ah, Pakistan. Destroyed by the short ball against West Indies, they dominated when England tried the same tactic three days later. Jofra Archer went wicketless at eight an over, England's best spinner was smashed out of the attack in five overs, and Pakistan's bowlers and fielders then held firm even in the glare of Jos Buttler doing Jos Buttler things.
A stunning turnaround in fortunes. Defeat to the favourites would have left Pakistan, like South Africa, looking at a tournament almost over before it begun. Now all things are possible.
The temptation, of course, is to just write this off as Typical Pakistan. Dreadful one day, brilliant the next! Mercurial, aren't they, Pakistan? So mercurial! This is classic them. Classic banter.
Tempting, but grossly unfair on this group of players. They didn't suddenly handle the short ball so well after such an utter disaster because banter; they did so because they spent the three days between the two games working and working and working on it.
They didn't score 350 against England because banter. They did it because they had a concerted plan to attack the new ball and take on the spinners to force England out of their comfort zone.
England, having demolished Pakistan 4-0 in the bilateral series, were rattled by Pakistan and thrown off-kilter. It was a superb performance, and a memorable turnaround. It was not fluke. It was not banter.
Colour-matched kit
England's powder-blue pads. Moeen Ali's powder-blue gloves. Assorted Bangladesh, Pakistan and South Africa players' green Puma boots. More of this, please. Slazenger had colour-matched gloves for their contracted players at the last World Cup in England. Genuinely baffling that it is still such a relatively rare sight 20 years on.
Andre Russell
He is not a medium-pacer.
Losers
South Africa
Events conspired against South Africa to an extent, with injuries and the fixture list combining to make things tough.
But they've been rotten. Three games played, three tosses won, three games comprehensively lost. There are mitigating factors, but no excuses for the mess South Africa are in.
The gripes about the fixture list are pure aftertiming. Every team has a run of three games in a week at some point in this event. It is nothing that teams aren't used to coping with in bilateral series. Someone had to be the first to play three games, and it's only now that all have been lost that this is a negative for South Africa.
Had they won all three games, they would be halfway to qualification before most teams were out of the starting blocks. How many South African complaints about a front-loaded fixture list would we be hearing then?
Even if they'd beaten only Bangladesh, they could still have put a positive spin on things that losing to the favourites England and India was no disaster.
They have been so bad, though. So, so bad. The batting has failed against England and India. The bowling and fielding failed against Bangladesh.
The farcical giant round-robin format means they are not yet doomed. But already there is a very real danger – perhaps even likelihood – that this was as campaign that peaked after two balls when Imran Tahir had Jonny Bairstow caught behind at The Oval.
England
One win and one defeat is not disastrous, but the thumping win over South Africa has lost some lustre due to the Proteas' subsequent struggles and the defeat to Pakistan was a poor one.
The brilliance of Joe Root and Jos Buttler took them close, but this was overall one of the worst England performances of the current World Cup cycle. That it happened in the second game of the tournament is a huge worry. The fielding collapsed, the bowling was wayward, and the mood fractious and grumpy.
They weren't fully convincing against South Africa and were worse against Pakistan. They do not look like favourites.
It's hard to know just how much cricket is the right amount of cricket, and there is a sense now that England may have overdone it in the build-up. By the end of the Pakistan series the players were unanimous in their view that they just wanted the World Cup to start.
Then came the warm-up matches. Then came the opener against South Africa, the game England had been thinking about for so very long. With that game finally out of the way, was there a slight drop in focus and intensity for the second one – especially against an opponent they had just so roundly defeated? It's possible, and would explain the out-of-character fielding performance.
If they use that game to make sure they do not take their eyes off the ball again – literally, in Jason Roy's case – then it may ultimately work in their favour. There is so much pressure on Saturday's game against a dangerous Bangladesh side now, though.
Afghanistan
Defeat to Australia is no disaster, and it was one of the more competitive of the opening few games. For what that's worth. But that Sri Lanka defeat will hurt. What a huge opportunity they have missed there; how many better ones will they get over the coming weeks?
Having hit back to bowl Sri Lanka out for just 201, the rain reduction also worked in their favour; if Afghanistan couldn't chase 187 in 41 overs they were unlikely to get 200 in 50. They are that sort of side.
Yet after a fast start they fell away dramatically. It was, in the end, not really all that close. Win Predictor has had a… sketchy start to the tournament but at one point early in the run-chase Afghanistan were given an 84% chance of victory. To lose so badly from that position against a team unlikely to win too many more is a tough pill to swallow.
AB de Villiers
The news emerging that AB de Villiers offered to come out of retirement on the eve of South Africa's World Cup squad announcement is just the sort of thing a struggling squad needs.
There are suggestions that captain and coach were not averse to the idea, and it does go some way to explaining why South Africa have not looked the most united of squads. But what could the management do?
This is poor stuff from AB. Having retired a year ago amid grumbles that he was now picking and choosing which international engagements he was prepared to partake in, to then attempt to wheedle his way into the World Cup squad at the very last minute is truly startling.
Speaking in India last month, around the time he must have been making his most gracious offer, de Villiers said: "It was a very sensitive situation. For the last three years of my career, I was labelled as a guy who is picking and choosing when I was playing and when not. So I got quite a lot of criticism from back home, which also played a role in me retiring.
"And it was difficult for me to then go 'Hey, but I'll still play the World Cup'. It's that picking and choosing thing again, and it's quite arrogant to do something like that. But as they say, you can't have your bread buttered on both sides."
Quite so.