England's myriad Test shortcomings exposed again as Murtagh has a day out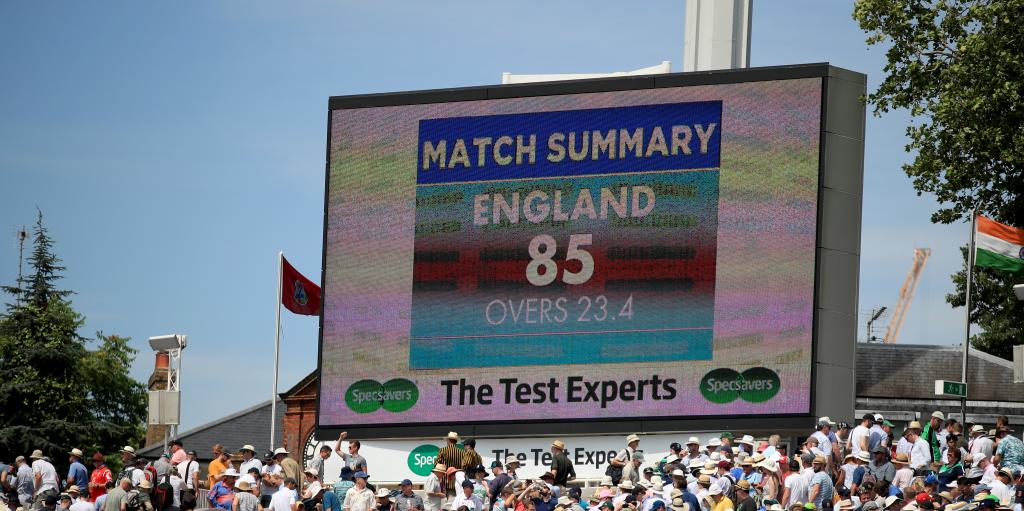 Wednesday July 24 2019 was already doomed to take its place in English infamy and there was very little the cricket team could do about it. They surely didn't need to be quite such willing participants in the day's ignominy, though.
The worst thing for England – the worst cricketing thing at least – was that nothing that happened at Lord's was unpredictable. Nothing that happened – not even Jack Leach striding out to open the second innings as nightwatchman – was anything we haven't seen before. It was just a day when all the very worst of England's Test cricket – and the very best of Tim Murtagh's – was on display. There were even the usual surfeit of apposite Jofra Archer tweets…
Ireland looking good 🙁

— Jofra Archer (@JofraArcher) February 16, 2015
Tim!!!!!

— Jofra Archer (@JofraArcher) June 13, 2014
Under 90?

— Jofra Archer (@JofraArcher) August 10, 2014
It was extremely predictable, and predictably extreme.
So you had the top-order batting collapse in the face of intelligent and accurate new-ball bowling. England bowled out in a session for the fourth time in the last 34 Tests having avoided such disaster between 1938 and 2016. You had England's bowlers, having watched Ireland reap the benefits of top-of-off-stump monotony from the King of Lord's Murtagh, aim nothing at the stumps for the first 10 overs. And then when the bowlers, specifically Stuart Broad, did get it right one outside edge ignored by Jonny Bairstow and another shelled by Joe Root.
As if to amplify that this whole day was just an extreme version of Things That Always Happen, when England were in their most desperate need of a breakthrough after tea it came with Paul Stirling out for 36 from 43 balls lbw to a Broad celebrappeal. The whole day was very on brand from all concerned.
The demise of England's top order was perhaps the most predictable of the day's series of predictable events. Jason Roy nicking off pushing out well in front against Murtagh was the dismissal many would have expected, yet it was only able to happen because Mark Adair overstepped when having him otherwise plumb lbw the over before. Rory Burns was caught behind defending to mid-on. Joe Root was lbw falling over early in his innings. All were known weaknesses ruthlessly exploited on a green pitch that offered enough movement to keep bowlers interested if not to justify the kind of humiliation endured by England.
Jonny Bairstow, who had a curious day, was bowled twice in a six-ball stay – the first of them when backing away at the very last moment – after being warned by the umpires for taking his stance so far out of his crease that he was encroaching on the danger area.
Murtagh trapped Chris Woakes lbw and had Moeen Ali caught behind to complete a five-wicket haul and a spot on the honours board less than 80 minutes into his first Test at Lord's.
It was not, of course, his first game at Lord's, Murtagh's 72 first-class appearances here comparing pretty handily with the England XI's combined total of 88. It showed. His success too was nothing that hadn't been seen plenty of times before. The people who all thought they were the first people to notice that Murtagh and murder are similar enough words for punning potential was nothing that hadn't been seen plenty of times before.
If ever there was a cricketer who "knows their game" it is Murtagh. No cricketer makes the game appear simpler, with ball or bat. He aims almost everything at the top of off stump – although even 73mph Murtagh couldn't resist a bouncer when Stuart Broad strode to the crease – when bowling and almost everything over midwicket when batting. Crack on. It was impossible not to be utterly thrilled for a man who bowls as well on this ground as anyone ever has.
England certainly had no answer, but in many ways the biggest result for Ireland was that the day's second best bowler was the far less experienced Adair, who had apparently absorbed all his senior new-ball partner's methods.
But the day was Murtagh's. It's easy to say "top of off" but another thing to do it. According to the CricViz stats, Murtagh bowled 67% of his deliveries in his 5/13 from nine overs on a good line and a good length. The average new-ball bowler does so 34% of the time. Against a slightly cobbled together England batting line-up, it was just too good. A mini McGrath.
Opinion was split over whether England had disrespected Ireland by picking too few of their World Cup heroes or erred by picking any of them at all 10 days after that career-defining day of madness here. A total of seven runs and one wicket – that of last man to fall Boyd Rankin – from five World Cup squad members suggests the latter might have been closer to the mark.
The good news for England is that while there may be no hope now for the country, the cricket team may yet wriggle out of this one.
Ireland's 207 still leaves them 122 to good and in dreamland but it is not the totally dominant position they could have secured having made their way to 127/2 at tea with both Andy Balbirnie and Stirling looking increasingly assured.
That England were able to keep the lead down to something manageable owed much to a fast start after the break and one over in particular from Olly Stone that accounted for Balbirnie, bowled by a full, fast, swinging delivery and Gary Wilson caught fending to slip after a ferocious four-ball working over.
It was an over that offered England hope and easily the best answer to a tricky Irish question we can expect from anyone making headlines today.