The Hundred can be brilliant because cricket is brilliant; just stop f***ing it up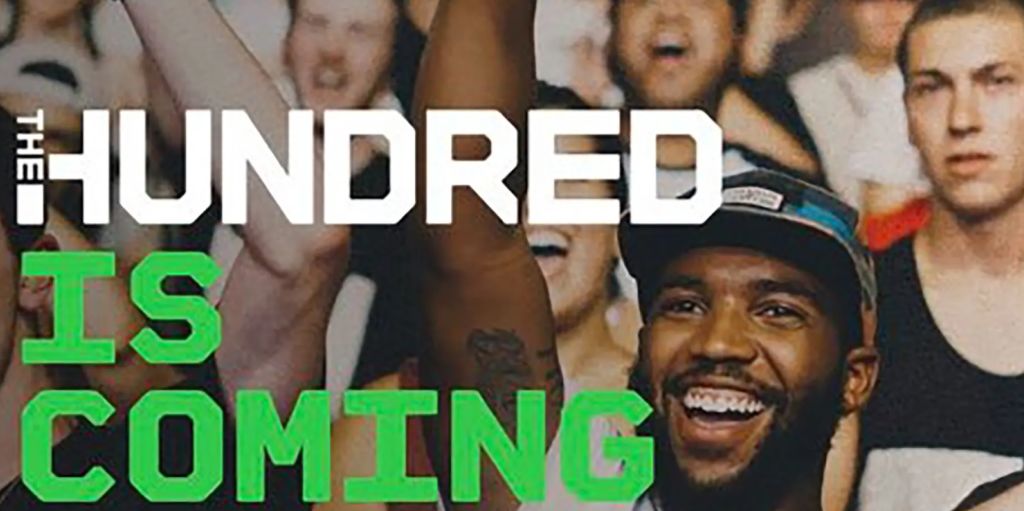 It's been just another normal day in what their marketing email today helpfully informs me is now the 411-day countdown to the start of The Hundred. (The decimalisation of time is surely long overdue.)
After yesterday's fun with the website launch and the great bunch of lads who love 100-ball cricket and so much more besides, today brings more big news.
I've done a little digging and *that* picture being used to promote The Hundred was taken at a concert by American rapper Logic at the Bayfront Park Amphitheater in Miami in July 2017.

Not quite "mums and kids in the school holidays" pic.twitter.com/4wIq9Rcqkh

— Sam Morshead (@SamMorshead_) May 15, 2019
According to The Times, Finals Day for The Hundred will feature just one semi-final because of concerns about attention spans and cluttered television schedules.
Now, leaving aside the fact that if there is only one semi-final then it is not in fact a semi-final (I blame Strictly) this isn't actually in itself a terrible idea.
There is undeniably something a bit strange about T20 Blast Finals Day; it is on the one hand absolutely f***ing brilliant, but on the other it does seem somehow mad to have the format designed specifically for brevity conclude with the longest day's cricket of the whole summer.
You can also make a decent argument that four teams out of eight qualifying for the knockout stages is too many, devaluing the league stage that will always make up the vast bulk of the event.
With first place earning a direct route to the final you also offer tangible reward for 'winning' the league, which again as a concept has plenty of sporting merit.
But as with so much about The Hundred, these reasons – however valid they may be – appear to need retrofitting to an idea that exists because of external concerns.
The whole tournament exists for marketing rather than sporting reasons, with its various strengths – and they do exist – happy accidents. For all the talk of "one hundred million data points", yesterday's bungled website launch again painted a picture of slipshod planning and corners being cut for the sake of saving a few quid around a tournament the ECB are throwing all of the money at.
The Hundred's single greatest strength and selling point is that it is easier and more intuitive for newcomers to pick up. There is a lot of sneering and dispute about this, but to me it is undeniable.
---
ALSO READ:
Did you see… Ben Stokes' react to being run-out by a deflection
Bairstow propels England to the remarkably unremarkable
LISTEN: Cricket Badger podcast with David 'Bumble' Lloyd
England v Pakistan 4th ODI Pitch Report: Trent Bridge
---
Those of us immersed in the game need to pull our heads out a bit here. Attracting new fans doesn't have to mean alienating existing ones – another thing the ECB really, really need to give some thought to – and cricket is not the impossibly complex and impenetrable game we often so self-defeatingly present it to be.
Is things being in multiples of six an insurmountable barrier for new fans? Obviously not. But is it less intuitive than multiples of five and 10? Obviously yes.
It is wilfully obstinate to pretend otherwise, or to insist that the idea of a countdown from 100 balls remaining in a run-chase isn't an appealing selling point.
Even sarcastically describing The Hundred as "16.4 overs" as many did (I'm almost certain I did) when the idea first came to light is part of this problem. Cricket fans will instinctively interpret that as 16 overs and four balls. But as an outsider you'd be perfectly entitled to look at "16.4 overs" and not twig the .4 meant four balls rather than four-tenths of an over.
To argue The Hundred's format isn't easier for a newcomer to grasp in an instant is to argue that "16.4 overs" is as readily understandable as "100 balls". Which would be a ridiculous thing to do. Stop being ridiculous.
Again, the brains behind The Hundred deserve the most minimal credit for this. They may have identified the obvious appeal of the round number of 100, but were initially and inexplicably set on trying to shoehorn this nice round number into the unyielding six-ball structure via the much-lampooned and now sadly departed Fresh Tactical Dimension of one 10-ball over to be bolted on… well somewhere – the beginning maybe. Or the end. Or in the middle.
It was only when handsome and clever people pointed out that base 10 was their friend not their enemy here that the simpler and correct 10-ball changeovers were adopted.
And so it is with this proposed shortened play-off format. Because while it may have merit, the clear implication is that it exists not for that reason but rather to appease these new fans who will love cricket so much they want to watch less of it and broadcasters who don't want cricket to clutter up the schedules.
I think we can safely assume that it's not Sky expressing this latter concern. Lord knows their cricket channel could do with some more live action to clutter it up a bit between repeats of that Viv Richards documentary, the AB de Villiers Masterclass and highlights that for some reason only ever seem to show England losing.
It must, therefore, be the BBC. Now getting cricket back on to free-to-air television was really where the whole idea of The Hundred began. It's not the panacea some think it is, but it is clearly something that needs to happen. It's also very annoying, because how actually dare they call us clutter.
Cricket is a truly brilliant sport. We don't have a whole section here about the many, many reasons it is the greatest sport just because Liebke is our mate.
If this is the best format for the event – and there is a genuine argument for it being so – then go for it. But do so on those terms. We absolutely should not be doing it because we worry people might get bored if there's slightly too much cricket; nor should we allow a broadcaster that cheerfully shows every excruciating minute of John Isner matches at Wimbledon and turns into Curling TV for a whole fortnight every four years to push us around with talk of cluttered schedules.
The Hundred remains a huge and terrifying gamble. It may well be an unnecessary one. But it's happening, and it really could still be brilliant. Because it's still cricket – shut up, it is – and cricket is brilliant.
In fact, it's legitimate to ask whether the suits at the ECB truly, deep in their bones, actually believe cricket is brilliant.
Because every mistake they make with The Hundred – from creeping round broadcasters apologising for cluttering up their schedules with all this annoying cricket to desperately, pathetically pretending that the game has an audience profile equivalent to that of a rap concert in Miami – can be attributed to a fundamental failure to grasp and celebrate that one simple yet obvious truth: cricket is brilliant.