An England v India five-fer: Day 2, 2nd Test at Lord's
1 ALL SWING AND NO DING!
Overhead conditions at Lord's and a helpful pitch set India up for a day of struggle. Rain may have spoiled much of the day but early on it became apparent what the tourists were up against when Jimmy Anderson blew past Murali Vijay to pick up the first of his five scalps on a very good day for bowlers. England claimed all ten wickets in just 35.2 overs with 17 percent of all deliveries beating the bat.
An absolute beauty from @jimmy9! 😍

Scorecard/Clips: https://t.co/QaHxVc4jQO

With @Schroders#ENGvIND pic.twitter.com/lfKmtNgNSL

— England Cricket (@englandcricket) August 10, 2018
2 PUJARA RETAINS HIS RUN OUT KING STATUS
Cheteshwar Pujara managed to cram a tragicomedy into the two balls bowled in the session after lunch as he dropped the ball alongside the pitch as responded to a minute movement towards him from Kohli by haring down the pitch only to find himself facing the skipper's back stranded three-quarters of the way down the pitch as Ollie Pope ran him out to leave India 15 for 3. Pujara has now been involved in eight of the last ten India run outs in Test matches.
A massive mix-up! 🙈

Scorecard/Clips: https://t.co/QaHxVc4jQO

w/ @Schroders #ENGvIND pic.twitter.com/QKfg1r3EwS

— England Cricket (@englandcricket) August 10, 2018
3 WOAKES HAS KOHLI'S NUMBER
Chris Woakes returned to the England lineup with questions about his bowling form hanging over his head but that did not stop him from tormenting the best batsman in the world. Before Woakes dismissed Kohli with a late away-swinging ball that was edged to the corden he had beaten him with four out of the eight balls he sent down to the batting maestro.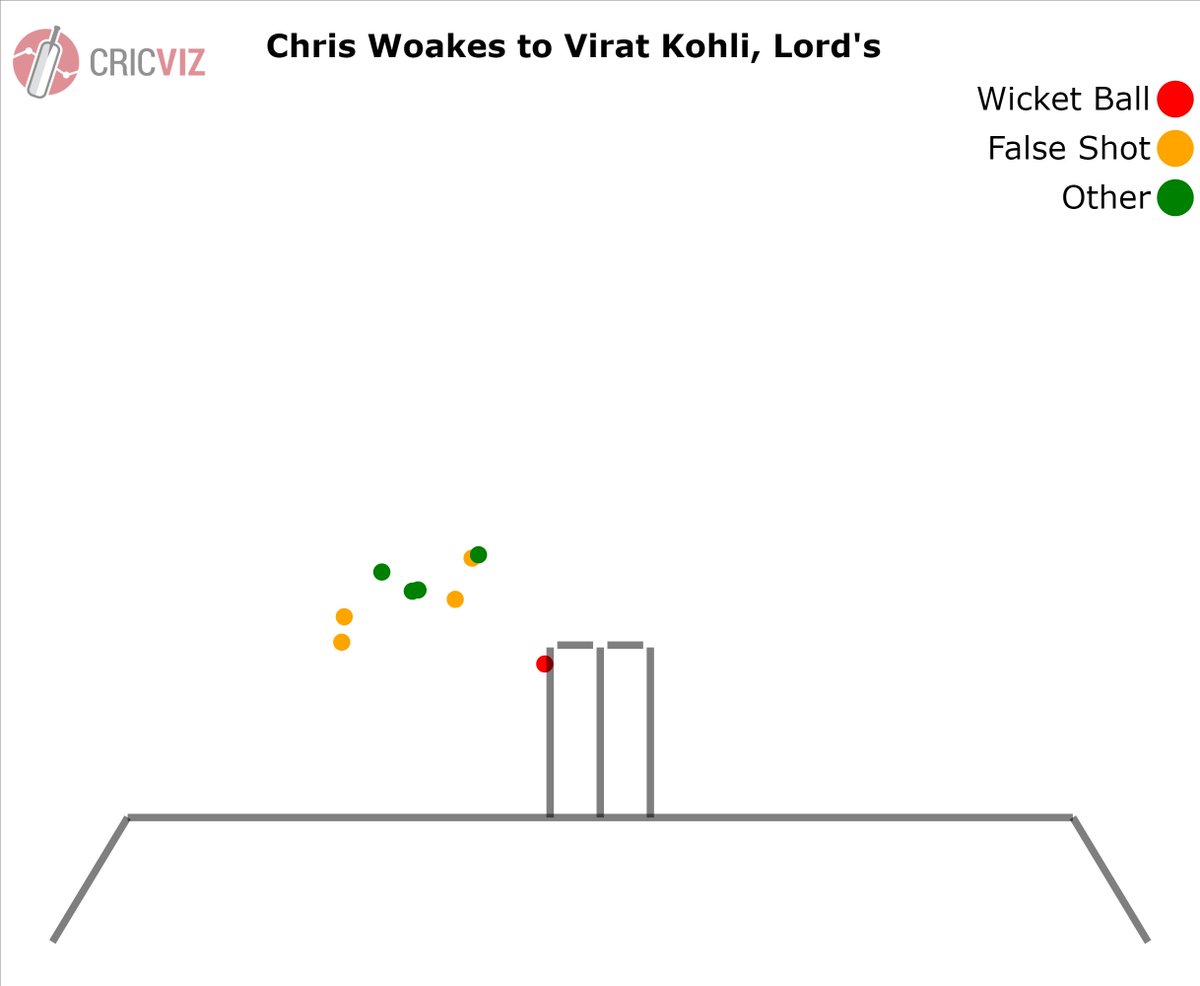 4 EASY ON THE BUTTER CHAPS
England dropped two catches in the slip corden and had a looping chance go begging when Adil Rashid lost the ball in the Lord's gloom but they were not punished for their loose fielding such was the difficulty India had in tackling the moving ball. England's slip corden don't appear to be the most cohesive or well-drilled unit at the moment and while it may not have an impact on this match it is something that could return to bite them in the future.
Since the start of 2016, only Bangladesh drop more slip chances than England. #ENGvIND pic.twitter.com/UJYZqpqRZw

— The Cricket Prof. (@CricProf) August 10, 2018
5 TWO SPINNERS AT LORD'S
India's decision to play two spinners at Lord's looked increasingly foolish as England's swing bowlers worked their way through the tourists batting card at breakneck speed with the Duke ball hooping down the slope and leaping off the pitch. Kuldeep Yadav was traded for Umesh Yadav with India expecting a dryer than normal Lord's pitch. London's August weather had other ideas and India will have to muddle through with the personnel they have selected.