An England v India five-fer: Day 1, 4th Test, The Rose Bowl
1 SWING-BOWLER'S DREAM TURNS INTO WICKETKEEPER'S NIGHTMARE
India's bowlers have found more and more swing from the Dukes ball as this Test series has progressed and a sunny day in Southampton saw them put on a bit of a clinic. One India man who may not be quite so pleased though is wicketkeeper Rishabh Pant, who spent a fair portion of the day prostrate as the swing took balls seemingly destined for the stumps way down leg and past the gloveman. He conceded 23 byes and dropped a catch – an underedge from an attempted leave from Jos Buttler – all while actually keeping quite well in the conditions.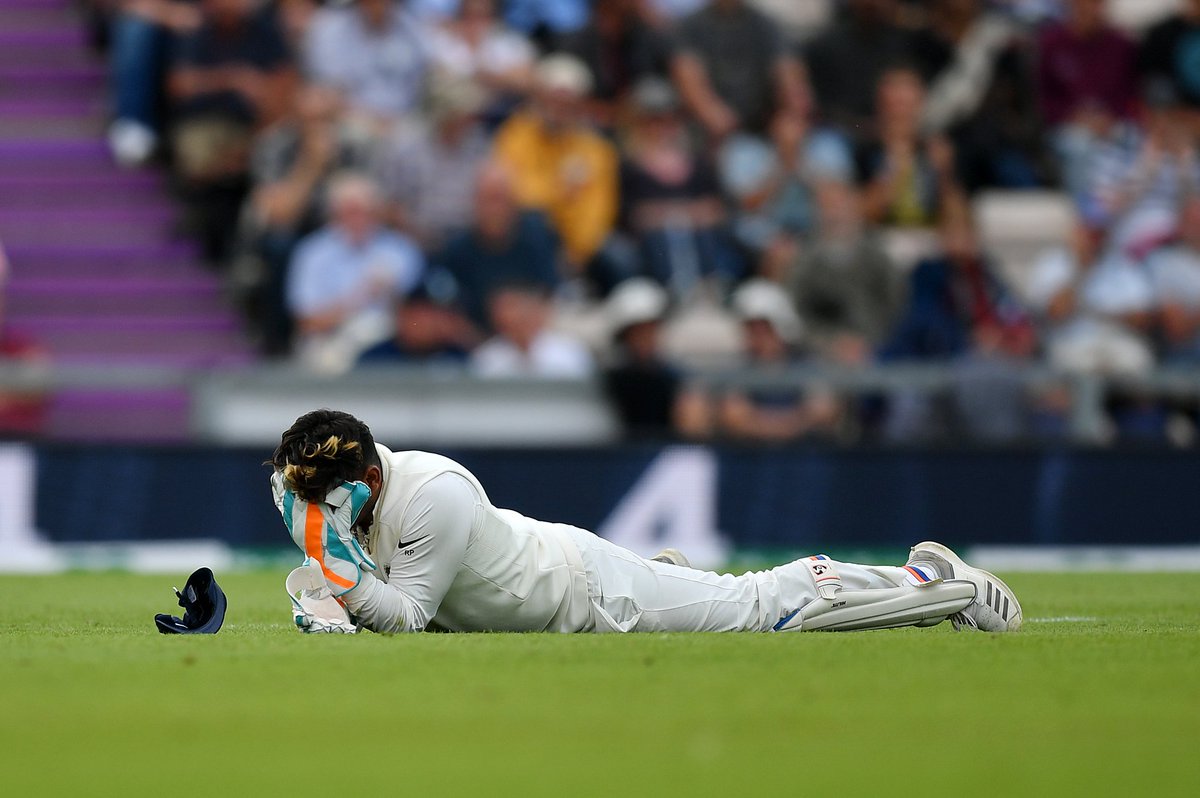 2 THE POWER OF CURRAN'S POSITIVITY
Allrounder Sam Curran showed the power of a positive approach as he once again rode his luck on his way to top-scoring for England. Wary of the swinging ball England's top-order's reluctance to play shots left them exposed with India showing a willingness to attack the stumps and the ability to move the ball both ways. Curran does edge the ball a fair amount but so far in his career his attacking mindset has paid off.
What a way to bring up your 5️⃣0️⃣ @CurranSM! 🙌

Scorecard/Clips: https://t.co/ql1c2yL3Oy

w/ @Schroders#EngvInd pic.twitter.com/XJS5jl4TUn

— England Cricket (@englandcricket) August 30, 2018
3 YOU'RE REALLY NOT HELPING YOURSELF KEATON
Speaking of mindsets spare a thought for Keaton Jennings who not only failed to end a horror run of form with the bat but did so without offering a shot to a ball that pitched on middle and leg. Jennings has had his critics from the outset of his international career with some feeling that his first-class record has never warranted an England call in the first place. Jennings had the look of a man struggling for confidence and got himself in a muddle. He might hope that if this is to be his last Test for England that his second innings ends on a slightly less farcical note.
Who did it better? pic.twitter.com/D3fsrR6FSY

— Vithushan Ehantharajah (@Vitu_E) August 30, 2018
4 FLAWED BUT CERTAINLY BRILLIANT
In a Test series where neither side has batted particularly well for any sustained period of time and plenty of catches have gone down it must be said that England v India has been incredibly entertaining. Each Test has ebbed and flowed wonderfully well, though both sides could have been more clinical it is hard to imagine how this clash could be more exciting to watch.
5 NOTHING TOP-ORDER ABOUT ENGLAND'S BATTING
Only five times in the history of bilateral Test series of two matches or more have England's top four averaged less than they are currently in the series against India. Tellingly allrounders Sam Curran and Chris Woakes lead the batting averages and both men have found themselves left out of the XI during this series. England have persisted with strugglers Keaton Jennings and Alastair Cook up top while Dawid Malan was axed after an underwhelming run. Malan's replacement Ollie Pope struggled as well and England would opt to leave him out for the fourth Test in favour of bringing in an extra allrounder which saw Bairstow promoted to four where he too struggled. England's allrounders all seem to do well when asked to bat under pressure from five to number eight but Joe Root's men have had a hard time finding someone to take on the new ball.
A difficult start for us this morning.

Scorecard/Videos: https://t.co/ql1c2yL3Oy#EngvInd pic.twitter.com/CQfhVtArtw

— England Cricket (@englandcricket) August 30, 2018