An England v India five-fer: Day 3, 3rd Test, Trent Bridge
1 COOK AND JENNINGS DRAW UNWANTED ATTENTION WITH FIELDING EFFORT
England openers Alastair Cook and Keaton Jennings have had a lean series with the bat against India and haven't helped their case by shelling a number of straightforward chances in the slips and elsewhere. Jennings dropped Virat Kohli on 93 and though his mistake cost just 10 runs it certainly hasn't helped him in his bid to hold onto his place in the Test XI. Cook's record amount of runs will no doubt keep him safe but Jennings needs runs on Tuesday or he may find himself axed for the fourth Test.
2 200 AND DONE AGAIN FOR VIRAT KOHLI
For the second time in the series Virat Kohli scored a match aggregate of exactly 200 with his scores of 97 and 103 to go along with his 149 and 51 at Edgbaston. Kohli is head and shoulders ahead of any other batsman in this series and has undoubtedly established himself as one of the great batsmen of his generation if not of all-time. The skipper will be pleased that he has enjoyed support from the rest of his batsmen this time around which has left India cruising to victory.
3 HARDIK CONTRIBUTES MORE TO THE INDIA CAUSE
Having been accused of being a bit of a passenger in the team Hardik Pandya added a quickfire 52 off 52 balls to his first innings five-fer, and were it not for Kohli's efforts he would be in pole position to earn the man of the match award. The allrounder has found a way to contribute while lashing out at his critics by basically saying he really doesn't care what they they and that he is tired of being compared with Kapil Dev. Hardik bowled well and showed his value with the bat, but he will know that he is only one bad performance away from more flak.
Another productive day for Hardik Pandya who is slowly but surely winning over some of his critics #ENGvIND pic.twitter.com/qipu1ALZvA

— Cricket365 (@Cricket365) August 20, 2018
4 PUJARA DROUGHT ENDS AT LAST
After sixteen Test innings without a fifty the normally metronomic Cheteshwar Pujara looks to have regained his confidence. He said after play that he had felt in good touch throughout his dry spell and was confident that the runs would return. Pujara missed out on a hundred. He was unable to inch his Test average back over the fifty mark but all the signs point to him restoring himself to the status of rock of the middle-order.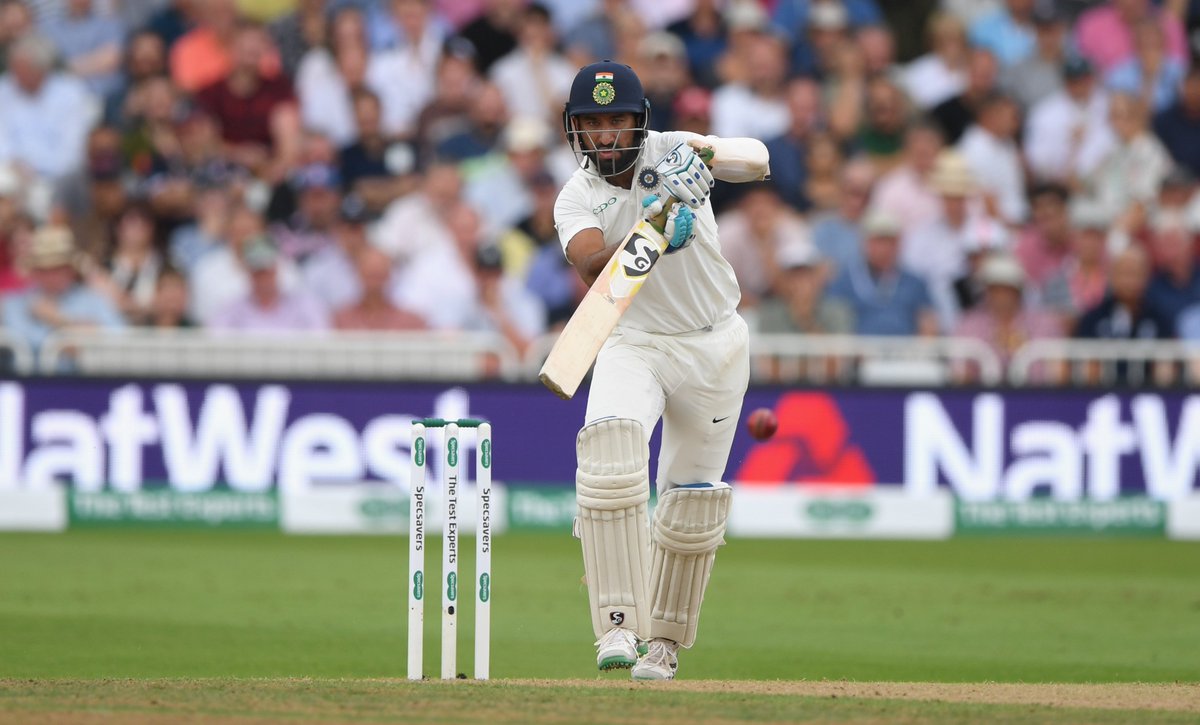 5 ENGLAND'S OPENERS HANG ON
England's openers got through their initial challenge unschathed which will be a boost to them as they seek to save a game but the nine overs they faced was only the prologue to the epic battle ahead of all the batsmen. The ball was going past the bat of both men in the late afternoon gloom in Nottingham and even the most optimistic of England fans won't be holding out too much hope of anything other than an India win.