Being Virat. How Kohli copes with fandom, genius and captaincy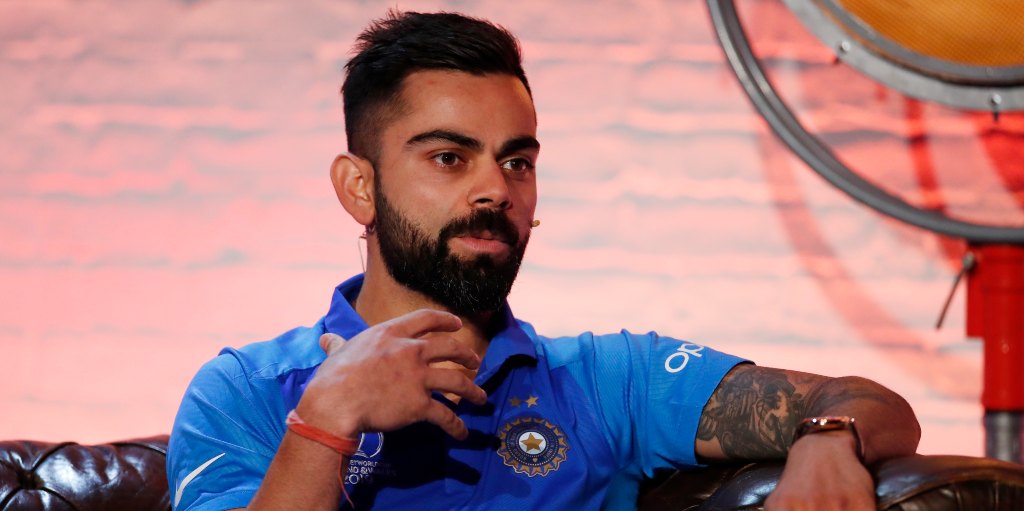 As an Englishman, I have tried very hard not to like Virat Kohli. His spikey nature, the runs he scores against my team and the constant hype combine to make him a player I wanted to despise.
And full disclosure. I had planned to write a piece dismissing Kohli as a captain. For I genuinely think he is poor in that role. But more of that later.
Despite my best efforts, I am growing to love the man Indians call 'King Kohli'. His spikiness has become more bearable. The runs scored by the finest batsman of his generation are sublime and plentiful. And the hype exists because we all want to witness genius.
On the Cricket Badger Podcast, I often ask my interviewees, 'If you could swap lives with any current player and live in their skin for a day, who would you pick?' At least half have picked Kohli. They select him for his talent, his consistency and his work ethic. But they also want to experience a glimpse of what it is like to be the most recognised cricketer on earth and the most lauded Indian on the planet. Most also stress they want the ability to become themselves again very soon after.
For being Virat, even for a day, is difficult to comprehend.
We measure fame in England by the ease with which people can slip in and out of supermarkets, unrecognised or unscathed. Whilst Z-listers barely cause a stir in the aisles, the ability of better-known celebrities to go about a normal life is hugely hampered. For an A-lister like Virat it is impossible. For dinner, he surely has to order in.
Fame brings rewards. If Kohli had been a refuse collector there is little chance he would have wooed the beautiful Bollywood actor Anushka. He would have struggled to pay for a wedding in an incredible 800-year-old Tuscan villa in 2017. Fame has its perks as well as being hard-earned.
Finland was chosen for a honeymoon destination because of the high chance of anonymity in a country not known for its love of cricket or Bollywood movies. Even then a Rovaniemi coffee shop saw the newlyweds seated next to three Indians who were asked not to post their excited selfies on social media until after the holiday was over.
Those moments we tend to call boring – a walk through town, the waiting in bars or coffee shops, a pop down to the shops – they rarely register in Kohli's life. How bizarre to us to crave a honeymoon filled with these things. Yet for Kohli, a life where fandom dictates his every move, the normal must feel sublime. As the rest of us crave excitement, Kohli seeks the mundane and the privacy it brings.
The Indian public worship religion and cricket. And the men who score runs and take wickets are treated like Gods.
After the Tsunami charity match at Lord's in June 2005 I hung around to watch the great Sachin Tendulkar leave the ground. There were hundreds of Indian supporters chanting his name waiting for a glimpse. They may well still be there because Tendulkar had been sped out a back exit and their excited appeals for the presence of their God were being sung to an empty dressing room. That crowd meant him no harm, far from it. They wanted to touch him, take a photo and tell everyone for the rest of their days that they had been within six feet of their hero, a God.
To maintain balance in a world that wants every piece of you must be exhausting. To achieve that whilst also training with commitment, constantly improving and performing at a level rarely matched in the modern game both admirable and sensational. It is also the reason I have failed in my quest to despise Virat Kohli.
When he encouraged the Indian support at The Oval to stop jeering Steven Smith it also made it impossible for me to write a piece suggesting his captaincy was weak.
I firmly believe there are at least eight better skippers at the Cricket World Cup, but there are few better leaders. There is a difference between the two.
As a statesman, a man with the best interests of the game at heart, Kohli is outstanding. He loves his country, respects the game and wants what is best for it.
Tactically however, he is flawed. Kohli wears his heart on his sleeve. The fist pumping, up and at 'em style is far removed from people I deem to be cricket's best on-field leaders. It must be impossible to keep your team on an even course when your heart is visibly pounding out of your sleeve at every twist and turn.
He is too reactive, not an instinctive reader of play and is fortunate with Team India that the players around him are good enough to win with him in charge. At Royal Challengers Bangalore the team is not as well run and Kohli's captaincy is far more exposed.
The cynic could suggest Kohli is captain for marketing reasons. Personally, I feel his ego craves the adoration and the responsibility that captaincy brings. To get the best out of Kohli as a player you make him centre stage and ask him to dance. Provide the beat and he will move like a champion.
As cricket fans we get too comfortable watching greatness. I remember seeing Shane Warne bowl towards the end of his stellar career and having to remind myself to soak it all in because it was unlikely I would ever see such artistry again.
It is the same with Kohli. To get where he has, to have the drive to want more, to deal with intense fame and to come out of all that to be the best batsman I have ever seen is quite some effort. I simply cannot dislike a man that can achieve greatness in that way.
In future years he will be remembered as the best Indian cricketer of all time and will be right up there with Don Bradman, Garry Sobers and company in terms of the impact he has made on the world game.
Nothing lasts forever. Keep pinching yourselves. Enjoy, admire and soak up the genius that is Virat Kohli while you can.