Can England finally find the right Ballance?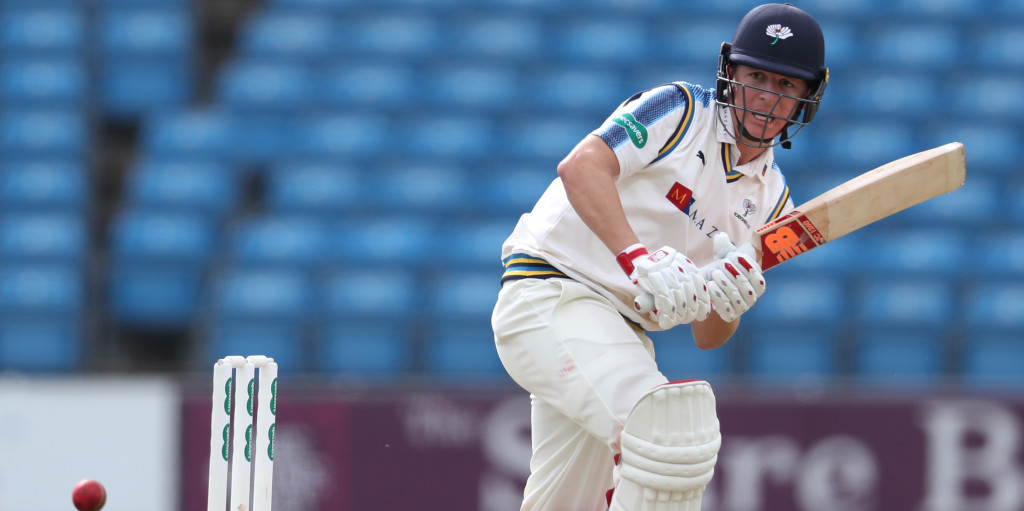 Ever felt like everyone is judging you? No matter what you do and how hard you try it's never good enough. It becomes a vicious circle, where the more you strive the less you get back in return. Welcome to the dark side of Test cricket in the modern 360-degree, no escape, social media era.
I first watched Gary Ballance enter the Yorkshire side back in 2008 and was immediately struck by his dogged determination not to give his wicket away and how he possessed all the gears. In T20 he smashed the ball everywhere. In List A games he made swift hundreds and even in the calmer waters of the Championship he could make waves.
A century against Middlesex at Lord's in 2014 saw him play normal percentage cricket for his first 73 runs, before taking his score to 130 across the next 21 balls he faced. By then he'd played one Test in Australia, but that superb century at the Home of Cricket inked his name into England's selection plans.
The troublesome Test number three spot was not the right fit for Ballance. He'd scored powerful runs for Yorkshire at number five, yet England desperately needed a player to slot in first wicket down as a straight replacement for Jonathan Trott.
---
READ MORE
Rashid slams Ashwin mankad: 'We don't play our cricket like that'
Yorkshire captain Patterson hails impact of Olivier
---
For a while, the miscast Ballance was talented enough to play the part of England's wall. He became the third fastest England batsman to reach 1,000 Test runs in early 2015. A couple of failures and some castigating media punditry and he became the man to knock.
Twitter filled with armchair pundits identifying technical faults or recommending far more able replacements. It's not a recipe for rebuilding confidence or encouraging the incumbent to play better.
"Oh, it certainly didn't make me play any better," Ballance said. "I found it very tough, constantly getting criticised. Especially as it happened quite quickly after two bad games against New Zealand. I got heavily criticised then.
"I found it really tough to come back from that. I don't think I've been the same player since. I've worked hard. I'm always working hard on trying to get better.
"I've put that to bed now. I've had good times and bad times with England and hopefully I can become a better player. Hopefully I can do that with Yorkshire."
Ballance was dropped by England after 15 Tests. He returned to Headingley and scored plenty of runs as England's top order struggled. Recalled after a year away he re-entered the England dressing room and soon found previous baggage was impossible to shift.
"It's always at the back of your mind. The best players are the ones that are mentally very strong. You look at Rooty and Cooky. Those two are the mentally strongest cricketers I know and look at the success they've had over a long period of time.
"That's what I aim to be, and a lot of people try and be like that, but you know it's tough. That's why it's called Test cricket. It's not easy but like I said, the ones who are mentally toughest are the ones that are going to succeed."
Having watched Ballance a lot in his early career the simple truth was that he was more Allan Lamb than Jonathan Trott.
Despite his incredible talent, he always gave the impression he did not completely believe his own hype. Everyone is different. And sport rarely recognises the human element.
Ballance graduated the Yorkshire Academy with Joe Root and Jonny Bairstow. There never seemed any doubt where Root's career would take him as he read the lines on his script eloquently. Bairstow was determined to prove people wrong in a world that was against him, despite everyone being completely on his side. And Ballance, just as good as his two teammates, wondered whether he was.
Seeking reassurance in an England Test side is like shopping for clothes in a nudist colony. The constant public examination of technique, temperament and quality is counter intuitive to a game built around human confidence.
The shots I'd seen Ballance hammer to the fence in all forms for his county were locked away. I'd seen him combine with David Miller in 2012 to tear opposition attacks apart as Yorkshire powered to T20 Blast finals day. In South Africa during the Champions League he had looked every inch a star against star-studded Trinidad and Chennai Super Kings teams.
I had a sportsman's bet with a fellow journalist – and thankfully it wasn't necessary to find the right bookmakers for cricket, either – that Ballance would score more international runs that Bairstow and Root. He was bound to play all forms for England. It was just a matter of time.
I remember a press box chat with England's chairman of selectors where I asked if he had seen Ballance's cavalier Champions League knocks and it surprised me when he said he hadn't. Sometimes, if you are desperately looking for a certain type of player the temptation can be to watch for examples that best suit your needs.
"I think I definitely got pigeon-holed as a certain type of player," Ballance told me. "When I did get to start playing Test cricket, I didn't get to play much white-ball cricket for that two or three-year period.
"I had a bit of success last year and the year before in the 50-over stuff, so I still feel that I can play that form of the game. Whether other people do, that's their opinion.
"When I played white-ball cricket for England, 50 over, I struggled a bit. Then people judge me on that. Whether that is unfair or not, who knows?
"I feel like I have done well for Yorkshire with the white ball in 50-over and Twenty20 and I still see myself as a half-decent player in that anyway and hopefully guys here [at Yorkshire] think that. People can have their own opinion and that's fair enough."
So, after all his travails, the miscasting, the mental battles that have seen him relinquish the Yorkshire captaincy, it was good to see a happy Gary Ballance when I met him at Headingley.
He's had a winter off, got married and appears recharged and confident. England's loss looks set to be Yorkshire's gain as, like Essex with Alastair Cook, they have a Test player commanding the county stage.
But is there still a part of him that wants to score heavy runs for Yorkshire, get back in that Test side, prove people wrong and lift that Ashes urn again this summer?
"Yeah, that would be great," he fires back. "But I can't worry about that too much. I've got to forget about what people say, just try and score runs for Yorkshire and try and enjoy the game. If I get that opportunity again then great. If not, then I'm pretty happy with how it's gone.
"It really is a massive year and I can't wait to watch the World Cup as I think England have got a great team and a great squad there. It would be great if they could go on to win that.
"And then the Ashes. The buzz around cricket this summer will be massive and hopefully the game can grow from it.
"I've played in a few Ashes Tests. I've been on a few tours and carried a few drinks," he laughed. "I know what it's like and the hype is definitely different.
"To be involved in winning an Ashes match when I did play was probably the best experience of my cricketing career."
He'd be in my England Test team this summer.