Ball tampering rubbished
Proteas skipper Faf du Plessis has rubbished claims that his team engaged in ball tampering in the first Test against Australia at the WACA in Perth.
Du Plessis said the ball tampering claims had been "blown out of proportion" after he was warned by the umpires for deliberately bouncing the ball along the ground to scuff it up.
The skipper said that the Proteas did not gain any unfair advantage and noted that the Australians had been able to extract reverse swing after just 25 overs on the first day of a Test.
Du Plessis told a press conference in Hobart: "I think it's been blown out of proportion. We were watching the first innings in Perth and they (Australia) got the ball to reverse in the 25th over.
"I was quite impressed. I was trying to see how they were doing it because that meant they were doing something right. Twenty-five overs is very early for ball to reverse.
"We are a bowling attack and we enjoy bowling with a swinging ball. To say it was only for us is not true.
"It was 50-50 the amount of reverse swing throughout that Test. The Aussies did it really well."
Du Plessis conceded that the ball is unlikely to reverse swing in the colder and damper conditions in Hobart but the Proteas have plenty of firepower even without reverse swing in their arsenal.
The captain said: "Perth was really dry and extremely hard. It will be different here.
"It is lush, it's green, it's soft, it's wet. It will seam and swing, but won't reverse that much."
The man standing in for AB de Villiers praised the resilience of his team and backed them to thrive under pressure.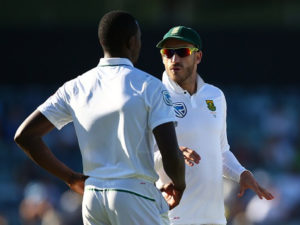 He added: "We rely quite heavily on being a resilient team, we're full of resilient players and personalities.
"Some of the guys are very, very resilient and put their hand up and fight extremely hard to get back into the game. It's always been a strong part of this team.
"If you want to win Test matches you'll get small opportunities in games where it's 50-50, where either you take that pressure and get through that moment to get on top again, or you don't and you fall behind the game.
"Luckily for us in the previous Test match we could do it more than they did. They had that opportunity and they let it slip."