Du Plessis opens up on South Africa's 'embarrassing' exit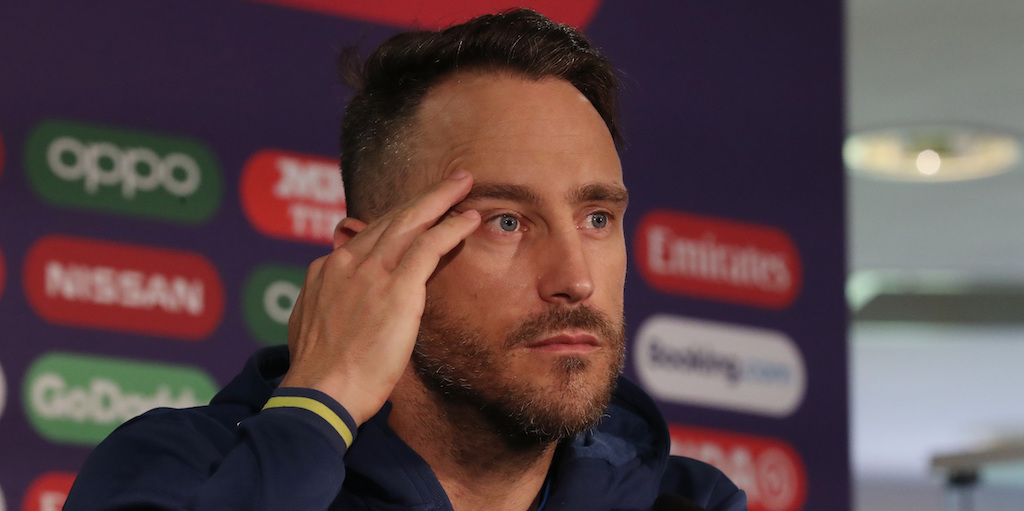 South Africa captain Faf du Plessis has opened up on his feelings after his side's 'embarrassing' exit from the Cricket World Cup.
After a disappointing first three weeks of the tournament, the Proteas were dealt the final nail in their coffin on Sunday as they were beaten by Pakistan.
Sarfaraz Ahmed's side won the toss and opted to bat first with Haris Sohail their key man as he fired 89, while Babar Azam chipped in with 69 to see them post a competitive 308-7 from their 50 overs.
In reply, the South Africa captain Faf du Plessis scored 63, but none of his Proteas team-mates managed to get beyond a half-century as they subsequently fell short on 259-9.
It leaves the 2015 semi-finalists out of the tournament with just one win – against Afghanistan – from their seven matches so far.
"Yes, definitely [it is the lowest point]," Du Plessis told the media after the loss.
"I'm a very proud player and captain, and playing for South Africa means a lot for me, and the fact that the results we're dishing out at the moment – you know, it's really, really tough, and borderline… today, it's a little bit embarrassing. We're trying but it's just not good enough. Obviously I'm human as well, so it will keep chipping at me.
"It's important that the coach, myself, the senior players, are the guys that needs to front up to this challenge. That's when your players need you the most. So right now, I need to be there for the other players as well.
"You know, I feel we keep making the same mistakes over and over again. Probably started off with the bowling. Our bowling has been the one thing that's been working this tournament, and today, a well-below-par performance, probably bar Immy [Imran Tahir], who was exceptional once again.
"But the rest of the guys, probably, you know, five-out-of-ten performance with the ball, 30 runs too many [given away] and the same thing with the bat once again. We're starting our innings losing wickets again and then we build something nicely, get a partnership going, and then wicket and then wicket.
"I think, as I said, as a player, I'm very proud. But I've always said that my most enjoyment that I get from the game playing for South Africa is captaining the side. The fact that we are really underperforming, as I said, chips away at me, as well. It's really important for me.
"I love captaining this team, and the fact that we are playing way, way below our potential is not something that sits with me well. There's too much pride for me, and that's why – I mean, I'm trying as much as I can, but unfortunately not everything is in my hands. You know, if I could, I would get my wand out and get some runs on the table for our batters, but I can't, unfortunately.
"So it is a challenge, and my character is one that will try and fix as many problems as I can and try and control the areas that I can, but unfortunately, I can't control everything."