ICC Rankings: Bairstow and Woakes surge after ODI series against Australia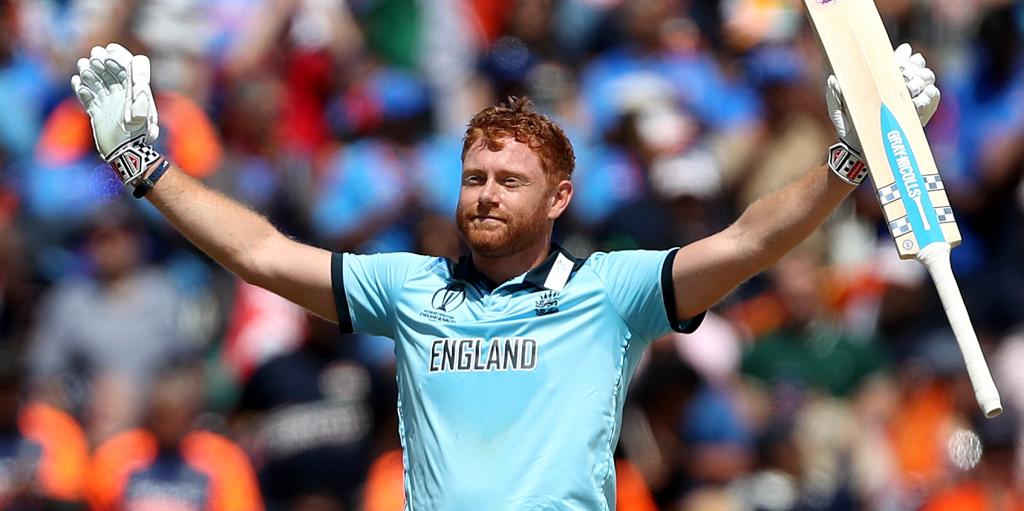 Opener Jonny Bairstow and allrounder Chris Woakes were the big gainers for England on the ICC ODI rankings after the series defeat to Australia.
The World Champions went down to Australia 2-1 but Bairstow led the scoring in the three-match series with 196 runs after his 126-ball 112 in the final match. He makes a return to the top 10.
Woakes the major gainer among bowlers
Woakes was the major gainer in the bowler's rankings, advancing three places to a career-best fourth position after finishing with six wickets in the series. His contribution of 89 runs also sees him move into second place on the allrounder rankings just behind Afghanistan's Mohammed Nabi.
Jofra Archer gained 18 slots to reach a career-best 10th place after finishing with seven wickets in the series including his match-winning effort of 3/34 in the second ODI.
Maxwell and Carey take a giant leap after heroics
Australia batsmen Glenn Maxwell and Alex Carey were involved in a 212-run fifth-wicket stand that helped Australia complete a thrilling three-wicket victory in the final match to take the series 2-1.
Maxwell gained five places to take a share of 26th position along with Paul Stirling of Ireland after scoring 186 runs in the series. Carey is right behind the pair after his total of 152 runs elevated him 11 places to a career-best 28th position on the batting rankings.
Billings on the up
Others to move up in the list include Australia's Marnus Labuschagne (up 20 places to a career-best 63rd) and Sam Billings of England, who makes it into the top 100 for the first time after scoring 118 in the first match and finishing with 183 runs in the series, behind only Bairstow and Maxwell.
Australia fast bowler Josh Hazlewood has returned to the top 10 for the first time in nearly two years, his player of the match performance of 3/34 in the first match the highlight of a four-wicket tally. He has moved up from 15th to eighth position. Adam Zampa's series-topping 10 wickets have lifted him to 21st position.
ICC Men's ODI Player Rankings (as of 17 Sep 2020):
Batsmen (top 10)
| | | | | | | |
| --- | --- | --- | --- | --- | --- | --- |
| Rank | (+/-) | Player | Team | Pts | Avg | Highest rating |
|    1 | ( – ) | Virat Kohli | India |  871 |  59.33 | 909 v Eng at Headingley 2018 |
|    2 | ( – ) | Rohit Sharma | India |  855 |  49.27 | 882 v SL at Headingley 2019 |
|    3 | ( – ) | Babar Azam | Pak |  829 |  54.17 | 844 v NZ at Wellington 2018 |
|    4 | ( – ) | Ross Taylor | NZ |  818 |  48.44 | 836 v India at Auckland 2020 |
|    5 | ( – ) | Faf du Plessis | SA |  790 |  47.47 | 814 v Aus at Old Trafford 2019 |
|    6 | (+2) | K Williamson | NZ |  765 |  47.48 | 792 v SA at Centurion 2015 |
|    7 | ( – ) | Aaron Finch | Aus |  762 |  40.84 | 791 v Eng at Lord's 2019 |
|    8 | (-2) | David Warner | Aus |  759 |  44.94 | 868 v Pak at Adelaide 2017 |
|    9 | (+1) | Q de Kock | SA |  755 |  44.65 | 809 v SL at Durban 2019 |
|   10 | (+3) | Jonny Bairstow | Eng |  754 |  47.16 | 769 v Aus at Durham 2018 |
Other selected rankings
| | | | | | | |
| --- | --- | --- | --- | --- | --- | --- |
| Rank | (+/-) | Player | Team | Pts | Avg | Highest rating |
|   26= | (+5) | Glenn Maxwell | Aus |  647 | 33.29 | 727 v India at Canberra 2016 |
|   28 | (+11) | Alex Carey | Aus |  628*! | 35.72 | 628 v Eng at Old Trafford 2020 |
|   46 | (+3) | Marcus Stoinis | Aus |  541 | 32.52 | 612 v Eng at Perth Stadium 2018 |
|   63 | (+20) | M Labuschagne | Aus |  509*! | 43.77 | 509 v Eng at Old Trafford 2020 |
|   93= | (+44) | Sam Billings | Eng |  415*! | 36.62 | 415 v Aus at Old Trafford 2020 |
|   99 | (+8) | Adil Rashid | Eng |  388! | 18.94 | 388 v Aus at Old Trafford 2020 |
Bowlers (top 10)
| | | | | | | | |
| --- | --- | --- | --- | --- | --- | --- | --- |
| Rank | (+/-) | Player | Team | Pts | Avg | Eco | Highest Rating |
|    1 | ( – ) | Trent Boult | NZ | 722 | 25.29 | 5.03 | 768 v WI at Old Trafford 2019 |
|    2 | ( – ) | Jasprit Bumrah | India | 719 | 24.43 | 4.55 | 838 v WI at Thiruvananthapur 2018 |
|    3 | ( – ) | M Ur Rahman | Afg | 701*! | 22.44 | 3.94 | 701 v WI at Lucknow 2019 |
|    4 | (+3) | Chris Woakes | Eng | 675! | 30.34 | 5.54 | 675 v Aus at Old Trafford 2020 |
|    5 | ( – ) | Kagiso Rabada | SA | 665 | 27.34 | 4.99 | 718 v Eng at Lord's 2017 |
|    6 | (-2) | Pat Cummins | Aus | 659 | 28.48 | 5.20 | 725 v SL at The Oval 2019 |
|    7 | (-1) | M Amir | Pak | 657! | 29.62 | 4.85 | 657 v SL at Karachi 2019 |
|    8 | (+7) | J Hazlewood | Aus | 654 | 25.90 | 4.70 | 726 v Eng at Adelaide 2018 |
|    9 | (-1) | Matt Henry | NZ | 641 | 26.48 | 5.40 | 664 v Aus at Hamilton 2016 |
| 10= | ( – ) | Mitchell Starc | Aus | 637 | 22.48 | 5.11 | 781 v NZ at Melbourne 2015 |
Other selected rankings
| | | | | | | | |
| --- | --- | --- | --- | --- | --- | --- | --- |
| Rank | (+/-) | Player | Team | Pts | Avg | Eco | Highest Rating |
|  21 | (+10) | Adam Zampa | Aus |  601! | 33.44 |  5.56 | 601 v Eng at Old Trafford 2020 |
|   86 | (+5) | Tom Curran | Eng |  387* | 38.07 |  5.98 | 402 v Pak at Trent Bridge 2019 |
All-rounders (top five)
| | | | | | |
| --- | --- | --- | --- | --- | --- |
| Rank | (+/-) | Player | Team | Pts | Highest Rating |
| 1 | ( – ) | M Nabi |   Afg | 301 | 346 v Ire at Greater Noida 2017 |
| 2 | (+3) | Chris Woakes |   Eng | 281 | 307 v NZ at Christchurch 2018 |
| 3 | ( – ) | Imad Wasim |   Pak | 278*/ | 281 v SL at Karachi 2019 |
| 4 | (-2) | Ben Stokes |   Eng | 276 | 303 v NZ at Lord's 2019 |
| 5 | (-1) | C de Grandhomme |   NZ | 265*/* | 266 v India at Bay Oval 2020 |
*indicates provisional rating; !indicates career-highest rating