Kohli says India are braced for West Indies response
India skipper Virat Kohli says that the home side are prepared for a big West Indies fightback in the second Test.
Kohli wants to keep his charges on their toes after they recorded their biggest ever Test win in the first match of the series.
Speaking at the announcement of the squad of 12 from which the Test XI will be selected on Friday morning Kohli said: "They are going to come hard at us in this game because it's only a two-match series and you don't have the room to do anything apart from making a comeback at this stage.
Kohli expects to see a balanced wicket at the Rajiv Ghandi Stadium in Hyderabad which will host the second Test from October 12.
"It is always going to be a good cricket wicket in Hyderabad. The pitch doesn't wear and tear so much because of the weather here. There's a decent covering of grass on the pitch and the surface is always hard – if you bowl well you can take wickets and if you bat well you can score runs," he said.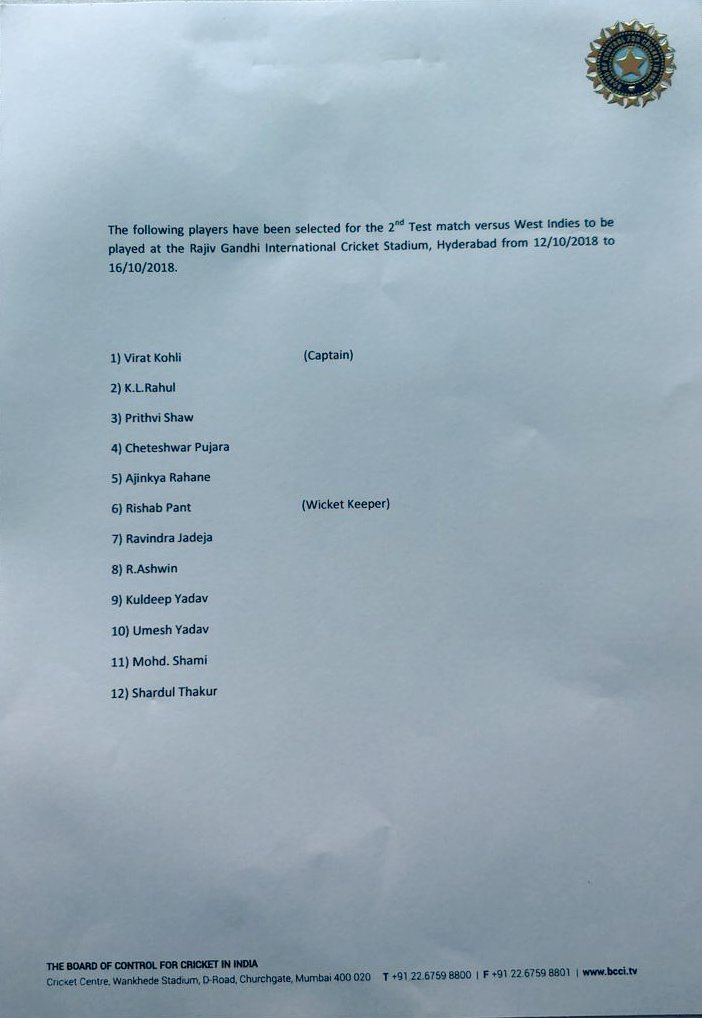 Kohli attempted to temper expectations for opening batsman Prithvi Shaw, who scored a hundred on debut in the first Test against the West Indies.
"I don't think he should be thrust into anything yet because you have to understand, have to give a youngster the space to grow," Kohli said.
"This guy is supremely talented and he has got great ability, as everyone saw. We definitely think that he has what it takes to play at the highest level and he has shown that in his first game already. He is a keen learner, a very sharp guy. We all are very happy for him, but I think we should not compare him to anyone yet or put him in a space where he starts feeling pressure of any kind.
"These youngsters have played in situations like the IPL [Indian Premier League] where they play in front of so many people that they're not nervous of the big stage anymore. Yes, they might have the eagerness and the pressure to perform, but they're not overawed by the scenario. I think that's always going to be an advantage because the guys coming in can start doing the job for you from Day 1. Shaw, Rishabh Pant, and Hanuma Vihari have done that straightaway."
India's 12-man squad for the Test: Virat Kohli (c), KL Rahul, Prithvi Shaw, Cheteshwar Pujara, Ajinkya Rahane, Rishabh Pant (wk), Ravichandran Ashwin, Ravindra Jadeja, Kuldeep Yadav, Umesh Yadav, Mohammed Shami, Shardul Thakur