WATCH: Cricket World Cup 2019 – England v India highlights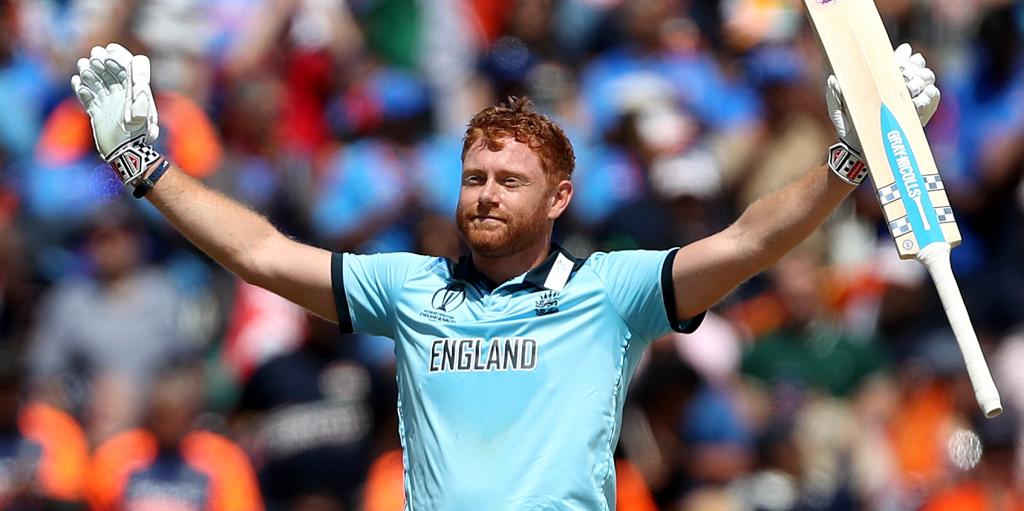 ---
ENGLAND BEAT INDIA BY 31 RUNS
That is very, very good from England. Primarily with he bat but also with the ball at teh start and end of India's innings. England right back in the tournament now. They move back into the top four, and will finish third – at least – if they beat New Zealand in Durham on Wednesday. Think I'm right now as well that a tie or no result will be enough for England (and New Zealand for that matter) in that game due to the insurmountable scale of England's NRR advantage over Bangladesh and Pakistan. Further bit of housekeeping: today's result also eliminates Sri Lanka.
1836 BST: India 306/5 (50 overs)
Dhoni hits the first six of the innings – still think that's extraordinary really – from the first ball of the final over. To hit six sixes off this over would have been one of the most outrageous banters in the history of the game, but alas it's not to be. Jadhav joins in the tactic of trying to hit boundaries only when the required rate hits 44, slapping Woakes over cover. But it's a big, big win for England in every way. Huge for them, huge for the tournament.
1832 BST: India 294/5 (49 overs)
A four for Dhoni as Stokes of all people lets the ball under his body at deep midwicket. Stokes being Stokes, he's absolutely furious about this even though it matters not one jot. India need 44 from six balls. Archer ends wicketless but has bowled superbly. Chances dropped off his bowling, and 45 runs off his 10 overs in the context of this match is excellent.
1827 BST: India 287/5 (48 overs)
Wood hits Dhoni on the thumb with a good short ball. Don't often see Dhoni show pain but that one's stung. Whips his glove off and is sucking his thumb to get the blood away. Another over without a boundary. Whatever you think of India's strategy at the start and end of this innings – and it has not been the best – England's new-ball and death bowling has been exemplary. India need 52 from 12 balls.
1823 BST: India 281/5 (47 overs)
You hesitate to say it with Dhoni's legendary ability to make light of anything, but India appear to have given up the chase here. Just knocking Archer around for singles. India Game Plan: Troll Pakistan. India need 57 from 18.
1819 BST: India 276/5 (46 overs)
Dhoni pulls Wood down to long-leg for four, but one boundary per over no longer enough for India. Absolutely incredible really that in a chase of 338 where India are going to at the very least get reasonably close and with a 59m boundary on one side there hasn't been a single six in 46 overs. India need 62 from 24.
England (Roy 2, Bairstow 6, Stokes 3, Buttler 2) hit 13 sixes.

After 45 overs, India are yet to hit one. #CWC19

— Will Macpherson (@willis_macp) June 30, 2019
1814 BST: India 267/5 (45 overs)
Superb closing over from Plunkett, who ends with 3/55 from his 10 overs having taken down the India middle-order with the wickets of Kohli, Pant and Pandya. Don't leave him out again, England, yeah? India need 71 from 30.
WICKET! Hardik Pandya c sub (Vince) b Plunkett 45 (33b, 4×4, SR: 136.36)
This has been excellent death bowling from England. Changing pace and line and length to keep two great finishers guessing. Pandya has to try and clear the ropes but doesn't get hold of this one to give Vince a simple catch on the boundary and Plunkett a third wicket.
1806 BST: India 260/4 (44 overs)
Magnificent over from Archer. Bumrahesque, and there can be no higher praise than that. One quick ball and give slower variations, with the end result of just five runs to India's total. India need 78 from 36.
1802 BST: India 255/4 (43 overs)
Dhoni sends a drive high into the sky but safe. Lands just inside the rope at long-off and bounces over for four. This match is Still Not Over, but it's a good over for England overall. Just three singles from the other five balls, and the equation is now 83 from 42. Two a ball the point where even Your Modern T20 Cricketers start to think about something needing to give.
1757 BST: India 248/4 (42 overs)
Morgan gambles on an over of Rashid. India don't take the bait, Dhoni and Pandya happy to take the singles. But five from the over is a result for England, who do now have the option of using their four main quick bowlers for the remaining eight overs.
1754 BST: India 243/4 (41 overs)
Pandya slices a cut shot just wide of a diving Rashid to collect four off Woakes. Nine runs in total from the over.
1748 BST: India 234/4 (40 overs)
More outrageous work on the boundary as Bairstow somehow cuts off a brutal Pandya pull shot to save two runs. Dhoni is the new batsman for India and, because he is a genuine hero, plays an exaggerated leave to his first ball. Magnificent. So it comes down to 104 from the final 10, with two batsmen at the crease more than capable of delivering that. You do feel these two have to do most of the work, though. Dhoni has the experience and the nous, while Pandya has been magnificent so far.
WICKET! Rishabh Pant c Woakes b Plunkett 32 (29b, 4×4, SR: 110.34)
What a catch! Pant plays that frankly undescribable paddle-pull-lap-thing he plays on one foot but doesn't get enough on it to clear the ropes. Still looks like he might get four for it, though, until a flying Woakes takes the catch two-handed. Does superbly well having taken the catch to then keep himself from skidding into the rope. Brilliant cricket.

https://twitter.com/Cricket365/status/1145374877890875392
1739 BST: India 226/3 (39 overs)
This is absolutely sensational from Pandya. He's standing deep in his crease to Woakes, who can be a little bit hittable at the death in white-ball cricket. Smashes him through the legside twice and once through cover to collect three consecutive fours. Makes just as good contact with the next one as well, but a sprawling Stokes prevents the boundary at midwicket and saves a couple. Two more for a drive down the ground. Biggest over of the innings and keeps the required rate round about that 10 an over mark.
1731 BST: India 210/3 (38 overs)
Big lbw shout against Pandya, and it's closer than I think anyone initially thought. Wood's skiddy trajectory sends the ball into Pandya's knee but the half-hearted appeal is turned down and there's little thought of a review. England wouldn't have lost it had they reviewed it, though, an umpire's call for height. Pant almost swings himself off his feet again to minimal effect but then stands still to smack the last ball of the over for four over midwicket. Better option, but who am I – who are any of us? – to tell Pant what to do.
1727 BST: India 204/3 (37 overs)
Hardik Pandya joins Pant in what is sure to be an entertaining partnership for however long it happens to last. Good start for the all-rounder, slapping one through cover and scampering three as Bairstow scurries round the rope to prevent the boundary. Pant, an absolute hero of a cricketer already, tries to reverse-sweep Woakes and manages to send the ball all of eight yards. Gets a single for it anyway. Another good-looking shot into the covers brings Pandya two more. Great over from Woakes, though.
WICKET! Rohit Sharma c Buttler b Woakes 102 (109b, 15×4, SR: 93.57)
Huge! HUUUUUUGGGEEE! Chris Woakes back into the attack after that nonsense first spell of 1/8 from five overs, and he immediately gets the big wicket of Rohit. Slower ball banged into the deck outside off stump, and it finds the outside edge as Rohit aims something murderous towards midwicket. Buttler does the rest and England have the breakthrough.
1721 BST: India 198/2 (36 overs)
India get their 10 here, despite Pant starting the over with two almighty swings and misses outside the off stump. The first one he swings so hard the ball flies out of his hands and 20 yards back towards Buttler. But he then nails a pull to the fence before ending the over with a smear over cover either side of a pair of singles.
1716 BST: India 188/2 (35 overs)
Rohit's century celebrations notwithstanding, it's a good over from Plunkett. Just five runs from it, and that takes the equation to 150 from 15 overs. Ten an over, maths fans.
1715 BST: Rohit Sharma 100* (106b, 15×4, SR: 94.33)
Rohit scampers two to third-man to bring up his third hundred of the tournament. The first 50 runs were hard work, but the last 50 have been magnificent. Spare a thought for Joe Root who put down that sitter in the second over of the innings when Rohit had just four to his name.
1709 BST: India 183/2 (34 overs)
Six singles from Wood's over. That's okay for England, but even as the required rate spirals towards 10 you still feel they need wickets to win this. Cracking finish on the cards here the other side of this drinks break.
1703 BST: India 177/2 (33 overs)
Slice of luck for Rohit, mis-pulling Plunkett but somehow managing to land the ball safely between three converging fielders despite the ball spending an age in the air. Pant, having started his innings like a crazy person, has settled down now and picks up his first boundary with a sweetly timed drive that beats Woakes' dive.
1659 BST: India 166/2 (32 overs)
Mad to think Rohit spent most of this innings looking way short of his best form. Because now he looks imperious. Back-to-back boundaries to greet Wood's return to the attack, the first four a cut shot placed delicately behind point to beat the man in the ring while giving third-man no chance to get round, and the second picked up dismissively over mid-on.
1655 BST: India 155/2 (31 overs)
Plunkett backs up the wicket-taking over with a tight one that gives up just three runs. Every over like that does alarming things to the required rate now; it's closing on 10 an over now.
1652 BST: India 152/2 (30 overs)
Amazing – well, not that amazing – how thoroughly the mood has changed among players and supporters of both sides with the dismissal of the world's best batsman, who is currently in the middle of a positively Rootish run of half-centuries without a three-figure score.
1648 BST: India 148/2 (29 overs)
Nice quiet confidence-boosting start for Rishabh Pant, who only tries to run himself out twice in his first three balls.
WICKET! Virat Kohli c sub (Vince) b Plunkett 66 (76b, 7×4, SR: 86.84)
Liam Plunkett in the middle overs again. It is genuinely insane that England don't consider him an automatic first-choice selection. Anyway, here he is picking up the wicket of probably the greatest ODI batsman and definitely the greatest ODI chaser of all time. And look at that, it's sub fielder James Vince taking the catch. That's lovely.
1641 BST: India 144/1 (28 overs)
Archer is back. Can't get the wicket, but England get second prize with a much-needed quiet, boundary-free over to at least get the required rate moving in the right direction (from England's point of view) once again.
1636 BST: India 140/1 (27 overs)
Serious problems now for England. Serious problems. They cannot persist with Rashid and Stokes here, got to get one of the main men back into the attack. Rohit pummels a sweep shot through square-leg, and the nine overs of Rashid and Stokes in this middle period have brought 69 runs without much alarm for India.
1633 BST: India 133/1 (26 overs)
This was a much easier game for England when Rohit was struggling. He is no longer struggling. Indeed, he is now toying with the fielders and bowlers alike. Having pulled Stokes for four he then twice steers perfectly-placed drives to the point boundary, both of them teasing Woakes the whole time into thinking he might be able to cut them off. In truth, he never had a chance.
1629 BST: India 120/1 (25 overs)
This might have to be the last of Rashid for a while. Kohli creams him to the cover boundary, and eight runs come from it in total. He hasn't bowled badly, but his four overs have brought India 28 runs and momentum. England do have five seamers at their disposal.
1625 BST: India 112/1 (24 overs)
Better over from Stokes, no boundaries from it. But these are dangerous times for England. This partnership is starting to make the Indian crowd believe as much as anything else. Noise levels on the rise among the huge Indian contingent in the crowd.
1621 BST: Rohit Sharma 52* (65b, 9×4, SR: 80.00)
Sharma ends a better over from Rashid with an outrageous in-to-out drive over extra-cover for four. Just signs in the last four or five overs that this pair are about to start making life extremely difficult for England. England need a wicket now to reassert their dominance.
1619 BST: India 100/1 (22 overs)
For the first time in the innings, concerted pressure being put back on England by the India batsmen. Real authority in a cover-driven boundary from Rohit in an innings that has lacked his usual fluency and control. The hundred comes up, and India are now at least keeping the required rate reasonably steady as they edge their way back into the game.
FIVE consecutive 50-plus scores in World Cup matches:

Steven Smith (2015 WC)
Virat Kohli (2019 WC)#CWC19 #ENGvIND

— Cricbuzz (@cricbuzz) June 30, 2019
1615 BST: India 93/1 (21 overs)
Rohit Sharma hasn't been able to get going at all today, and there have been signs that he's just going to go for it. Sent one skying to safety at point in Stokes' over and then collects four with a swiping drive over point as Rashid looks to hide the ball outside off with the short boundary to the legside. Genuinely bad ball from Rashid to end the over from Rashid, and this time Rohit can play a more orthodox and convincing cut shot through point to collect his second boundary of the over. Good couple of overs for India against two men who are very much England's fifth and sixth bowlers in these conditions.
1611 BST: Virat Kohli 50* (59b, 6×4, SR: 84.74)
He's looking better and better here, reaching his half-century with an outrageous whip through midwicket for four off Ben Stokes and then a punchy drive for two through cover. Is today the day for that elusive 2019 World Cup hundred?
1607 BST: India 74/1 (19 overs)
Tidy start for Adil Rashid, just three singles from his first over. His 10 overs – if he even bowls that many – feel hugely important here. Egbaston has not been the spin bowler's friend today.
— Dave Tickner (@tickerscricket) June 30, 2019
1601 BST: India 71/1 (18 overs)
Feels like timing the ball has got harder and harder on this pitch, as if it's got slower and slower throughout the innings. Pleasing, therefore, to have some #numbers that suggest this is indeed the case. That'll be rinks with India's run-rate still below four and the required rate now well above eight.
CricViz's model for assessing the characteristics of surfaces suggests this pitch is slowing up. The PitchViz Wicket Pace rating has dropped in every phase across this match. #CWC19 pic.twitter.com/dcrYGT7hAf

— The CricViz Analyst (@cricvizanalyst) June 30, 2019
More number fun. Ben Stokes today joined some illustrious company.
Ben Stokes today became the fourth player to make four scores of 75 or more in a single World Cup. Previously: Mark Waugh (1996); Tendulkar (5, in 2003); Sangakkara (2015). #CWC19

— Andy Zaltzman (@ZaltzCricket) June 30, 2019
1557 BST: India 67/1 (17 overs)
Oh, that is a nonsense from Kohli. Never mind the frustrations, this is glorious. Bit of width from Plunkett and Kohli rocks back and nails it through cover. There were some incredible shots in England's innings, and a couple already today from Kohli. This was better than any of them. Rohit in on the act as well with a pull shot played in front of square to take Bairstow out of the equation. A 10-run over just when India needed it with the required rate having climbed north of eight.
1553 BST: India 57/1 (16 overs)
First signs of frustration from Kohli, swishing his bat having failed to get the ball past midwicket. England on top here, but would dearly love to separate these two great players before they manage to get going.
1549 BST: India 53/1 (15 overs)
How England have missed these Plunkett cross-seam mysteries in their last two games. He may not look as threatening as the other England quicks, but he is so difficult to deal with.
1545 BST: India 51/1 (14 overs)
Wood the seamer India will look to target based on these first couple of overs. Kohli gets him into the legside for a couple of couples before an absolutely gorgeous drive played on the up with incredible power and timing to the cover fence.
1541 BST: India 43/1 (13 overs)
Just three from Plunkett's over, Kohli beaten by a cross-seam ball that bounces more than he expected.
1537 BST: India 40/1 (12 overs)
Couple of boundaries for Rohit to kickstart his innings, standing tall and just whacking length from Wood wide of mid-on and then getting four with a genuine pull shot behind square-leg. This is about the point in the innings where 'at this stage' comparisons aer going to start looking really ugly for India. Important for them to remember that such comparisons are entirely meaningless.
1533 BST: India 31/1 (11 overs)
No change in the momentum of th innings as Plunkett replaces Woakes. Rohit, one of the all-time great ODI batsmen, has 12 from 30 here.
1528 BST: India 28/1 (10 overs)
This is a very good start from England, Woakes and Archer troubling the batsmen throughout and nudging the required rate up towards eight even at this early stage.
1524 BST: India 27/1 (9 overs)
Even at this early stage, Kohli is not prepared to let things meander for too long. Gives Woakes the charge and slaps a drive over extra-cover for four. Great shot, but not one Kohli would choose to play at this stage in normal circumstances. It is, in a small way, a victory for England just to see him forced to display his full range of magnificence so early. We've all enjoyed that. Now they need to get him out.
1520 BST: India 22/1 (8 overs)
This is hard work, and already it looks like the truth of this pitch may be closer to the 25/2 spell in the middle of England's innings than the 140/0 they plundered off the first 20. Archer troubles both Kohli and Sharma again with good short balls.
1517 BST: India 20/1 (7 overs)
I'm afraid I must report that Woakes has conceded a run. Let's take a moment to process this, and then try to move on with our lives. If it's any consolation, it wasn't a particularly convincing run, a thick inside edge from Rohit into the legside. Kohli then gets two more far more convincingly with a clip off his toes. Woakes getting a bit expensive now, his economy rate sliding worryingly up towards one an over.
1513 BST: India 17/1 (6 overs)
No luck again for Archer. Brilliant bouncer has Kohli jerking out of the way before the follow-up full ball catches the great batsman half-forward and finds the outside edge. It goes wide of the two slips, though, and away for four. Archer pitches up again, but this time the response is far more convincing, leaning into a drive that races to the short boundary. Great contest.
1509 BST: India 9/1 (5 overs)
This is a remarkable start from Woakes. He's bowled three maidens in a row at the start of a 338-run chase. Good effort.
1505 BST: India 9/1 (4 overs)
Archer snakes one past Rohit's outside edge at 145km/h. Good start from England, albeit not the perfect start it could have been. This partnership already feels so pivotal. There are plenty of dangerous players to come for India, of course, but these are their best two and there's a potent new-ball threat that needs countering.
1502 BST: India 8/1 (3 overs)
Two overs, two maidens and a wicket. Decent start for Woakes.
WICKET! KL Rahul c&b Woakes 0 (9b)
No such luck for Rahul, who attempts to work Woakes into the legside but gets a leading edge that just carries back to the bowler in his follow-through. Smart catch from Woakes and an early setback for India. England would have been desperate to get Kohli in against the new ball(s) and at the second opportunity they have done so.
1457 BST: India 8/0 (2 overs)
Huge moment. Rohit Sharma edges Jofra Archer straight to second slip where Root shells what is at this level an absolute sitter. Hits him high on the hand and bounces out. What a start that would have been for Archer, whose confidence and pace are slightly down as he battles with injury, and England. It's a really bad miss in every imaginable way from Root. The chance, the batsman, the time in the innings. Huge. Rohit hammers home the importance of that miss by driving his second boundary of the over next ball.
1453 BST: India 0/0 (1 over)
Maiden over from Woakes to get things started. Roy is not on the field, with Vince subbing for him. Assume that's because of the whack he took on the hand while batting, because India would be mad to allow a sub fielder if there's any hint that it's his existing hamstring injury keeping him off the field.
1449 BST: All set for the run-chase. Reminder that even though Rahul was off the field for most of England's innings he is free to open with Rohit Sharma as normal as his boundary tumble has been deemed an external injury.
1419 BST: England 337/7 (50 overs)
What an over that is. Just three runs from it, and one of those a bye scampered to the keeper. Two different games being played in those last 10 overs depending on whether it was Bumrah's end or not. England end up one run short of India's total in the famous 2011 tie…
WICKET! Ben Stokes c sub (Jadeja) b Bumrah 79 (54b, 6×4, 3×6, SR: 146.29)
Bumrah finally gets the wicket his brilliance deserves as Stokes ramps him to Jadeja at long-leg. It's a tame end to what was a fantastic innings as he desperately searched for some kind of answer to Bumrah's variations. Slight delay while the no-ball is checked but it is just about a legal delivery and Stokes has to go.
1413 BST: England 334/6 (49 overs)
Stokes stands there and just smashes the hat-trick ball through midwicket for four. What were you worried about? The full ball having failed, Shami goes back to the short one. Stokes hits it out of the park over square-leg. And four more over mid-off now! Stokes playing another absolute gem for England to bring 350 back into the equation.
WICKET! Chris Woakes c R Sharma b Shami 7 (5b, 1×4, SR: 140.00)
Shami strikes again with the short ball, Woakes slapping it to Sharma at deep square-leg. Shami has a five-wicket haul and he's on a hat-trick. Would be his second of the tournament…
1408 BST: England 319/5 (48 overs)
This is a bonus as Woakes gets enough bat on a Bumrah bouncer to collect four. First boundary Bumrah has conceded in this spell, which is just crazy.
1403 BST: England 310/5 (47 overs)
Three four-wicket hauls for Shami now at this tournament, despite the punishment he took in that over. Fun fact: no England bowler has managed a four-wicket haul in this tournament.
WICKET! Jos Buttler c&b Shami 20 (8b, 1×4, 2×6, SR: 250.00)
Shami is a fantastic bowler but he is just not in Bumrah's class at the death. Gets his wicket to end the over – and it may yet be a significant one given the way Buttler was going – but it came at huge cost with 17 from five wayward deliveries to precede it. Two low full-tosses to start, and Stokes muscles the first down the ground for four and then two through midwicket. Hammers the next ball to long-on and has to settle for a single, but it's a single that takes England to 300. Another full-toss, and Buttler won't miss out on that. Probably in fact annoyed to only hit it for four rather than six. Corrects the error next ball, levering a low full-toss inside out over cover and just clearing the ropes. But Shami gets his revenge at the last with the wicket of Buttler for an eight-ball 20. Short ball this time, and Buttler slaps it straight up in the air. Shami juggles the straightforward caught-and-bowled but it's never in serious danger of going down.
1358 BST: England 293/4 (46 overs)
Brilliant again from Bumrah. Stokes gets two through midwicket, but a combination of yorkers and bounces at all manner of different paces mean just two singles come from the remaining five.
1353 BST: England 289/4 (45 overs)
Second ball, Jos Buttler rocks back and hits an 83m six over midwicket. Then works the ball into a gap at midwicket and calls for two, before a rare Kohli fumble allows them to scurry back for a third. Stokes clubs the last ball of the over through cover to bring up his fourth half-century of the tournament. Been a very different innings to the last couple of lone-hand attempted rescue acts.
1353 BST: Ben Stokes 51* (38b, 3×4, 2×6, SR: 134.21)
WICKET! Joe Root c Pandya b Shami 44 (54b, 2×4, SR: 81.48)
There's the wicket England wanted. Root tries to ramp Shami but if anything he's hit that almost too well, Clive, and it carries all the way to Pandya at fine-leg. It was a difficult catch – he could probably have got away with dropping it.
1347 BST: England 277/3 (44 overs)
Stokes clubs Pandya to the midwicket boundary, but Root is still dealing only in singles. Could just slog one straight up in the air here really. Or just retire himself out, which should absolutely be a thing in cricket. Nine runs from Pandya's final over. Given that Bumrah and Shami will bowl three each, they would have wanted more from that one. It's looking like something around 320 now when 350 or even 400 looked very much on at one stage.
1341 BST: England 268/3 (43 overs)
Three dot balls in a row to Stokes from Bumrah. Superb bowling. Just three singles in the over. He's a death-overs genius.
1337 BST: England 265/3 (42 overs)
Last over for Chahal, and Stokes takes toll with a huge six over wide long-on. Root – who is in serious danger of playing what proves a Match Losing Innings should India chase this target down – gets just his second boundary thanks to a misfield on the cover boundary. Chahal, meanwhile, has been plundered for 88 wicketless runs in his 10 overs. His worst ODI figures.
1332 BST: England 253/3 (41 overs)
England will look to inflict serious damage now, of course, but India are the hardest team in the world to do it against. Bumrah just doesn't get taken apart at the death, and he'll bowl five of them. Stokes cuts him through point for a scampered two and gets three for a smear over cover, but Root can only get two singles from three balls.
England have a job on to clear 320 now, because Jasprit Bumrah does not get taken apart at the death. His career economy in the last 10 is just 5.73rpo. #CWC19

— The CricViz Analyst (@cricvizanalyst) June 30, 2019
1326 BST: England 245/3 (40 overs)
Stokes slams a sweep shot off Chahal into the square-leg boundary fence, the bowler firmly dischuffed with what he perceived as a less than wholehearted attempt from the boundary fielder. BEN STOKES, YOU CANNOT DO THAT! Never mind sweeping for four, Stokes now switch-hits Chahal over the short boundary for six. That's just silly. Anyway, England back on the charge after that 10-over breather.
1322 BST: England 230/3 (39 overs)
Six runs from Pandya's over. Root and Stokes just starting to breathe a bit of life into an innings that had gone weirdly quiet for reasons that aren't immediately apparent. Bairstow's hundred celebration was more restrained than many might have expected, but maybe the emotion of that moment was a factor. There was one big over after that – those two reverse-sweeps off Kuldeep – but it's been all India since then.
1318 BST: England 224/3 (38 overs)
First boundary in what seems like about a fortnight as Stokes reverse-sweeps Chahal to the boundary. Stokes has used up a few balls as he often does, but he's been in better form than anyone else for England over the last 10 days and is well capable of catching up. Eight runs from the over to get England's spluttering innings back up and running.
1315 BST: England 216/3 (37 overs)
So it turns out England are not in fact back to England 2015-2019. They are in fact Australia at this tournament. Good tactics, you'd think, given Australia are the team of the moment.
Excellent stuff from England to replicate tournament front-runner Australia's tactic of decelerating in the back half of the innings until stumbling to a halt around 280. #CWC19

— Dan Liebke (@LiebCricket) June 30, 2019
1309 BST: England 213/3 (36 overs)
More good news for India. KL Rahul has been off the field since a botched attempt to catch Jonny Bairstow on the boundary earlier, but it has been ruled an external injury which means he can bat anywhere in the order despite spending so long off the field. Otherwise, one assumes, we might have seen Pant pushed up to open the innings. Shami took 0/21 in his first three overs, which told none of the story, and has now taken 2/3 in his last three overs, which tells all of the story.
1305 BST: England 211/3 (35 overs)
England's scoring rate has dropped from seven to six in the last half-hour. Kuldeep has dragged his figures right back to finish with 1/72 after getting absolutely annihilated in his first five overs.
1302 BST: England 207/3 (34 overs)
Wicket-maiden. This is an astonishing fightback from India, who have now taken 2/16 in seven overs. Shami getting the rewards he deserved for his new-ball spell.
Because of the texture and quality of the Shami, England's batsmen are coming off with fast bowling #CWC19

— Charlie Reynolds (@cwjreynolds) June 30, 2019
1300 BST: England 207/3 (33.4 overs)
Still no Buttler in fact. It's Stokes, England's official Man For A Crisis. Which this isn't, but it's certainly not the position they were in half an hour ago.
WICKET! Eoin Morgan c Jadhav b Shami 1 (9b, SR: 11.11)
A replica of his dismissal against Australia, caught at fine-leg attempting to hook the short ball and England are losing their way. Should Buttler fail now then expectations will start being revised downwards.
1256 BST: England 207/2 (33 overs)
Sixteen runs in the last six overs. England looked set for 400 before that, so they're still well placed, but it's looking more like 330 all of a sudden.
1252 BST: England 205/2 (32 overs)
England opt for Morgan over Buttler with 18 overs to go. Slight surprise, but to be fair the last time they made that decision in similar circumstances it paid off. Great spell for India, though; England have just 14/1 from the last six overs.
1249 BST: England 205/2 (31.4 overs)
The players will take drinks at the fall of that wicket. Brilliant return to form for Bairstow, who we identified as today's key man in our big match guide. A stopped clock and all that.
WICKET! Jonny Bairstow c Pant b Shami 111 (109b)
Yeah, this had been coming. Bairstow had got bogged down since reaching his hundred, and carves the returning Shami to deep point where Pant takes a comfortable catch.
1244 BST: England 204/1 (31 overs)
Best over of Kuldeep's spell, and Bairstow is now getting seriously frustrated at his failure to kick on after reaching three figures. Aims three huge slog-sweeps at Kuldeep and makes no contact with any of them.
1240 BST: England 202/1 (30 overs)
Just a better little phase for India here, they've got the scoring rate back under some sort of control and Bairstow's slight frustration with proceedings is highlighted by an agricultural heave into the legside for a single off Pandya.
1236 BST: England 196/1 (29 overs)
Kuldeep sneaks through a tighter over against Root. England's Test captain has nevertheless made his way to 16 not out at a run a ball.
1233 BST: England 194/1 (28 overs)
Pandya is low-key doing a great job here given the carnage going off elsewhere. Should have had Roy and has got through six overs of slower balls, cutters and the occasional surprise bouncer at just a run a ball.
1230 BST: England 191/1 (27 overs)
Bairstow reverse-sweeps Kuldeep for two more fours because why not?
12 runs off three reverse sweeps for Bairstow now. https://t.co/Bka1Am0YsO

— Will Macpherson (@willis_macp) June 30, 2019
1226 BST: Jonny Bairstow 100* (90b, 8×4, 6×6, SR: 111.11)
Not quite the full Nasser from Bairstow, but he certainly enjoyed that one. Discards his helmet and stands arms spread wide taking in the adulation of the Edgbaston crowd. YEA VAUGHAN TALK NAH.
1222 BST: England 180/1 (25 overs)
Bairstow moves to 96 with a reverse-sweep for four and collects a couple more singles in the over. He'll have the strike for the start of the next over. Kuldeep, meanwhile, has the extraordinary figures of 1/56 from six.
This is all set up rather nicely for an absolute belter of a "Nasser at Lord's" celebration from Bairstow, isn't it?

— Tom Evans (@TomEvansEcho) June 29, 2019
1218 BST: England 173/1 (24 overs)
Bumrah, who troubled Root all last summer, straight back into the attack after that wicket. No early dramas for Root, though, who has done his usual thing of getting himself six not out off five balls while nobody was looking before helping himself to a boundary. Bairstow has moved into the 90s while everybody was looking.
1214 BST: England 163/1 (23 overs)
Joe Root here with the novel experience of walking to the crease with England not in some sort of crisis.
WICKET! Jason Roy c sub (Jadeja) b Kuldeep Yadav 66 (57b, 7×4, 2×6, SR: 115.78)
There's the spark India needed! Felt like it was going to take something special, and sub fielder Jadeja has provided it with a superb low running catch at long-on as Roy targeted the straight boundary again. Credit too to Kohli for keeping Kuldeep on despite the unspeakable punishment he was suffering.
1208 BST: England 160/0 (22 overs)
Pandya through four overs for 30. Been a genuinely decent T20 spell.
1204 BST: England 155/0 (21 overs)
This is astonishing stuff, and not least because of how quickly we, England and everyone else had forgotten that this is what they normally do. Bairstow smashes his sixth six over long-on as Kuldeep's punishment continues.
1200 BST: England 145/0 (20 overs)
Good over from Pandya, this. He's in full T20 mode – and rightly so because so are the batsmen – with cutters and slower balls and variations. Does the trick, with just four runs from the over. England have scored 98/0 in Phase Two, which has been scored as a win for England. Game of opinions, but probably fair enough.
1157 BST: England 141/0 (19 overs)
England's Game Plan on the TV graphic just now was "Keep Attacking" so look forward to the commentators going "Ah, there was no need to do that, they were in total control" when one of these lads gets caught on the boundary. Anyway, "Keep Attacking" is what they are going to do, Bairstow's turn again this time to hit one into the stands. Huge slog-sweep off Kuldeep, whose three overs have cost 36.
1154 BST: England 130/0 (18 overs)
Chahal almost bowls a maiden. Five dot balls. So Bairstow hits the last ball for six.
1151 BST: England 124/0 (17 overs)
Roy celebrates his half-century by smashing another six down the ground. England's openers absolutely motoring along now.
1149 BST: Jason Roy 51* (42b, 7×4, 1×6)
Roy powers to his 50. What an astonishing difference his return has made.
1143 BST: England 112/0 (16 overs)
This is now a classic full-on England assault. Bairstow smears his second six of the over and the run-rate climbs to seven on the back of 65/0 in the last six overs. Time for drinks, and plenty for India to think about.
1141 BST: Jonny Bairstow 54* (56b, 7×4, 2×6, SR: 96.42)
Bairstow brings up 50 in a way that sums up England's morning: lots of attacking intent, and a good bit of luck. Goes after Chahal and just clears KL Rahul at long-on.
1139 BST: England 97/0 (15 overs)
Kuldeep Yadav into the attack. Roy promptly hammers a drive straight back over the bowler's head for a one-bounce four. Lovely fade on that. Bairstow also thumps a boundary over midwicket off a low full-toss, and this is the England we've seen for the last four years. Fifty runs in the last five overs. Good to have you back, lads.
1135 BST: England 84/0 (14 overs)
What if England have actually bantered everyone else off? Roy gets four for a reverse-sweep before Bairstow nonchalantly deposits Chahal into the stands behind square-leg. Eleven off the over, 37 from the last four.
1131 BST: England 73/0 (13 overs)
Bairstow starting to look something like his old self in this over, pulling Pandya to the square-leg fence and, better still, driving him straight back down the ground. The bottom-hand grabbiness that led to those early inside-edges past the stumps has gone. That was devine.
Had genuinely forgotten that England are really good at ODIs

— Ben Jones (@benjonescricket) June 30, 2019
1126 BST: England 63/0 (12 overs)
Bairstow hits the hardest sweep in recorded history off Chahal here. Never went more than three feet in the air but almost carried to Bumrah on the square-leg boundary. Insane power.
1121 BST: England 60/0 (11 overs)
England have officially won the first phase to go 1-0 up by the way. Have they scored too early? Big appeal for a catch down the legside as Roy tries to pull Pandya. Umpire signals wide and after long and impassioned discussion India don't use their review. Ultra-Edge shows a huge amount of glove on it. What a moment. Should have been Roy on his way, but instead it brings up England's 50. Roy celebrates his let-off by smacking Pandya high and handsome over long-off for six and then four more next ball. ROY STORY 6.
1115 BST: England 47/0 (10 overs)
Roy rhymes with Toy, is my point here. Anyway, Shami is back after his first three excellent overs inexplicably cost 21 without reward. This time he concedes just a single, which makes his figures slightly less unfair. Just one run in two overs since Roy's back-to-back boundaries. Or put another way, just one run since "Roy Story 4" popped into my head and then I decided that this was a good enough pun to write down on the internet.
1111 BST: England 46/0 (9 overs)
After those boundaries, you could say that this morning has been Roy Story 4. Because his name is Roy. And he's been hitting fours. Which is a story, in a way. And Toy Story 4 is currently in the cinemas.
1107 BST: England 46/0 (8 overs)
"I don't believe in the past," declares Sourav Ganguly matter-of-factly on commentary. A statement so mind-bendingly profound that we've not really recovered in time to fully take in the sight of Roy smacking Chahal for back-to-back boundaries through cover and over midwicket.
1103 BST: England 37/0 (7 overs)
Change of ends for Bumrah as he replaces the luckless Shami. Good over, too, just two singles from it and a painful whack on the gloves for Roy.
1058 BST: England 35/0 (6 overs)
Bairstow pumps Chahal over mid-on for a one-bounce four, but the response from the leggie is a good one, spinning one past the outside edge. Dhoni whips the bails off, but Bairstow's back foot is safely planted. Carbon copy next ball, but this time Bairstow does get bat on ball and sends a thick, safe edge wide of the slips for a couple. Been a bit hairy at times, but it's now a Good Start for England. A Much-Needed Good Start.
1054 BST: Early bowl for Yuzvendra Chahal. Although based on most teams' tactics against England you could argue it's actually a late bowl for Chahal.
1053 BST: England 28/0 (5 overs)
Another inside edge past the stumps for four from Bairstow. He's riding his luck this morning, but anyone armed with a bat as pretty as that blue Gray-Nicolls deserves all the luck in the world. Great running from Bairstow and lazy fielding from Kedar Jadhav gets him two more runs for a thick edge to third-man. Shami's figures of 3-0-21-0, meanwhile, are one of the great injustices of the age.
Mohammed Shami has drawn a false shot with 44% of his deliveries so far. Only twice in his ODI career has he found that many false shots in his first three overs without taking a wicket – today, and against Afghanistan last Saturday. #CWC19

— The CricViz Analyst (@cricvizanalyst) June 30, 2019
1049 BST: England 19/0 (4 overs)
Four more for Bairstow as he works Bumrah through square-leg and beats the diving Pant. Sanjay Manjrekar on commentary says Pant can't be blamed because he's a wicket-keeper, and they can't be expected to be athletes in the outfield. Which would be fine had that shot not been played by wicket-keeper and athletic outfielder Jonny Bairstow.
1044 BST: England 14/0 (3 overs)
Where is Virat's hat? This is the story of the tournament. We will not rest until we get to the bottom of this.
#ViratKohli: "Why didn't I get a hat?" 🧢 🤔#TeamIndia | #ENGvIND | #CWC19 | #OneDay4Children pic.twitter.com/rOgidBRluW

— Cricket World Cup (@cricketworldcup) June 30, 2019
In less important news, a very nervous-looking Bairstow gets all tense with that bottom hand and nicks Shami past the stumps and down to fine-leg for four. Bairstow has been England's biggest disappointment of the tournament in a low-key sort of way.
1039 BST: England 10/0 (2 overs)
This game a visual treat. India's navy-and-orange change kit really is tremendous, however daft the concept of away kits in cricket may be. Only minor grumble is that the jumpers are all navy rather than orange-backed which slightly spoils the overall aesthetic. More importantly, though, Jonny Bairstow has powder blue Gray-Nicolls stickers on his bat today. It's for the UNICEF charity thing, but it's also exactly the cricket bat the Night King would use if he were armed with a cricket bat instead of a dragon-bothering javelin. Which again to me is a bonus.
1034 BST: England 9/0 (1 over)
Jason Roy, how we have missed you. A cut and a drive and suddenly England have nine runs on the board in the first over and everything feels like a lovely bilateral game instead of a horrible pant-soiling World Cup tournament one. Then he almost edges behind from the last ball of Mohammad Shami's over and we're right back with our old friend The Fear.
1030 BST: Right, here we go.
1025 BST: Anthems, anthems, anthems. I hate anthems.
1020 BST: Really do feel quite strongly that it's profoundly unfair that India, like Australia before them, have only realised what their best team is just as they're about to face England.
Rishabh Pant is an aggressive selection. He's such a dangerous batsman in the middle overs & if this is a high-scoring match his addition will boost India. He might rob them of some stability but they have that in abundance. He is arguably the last piece of India's jigsaw. #CWC19

— Freddie Wilde (@fwildecricket) June 30, 2019
1019 BST: Also a big charity day at Edgbaston today, so dig deep.
Edgbaston's blue & pink today for @UNICEF's #OneDay4Children scheme.

Fans in the UK can donate by texting TEN to 70160 to give £10, or texting TWENTY to 70160 to give £20.

International donations can be made here: https://t.co/JOrRhW3DQn #CWC19 pic.twitter.com/fGdJc7GOF9

— Vithushan Ehantharajah (@Vitu_E) June 30, 2019
1015 BST: Is this the biggest game for England's men's team in all formats since the Oval Test in 2005? Really might be, you know.
1009 BST: This India away kit is absolutely tremendous, you have to say. We all know how good the England kit is. Absolutely elite match-up, this. And absolutely nothing but love for a sport that has two distinct forms of the game, one of which doesn't allow colour-clashes and one of which insists upon them. Cricket is the best.
1005 BST: Virat Kohli says he would have batted first but is happy to be chasing on what looks a great pitch. Huge roars from the Indian contingent in the crowd (it is a large contingent) as Rishabh Pant's inclusion in the side is confirmed. Smiles and a straight bat from Kohli when Athers asks him mischievously how it feels to have all of Pakistan behind them today.
If you don't know why Pakistan are cheering India on today, click here.
1003 BST: England win the toss and will bat first. Jason Roy and Liam Plunkett are back, James Vince and Moeen Ali miss out. Morgan insists Roy's return is not a big risk. "He's fit to play."
0955 BST: India are wearing their away kit today. A lot of it is very orange. Dressing up as Netherlands is great psychological banter from the favourites there. Although if we're being picky England only generally make complete arses of themselves against the Dutch in T20 cricket.
0952 BST: Given the pressure and given the last two run-chases England have attempted, it really, really, really feels like they need to bat first here. Especially if Jason Roy is back and is anything less than fully fit. Don't want him getting injured in the field as much as anything else. But primarily it's because you wouldn't be confident of England chasing anything more than about 47 with the weight of the world and history upon them. Bat first and hope one of the many brilliant batsmen they do still have do something brilliant.
0945 BST: Looks like significant team news for India as well. Rishabh Pant replaces Vijay Shankar to make his World Cup debut. Should, of course, have been ahead of Shankar from the moment the squad was announced, but they've got there in the end.
0940 BST: Nothing confirmed, but it looks like Jason Roy will play for England today. Absolutely no idea whether he's fit or not, but England are a long way past the luxury of being sensible about these things. If he can move, he plays. Also looks like Liam Plunkett will replace Moeen Ali a mere two games later than he should have – never mind, no harm done – and that Jofra Archer is fit to play. To summarise, the pre-match news is as good as it could possibly be for England.
Again, not confirmed but… Roy for Vince, Plunkett for Moeen. Archer plays.

— George Dobell (@GeorgeDobell1) June 30, 2019
A new entry into #SelectionSpeculation chat: the annotated rubbish photo.

As you can see… Jason Roy is visualising in the middle. Liam Plunkett & Jofra Archer are going through their paces on the practice wicket. Moeen Ali's just watching. #CWC19 #EngvInd pic.twitter.com/2LfEUqbXYd

— Vithushan Ehantharajah (@Vitu_E) June 30, 2019
0930 BST: Oh bloody hell. It's here. England's day of reckoning. A huge day for England and India. And New Zealand. And Bangladesh. And Pakistan. And Sri Lanka. England won't quite be out of their own tournament before the big boys compete for the proper prize – again – with defeat today, but their destiny will be wrenched firmly from their own hands and left with Bangladesh, Pakistan, India themselves and Sri Lanka.
It will, in short, be a disaster for a team that has spent four years planning seamlessly for this tournament only for it all to go quite dramatically to sh*t when it mattered. Today they need a performance to remind themselves, the fans and the rest of the world just how good they are. Unfortunately, they need to produce that performance against the team that has replaced them as the best in the world and has cantered through this tournament with almost indecent ease. The only things to have remotely troubled them thus far have been a spot of rain and, weirdly, Afghanistan.
But England aren't just up against an outrageously talented India side today. They are up against the weight of their own World Cup demons. We've seen with Pakistan the power of positive thought, their World Cup progress seemingly fuelled by a self-fulfilling belief that 1992 Will Happen Again, reality bent to their will against all logic and reason. For England, the opposite. They have no positive World Cup memories on which to draw. England are trying to avoid this World Cup turning into all the others. They have been unable to do it. Time to forget history and start creating a better present.