Maxwell warns England of 'scary' Stoinis after practice match blast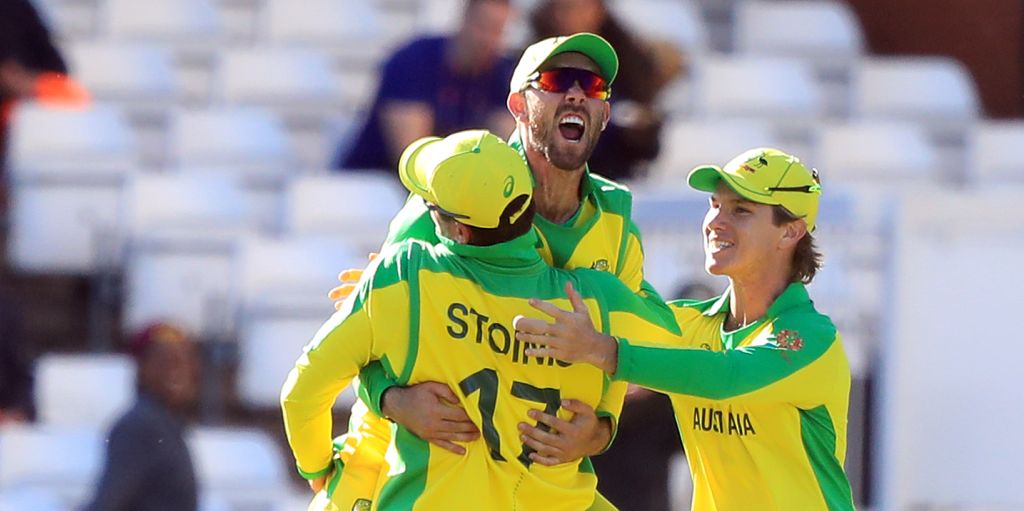 Glenn Maxwell says last year's World Cup fizzer Marcus Stoinis is back to 'scary' form leading into the white ball series against England starting on Friday in Southampton.
England will host Australia in three T20 Internationals starting on Friday followed by three One Day Internationals.
The tourists warmed up for Friday's competitive opener with an intra-squad 50-over match in their Derby bubble on Sunday where Stoinis smashed 87 from 71 balls in a match-changing innings.
Stoinis and Maxwell hit their straps
Batting at the top of the order, Stoinis plundered 12 fours and two sixes, alongside Maxwell who scored 108 from 114 balls to lead the Pat Cummins' XI to victory over the Finch XI.
Stoinis struggled with the bat in English conditions at last year's World Cup, scoring 87 runs from seven knocks at an average of 14.5.
However, the strong 31-year-old Western Australian showcased his big-hitting talent as an opener for the Melbourne Stars in the 2019-20 Big Bash League where he was the competition's top scorer.
"It's a scary sign for Australian cricket when he's up and firing and hitting the ball as hard as he does," Maxwell said. 
"He batted beautifully today and probably deserved three figures."
Maxwell's own century was a major positive for the Australians who relied heavily on David Warner, Steve Smith and Aaron Finch for runs at the World Cup.
"That's all you can hope for as the middle order batters, that there's a bit of a fight for spots," Maxwell said. 
"For guys to put their hands up and me some big scores and give selectors something to think about is brilliant. 
"We can't just have Warner, Finch and Smith making runs all the time. We've got to have some other guys contributing as well. 
"For us to make some runs in the middle order is really rewarding."
The Aussies have other challenges too, given they've had limited turf practice in recent months, given the lockdown in Maxwell's home town Melbourne and with the national side having not played since March. 
"It's a long time since I've had a centre wicket or any time in the middle," Maxwell said. "To make the most of that early in the tour is a nice way to start.
"That's my third hit on turf in the last seven months. Since the BBL final I haven't had a hit against any bowlers. 
"It's nice to get out there. It took me some time to get used to the wicket but after that it was nice to get some rhythm."
by Ben Somerford 31/8/2020