Olly Stone hopes to play a role in an England pace trio during this year's Ashes
Olly Stone believes his involvement in a three-prong extreme pace attack for England alongside Jofra Archer and Mark Wood could spell trouble for Australia this summer.
Multiple injury issues over the years mean the trio have never been in the same England XI but there is a legitimate hope they all could be fit and ready for the Ashes series.
The attraction in bringing them together is obvious given they can all generate speeds in excess of 90mph and Stone, who wants to make his Test comeback in New Zealand, is excited by the prospect.
"Hopefully we can have all three of us fit and firing on all cylinders this summer and hopefully show the Aussies what it's all about," said a smiling Stone.
"Having three of you together can create havoc and if we can have all three of us fit, maybe playing two of us at the same time and the other one rests, it's great for English cricket going forward.
"It's obviously a massive summer. The thought of having us three together is very exciting – the smile on my face, here – hopefully it's something that'll happen."
Stone, though, is not looking too far ahead after a bleak 18 months, with a fourth stress fracture in his back prompting him to undergo surgery to insert two screws in his L3 and L4 vertebrae in 2021.
He has built himself back up in the last couple of months in the shorter formats and been impressive for England in ODIs in Australia last November and in the ongoing series against South Africa.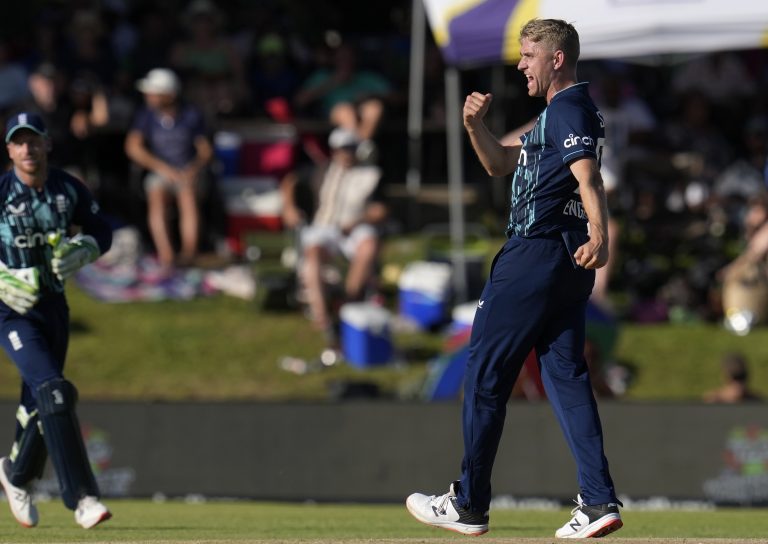 Stone has not made a first-class appearance since June 2021 – when he earned the last of his three Test caps against New Zealand at Edgbaston – but could make his red-ball comeback against the same opponents in February having been named in England's squad for matches in Mount Maunganui and Wellington.
"I'm ready to get going," said Stone. "I've worked hard over the last 18 months to get myself in this position.
"There have been some times I've been frustrated I've not been allowed to go on and do a little bit more, but it's been for the right reasons and it's got me to where I am now.
"It's obviously really pleasing I've put a run of performances under my belt and I can show to people I can do it and hopefully now the cricketing performance takes most of the limelight rather than the injuries."
Before a flight to New Zealand later this week alongside Harry Brook and Ben Duckett, Stone could prove his readiness by playing his third ODI in six days as England look to avoid a whitewash in Kimberley.
His performances in England's twin defeats in Bloemfontein have drawn comparisons with Liam Plunkett, with Stone pacey, into the pitch and giving South Africa batters the hurry-up in the middle overs.
"It's not something I've been used to doing," said Stone. "I'm still working out what works.
"That obviously adds to your armoury and my strength is to be hostile and try to bowl as quickly and as accurately as I can through that middle, so it's difficult for them to take me on. There's still a lot of learnings."
While England have lost their last five ODIs, Stone has advanced his claims for more regular outings with seven wickets in four of those defeats.
"You can't be a one-dimensional cricketer," added the 29-year-old. "You have to be versatile, and hopefully I've shown in the games in Australia and here that I can do both of those roles, whether it's opening the bowling or through the middle."
England are likely to make changes on Wednesday as they look to avoid being clean swept for a second successive series, with Archer poised to return to the line-up.