Shane Warne: His death is like his life – completely incomprehensible
The news of his death is – like everything Shane Warne ever did – completely incomprehensible.
He was supposed to be popping up in commentary boxes for the next 20 years, infuriating us with his loud, stubborn, wrongheaded opinions about aggression, body language, declarations, umpire's call, pizza and whatever fresh bugbear he'd convinced to join his travelling troupe of fallback topics.
He was supposed to be making guest appearances on I'm A Celebrity, Get Me Out of Here and being bitten by a snake. Or hitting on women via social media. Or writing Warnifestos about the sorry state of Australian cricket.
He was not supposed to be dead at 52, for f**k's sake.
Off the field, Warne provided those of us who purport to be comics with an endless supply of material with which to make our fun. We could do this because his status as a cricketer on the field was so gargantuan that no amount of teasing from Twitter nitwits could ever begin to undermine it.
Perhaps the most obvious tribute to the vastness of his legacy came in 2000, when Wisden declared him one of their Five Cricketers of the 20th Century, based on just half a career.
Alongside a quartet of knights – Sirs Donald Bradman, Garfield Sobers, Jack Hobbs and Viv Richards – stood Shane Warne. He was the only specialist bowler on the list.
Tickner on Warne: The greatest ever spinner, and so, so much more
Often described as a wizard, Warne in fact wielded the Arthur C. Clarke version of magic. Clarke's thesis was that any sufficiently advanced technology was indistinguishable from magic. And Warne exploited that indistinguishability like nobody else.
Warne's great technological breakthrough was to combine both enormous turn and enormous accuracy. A handful of spinners in history may have spun it further than Warne at his peak, but at the expense of their ability to land the ball where they wanted. A different handful may have been more accurate than Warne, but at the cost of giving it a smaller rip.
Only Warne did both.
And he combined it with a single-minded will to win, a gambler's mindset and, of course, a showman's flair for the dramatic.
It was an irresistible package. In every sense.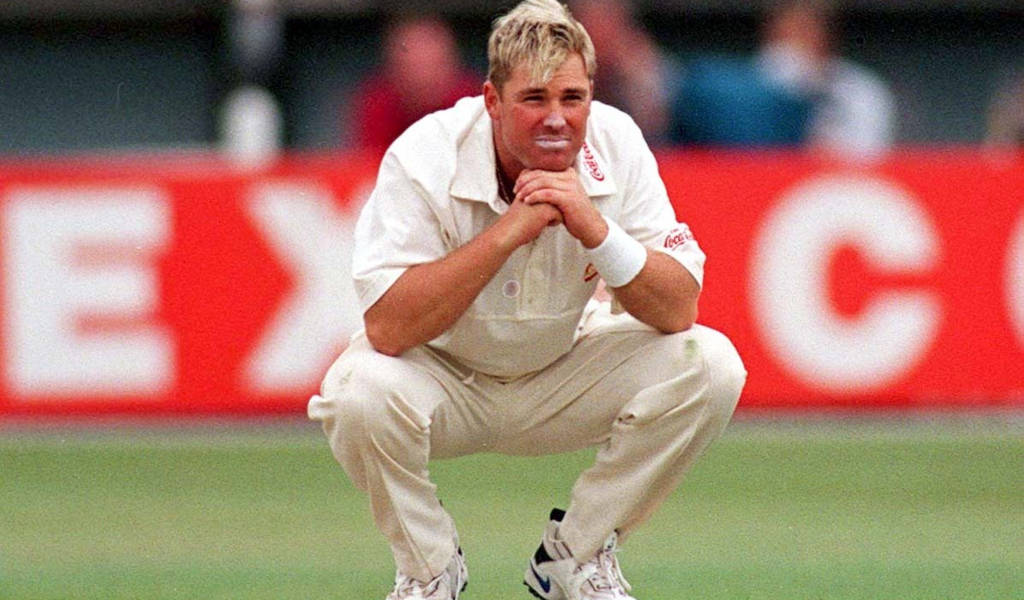 It's a cliche to say that when Warne bowled, everybody stopped whatever else they were doing to watch him. But it's a cliche because it's true.
You didn't dare not watch him. Who knew what improbable piece of nonsense he would next pull from nowhere, completely turning your understanding of the sport on its head? Not worth the risk of missing out on. You simply had to watch him whenever he had the ball in his hand.
Such was Warne's surfeit of storied moments that you could make a highlights package of on-field feats that he later surpassed with more dramatic rewrites, and that second-tier Warne highlights package would still be incredible enough to qualify any other bowler for entry to any cricketing Hall of Fame you care to mention.
Before the Ball of the Century that so dramatically announced his entry to Ashes cricket, there was the flipper to Richie Richardson. At his beloved MCG in 1992, against a West Indies side that were still clinging to their mantle of the best side in the world, Warne took 7/52 in the fourth innings. And the ball that best showcased the possibilities of this hotshot young leg-spinner was the flipper to Richardson. A delivery that, from nowhere, went straight, beating the West Indies captain's startled bat and hitting off stump.
Before the Adelaide Ashes Test in 2006, in which Warne, bowling unchanged through the first two sessions of the final day, tied down and teased out an increasingly panicky England to conjure a win, there was the first Test in Sri Lanka in 1992. Much like the Adelaide Test a decade and a half later, Australia's opponents had dominated the match for four days. At 6/147 in the final innings, with Sri Lanka needing just 34 runs to win, captain Allan Border threw the ball to a young Warne, playing only his third Test. He had career figures of 1/335 in Test cricket at that point, including 0/107 in the first innings. He took 3/0 in 13 balls to steal an Australian victory.
Before the 1999 World Cup semi-final masterclass, in which Warne's spell slammed the brakes on South Africa's comfortable run chase, driving the leg spinner to screamed exhortations to his team mates to "come ON!", there were similar match-snatching heroics in the 1996 semi-final against the West Indies. Needing just 208 for victory, the West Indies were 165/2 in the 42nd over. They required 43 from 53 balls, with eight wickets in hand. After Glenn McGrath provided the opening, dismissing Shivnarine Chanderpaul and Roger Harper, it was Warne who tore through the middle and lower middle batting. He finished with 4/36 from nine overs as the West Indies collapsed to 202 all out.
There are countless more spells and matches one could talk about. Warne's highlights reel is overstuffed with such mind-boggling feats. Hell, I haven't even mentioned the 2005 Ashes. Or the hat trick. Or being caught for 99 off an uncalled no ball. Or any of a zillion other Warne moments.
The Australian sides in which he played contained an unfair share of all-time great cricketers – Adam Gilchrist, Glenn McGrath, Ricky Ponting, Steve Waugh, Matthew Hayden, Michael Clarke, Jason Gillespie, Michael Hussey, Brett Lee, and so on and so forth. A conveyor belt of champions, rolling in and out of what became one of the greatest cricket teams there has ever been.
But Warne was the best of them all. An impossible cricketer, one who transcended legendary status. The greatest bowler there has ever been.