You've got to have the belief
Australia coach Darren Lehmann has conceded that his team are in trouble after a first day collapse in the second Test against South Africa.
The collapse was perhaps the most spectacular in a string of recent bating flops for the Baggy Green and Lehmann would no longer knock back claims Australia are in crisis.
The coach insisted however that they were in a crisis of confidence rather than ability.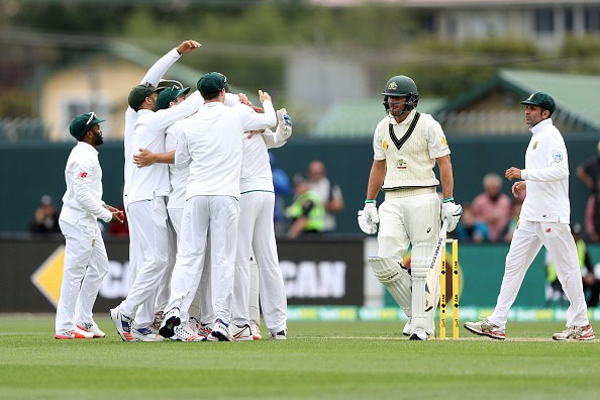 When asked if crisis was an appropriate description for the situation he said: "When you get bowled out for 85, it probably is, isn't it?
"So, for us, it's a matter of actually getting better. We lost 10 for 86 in the last Test match.
"We know they can play, you've got to have the belief to play at this level. It's a tough game, international cricket, no doubt about that. Having been there and been through it as a player myself, there are times when you've got to really believe in your ability.
"It's a great challenge ahead for myself and the coaching group, to pull the young guys through and teach them better, improve their techniques both on and off the field, mentally and that side of the game.
"It's a lot of fun. It doesn't feel like fun right at the moment to be perfectly honest, but that's what we've got to get better at."
The conditions facing Australia brought back memories of the 2015 Ashes defeat at Trent Bridge for the coach.
He added: "It was a bit of a reminder of Trent Bridge to be perfectly honest, the way it was going around.
"But again we've got to refine our game, as we spoke about before the game, if we bat first we have to really rein it in and make sure they're bowling really good balls to challenge us.
"A couple of the dismissals probably didn't warrant that. At the end of the day, 85 is not good enough from an Australian cricket team, there's not much more you can add to that."
Lehmann might well have been shaking his head at some of the dismissals, with David Warner out chasing a wide one and three players showing poor technique, falling over to be trapped leg before.
A tweet from Cricviz analyst Freddie Wilde illustrates the technical failures of Australia's batsmen.
Burns, Voges & Nevill didn't get their back foot in line, planted their front foot & their heads fell away. Smith a template. #AusvSA pic.twitter.com/a2ik6ZedMz

— Freddie Wilde (@fwildecricket) November 12, 2016
Lehmann added: "There were a couple of technical ones and mental decision making.
"For us we've just got to be better. It's a case of when the ball is swinging we've struggled, there's no hiding from that fact. So we've been doing everything behind the scenes to get better at it, but today we weren't as good as we should have been, we weren't good at all.
"Steven Smith played really well and we needed someone to hang with him. Our lower order has not performed either, but you can't blame them, the batters have to do the batting. We believe this is the best squad we've got.
"On today's performance you would say we've got to change. We've got to find a way to get through those tough periods, and we haven't done that in our last five Test matches now.
"So that's a challenge for the players but also the coaches, to adapt to the situations that confront you. It's been disappointing because once we have a collapse we seem to have a big one, and someone needs to stop that rot and have a partnership somewhere.
"A lot of good sides, whether Australian sides in the past or the good sides playing cricket now, find a way to have a partnership somewhere, and we didn't have one today."