The best 11 One Day International shirts of all time
Few things in the sporting world make a fashion statement quite like a well thought-out ODI shirt, and we've had our fair share of belters over the years.
The first ever ODI was played all the way back in 1971 at the MCG, as Australia took on England. Oh, and of course there's the small matter of the ultimate cricketing festival returning to England later this summer.
Of course, coloured jerseys didn't come around until 1980, but we've sifted through the 28 years that followed to find our favourite ever shirts (In no particular order)…
1. Australia – Current
Fair play lads, this is just absolutely beautiful. Asics have produced a belting shirt here, which provides a nod back to the wonderful 1980s without looking even remotely out of place in the modern era. Slight mark down for the sponsor, but let's face it that's not what the eyes are drawn to.
2. India – 1999 World Cup
Having played in darker shades of blue in the years proceeding, India decided to revert back to baby blue, and my word did they pull it off. The colours on this are absolutely wonderful – not at all offensive to the eye and a nice throwback to some of their early looks. Just a shame they couldn't make it past the quarter-finals.
3. New Zealand – 1980-82
To be fair, any New Zealand shirt from the 1980s could have easily made this list, but considering this was their first ever effort, it deserves extra praise. Modelled here by John Wright, it's actually quite hard to describe the two colours that are on show. Probably beige and chocolate. Sounds good that, right?
4. Pakistan – 2005
Lime green shouldn't look good on anyone, but somehow it does here. England fans will probably remember this shirt as the one that was worn for the 165-run mauling they received in Karachi, we remember it for the likes of Inzamam-ul-Haq, Kamran Akmal, Danish Kaneria, Shoaib Akhtar and Rana Naved. A classic.
5. England – 2001-02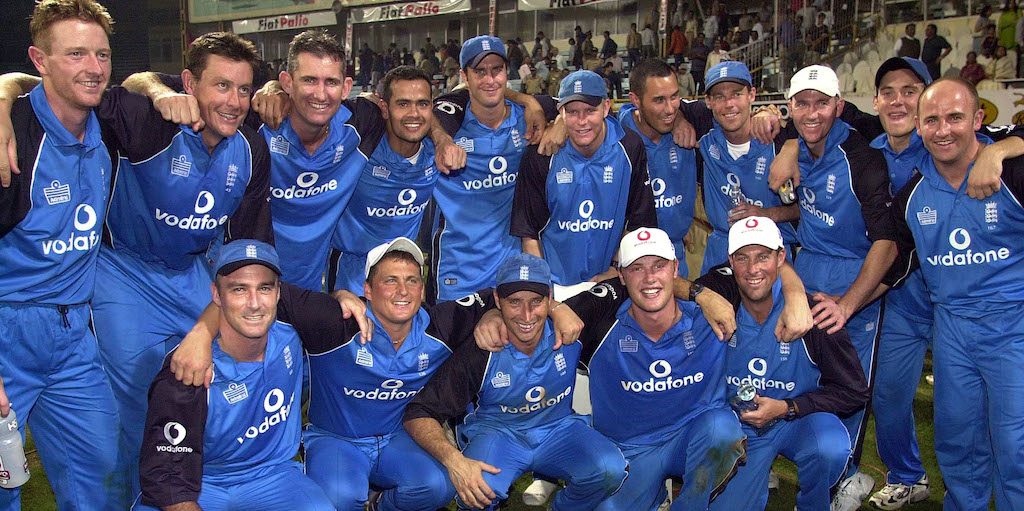 Something a bit different this from England, but it works. A beautiful shade of blue for the main part but replacing the usual red with even darker blue adds a certain edge. Oh, and just look at some of the faces in that team. (Side note – this was a picture taken to celebrate drawing a series).
6. Zimbabwe – 1999
Eagle-eyed readers will notice that this shirt has already featured above, though it deserves its own spot on this list. There aren't really many words that can describe what's going on here, but they aren't really needed either. It just looks amazing.
7. West Indies – 1998
This doesn't get nearly the credit it deserves. The pale maroon and dark red mean it could easily pass as a Bangladesh shirt, but just look at that lovely palm tree pattern. Extra marks for the Cable & Wireless sponsor too – has us feeling very nostalgic.
8. South Africa – Current
There's a decent back catalogue of Proteas ODI shirts to sift through, yet it's hard to overlook the one they're currently rocking. The fade on it is genius and encorporates all the traditional colours. And how can you not love the fact that they still have 'SOUTH AFRICA' across the front is such a boring font?
9. Namibia – 2003
You could be forgiven for forgetting that Namibia have in fact played in a World Cup, back in 2003, and they had a beautiful shirt to match such a historic landmark. The tournament didn't go well: they lost all six group games by a combined 813 runs (one of those being on D/L), but this is included more as a symbol of the underdog. We miss you, Namibia.
10. Netherlands – 2003
The Netherlands, or 'Holland' (not sure that is technically accurate) produced this beauty for the 2003 World Cup in South Africa – which we can pretty much state is the best tournament there has ever been and likely will ever be for ODI shirts. It kind of follows the theme of the Dutch national football team, but the gold lion with sword kicks it up a notch. Also, have to love Tim de Leede.
11. New Zealand – 1998-99
We said no particular order, but we saved the best until last. This is it. This is the pinnacle. There's no point even trying to beat this shirt in the future, it's a work of art. The teal, the black, the white fern, the red number. The Adam Parore. Where can we get one?