Pitch Report: 2019 ICC Cricket World Cup – Edgbaston, Birmingham
Click here for our 2019 Ashes Edgbaston Pitch Report
Edgbaston: Overview
Established: 1882
Capacity: 24,803
Floodlights: Yes
Ends: Pavilion End, Birmingham End
Home Teams: Warwickshire, England
2019 Cricket World Cup fixtures:
June 19, 1030 BST/1500 IST: New Zealand bt South Africa
June 26, 1030 BST/1500 IST: Pakistan bt New Zealand
June 30, 1330 BST/1800 IST: England bt India
July 2, 1030 BST/1500 IST: India bt Bangladesh
July 11, 1030 BST/1500 IST: Semi-final: Australia v England – Australia 6/5, England 4/6
Paddy's Power Prices
Edgbaston: ODI statistics
Matches: 61
Won batting first: 25 (45%)
Won batting second: 29 (53%)
Tied: 1 (2%)
No result/abandoned: 6
Won toss: W28 L27 T1 NR6
Won toss, batted: W9 L10 NR3
Won toss, fielded: W19 L17 T1 NR3
Highest total: England 408/9 (50/50 overs) v New Zealand, June 9 2015
Lowest total: Australia 70 (25.2/55 overs) v England, June 4 1977
300+ totals: 9
400+ totals: 1
Runs per over: 4.67
Runs per wicket: 29.15
---
MORE 2019 ICC CRICKET WORLD CUP PITCH REPORTS
Lord's | The Oval | Trent Bridge | Ageas Bowl | Bristol | Headingley | Sophia Gardens | Taunton | Riverside | Old Trafford
---
Edgbaston: Last 10 ODIs
July 2 2019: India (314/9, 50/50 overs) beat Bangladesh (286, 48/50 overs) by 28 runs
June 30 2019: England (337/7 (50/50 overs) beat India (306/5, 50/50 overs) by 31 runs
June 26 2019: Pakistan (241/4, 49.1/50 overs) beat New Zealand (237/6, 50/50 overs) by six wickets
June 19 2019: New Zealand (245/6, 48.3/49 overs) beat South Africa (241/6, 49/49 overs) by four wickets
June 15 2017: India (265/1, 40.1/50 overs) beat Bangladesh (264/7, 50/50 overs) by nine wickets
June 10 2017: England (240/4, 40.2/40.2 overs, target: 201) beat Australia (277/9, 50/50 overs) by 40 runs (DLS method)
June 7 2017: Pakistan (119/3, 27/27 overs, target: 101) beat South Africa (219/8, 50/50 overs) by 19 runs (DLS method)
June 4 2017: India (319/3, 48/48 overs) beat Pakistan (164, 33.4/41 overs, target: 289) by 124 runs (DLS method)
June 2 2017: Australia (53/3, 9/33 overs, target: 235) v New Zealand (291, 45/46 overs) – No Result
June 24 2016: England (256/0, 34.1/50 overs) beat Sri Lanka (254/7, 50/50 overs) by 10 wickets
Edgbaston: ODI record by country
England: P39 W23 L13 NR3
Bangladesh: P4 L4
New Zealand: P12 W4 L4 NR4
India: P12 W8 L4
South Africa: P9 W4 L4 T1
Pakistan: P14 W6 L8
Edgbaston: Individual ODI stats
Centuries: 24
Five-wicket hauls: 10
Highest scores:
171* (201), Glenn Turner (New Zealand) v East Africa, June 7 1975
167* (163), Robin Smith (England) v Australia, May 21 1993
154 (140), Andrew Strauss (England) v Bangladesh, July 12 2010
133* (110), Alex Hales (England) v Sri Lanka, June 24 2016
129 (77), Jos Buttler (England) v New Zealand, June 9 2015
123* (129), Rohit Sharma (India) v Bangladesh, June 15 2017
116* (122), Shivnarine Chanderpaul (West Indies) v England, July 4 2007
115 (159), Graham Gooch (England) v Australia, June 1 1985
113 (122), Mark Waugh (Australia) v England, May 21 1993
113 (132), Nick Knight (England) v Pakistan, August 31 1996
Best bowling:
9-0-52-6, Josh Hazlewood (Australia) v New Zealand, June 2 2017
6-1-11-5, Shahid Afridi (Pakistan) v Kenya, Sept 14 2004
8.5-3-18-5, Gary Cosier (Australia) v England, June 4 1977
11-5-20-5, Greg Chappell (Australia) v England, June 4 1977
10-3-21-5, Alan Hurst (Australia) v Canada, June 16 1979
9.2-1-36-5, Shaun Pollock (South Africa) v Australia, June 17 1999
11-1-45-5, Chris Pringle (New Zealand) v England, May 19 1994
10-0-50-5, Vanburn Holder (West Indies) v England, Aug 30 1976
10-1-59-5, Mustafizur Rahman (Bangladesh) v India, July 2 2019
10-1-69-5, Mohammed Shami (India) v England, June 30 2019
Edgbaston: Classic Match
June 17 1999: Australia (213, 49.2/50 overs) tied with South Africa (213, 49.4/50 overs)
Still to many people the greatest ODI of them all. Certainly the closest game ever played on such a stage as a World Cup semi-final and still the most dramatic conclusion to any World Cup match (with apologies to MS Dhoni, Trent Boult and more).
The background: four days earlier, at Headingley, Steve Waugh produced a match-winning hundred after being dropped by a prematurely celebrating Herschelle Gibbs which may or may not have prompted Waugh to tell Gibbs he'd just dropped the World Cup (hint: it didn't but what a story) against South Africa. The Proteas were already safely through to the last four, but the Headingley result meant Australia would join them. Australia now having won the previous meeting between the two sides would progress to the final in the event of a tie.
But that wouldn't happen, right? Haha. That would be crazy.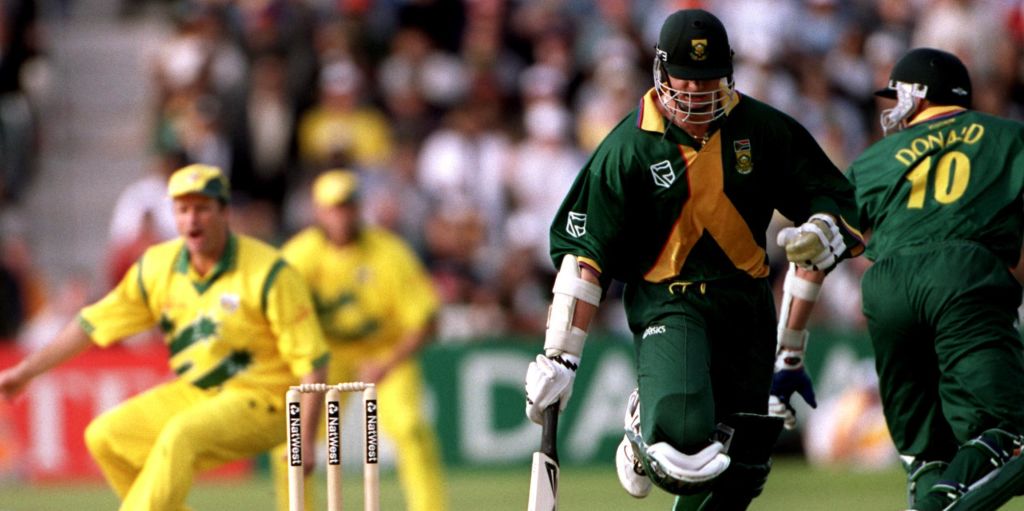 Except, of course, it did. But you already knew that. Everyone knows that. Whether you blame Klusener for running or Donald for not, the run out with the scores level and two balls left is one of cricket's most infamous moments. The bare numbers were these: 213 played 213, so it was Australia who would go on to play and comfortably beat Pakistan in the final and start an astonishing run of World Cup success that continues to this day, with the titles in 2003, 2007 and 2015 added to the collection. Only in 2011 have Australia failed to lift the World Cup since Klusener Ran And Donald Didn't.
Th game itself was something of a slow-burner, Australia struggling with the bat either side of half-centuries for Steve Waugh and Michael Bevan. They lost their first four wickets for 68 and their last four for six as Shaun Pollock (5/36) and Donald (4/32) did what they do.
South Africa too lost early wickets before a partnership of 84 between Jacques Kallis and Jonty Rhodes seemed to have sorted everything out. Then a flurry of wickets appeared to have settled things in Australia's favour. Then Klusener started finding the boundary, as he had throughout the tournament.
Nine were required from the final over with one wicket in hand. Klusener smacked the first two for four to bring the scores level. You don't need to be told what happened next.
---
SEE ALSO:
ICC Cricket World Cup 2019: Full squad lists
ICC Cricket World Cup 2019: Fixtures, results and standings
ICC Cricket World Cup 2019: All you need to know