Under-19 World Cup wrap: England batsmen make hay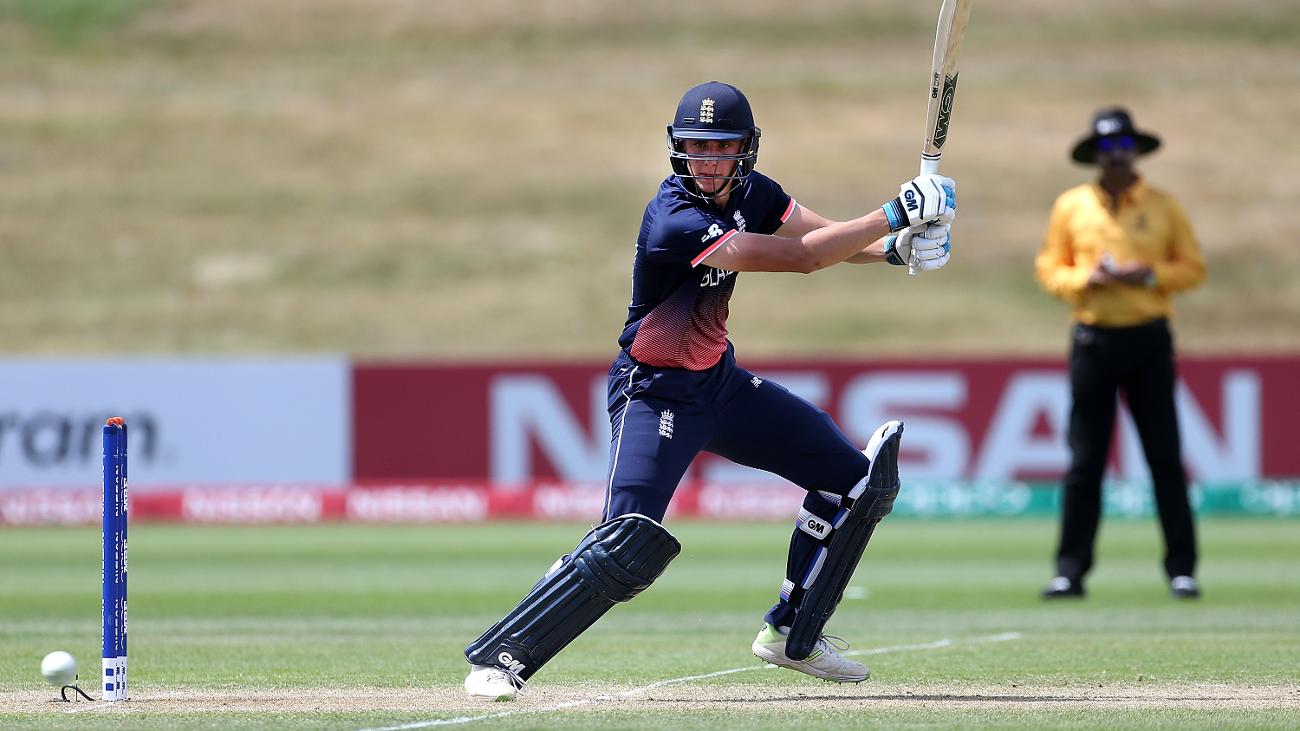 A superb team batting effort from England, led by hundreds from Will Jacks and Liam Banks, led England to their highest-ever Under 19 ODI total of 383/7 before their bowlers combined to bowl England to their second biggest U19 ODI victory.
Canada came into this game with hopes of beating England and making the Super League quarter-finals, but those were effectively ended after they conceded what was their highest-ever total in an Under 19 ODI, and confirmed after they were bowled out for 101.
England's assault started immediately, and ICC U19 CWC debutant Pieter Pretorius bore the brunt, his first two overs disappearing for 27. Canada regrouped to dismiss Tom Banton, Faisal Jamkhandi inducing an edge to the wicket-keeper, but that just brought Will Jacks to the crease, and for the next 27 overs he and Banks held sway, adding 186 to take the score to 240.
Both men reached their hundreds within minutes of each other, and both got out soon after as England, even with 16 overs in their innings, looked for a late surge. There were cameos from all towards the end of their innings, but the one that stood out came from Jack Davies, who finished on 57 off 36 balls as England surged in to uncharted territory.
Canada needed to reach the total within 38 overs to qualify for the Super League quarter-finals; they never even got close, slipping to 20/4 less than seven overs into their chase. They fought hard, reaching 75/5, but in the end England were just too good, each of their first four bowlers taking at least two wickets, giving Canada no respite.
They deservedly top the group, while Canada will enter the Plate.
Ireland caused something of an upset at the Cobham Oval on Saturday (20 January) seeing off Group D's early pace-setters Afghanistan in their final league game. Their victory was met with chilling silence from the sizeable contingent of Afghanistan fans who had gathered for a bit of weekend entertainment, but this was a remarkable, fighting victory from Ireland against fellow new-entrants to the Test arena.
Put in, Ireland posted 225/8 in 50 overs, and importantly kept their opponents in the field under a mostly scorching sun for the duration of the innings. Jamie Grassi set things up with a 60-ball 32, Harry Tector, the captain, consolidated with a 62-ball 36 and Graham Kennedy attacked in the death overs, his unbeaten 24-ball 37 bolstering the total. Afghanistan couldn't really put on a partnership that took it away from Ireland, who kept picking up important wickets. With four balls remaining, Max Neville had Qais Ahmed dismissed, and Ireland clinched the match, bowling out Afghanistan for 221.
Afghanistan, to their credit, scored fairly quickly, but what did them was their inability to keep wickets. Rahmanullah Gurbaz (7) fell in the sixth over and Ibrahim Zadran followed suit after adding 28 with Basir Shah. With Nisar Wahdat providing decent company, Basir went about with intent, and during their 46-run stand, it seemed Afghanistan needed just keep at it with patience.
It wasn't to be. Basir's caught-and-bowled dismissal to Varun Chopra was closely followed by Wahdat's return to the pavilion, Ireland's captain Tector finding the gap between his bat and pad to have him bowled. At four down for 100, Afghanistan desperately needed a partnership – they got only a brief one. Tariq Stanikzai seemed well set and was playing his shots, but despite that, Darwish Rasooli looked to go big – his disgruntled captain Naveen ul-Haq would later point to his rash shot as the turning point of the match – and he holed out for 11.
The pressure slowly began to rise, and the Ireland bunch sensed it. They were that much more vocal in the middle, that much more intense, the fielders applauding even the easiest stop. The pressure told when Stanikzai, Afghanistan's best batsmen till that point, was bowled by Tector. Afghanistan were 155/6.
Thereafter, it was a battle of will. Waqarullah Ishaq and captain Naveen seemed to have settled into good rhythm, threading the singles, but Ishaq's careless run-out opened the floodgates again. The wickets kept falling, and it came down to six runs off the final over, with Afghanistan down to their last wicket. Max Neville started with a no-ball. The free-hit was another wide. Afghanistan were getting extra runs, and seemed set to win it. However, Qais Ahmed misconnected, Kennedy made no mistake with the catch at point, and the Cobham Oval was filled with loud Irish cheers.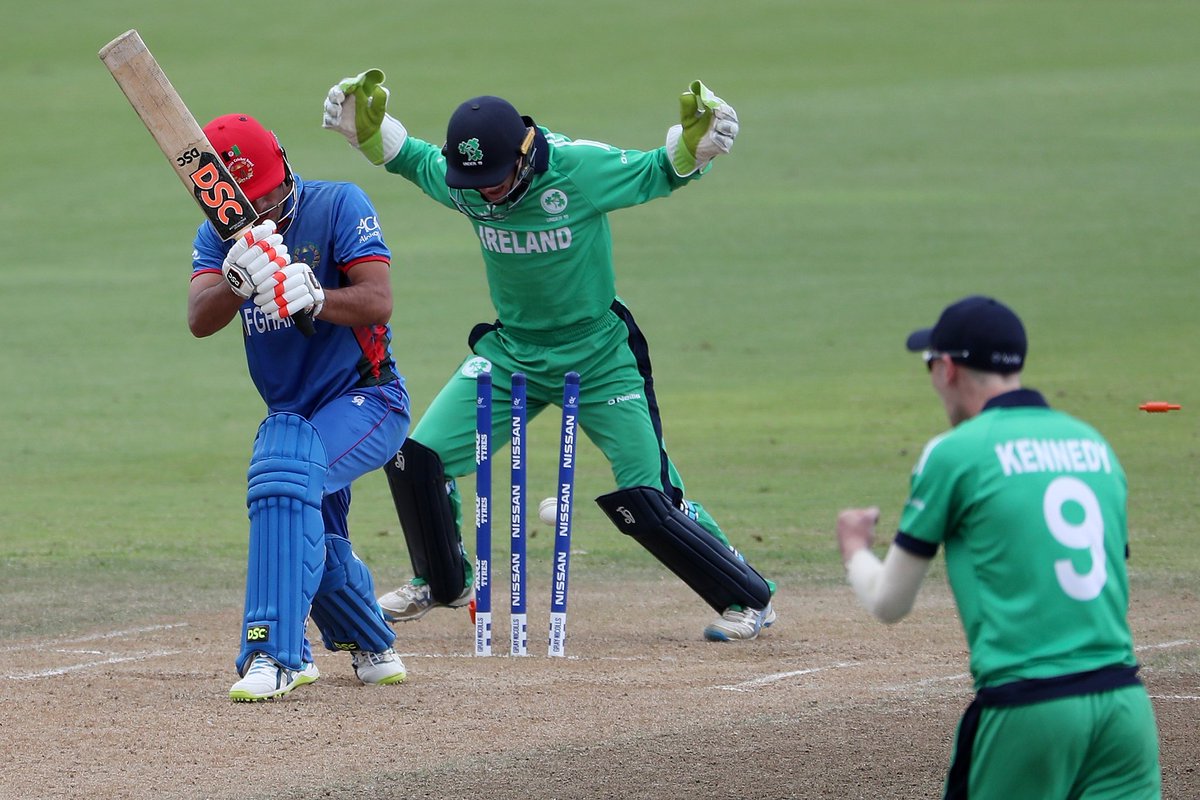 In the morning, Ireland seemed determined to put behind their dismal performance against Pakistan. To that end, they didn't allow Mark Donegan's early fall unsettle them, with Grassi and Morgan Topping adding a resolute 61 that considerably frustrated Afghanistan. There were worries that old failings would resurface when that stand was broken, with Ishaq dismissing Topping and both Grassi and Sam Murphy following suit in quick succession.
At the time, it seemed Ireland's good work was undone as they struggled at 73/4. However, Tector was joined by Neil Rock, and their 73-run stand revived the innings, and rejuvenated Ireland. By the time Rock (35) was dismissed in the 40th over, the death overs were approaching and Ireland had begun attacking. Tector fell as well, attempting his hand at a few big hits, but first Joshua Little's 20-ball 27, followed by Kennedy's relentless thwacking helped Ireland immensely. Afghanistan were frustrated, and were suddenly dropping catches and making plenty of mistakes.
Kennedy even hammered four fours off the final over sent down by Wafadar to embellish the score. They proved to be extremely crucial runs in the end.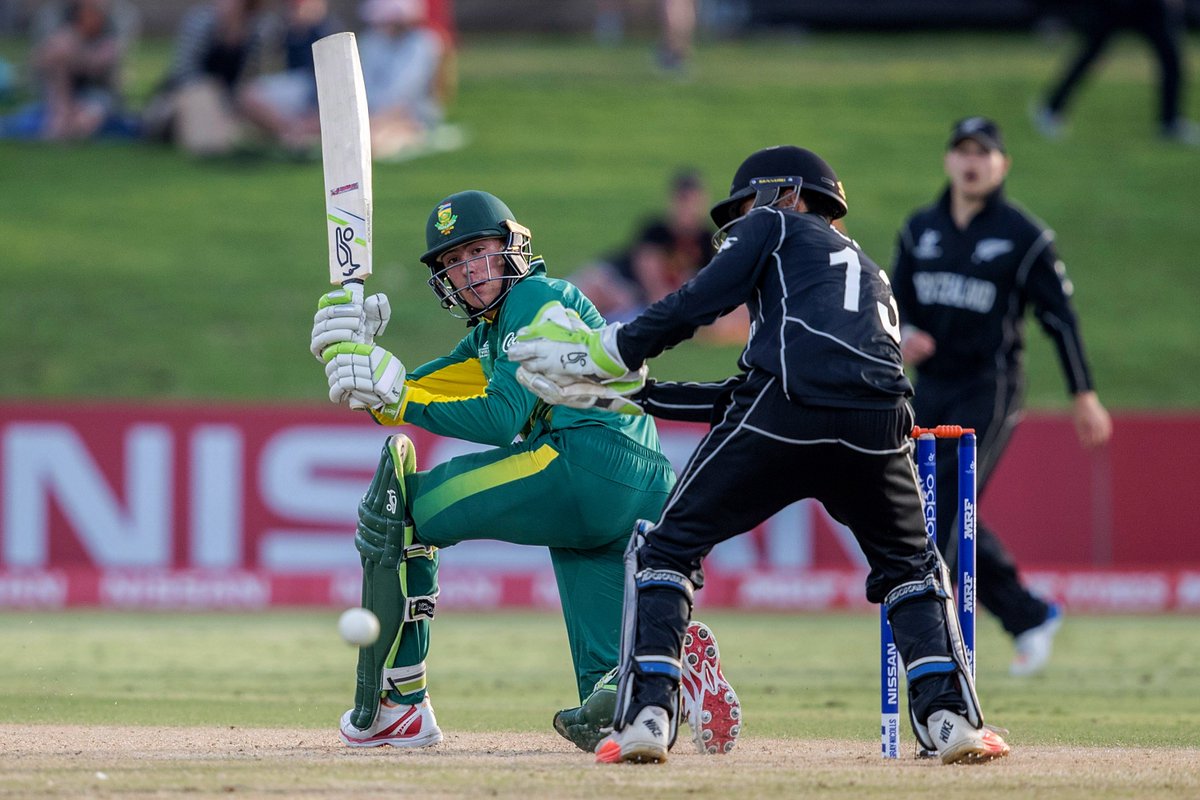 New Zealand saw off a significant threat in South Africa to remain unbeaten in Group A of the 2018 ICC Under 19 Cricket World Cup. It had seemed a tricky tie, and for large parts of the match, the momentum did swing back and forth. In the end though, New Zealand had it easy, winning by 71 runs. Rachin Ravindra, put in a fine all-round display, first hitting an 89-ball 6 to help New Zealand post 279/8 and then returning 4/32 to bowl South Africa out for 208. That South Africa made as much was down to Hermann Rolfes' 124-ball 108, and a supportive run-a-ball 54 from Jean du Plessis.
After winning the toss and electing to bat, New Zealand got the perfect start to their innings with Jakob Bhula and Ravindra adding a century partnership to their double century partnership made in New Zealand's last game against Kenya. Bhula though looked decidedly less fluent than he had during the course of his U19 record 180 and was the first to depart, slapping Kgaudisa Molefe straight to cover.
His departure brought Finn Allen to the crease, the adventurous batsman seemingly maintaining the form which had brought him a match-winning century and a 40-ball 90 in his first two innings of the tournament, getting off the mark with a six and hitting a further three boundaries soon after.
But with the game racing away from South Africa, Jade de Klerk summoned a moment of brilliance to break it wide open, tearing in from cover point as Ravindra sent back Allen and nailing the stumps direct to catch the Kiwi batsman short.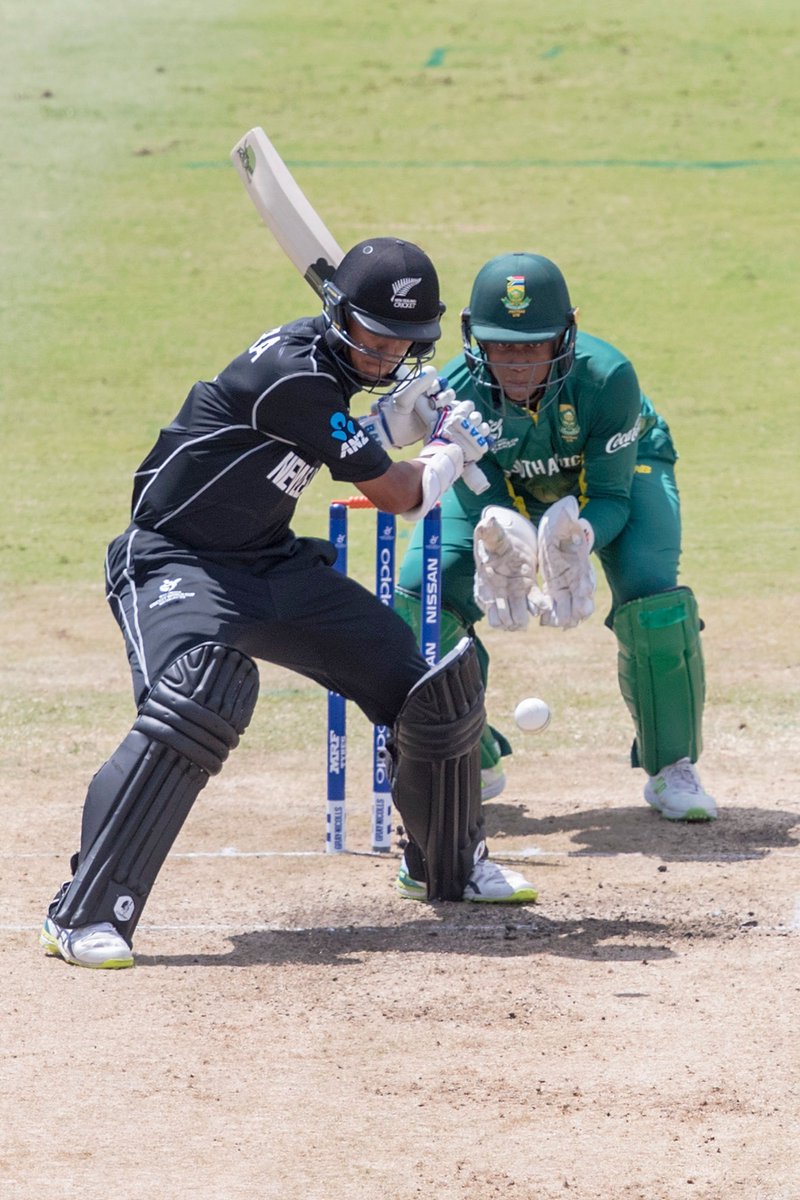 It was a dismissal that triggered a collapse of 5/30, including Ravindra, who departed for an excellent 76. In the end, New Zealand had Dale Phillips and Max Chu to thank for dragging them to a defendable total, the pair adding 77, with strong running a feature of their partnership.
South Africa were by no means run ragged however, and can be pleased with their combined fielding effort, each bowler taking at least one wicket. However, their batsmen will be disappointed.
They were reduced 7/2 within three overs, Matthew Fisher sending back both Jiveshan Pillay (0) and Raynard van Tonder (2). Matthew Breetzke hung around for a 40-ball 15, allowing Rolfes to settle in. The two added a 48-run stand before Breetzke stint in the middle was ended by Ravindra – it was his first of many, as Wandile Makwetu (9) would find out, chipping one back to the bowler.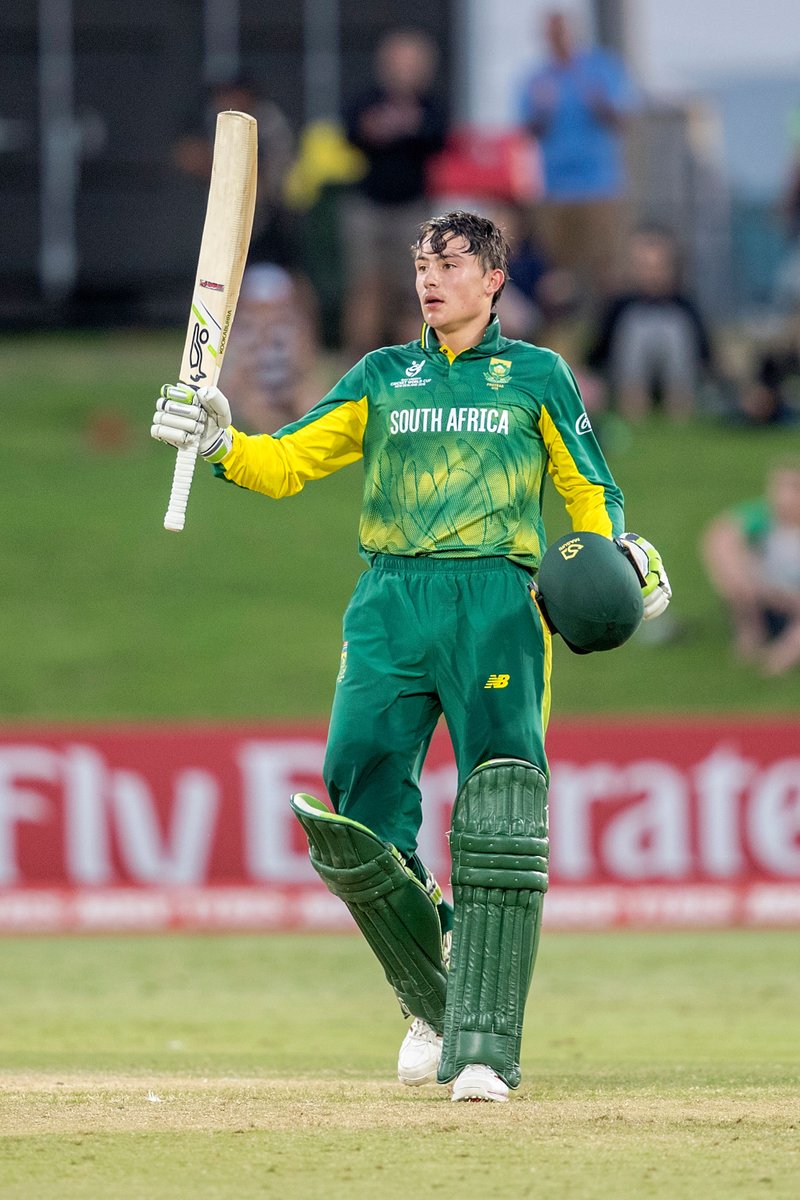 South Africa finally found some resistance. Rolfes and du Plessis got together, settled in and soon unleashed the boundaries. Rolfes soon neared his maiden ICC U19 CWC century, bringing up the mark with a single towards midwicket. At the time, it seemed South Africa were still alive in match, provided these two hung around.
However, when Rolfes holed out off Ben Lockrose, attempting to up the ante, a collapse was triggered. And this time, there would be no recovery. South Africa lost six wickets for just 26 runs, during the course of which the only positive for them was that du Plessis notched up a half-century before falling to Bhula.
Ravindra couldn't claim a five-for, the final wicket a run-out that he himself effected. That was the only blip as New Zealand set themselves up well for the Super League quarter-finals.