Desert T20 underlines Scotland's progress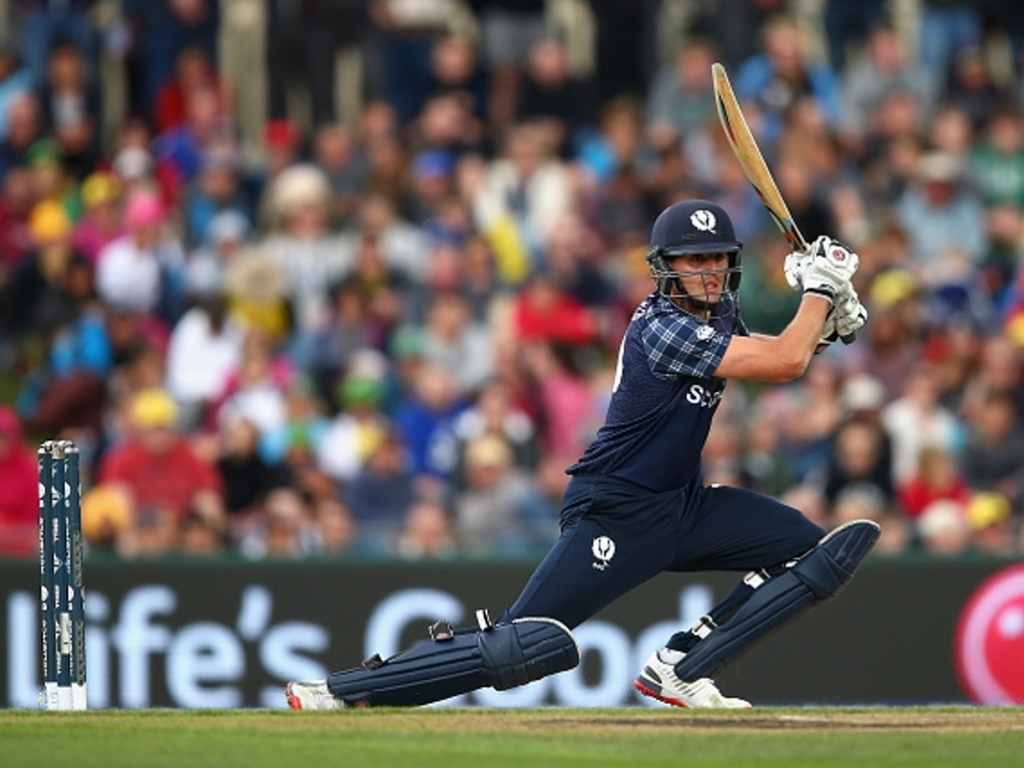 At a time in which meaningful fixtures for all but a few Associate nations are in short supply the inaugural Desert T20 Challenge provided a much-needed shot in the arm.
Although played without live television coverage or online streaming the competition more than proved its worth on the back of quality, competitive cricket, down-to-the-wire matches and terrific individual performances.
A permanent place on the international calendar is due.
Perhaps unsurprisingly the pre-tournament favourites, the two nations who are most blessed in terms of playing opportunities throughout the year, were destined to meet in the Final.
In front of more than 15,000 supporters the match was to break the mould of the week, however, as Afghanistan completely overwhelmed Ireland to lift the trophy in a disappointingly one-sided encounter.
Earlier, Ireland had brought Scotland's tournament to an end with a comprehensive victory of their own in the second Semi-Final at the Dubai International Cricket Stadium.
Ireland's 211-6, by far the highest score of the competition, could only be overhauled by Scotland rewriting their record books, but despite a blazing start from Matthew Cross and Kyle Coetzer the task was to prove too great as the Irish sealed victory by 98 runs.
Although a place in the Final was not to be, Scotland captain Coetzer could reflect with satisfaction on the performance of his men throughout the competition.
"I'm very proud of the boys and the way they've gone about the tournament," he said. "It's not an ideal way to finish but it's the nature of the game and fair play to Ireland, they came out and played a strong game of cricket.
"When you're chasing a score of that size you've got to keep going," he added. "There is no point in us holding back and being six down and fifty runs short, so we have to play that way and be as positive as we can. Unfortunately there wasn't anyone to get that seventy or eighty that would have taken us close.
"But the skills that the guys have shown and the pride with which they have played their cricket has done Scotland proud. I think we have shown that we deserve to be playing more cricket. It's down to us to continue in that vein but we can take a lot of heart from what we've done."
Coetzer could reflect on several stand-out performances from within the Scotland ranks. Richie Berrington, with 108 runs at 54.00, together with Calum MacLeod, who scored 117 at 39.00, had excellent tournaments with the bat whilst Con de Lange, with 6 wickets at 16.50, and Mark Watt, with 4 at 27.00, were outstanding with the ball.
Amongst the pacers Safyaan Sharif enhanced his burgeoning reputation with 6 wickets at 20.83, bettered only by Josh Davey's 7 at 18.42, but Grant Bradburn will take particular heart from the contributions made throughout the team in a competition which the Scotland coach hopes will become a regular fixture.
"We've put ourselves forward in terms of our performances in T20," he said. "The whole concept of the Desert T20 has been a huge success and big credit to the UAE for hosting it.
"We very much hope it continues."
Scotland had qualified for Finals Day as undefeated winners of Group B. Comfortable victories over Hong Kong and Oman came either side of a famous night at the Sheikh Zayed Stadium in Abu Dhabi as they recovered from early setbacks in both innings to secure a memorable win over the Netherlands.
It was the match of the tournament, a last-over thriller for the spectators but for Scotland potentially so much more. Here was a performance with a significance that could extend beyond the context of this competition.
It was a game which the Scots could, perhaps would, have lost in the not-too-distant past. It would have been another to add to the cliché-ridden list that so epitomises Scottish sport, those so-near-yet-so-far, twist-in-the-tail defeats for the 'plucky' lads with the 'Braveheart' spirit. But this time, against a rival with a proven pedigree on the international stage, the boot was firmly on the other foot.
"Tonight we were given a lesson," Dutch captain Peter Borren tweeted after the game. But the evidence is mounting that this is a Scotland side that has learned theirs already, and effectively too.
Talking in November last year, Bradburn described the experience of the ICC World T20 in 2016 as a watershed moment for his side.
"The Twenty20 World Cup was bittersweet for us," he said. "We were hugely proud of the fact that we got that first win on a global stage [against Hong Kong] but we were absolutely gutted not to get over the line in the games against Afghanistan and Zimbabwe.
"When we came home, though, it gave us a great opportunity to take stock of exactly where we were. As a squad we have made some significant strides in accepting that there have been too many 'almost' victories [and] for me it was a chance to put a stake in the ground and look to inspire a change.
"At the start of the summer season I presented a new direction to our team, essentially giving a choice between us continuing as we are or looking to take a tougher road.
"Everyone bought into the fact that we have to take that harder path and accept that we need to make changes. We need to address the fact that when the game is in the balance we don't kill teams off, we let go of victory opportunities.
"Winning performances have to be our currency. It's not about how many runs you get or wickets you take or what your average is, it's about how many times you turn your performance into a winning one and put the team into the position to win and win again."
Emphatic victories over UAE and Hong Kong in the World Cricket League (WCL) followed in the summer, but it is this win over the Netherlands which provides the most compelling evidence of just how far Scotland has come in developing that winning mentality. That talent has always been present in their ranks has never been in doubt, but it was that instinct which got Scotland over the line in Abu Dhabi.
Winning, as the old cliché goes, is a habit, and Scotland has shown in recent months that they are not prepared to hide behind excuses as they seek to gain it. They will take many positives away from the UAE, and with the final round of the WCL coming in the summer, and the potential prize for winning the key to the fixture door, there is no better time for Scotland's talent to continue the process of expressing itself.