Liebke and Bowden's Ridiculous Ashes – Third Test: What the actual f*ck?!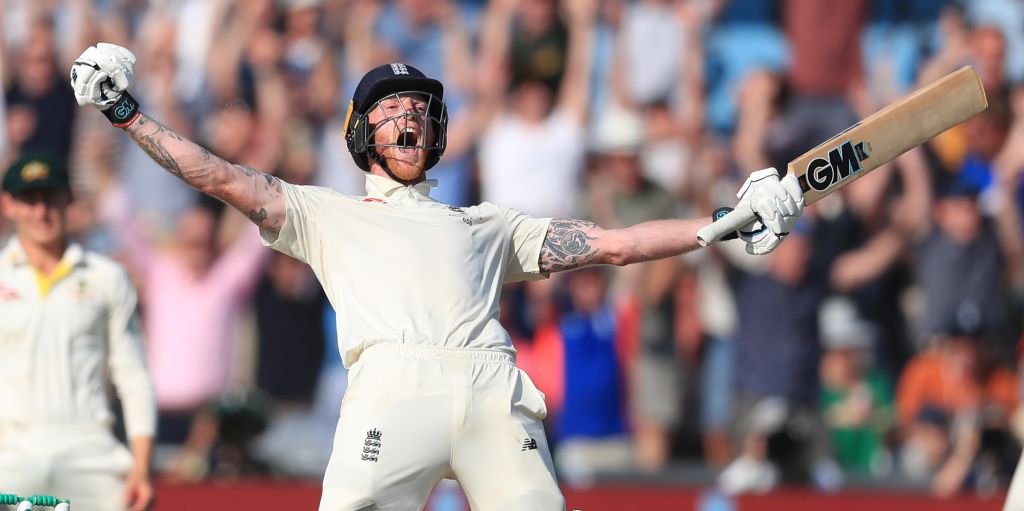 While the players convince themselves that they are playing for the actual Ashes, we all know that the real prize is the Ridiculous Ashes for producing the most hilarious and absurd cricket across five Tests. We have two hugely qualified judges of such ridiculousness in Alex Bowden and Dan Liebke on hand after each Test to discuss this important matter and award their official Ridiculous Ashes marks.
Dan: Right. Let's start analysing the third Test of the Ridiculous Ashes, shall we? (A quick update for those coming in really rather late right now: we watch the match, highlight the most ridiculous moments, talk about them, rank the top three and give 3-2-1 points.) Thrillingly, after the first two Tests, Australia and England are locked at six points apiece. However, the two main contributors to each side – Moeen Ali and Steve Smith – were both out of this Test. Who stepped up to fill the breach for you, Alex?
Alex: Um. Cricket?
Darkness
Dan: Before we get to cricket, a quick word of praise for a wonderful moment of non-cricket that came on a gloomy first day. That's when the umpires decided that the floodlights at the ground were insufficiently light-producing – or perhaps insufficiently floody – for batsmen to see, and so took everybody off for an early and lengthened tea break. However, despite the best efforts of the umpires in that moment and also in the first Test where they incorrectly guessed every decision asked of them, the Ridiculous Ashes does remain a vehicle for player excellence in nonsense. So I fear this doesn't count for either side. But I felt I should throw it out there.
Alex: Do you know who manufactures the light meters, Dan? Megatron. Megatron, as in the evil Decepticon Transformer, Megatron. (Except that it's not him. It's just a firm called Megatron. Also, it was 2009 when I found that out, so the umpires might actually use light meters manufactured by a firm named after a different Transformer now. What's your favourite Transformer name, Dan? Mine's "Rodimus Prime". It still amazes me that someone came up with that name and then everyone else apparently agreed that it was acceptable.)
Dan: Mine's 'Rodimus Marsh'.
Alex: Also known as Hot Rod.
David Warner's plays and misses
Dan: David Warner is an outstanding batsman. He's made more than 6000 Test runs at an average of almost fifty, including 21 hundreds. And yet on the first day, he played and missed approximately 135 deliveries from Stuart Broad, looking utterly incompetent. According to CricViz stats I've just made up, Warner's Batting Success Rate percentage was -14.2% and their modelling projects that his Test Batting Ranking after that innings should have plummeted to approximately six billionth in the world, one spot ahead of me. And yet he somehow made 61. Magnificent absurdity from Warner.
Alex: I very much enjoyed all the old sages talking up how well he'd missed the ball. Apparently it's better to play "the line of the ball" and not the ball itself. I know that missing a good delivery is better than edging one, but I couldn't help but notice that Warner's runs were generally made by hitting the ball (quite often with the edge of his bat).
Dan: Dave Warner knows where the line of the ball is and he's going to go right up to it but not beyond it.
Jofra Archer's walking review for an 'up periscope' dismissal
Alex: Let's walk through this one. It's 66/8 and Jofra Archer has just unleashed an almighty and rubbish heave for two. Next ball is short. He ducks, but leaves his bat above his head and hits it with the full face. It is caught. He is out. He reviews it while walking off the field, a la Steve Smith. At 66/8 the atmosphere is obviously already thick with ridiculousness, but that was a lot to pack into one delivery.
Dan: Jofra Archer is such a talent. Only his second Test match and he's already taken a piece of comedy gold from Steve Smith in the previous Test and improved on it. We knew he could bowl rather well, but to also bat with such an outstanding sense of the preposterous must give England enormous confidence in their ridiculous future.
All of England's other batsmen
Alex: If I could be so bold as to put forward two England suggestions in a row, it was very much a 'hold my beer' performance from England's entire batting line-up after Australia's first-innings collapse. It's tempting to single out Jason Roy – who has already carved a niche for himself as James Vince only without the pretty 20-odd preamble – but that would be grossly unfair on the others. The real clincher here is that they were dismissed so quickly that Extras didn't even have enough time to be top scorer.
Dan: Of course you can put multiple England suggestions in a row, because that was what it was like on the second day. England barraged Australia with so much ridiculousness that the visitors had no time to counter them. It was a nonsense onslaught – a nonslaught, if you will – and it may well have won England the Ridiculous Ashes, particularly when combined with the somehow even more ridiculous fourth day. Foolish, perhaps, to call it so early, but as a proud fan of Australian absurdity, I could only watch on, envious, as England blew them away. There was everything in the England innings of 67. In contrast, Australia couldn't even stick to the basics of a comical dropped catch until the final wicket. Utterly outclassed by England's high standards of ridiculousness. And the impressive thing on that second day was that England weren't just ridiculous with the bat, they came up with some deliciously mad stuff in the field too.
Alex: New rule: if either side gets bowled out for under 100, they earn an extra ridiculousness nomination.
Dan: Keep them coming.
Joe Root's drop
Alex: The pinnacle of England's continuing nonslaught in the field was surely Joe Root dropping two extremely easy catches off the same delivery while Ben Stokes was in the middle of a 46-over spell.
Dan: As Oscar Wilde famously wrote 'To drop one chance off a Marnus Labuschagne edge may be regarded as a misfortune; to drop both looks like carelessness.' Still, full credit to Labuschagne who even as he was edging it was congratulating the bowler. "Oh, that's a good ball," he said, as it flew off his bat to Root, bringing to mind for many Australians Shane Watson's legendary similarly-invoked 'aww, no' in 2010/11. A bold attempt from Labuschagne to claim the ball as a ridiculous one for Australia before Root so magnificently upstaged him.
Tim Paine's review
Dan: It would have been easy for Australia to drop their ridiculous heads after England's world class display of absurdity. Instead, they chipped away with the bat, trying hard to match their impressively silly opponents. But it took the captain, Tim Paine, to lead from the front for Australia and review an LBW that was given against him, by way of Stuart Broad celebrappeal. Paine was very confident that he'd hit it, and replays confirmed that he had, indeed, done so. Ordinarily this would have negated the LBW decision, if it weren't for the fact that the inside edge onto Tim Paine's pad had carried to Joe Denly. A brave show of ridiculous leadership.
Alex: Paine is, in an understated way, arguably the most ridiculous Australian cricketer playing in this series. Think of the smiling handshakes or the abrupt ends to seemingly solid innings. I think he produces more innovative nonsense than he's given credit for and this was a perfect example. It was the kind of thing Stuart Broad would do and I can think of no higher praise.
— cricket images that precede unfortunate events (@UnfortunateCric) August 25, 2019
Dan: He'd be extremely flattered by the comparison As you say, he, like most Australians, is very understated, but he followed up his bonkers mode-of-dismissal-adjusting review of his own wicket by also burning a review in the final moments of England's run chase on a ball that even the bowler was sure had pitched outside leg, only to then have no reviews left when Joel Wilson inevitably incorrectly turned down an LBW shout. Magnificently ridiculous DRS work from Paine.
Ben Stokes' innings
Alex: Ben Stokes played all of the innings. All of them. Every single kind of innings there is, Ben Stokes played it. He scored three runs in a year and a half; then he ran Jos Buttler, the last recognised batsman, out; then he got a million sixes while the guy at the other end was cleaning his glasses. And he didn't bother celebrating his hundred.
🦁 When you score an #Ashes 💯 but don't even celebrate…

👑 The only number that mattered to @benstokes38 was 3️⃣5️⃣9️⃣

Highlights: https://t.co/x2gNcp60wM pic.twitter.com/lk5Eklfmyy

— England Cricket (@englandcricket) August 26, 2019
Dan: A lot of people think that ridiculous cricket is merely the opposite of good cricket. Ben Stokes' innings proves that's simply not true. It was an astonishing innings of the very highest quality, but it also undoubtedly contained more nonsense than England's entire first innings, which I might remind you, was sixty-freakin'-seven all out. Good lord.
Final points
Dan: I'm contractually obliged to try and claim as many points as I can for Australia here, but I'm honestly not sure how I can do it. However, Paine's reviewing over the entire Test showed a variety of absurdity that I feel should be rewarded in some way.
Alex: I think the personal batting review combined with the inspired wasted bowling review at the climax was sufficient for Tim's Paineful reviewing to earn one point. I can't honestly decide which was more ridiculous out of England's first-innings batting and Ben Stokes' second-innings batting, though. Points-wise it doesn't matter at all, but in a much broader and more meaningful sense it matters enormously, so we have to decide. I'm leaning towards Stokes being the most ridiculous with the first innings setting the scene for the nonsense. What do you think?
Dan: I was, as you know, at the ground for the Test and, as nonsensical as the 67 all out was, Stokes' mad charge for victory was on a whole other level of insanity. The fact that he pulled it off in such utterly ridiculous fashion? Give the man three points to go with his inevitable knighthood. Two points for the 67. And one for Tim's reviews. England level the regular old Ashes 1-1 but surge away in the Ridiculous Ashes to an 11-7 lead.
Alex: More of this sort of thing!
Ridiculous Ashes Third Test Score: England 5-1 Australia
By Dan Liebke & Alex Bowden