An Ashes five-fer: Melbourne, day 2
1) ENGLAND RIP THROUGH AUSTRALIA SHOCK:  Please remain in your seats. In the early hours of the morning, England did actually take a series of (legal) wickets. It was a most disorderly collapse for the Australians, who, up  to then, had been serenely directing the production of Whitewash III: This Time it's Personal.  Losing five victims in a session is almost an 18 rating for the Aussies. And it got worse for the hosts. Steven Smith bowled trailer trash to give Alastair Cook a 100 after dropping him on 66.
This is what happens. You make the resolve not to stay up all night to watch and then they drag you in like this… or drag you on perhaps

— Elizabeth Ammon (@legsidelizzy) December 27, 2017
2) STUART BROAD GETS THE MOTOR STOKED UP:  Who needs Ben Stokes when you've got the old warhorse in the stables. In the week leading up to the match, there were some dark mutterings that Stuart Broad should be dropped. Or, even worse, retire. After 69 fruitless overs, he claimed Usman Khawaja's wicket yesterday and followed up with another terrific burst, snaring Shaun Marsh, Pat Cummins and Jackson Bird. Broad is a birdie machine when on song and after a series of missed cuts, he finally shot a 66 today….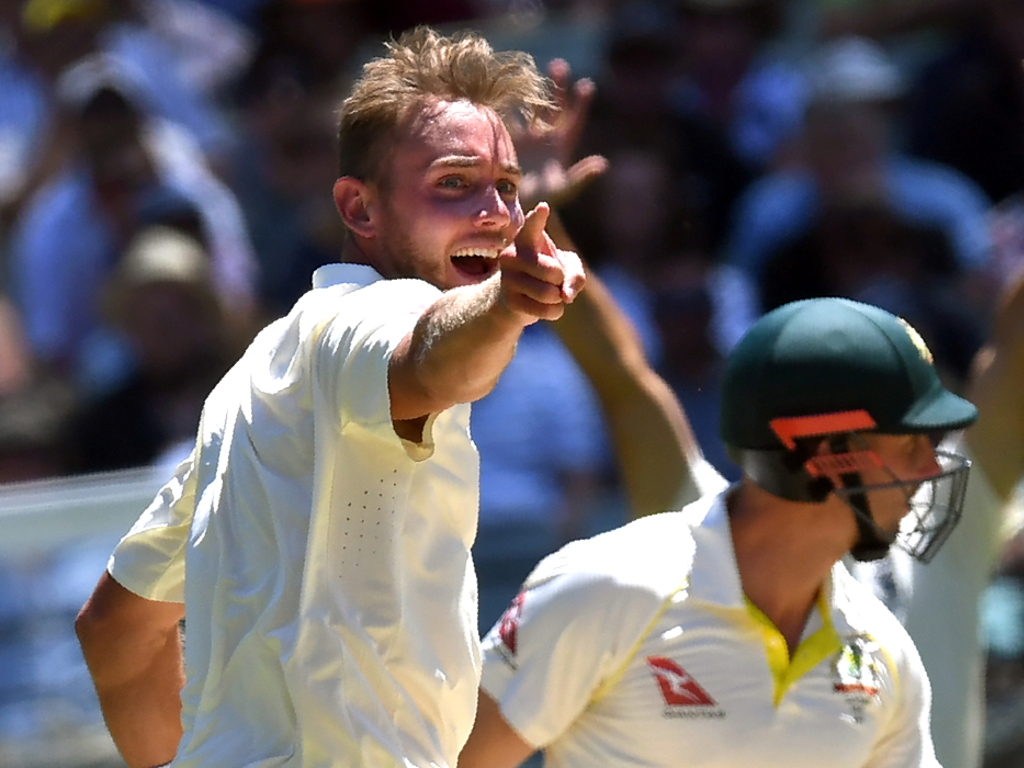 3) ENGLAND ARRIVE AT THE PARTY: It was very good of England to finally arrive at the Ashes on 27 December when most of the cake, drink and turkey has been gobbled and consumed. Alastair Cook did his last stand thing again while Joe Root refused to be cowed at the crease, proving to Ricky Ponting he is more than a little child cub leading a group of odious scouts. Cook cut, drove and pulled like the Cook of old. He's alive. Who can bring Moeen back from the living dead?
This is why I love twitter … You tweet positively about England and the response is it's too late,where were they 3 Tests ago … Bloody love Twitter … #OnOn #Ashes

— Michael Vaughan (@MichaelVaughan) December 27, 2017
Congrats to Cooky on his 💯 .. As I said in my columns if there is a player who has the mental toughness to get through this it's him !! 👊🏻👏🏻 #Ashes

— Ian Bell (@Ian_Bell) December 27, 2017
4) AUSTRALIAN ATTACK DISJOINTED: Before the Melbourne Test, James Anderson was banging on about how Australia can't keep their pace bowlers fit. It was brave by the Burnley Express, but turned out to be more than just stale propaganda. Mitchell Starc's absence exposed a soft underbelly. Pat Cummins had a stomach complaint which undermined his effectiveness so Josh Hazlewood had to carry the load. Jackson Bird didn't "stick it up England" as Starc wanted. The only concern was that Stoneman and Vince missed out and are still fighting to establish themselves in the team.
Form is temporary, class is permanent 👏

Alastair Cook reaches 100, his fifth in Australia.

What an effort 🙌

📺 BT Sport 1 HD#Ashes #ItsTheAshes pic.twitter.com/UwcQMbd3eG

— The Ashes on BT Sport (@btsportcricket) December 27, 2017
Ed Smith on TMS: "The sadness is this shows Australia's weakness. It shows if England had performed earlier they could have been beaten."
5) TOM CURRAN HAS THE PIZZAZZ TO PRODUCE: Tom Curran was chosen to replace the injured Craig Overton and has certainly injected some fresh legs into the dogs of war with his competitive spirit. He may have only picked up the one wicket – the invaluable Steve Smith which preciptated the collapse, but his willingness and variety showed a hustle which got him the gig in the first place. It certainly lifted the bowling unit.
Getting the world's best Test batsman as your maiden wicket #ohwhatafeeling#Ashes @Toyota_Aus pic.twitter.com/dXhA7k16qT

— cricket.com.au (@CricketAus) December 27, 2017