An Ashes five-fer: Perth, day 3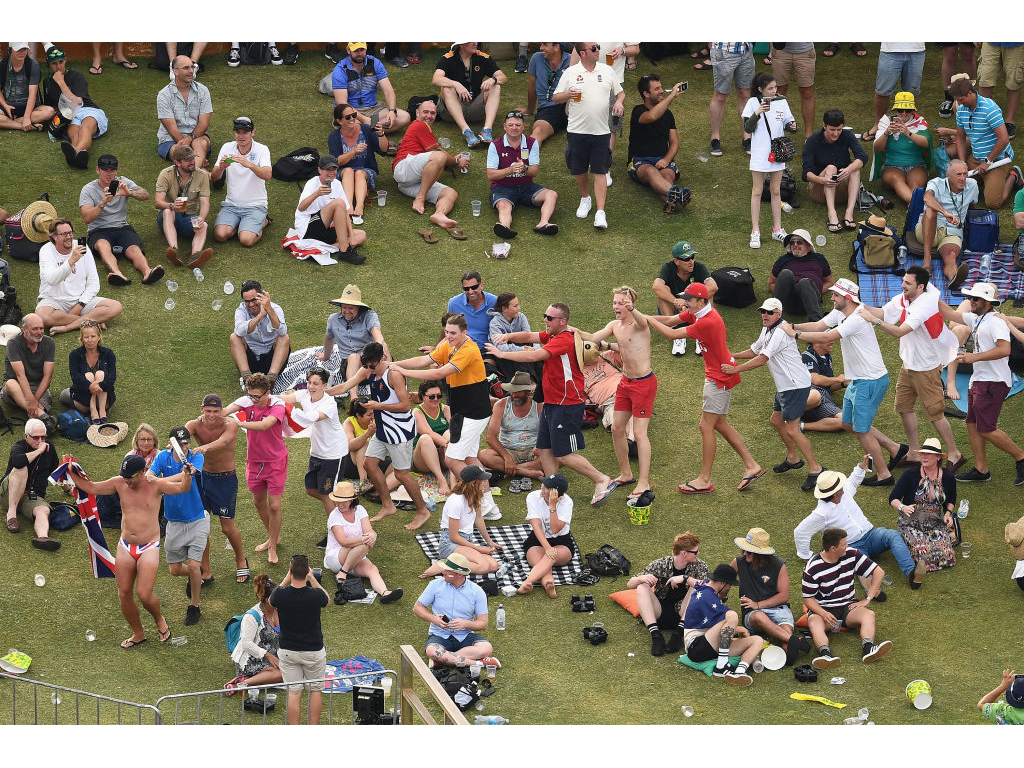 1) THE DAY THE ASHES DIED: There seemed to be a mute feel about England in last night's session. Usman Khawaja's wicket was celebrated like a consolation goal in a 5-1 thrashing. Today, the 13th day of the Ashes, was when hell finally descended with all its fury. England had to stand there and take the punishment that the all-seeing batsmen delivered. The cricket Gods decreed that the earth was flat and that fielders and bowlers will turn into dust.
💯
💯

Steve Smith, run machine 🤖#Ashes pic.twitter.com/BK7I5Jomi5

— The Ashes on BT Sport (@btsportcricket) December 16, 2017
2) MITCHELL MARSH STOPS THE MOCKING: Mitchell Marsh's Test career has previously been the square root of diddly squat. Think of an early, unrefined Freddie Flintoff with a twenty something batting average and high 30s bowling stats. Mitch finally decided this was his day to stop mucking about. He couldn't have picked a better time or venue, showing the promised resurrection as a true top six batsmen on his home patch. After this brutal show of placement and power batting, he's bought himself time to work with the ball.
this aged well https://t.co/tA6DNLYnHw

— Scott Oliver (@reverse_sweeper) December 16, 2017
3) SMELLS LIKE LEAN SPIRIT: England did try like troopers. No one was whistling. Craig Overton ran in gamely with a cracked rib. James Anderson toiled away as he saw his Australian bowling average shoot up the u-bend again. Chris Woakes always looks like a competition winner when he jigs back to his bowling crease. Unfortunately, there was every sense that the bowlers were in their own private hell on an unforgiving track. The cajoling and support from team mates, both senior and junior, could have been a bit more animated.
4) TWENTY WICKETS TORTURE: England have taken 31 wickets in the series, 10 of which were claimed in that mini-fightback at Adelaide when the game was almost up. The other 21 have come from a mammoth 481 overs. Graeme Swann was adamant that they hadn't bowled poorly on a flat pitch offering nothing. He had a point. England just offered nothing different. It was a hellish combination.
❌ No swing
❌ No seam
❌ No pace
❌ No spin

"You're relying on their batting unit to get bored…"@MichaelVaughan thinks today was the day that the Ashes will be staying in Australia.#ItsTheAshes pic.twitter.com/qSpCOyUh6L

— The Ashes on BT Sport (@btsportcricket) December 16, 2017
5) CAN WE SAY SOMETHING DIFFERENT ABOUT STEVE SMITH?: How do you take Steve Smith out of his comfort zone? Take him back to Adelaide. Or Trent Bridge. There must have been many hours of debriefing in the England war rooms about the Australian skipper before the series. Was there one about him being bulletproof against pop guns? Maybe Joe Root's men need to take a leaf out of the Courier Mail rag and refer to Smith from now on as "a 28-year-old part-time leg spinner."
So incredibly proud of @mitchmarsh235 what an outstanding innings mate! You stood up when your team needed & @stevesmith49 you are a freak!! Great day Australia 🇦🇺 #ashes #footonthroat

— Mitchell Johnson (@MitchJohnson398) December 16, 2017