An Ashes five-fer: Sydney, Day 1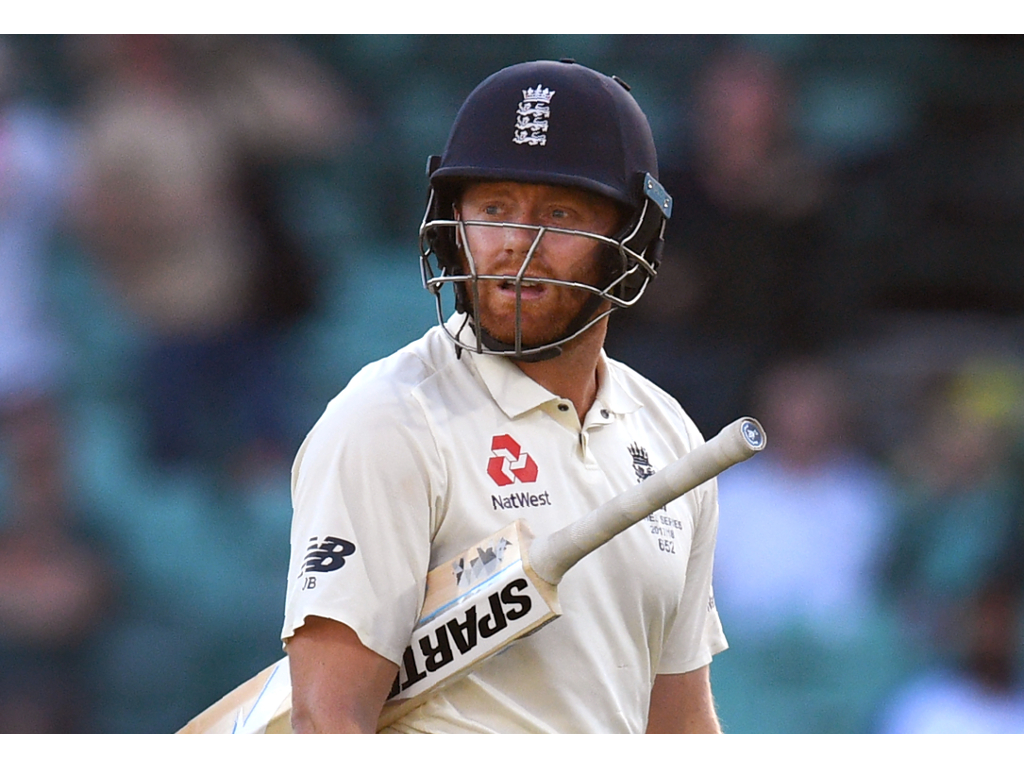 1) RAIN PLAYS ITS PART FOR THE FIFTH TIME: Rain has very rarely played such a continuous role in an Australian Ashes series, although it hasn't been so decisive in the results column. Adelaide's skies interrupted the wonky English seamers on the first day, while the heavens failed to save the tourists at the normally bone dry Perth (via leaky covers) to keep the series alive. In retrospect, it would have been merciful for the fifth day to have been totally saturated at the dead pool that was the MCG. For the vibrant pink Test, there was a two hour wait for the combatants to appear as unexpected grey drizzle came and went.
2) SKITTISH STONEMAN STALLS AGAIN: In the first three Tests, Mark Stoneman looked like the senior partner to Alastair Cook. Unfortunately, for all his grit, there have only been twolow-scoring 50s. Stoneman has also looked skittish occasionally, rattling along at a run a ball and getting out. If the Surrey man can work out a plan for the short ball, there is a way forward. He doesn't have to be the expendable Michael Carberry of 2018….
Pat Cummins with the first breakthrough on day one! https://t.co/vhFwlbdpM8 #Ashes pic.twitter.com/Ifp89pqxeO

— cricket.com.au (@CricketAus) January 4, 2018
3) JAMES VINCE LOOKS THE PART WITH THE START:  It is safe to say, the Test cricket world wants to see more James Vince cover drives. Outside of the parochial view of the Ashes, Vince is a reason why the neutral might study the sheer beauty of a cricket shot. The English selectors made a left-field decision to choose the Hampshire man for the tour and in retrospect, it wasn't the worst of calls.  The fact is, though, he won't win or even influence many Test matches.
"There's a horror show and there's some lovely stuff…it's in his head"

"90 per cent of James Vince's batting is now in the head"@MichaelVaughan, @GeoffreyBoycott and @BrettLee_58 analyse James Vince…#ItsTheAshes #Ashes pic.twitter.com/3ji7tpuANI

— The Ashes on BT Sport (@btsportcricket) January 4, 2018
ED Smith on TMS: "It's a terrible shot. How many times? He's flattered once again and failed to deliver. He's handed it to Australia."
4) THE CAPTAIN LEAVES THE SHIP JUST BEFORE PORT: This five-fer is a familiar tale of England being almost but not quite. The last five minutes of play was their Ashes in microcosm. For the previous 133 runs,  Dawid Malan, an impressive Ashes newbie, and Joe Root fought to get into a good position. Then the captain flicked the new ball to square leg and crumpled/kicked/cursed in disgust. To compound the misery, England didn't send out a night-watchman and lost Jonny Bairstow just for good measure.
A super catch from Mitch Marsh late in the day and Joe Root can't believe it! https://t.co/vhFwlbdpM8 #Ashes pic.twitter.com/B16jMP8MJy

— cricket.com.au (@CricketAus) January 4, 2018
Former England skipper Michael Vaughan said on TMS: "Steve Smith converts fifties into hundreds because he just plays his own way, without risk. Joe Root gets out between 50 and 100 because he plays unnecessarily risky shots."
5) MITCHELL MORE LIKE JIMMY AS ENGLAND BRING HIM TO HEEL: For the most part,  Australia's pace attack looked rather subdued today. After being a major doubt before the Test with a bruised heel, it was clear that Mitchell Starc was down on pace by an average of about four mph. It's not for us to make comparisons with England's mid 80s retro bowlers but the Barmy Army might have enjoyed that long session after tea. It's a shame the new ball left a sour taste of warm beer in the mouth.