An Ashes five-fer: Sydney, Day 3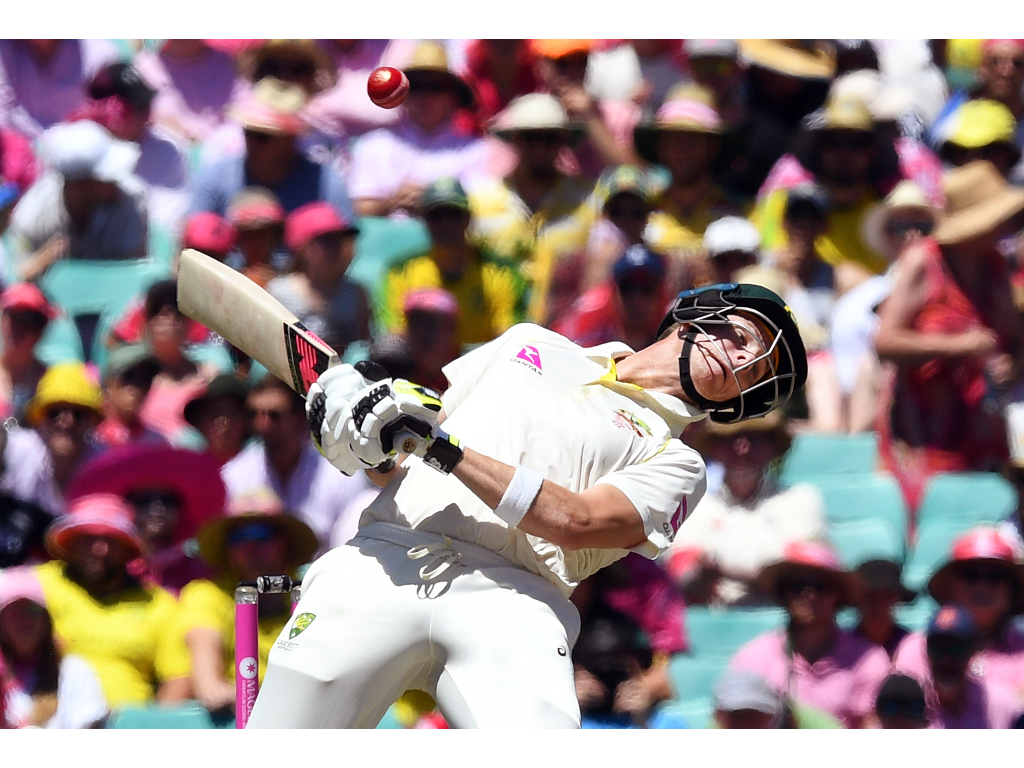 1) SMITH SETS UP HIS UNORTHODOX CHURCH: On the third day, Steve Smith rose
again from bed and set up an even more outrageously unorthodox temple at the crease.
As James Anderson ran in for the first over, the Aussie skipper shuffled to the off side and
showed all three stumps (and then some) behind him. Anderson didn't fall for it but it was
another gem from the alternative SPD Smith coaching manual. Later on, there was a
falling down hook block shot that was another new entry.
Steve Smith… defending on a 7th stump line from Anderson around the wicket.

Bradman-esque… #Ashes pic.twitter.com/pBC1X8dlmK

— Jack Mendel 🏏 (@JackMendel4) January 5, 2018
2) ROOT SHAKES IT UP IN SEARCH FOR WICKETS: Australia had to take 12 wickets
to dismiss England after their own fast bowlers dropped two dollies. At least one of the
perpetrators, Pat Cummins, could afford to laugh as it showed that the hosts were creating
enough opportunities. In the first session on Saturday, there wasn't even a sniff of a wicket
in the air until a dramatic last ten minutes when Smith finally fell to Moeen Ali. Joe Root
decided to open with Moeen, which merely accelerated the scoring and the ease with
which Usman Khawaja got to his century. The new ball virtually went unnoticed such was
the serenity of the batters.
Again, it looks like it might take 187 overs for England to get 5 wickets.

— Tim Ellis (@Timotei365) January 6, 2018
3) KHAWAJA KICKS ON: This series has solved more outstanding issues for Australia
than it has for England. Usman Khawaja has certainly cemented the number three place.
His demeanour is usually more laid back David Gower than jack-in- the-box Dave Warner,
but this innings showed a footloose beauty. At his best, like Gower, Khawaja's effortless
shots and casual strut can open up criticism of a lack of energy. The way he celebrated
this sixth Test century showed real passion lurks underneath the cool outer shell.
Usman Khawaja on what it was like coming up against England debutant Mason Crane and his bulk false starts.

More here: https://t.co/03l7JvfwL3 #Ashes pic.twitter.com/Rfgoi8ge2E

— cricket.com.au (@CricketAus) January 6, 2018
4) ENGLAND TOIL AS THE END OF TOUR PARTY GOES FLAT: Any tourists struggle to
keep up with the keen body language and high hopes shown on the first few days of a
series. It seem a long time ago that Australia were 76-4 in reply to England's 302 at
Brisbane. In the last eight fielding sessions, England have managed to prize out the grand
total of four Australian wickets. Even in the 90s when England were routinely battered,
there was always the potential solace of a consolation win. Forget that here. There is a
massive gulf between the sides in these conditions and Joe Root's team are not up to
gatecrashing the home party before they leave.
5) MARSHES NO LONGER THE CHUCKLE BROTHERS: Sometimes, watching the
Marsh brothers trying to prove their Test credentials has been a bit like investing good
money in an unstable offshore fund. For now, the profits are huge, albeit there is a small
sample to go on. Shaun Marsh is on the verge of a second century in the series to prove,
for the ninth time of asking, that he has real class. Mitchell actually has the highest batting
average in the series. That will gloss over his bowling for now….
That was a rocket! Mitch Marsh with the #PricelessShotOfTheDay on day three. #Ashes @MastercardAU pic.twitter.com/xiNrsfrQty

— cricket.com.au (@CricketAus) January 6, 2018