Heartbreak for Zimbabwe at the hands of the UAE
The UAE beat Zimbabwe by three runs to end Zimbabwe's hopes of qualifying for the World Cup, after they narrowly defended a 40-over target of 230 at the Harare Sports Club.
Zimbabwe won the toss and elected to field on a sunny morning after much rain had fallen the afternoon before. They could be criticised for wasting the new ball but the UAE top-order applied itself and Rohan Mustafa (31) and Ghulam Shabber (40) led their side to a platform of 90 for 1 after 20 overs.
A double-strike from Sikander Raza (3-41) soon pegged them back but progress was continued through Rameez Shahzad (59) and Shaiman Anwar (33) and at 180 for 3 in the 39th over, it looked like the UAE were on track for a good score.
Some tidy work from Graeme Cremer (0-34 from 10 overs) continued to build pressure and as the rain clouds intensified around the ground and lightning strikes were seen nearby, the Emiratis began to lose their way. UAE then managed only 4 for 31 from the next nine overs, despite Mohammad Naveed's (22 not out from 10 balls) exploits, before a massive storm arrived with the score on 235 for 7 after 47.5 overs.
Two hours later the field was ready for play and Zimbabwe were set a revised target of 230 from only 40 overs, in bright sunshine.
The daunting task at hand had the over-capacity crowd biting fingernails and Zimbabwe stumbled at the start, when Naveed (3-40) dismissed both openers to reduce the start of the chase to 18 for 2. When Brendan Taylor (15) was bowled by Ahmed Raza to make it 45 for 3, the enormous crowd was silenced.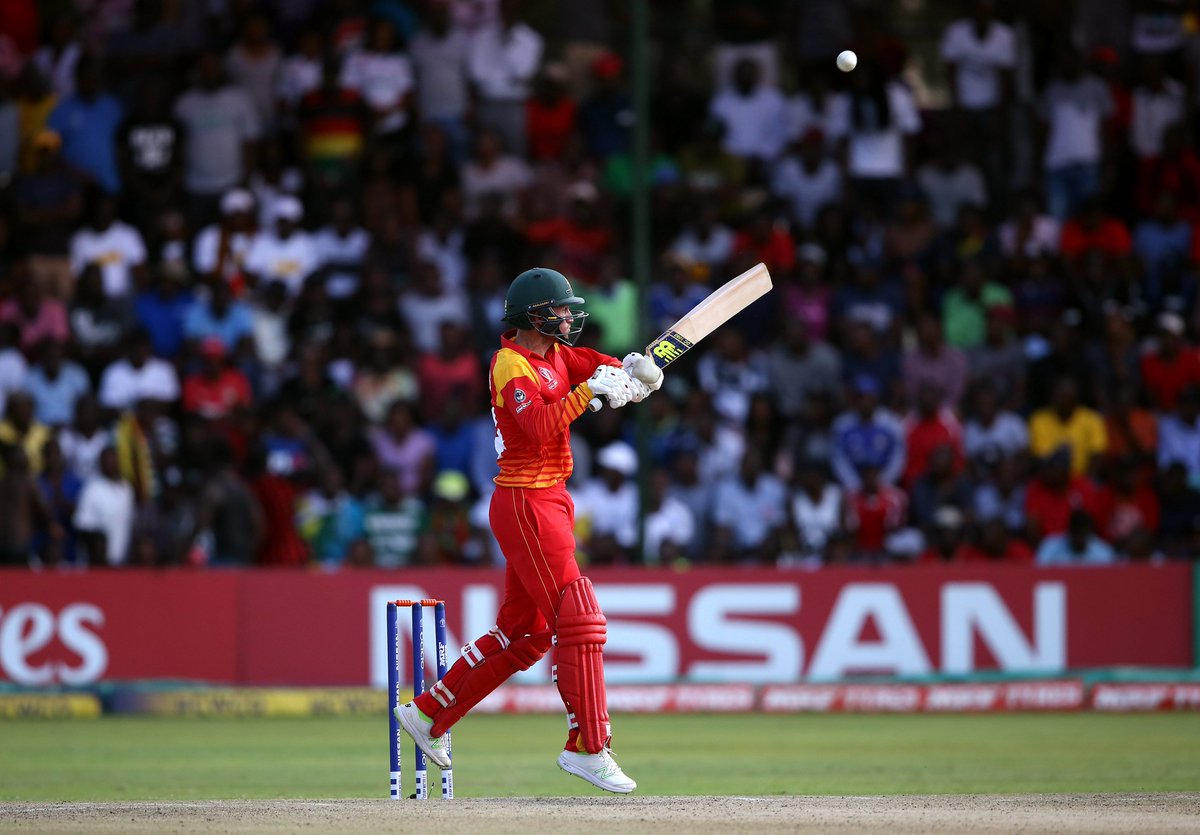 Enter stage from right, Shaun Williams. Williams (80) joined PJ Moor (39) in a 79-run partnership that breathed life back into the mission at hand. The nerves were tangible. Some 35 millions dollars in funding could be the reward for winning this match. The UAE were merely playing for pride but they too were giving it their all. The asking rate climbed above 8 an over.
Even when Moor and Raza were caught playing shots, Zim looked like they were going to do it. 55 runs were needed of the last six overs with five wickets in hand. But when Williams fell, the pressure had told and the batting side ran out of hitters. Captain Cremer was bowled first ball as Craig Ervine (22 not out) tried to keep things going. 19 were needed off the final two overs and Kyle Jarvis (6*) was struggling to time the ball. Then 15 off the last and then 6 off the last ball and then before you knew it, the dejected masses were walking out the ground.
This was indeed a very sad day for Zimbabwe cricket. A proud nation that punches well above its weight had home-ground advantage in a very fair qualifying tournament but they just couldn't do what was needed at the end. They can be proud of their campaign and one hopes that the very many thousands of spectators that have been to see their side play during this tournament will not be disheartened by the result.
Tomorrow's game between Afghanistan and Ireland had looked likely to be a dead rubber but instead it will effectively be another semi-final, not just for Sunday's final but more importantly, to see which team joins the West Indies from this tournament and into next year's World Cup.