Important that Ireland stowed the emotion and got on with it
Ireland seamer Tim Murtagh admitted that the first day of actual play in their inaugural Test against Pakistan was an emotional one.
Murtagh, though, insisted that it was vital that he and his teammates focused on the task of playing cricket against Pakistan.
The quick said: "It was really special. It is the sort of thing that I hadn't thought much about before, but all the families were there in the background.
"I think a couple of boys did get a bit emotional, a sort of spine-tingling moment.
"We hadn't really thought how special it would be until we did get the cap this morning. It was a nice occasion and nice to share it with the families."
That Test wicket feeling! 🎉 #IREvPAK pic.twitter.com/acCXp5gmni

— ICC (@ICC) May 12, 2018
When asked if he shed any tears the big quick denied any waterworks but admitted that others in the team may have.
He said: "Not quite from myself, but I think there a couple of guys that kept their sunglasses on in case there was a couple rolling down. It was a really nice occasion, but it was important that we put that behind us and got rid of that emotion and got on with the cricket."
Ireland were left to regret dropped catches in the final session which denied them the opportunity to end the day well on top.
Instead Shadab Khan and Faheem Ashraf pressed on to a 109 unbroken seventh wicket stand that saw Pakistan end 268 for 6 when lightning stopped play.
"That would have been the dream start. It was nice to get those two out early, I thought Boyd [Rankin] was exceptional for us all day, he kept running in for us.
"We spilled a couple of chances towards the end there, if we had taken one of those and got another one 250-odd for eight looks different. It's a shame, but we will rest up and come hard again in the morning.
"It is a bit of a disappointment as we got the ball swinging for the majority of the day. It is shame that the partnership at the end has taken it a little bit away from us.
"Probably a lack of cricket for the whole squad, a bit of tiredness in the legs towards the end there, perhaps has taken its toll a little bit. But we are up to the new ball pretty much straight away in the morning. We can hope we can nip out these last four wickets quite quickly."
Murtagh claimed the second wicket of the day, his first in Test cricket, but he joked that he was disappointed that Boyd Rankin got the first Irish Test wicket.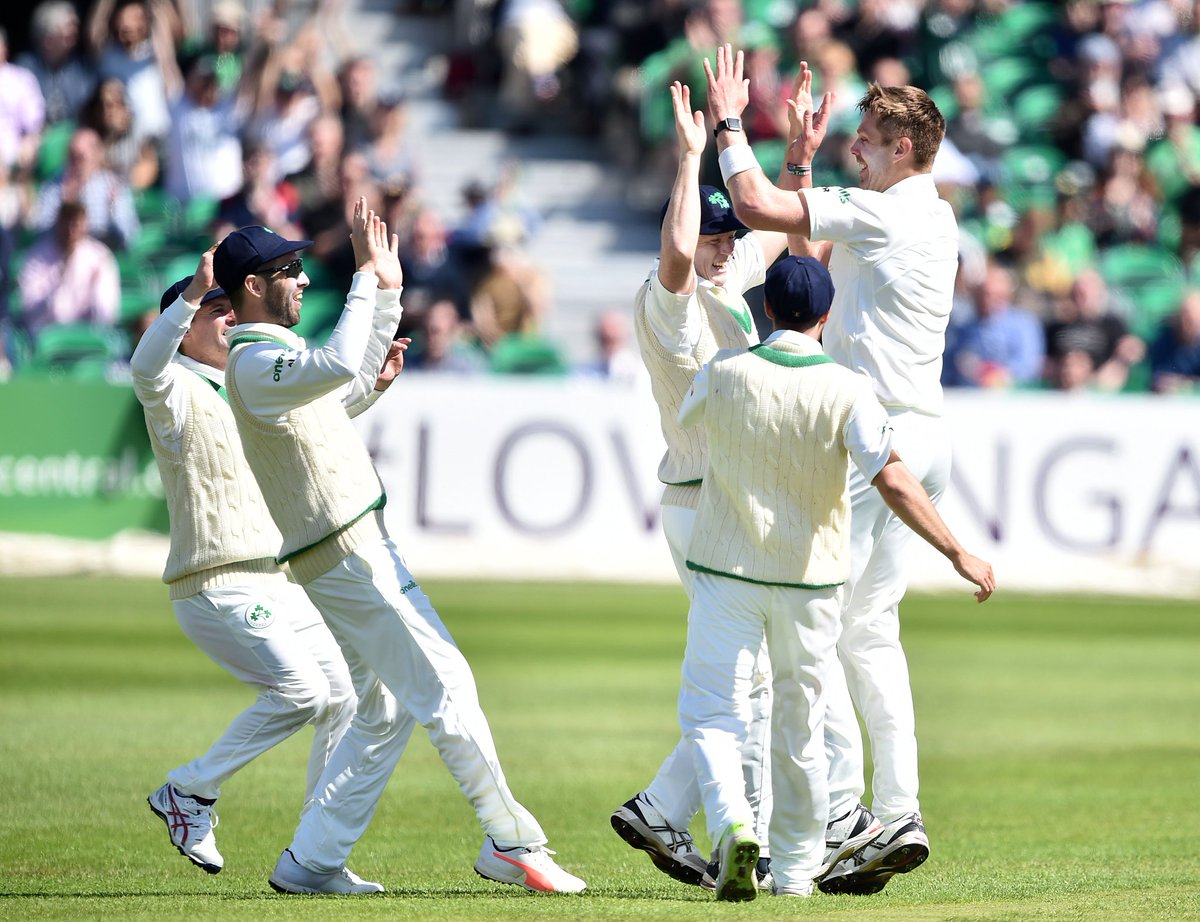 He went on: "It was great. A magic feeling. A big roar. I was disappointed Boyd got the first one, I had that chalked down for myself. I was happy that he got that and then to get the next one, next ball straight away was a really special feeling."
In the end, Murtagh says that it became another game of cricket despite being such a historical moment for his country.
"At the start it [felt special], that first wicket did, then you settle into a rhythm. A lot of us have played a lot of cricket and we had to treat it like any other first-class game that we have played. The fact it is a four-day game now, which is the same as we have been playing, helped that a little bit. I think everyone settled into it pretty well after that."