India v Pakistan at the World Cup: A history in pictures
At the announcement of the fixtures for every World Cup in recent times all eyes have been on when or if Pakistan and bitter rivals India will meet.
Through the early World Cups in the  70s and 80s the Asian giants managed to avoid each other until the first of the 'modern' showcases in 1992.
India would come to dominate the fixture on the grandest stage of them all even in the tournament that saw Pakistan lift the trophy.
4 March 1992: India 216/7 (49 overs) beat Pakistan 173 (48.1 overs) by 43 runs at the SCG.
A young Sachin Tendulkar dominated proceedings with an unbeaten fifty that powered India to a competitive total.
Frustrated by India keeper Ishan Kore's appealing Javed Miandad engaged in a spot of over the top mimicry but his side slumped to 173 all out at the Sydney Cricket Ground.
9 March 1996: India 287/8 (50 overs) beat Pakistan 248/9 (49 overs) by 39 runs at the Chinnaswamy Stadium.
The crowd may have turned up for the little master but stayed for a brilliant 93 from dogged opener Navjot Sidhu who would later become one of the more colourful voices in cricket commentary.
The nagging line and length bowling of Venkatesh Prasad (3/35) were the undoing of Pakistan in Bangalore in 1996, Aamir Sohail brought up a second successive fifty against India at the World Cup but it wouldn't be enough.
8 June 1999: India 227/6 (50 overs) beat Pakistan 180 (45.3 overs) by 47 runs at Old Trafford.
Rahul Dravid (81) resisted the Pakistan pace attack on a grey day in Manchester to help India claim victory over Pakistan in the Super Six phase of the 1999 tournament.
Inzamam-ul-Haq (41) provided a little resistance…
But it would be that man Prasad who returned to haunt Pakistan again taking the first five-fer by an India player against Pakistan in the World Cup ending with figures of 5/27.
1 March 2003: Pakistan 273/7 (50 overs) lost to India 276/4 (45.4 overs) by six wickets at Supersport Park
Saeed Anwar became the first man to score a century in the clashes between these two nations at the World Cup when he brought up three figures at Supersport Park in Centurion, South Africa in 2003.
Tendulkar picked up a knock on his way to falling agonizingly short of emulating Anwar's effort though the little master got to 98 off just 75 balls while the Pakistan opener's knock was less explosive.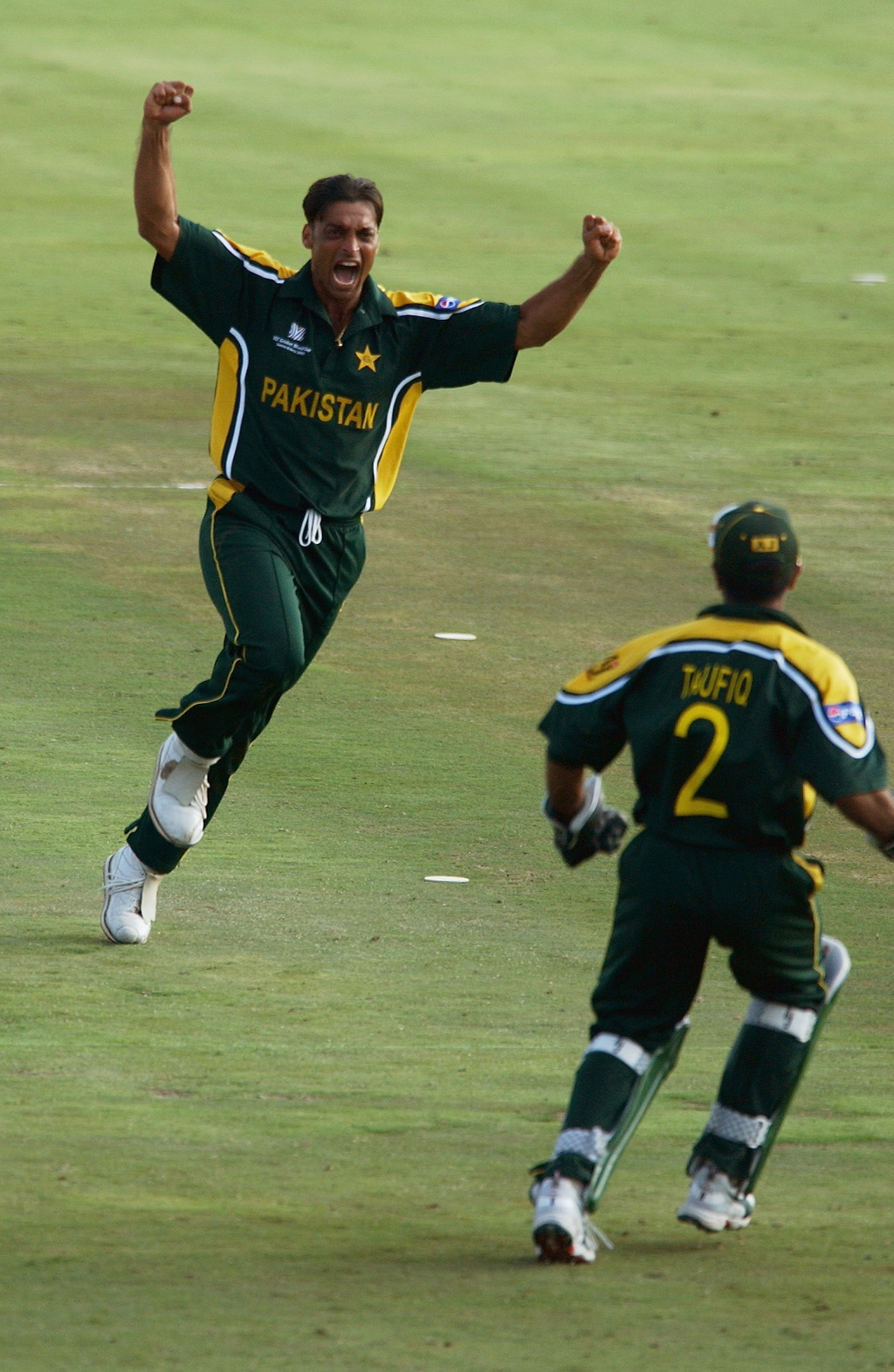 Shoaib Akhtar could celebrate the wicket of Tendulkar but Pakistan would end up on the losing end again as India hauled in their total with six wickets left in the bank.
30 March 2011: India 260/9 (50 overs) beat Pakistan 231 (49.5 overs) by 29 runs at the Punjab Cricket Association Stadium in Mohali, India.
Wahab Riaz was inspired against India in Mohali during the 2011 World Cup…
Wahab cleaned up Yuvraj Singh on his way to a match haul of 5/46.
An 85 from Tendulkar was enough to get India to 260 which would ultimately prove enough.
India would triumph by 29 runs on their way to their second World Cup win ending a long wait.
15 February 2015: India 300/7 (50 overs) beat Pakistan 224 (47 overs) by 76 runs at the Adelaide Oval in Australia
Virat Kohli stamped his mark on the fixture with authority in 2015 when he blasted the first World Cup hundred by an India man against their sworn enemy.
Misbah fired back with a fifty but the 300 runs on the board for India proved to be too much yet again…
India would celebrate again having secured their largest ever runs win over their rivals and sixth win in six World Cup matches.