Pitch report: Dharamsala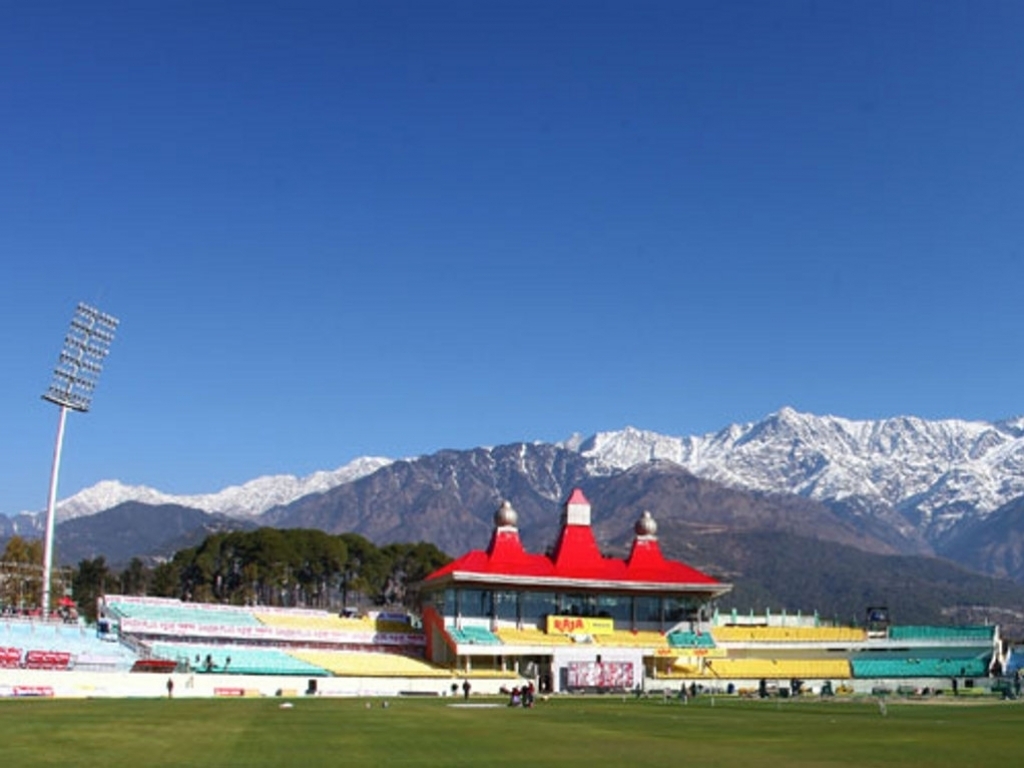 Established: 2003
Capacity: 23,000
Floodlights: Yes
End names: River End, College End
Home team: Himachal Pradesh, Kings XI Punjab
Overview
One of the most beautiful grounds in the world the HPCA stadium served as the home ground for the Himachal Pradesh cricket team for Ranji Trophy matches and other domestic matches. The stadium also hosted some IPL matches as a home stadium for Kings XI Punjab.
The picturesque venue is unique in India as it is situated at an altitude of 1,457 m above the sea level and has the snow-capped Himalayan mountains in the background. Getting to Dharamsala from the nearest airport in Gaggal, which is about 8 kilometres away through the hilly terrain and the harsh winters, during which it rains and snows are some of the deterrents in organizing regular matches.
Dav Whatmore, the former Director of the National Cricket Academy in India had recommended during his tenure that the stadium is suitable for hosting international cricket matches. The first international team who played in this ground was the Pakistani cricket team, when they played a warm-up match against an India A side in 2005.
The first ODI at this stadium was played between India and England on 27 January 2013. England won the match by 7 wickets. This Test will be the first at the venue.
Happy Hunting ground
No Tests have been played here but Virat Kohli has hit a hundred in an ODI here and smacked 85 not out against New Zealand in the last international staged at the venue.
Umesh Yadav has taken four wickets in two ODIs in the mountain town.
Australia have played one T20I at the venue with Usman Khawaja top scoring with 38 and Glenn Maxwell bagging two wickets.
They Said
Aussie quick Josh Hazlewood said ahead of the Test: "I'd love to see it fast and bouncy.
"But that's what they said in Pune as well and we didn't quite get that.
"I think the way they saw Patty Cummins bowl the other day they don't really want it any faster than Ranchi I wouldn't think.
"We'd love it to be that way. It would feel a bit more like home, but I don't think we'll get that.
"They can make it however they want, really. It sometimes has pace and bounce and sometimes has spin."
Weather
Cool and dry for all five days, really perfect weather for cricket.
Conclusion
The surface is something of an unknown and the rule in India is when in doubt bat first as it should take spin late in the game regardless of how it starts off.
The toss, while important may not prove to be decisive in what has been a keenly contested series.