The Press Tent: MoustAshes edition
Welcome back lovers of snark, please enjoy the latest edition of the Press Tent.
MoustAshes
Let us shock you. Here at the Press Tent, we like the Ashes. One way or another it's always a great series for fans of silliness, humiliation and bad takes.
And yeah, the cricket can be all right too. But fundamentally we like it because it makes our job easy. Because the Ashes makes everyone go peculiar, from selectors downwards.
Whether that's AP describing a Sheffield Shield match as an "Ashes warmup", or the ECB having their Ed Balls moment on Twitter, or England selecting James Vince and Gary Ballance only for Australia to announce "hold my urn" and recall Tim Paine and Shaun Marsh.
Tremendous stuff all round.
But the question on everybody's lips, well The Australian's Wally Mason's at least, was this: "Do we really want two blokes who look like 1970s porn stars representing Australia in this sacred sporting contest?"
Well… yes.
But Wally has more than one word on the subject. Because one word would not be a column.
In what appears to be the worst possible reimagining of Fight Club, Mason gets straight to the point.
"The most disturbing thing about Australian cricket: apparently we only have five Test-standard batsmen and no one knows who will bat at No.6 in the Ashes.
"Second-most disturbing thing about Australian cricket: two of the leading contenders for the No.6 spot appear to be trying to look like 1970s porn stars."
History will of course show that the third most disturbing thing about Australian cricket is that the actual number six will be Shaun Marsh.
But maybe that's unfair. Shaun Marsh may be a proven serial Test failure at 34 years old, a liar, a pig, an idiot, a communist, but he is not a porn star.
And that presumably got him the nod over "pimps" Jake Lehmann and Daniel Hughes.
At this point you may be wondering what it is that makes Lehmann and Hughes look like pimps and/or porn stars. They have moustaches. Clearly, the Australian Test team is no place formoustaches.
But while the selectors have wisely eschewed the moustachioed skin-flick wannabes, have they missed a trick in opting instead for the clean-shaven Marsh?
"At least," concludes Mason, "Glenn Maxwell has a straight-forward beard."
Woe Selector
England's best hope of success in this series may just be the Aussie selectors, whose maverick approach to the task knows no bounds.
In any normal selection, handing 34-year-old Shaun Marsh his 712th Test recall at the age of 34 after decreeing Ed Cowan (35), George Bailey (35) and Cameron White (34) too old and decrepit to merit selection would have taken the prize. But the selection of Tim Paine, who couldn't get into the Tasmania team until parachuted in as a specialist batsman last week, as wicketkeeper is a belter. The comedy bar has been raised, and the first Test is still days away.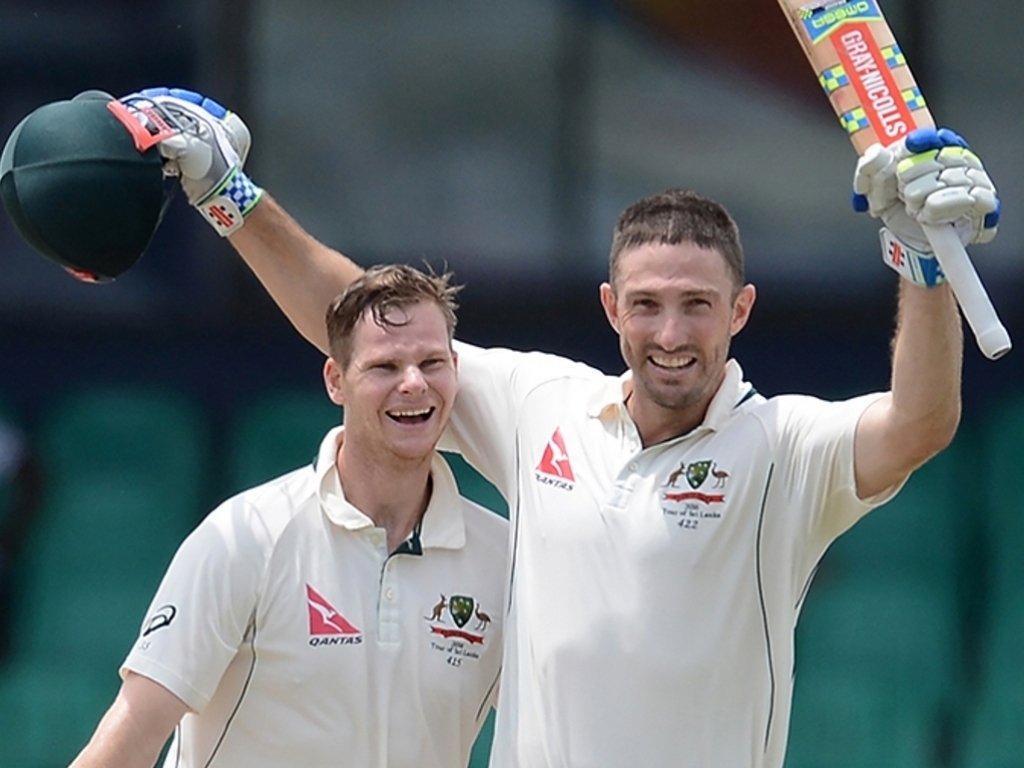 The "independent media arm" of Cricket Australia have all the details on both selections, though, with a tub-thumping Paine putting concerns to rest with an inspirational call to arms as the independent media arm of the governing body landed a coup in securing an exclusive interview with the returning gloveman.
"I'm enjoying playing cricket again, which is the main part," Paine roared. "Four-day cricket has been a bit of a struggle for me in the past few years."
But what of Marsh? Well Trevor Hohns is on hand to confirm that Marsh's selection on the back of a Shield average this season of 39 with no hundreds is proof that the panel won't accept "mediocre" performances.
Gone Sledgin'
Brad Haddin was known as a fierce competitor and world-class sledger in his day, so it was exciting to hear what he would be saying to England's rookie captain Joe Root were it he rather than T-Paine behind the timbers in Brisbane.
"If I was behind the stumps & Root came out to bat," Haddin told one of those blokey radio shows that they seem to enjoy so much Down Under, "I'd say to him 'Deep down everyone wants Cook captain, you know it & I know it, so let's get on with it.'"
Hmm. Even allowing for the fact that this is obviously the radio edit of Haddin's sledge, it's hard to imagine any number of swears covering up for the fact that literally nobody up to and including Alastair Cook himself wants Cook to be captain.
Quote of the week
"I don't really know what 'targeting the captain' is, but we'll be targeting every one of them so bring it on." Joe Root takes punchy aim at the cornerstone of literally every Australia Ashes masterplan in living memory.
Reads of the week
Michael Atherton on being sensible
Jonathan Liew on Craig Overton and the concept of 'support'