The Press Tent: BFFs edition
We wanted to do this week's Press Tent about our English friends waling about the fact that the ECB wants to give each of the first-class counties £1.3million for doing nothing, but that will have to wait until the next edition. We still need to round-up the coverage of the final Test between India and Australia that saw yet more fractious bullshit masquerading as press coverage.
#HandshakeWatch
One of the things that the boys from the press corps enjoy most is "Handshake Watch" where they sit behind glass 120 yards from the middle trying to work out who is playing by interpreting half glimpsed gestures. If someone has their hand shaken you can assume they are playing. Unless they don't.
One of the truly great Handshake Watch sessions took place before play began at the fourth Test in Dharamsala. The big question was whether the injured Virat Kohli would play or if he would be replaced.
"People with better eyes than me say KOHLI IS WARMING UP WITH TEAM!!!" was the tweet from The Australian's Peter Lalor.
Ben Horne was excited to report that Kohli was out and that he would be replaced by Shreyas Iyer. "KOHLI OUT. Debutant cap handed to the kid IYER,' he told us.
There was only one slight problem. It wasn't Iyer that was handed a cap. it was in fact left arm wrist spin bowler, Kuldeep Yadav, that was playing. Still, at least Horne didn't compare any of the Indians to Donald Trump this time.
Resting when injured is piss weak
So when the cricket finally did get underway Kohli wasn't playing. This was another opportunity for Australians to further propagate the myth of their teams of the past being all-conquering super-beings that were never out of form or injured.
Richard Braack of Fox Sports was the first to jump down Kohli's throat for having a serious shoulder injury.
"Unbelievable @imVkohli won't lead india out in a crucial test like this!Imagine AB 'opting out' in this situation?! #neverhappen #AUSvIND", he tweeted.
Of course, Allan Border was never injured, and as we have discovered in a previous Press Tent he would happily shit himself if his country's cricket team required it of him.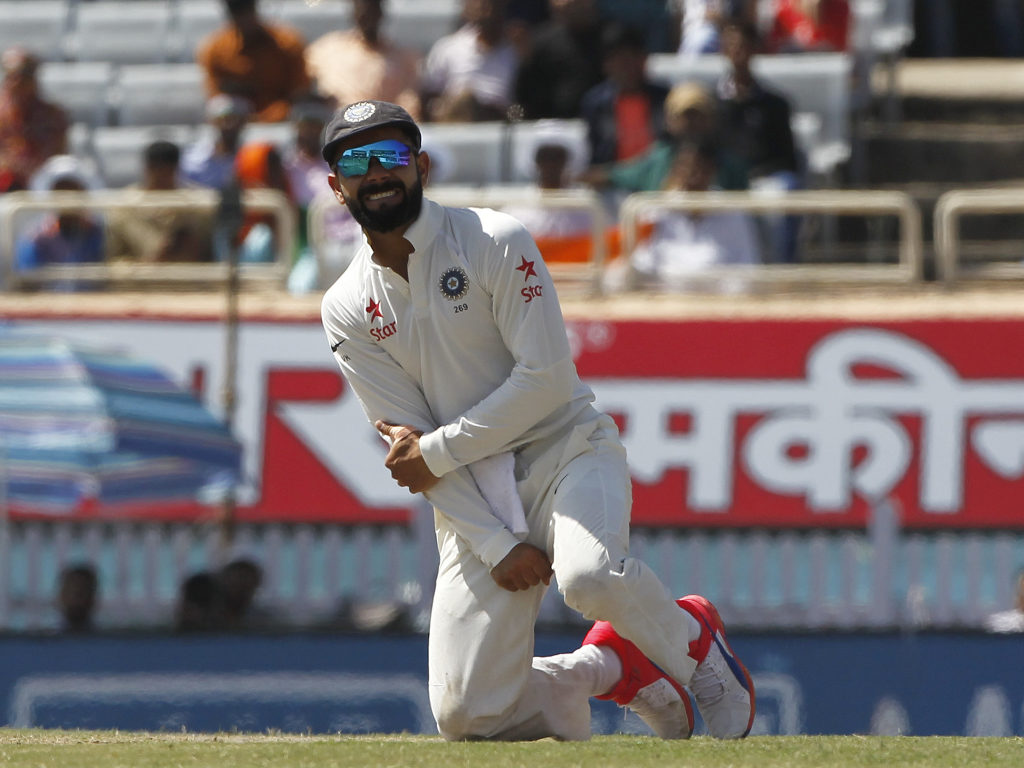 Then Brad Hodge arrived in India to coach the Gujurat Lions on the IPL and proceeded to say he hoped that Kohli was seriously injured rather than resting up for the T20 tournament that begins next week.
"I'm hopeful, as a Gujarat Lions coach, that when we play RCB in a couple of weeks, that he's not playing," Hodge said.
This did not please either the fans or journalists that cover Indian cricket. Vedam Jaishankar was livid on Firstpost, and he was raging at Hodge's temerity. "With all that venom and viciousness bursting out of him, Hodge's brain was so scrambled that he forgot Australia's pathetic track record," Jaishankar wrote. "Are the Aussies born nasty or does all the sun, beach and booze along with the damaged ozone layer in that part of the world leave them collectively afflicted with 'brain fade'?"
Jaishankar then went on to list a load of things that Australia have done wrong over the years in a hilarious bout of "Whataboutism" that made us giggle like a teenage backpacker after a visit to an Amsterdam coffee shop.
The criticism of Hodge's quote, which was really about preserving the primacy of Test cricket, came from all corners. Bollywood actor Amitabh Bachchan was upset, Gautam Gambhir said Hodge just wanted "headlines".
It cam as no surprise when Hodge apologised, and this amused Ravichandran Ashwin who tweeted: "On a lighter note, from this year onwards 30th march will be remembered as world apology day."
Time for a Chinese Cut?
Cricket is full of batshit crazy language that doesn't make a huge amount of sense. Cricket fans, who are by and large obtuse, friendless nerds, enjoy the fact that it makes a very simple game seem more complicated than it is to outsiders.
One of these words was under the spotlight after Kuldeep made his debut. Cricket calls players that bowl legspin left-handed "Chinamen". The story as to why this exists is one that may or may not be true, but is still a bit off.
At the Old Trafford Test in 1933 Walter Robins of England was bowled by Ellis "Puss" Achong with a left-handed leg break. As he walked back to the Pavilion he said "Fancy being done by a bloody Chinaman." Because in the 1930s casual racism was OK the name stuck.
On the commentary of this Test we had Sunil Gavaskar (inaccurately) retelling this story and it was more cringeworthy than when your grandad starts talking about the Asian owner of the shop at the end of your street. He used the phrase "a Chinese" and then called the player involved "Eddie Chong". It was so bad that we couldn't even smile inside the Press Tent.
Andrew Wu wrote a very good article about how "Chinaman" is now an outdated and offensive phrase in the world at large and that it would be better if cricket used another word. In response to this a whole load of white men started telling Wu, an Australian of East Asian heritage, that the word wasn't in the least bit offensive. Then hundreds of Indian fans started racially abusing Wu on Twitter.
There are many fights to be had on in this world. You have to impressed by the men who have decided that defending using a term in cricket that is now considered to be racist outside it rather than just saying "left-arm wrist spinner" is the battle for them. Well done chaps, we are sure your family are very proud of your stance.
Cricket Friend
The cricket was over, but the acrimony stayed. In the fourth Test the final moment that had caused a falling out between these two teams was when Steve Smith called Murali Vijay a "fucking cheat" for claiming a catch that was ruled to have been grounded. It seemed to have been the final straw for Kohli who said in the post-match press conference that he no longer considered the Australian players to be his friends.
"The thing I said before the first Test [about being friends with the Australians], that has certainly changed and you won't hear me say that ever again," Kohli said.
When the Australian team asked the Indians to join them for a beer after the Test they declined. Apparently they didn't fancy drinking with a group of men who had called them names as often as they could for the last month.
"Steve Smith said on television that he had asked, but the Indians left them hanging. While the Australians drank on the balcony of their rooms the Indians went on the field to play with a soccer ball, took photographs and then left the ground," Lalor reported in The Australian. "If there were any doubts about the poor spirit between the Indian and Australian sides it was confirmed after the series when the home side shunned a suggestion the two sides drink together.
Of course, the travelling Australian press had nothing to do with stoking those bitter and childish fires.
The attitude of Kohli was criticised by former Australian players. Mark Taylor, Dean Jones and Merv Hughes all felt that what was said in the heat of the battle should be forgotten. Of course, Jones knows all about asking for forgiveness after saying something stupid. He has been hoping to be brought back on to mainstream TV commentary ever since he called Hashim Amla a "terrorist" in 2006.
Then Merv Hughes gave Kohli the worst insult that it is possible for an Australian to utter. He is a "flog". That told him.
If you see anything that you think is worthy of making the next edition of this snarky nonsense of a feature then please let us know via Twitter, Facebook or by tweeting using the hashtag #PressTent.