Press Tent: Lollipop edition
It is difficult to know where to start with this. But the beginning is as a good a place as any.
Footage emerged of South Africa's captain, Faf du Plessis, appearing to run his finger over a mint in his mouth and then rubbing that minty fresh salvia over the ball.
This was seen by the ICC chief executive and Faf was charged with a Level 2 breach of the ICC's Code of Conduct. The accusation was that du Plessis had altered the condition of the ball using an artificial substance.
You are allowed to rub your own bodily excretions on the ball, but not ones that are generated by sucking on a sweet. From there it all went batshit mental…
Australia are in the midst of a cricketing crisis. They keep losing loads of wickets all at once and as a result they are on a run of five defeats in Tests.
The Australia media have grabbed hold of this minty story like an excitable puppy with a chew toy and they are shaking their heads vigorously from side to side. The cricket team itself have kept their distance from the mayhem, but the press pack have been absolutely obsessed with confectionary.
There was a remarkable press conference held on the outfield of the MCG, where Hashim Amla spoke to the press about how the accusations against his captain were laughable. He talked about red frogs, biltong, nuts and brushing teeth during a day's play. This in itself would have been quite funny – that Amla was stood surrounded by the entire South African squad (apart from du Plessis) who were looking as serious as they could took it to the level of grand farce.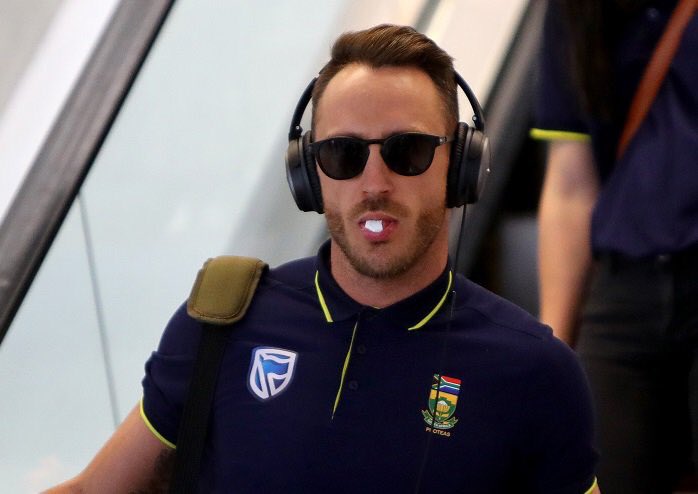 When the South African squad arrived at Adelaide airport the media were waiting for them, and a local Channel 9 reporter managed to make himself part of the story. Will Crouch, a reporter with the network's Adelaide office, walked along side the South African team trying to get du Plessis to comment.
Zunaid Wadee, the head of security for the tourists, began shoving him out of the way. Crouch would not be deterred, and he was eventually slammed into a glass door by Wadee.
This was one of those glorious instances where everyone involved looks ridiculous. Du Plessis smirking like a petulant schoolboy did not help his case. Crouch knew full well that du Plessis would not say anything, after all, he works for the network that has the TV rights to the series and as a result knew of du Plessis' stance on passing comment.
Wadee completely overreacted when he shoved the over-zealous reporter into that glass door. Brilliantly, this wasn't even the first time such an incident had occurred – a near identical fracas took place at the team hotel in Melbourne. The whole nonsensical mess was summed up by Geoff Lemon writing in the Guardian.
"Over the next few days, two television news crews were kept from du Plessis by security. The first story of a reporter being "manhandled" at a hotel didn't take off, but the crew at Adelaide airport scored better.
"Both crews work for Australia's cricket broadcaster. This means they have full access to press boxes, press conferences, and all media updates. They can call South Africa's media staff any time, or speak with them at training and tour matches.
"They would have been told the same as everyone else – that du Plessis couldn't comment until his ICC hearing was over, and that provided he wasn't banned, he would give a captain's press conference the day before the Adelaide Test and complete his usual TV obligations before play."
Still, a bloke getting shoved at an airport generated some buzz, didn't it?
Over on Fox Sports there was a think-piece about the way du Plessis had behaved in the face of this relentless barrage of press coverage about him sucking on a sweetie. Steve Wilson wrote that du Plessis was "passing through Adelaide airport [with] the smug self-satisfaction of the cocky narcissist".
Wilson wasn't done there. "The preposterous Hashim Amla plus full team press of a media appearance (what Faf described as a "proud moment for him"), the Year 12 swagger at transport hubs, the chippy tweets and general smoky demeanour has all made the South Africans appear childish and hopelessly self regarding."
It is safe to say it isn't only the South African cricket team that have come out of this looking self-regarding and childish. A large portion of the Aussie press have been joining them.
In the Press Tent we know what you are thinking. You want to scream: 'HE SUCKED ON A MINT, WHY ARE WE STILL TALKING ABOUT THIS?"
Well, we aren't done yet. Du Plessis has appealed the verdict that found him guilty of ball-tampering before the start of the Adelaide Test. He is absolutely convinced he has done nothing wrong. The ICC are not. They have released a statement expressing their "disappointment" in du Plessis appealing. That will calm all of this down.
Belt up boys
The lads onboard the Channel 9 banter bus are in trouble. A Facebook Live post from Shane Warne filmed while they were travelling from the Hobart ground to their hotel showed Kevin Pietersen, Michael Slater and of course, banter-meister in chief, Warne not wearing seatbelts.
There was some hilarious behind the scenes footage of the commentary team, which was basically the same as their average commentary stint, but it did not take long for the viewers to point out that they weren't wearing their belts.
In essence, Warne had filmed himself and his mates committing a crime. The Tasmanian police were not amused. Each of the three men have been issued with a $300 fine.
Beefy's Brexit
In a normal edition of the Press Tent an article by Sir Ian Botham talking about how delighted he is that the United Kingdom voted to leave the European Union would get some serious coverage. Unfortunately the entire Cricket365 office has been either talking about sucking mints or laughing at Australia being hopeless. So you will need to read it and do your own snarky analysis of his badly thought out political views. It's here.