Rashid Khan consolidates number one ranking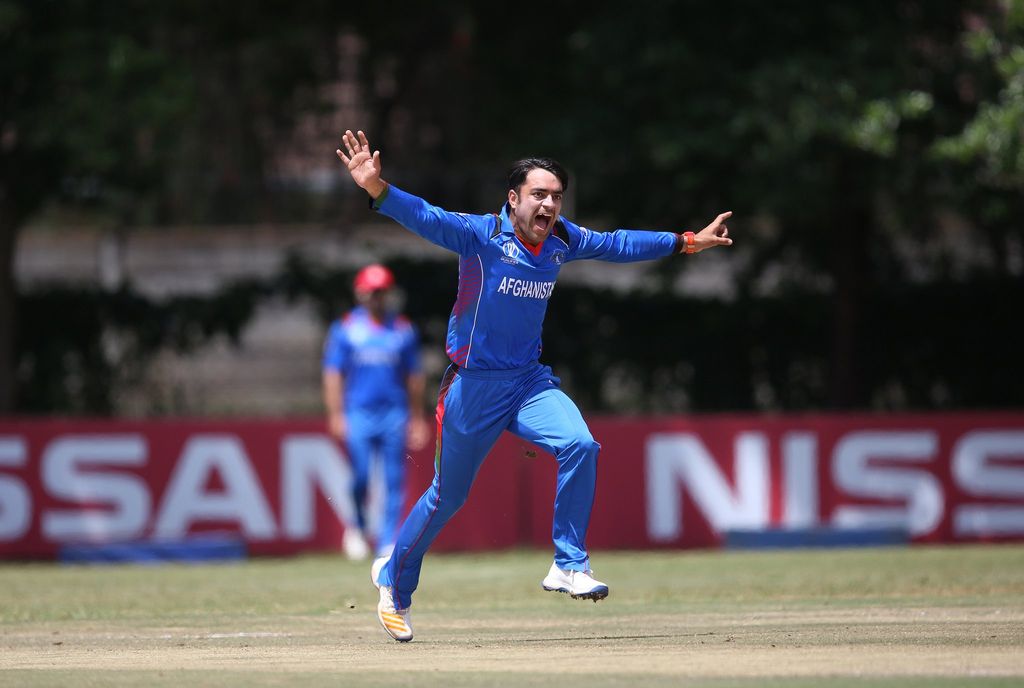 Afghanistan spinners Rashid Khan, Mohammad Nabi and Mujeeb Ur Rahman have made remarkable improvements in the ICC T20I Player Rankings after playing important parts in a 3-0 defeat of Bangladesh in their series in Dehradun that ended on Thursday.
Rashid Khan, 19, has consolidated his position at the top after his player of the series effort of 12 wickets. He has gained 54 points to finish with 813 points, 80 more than second-placed Shadab Khan of Pakistan. Rashid, who was named ICC's Associate Player of the Year for 2017, touched a career-high rating of 816 points after a haul of four for 12 in the second match.
Nabi has gained 11 spots and reached a career-best eighth rank after taking four wickets and Mujeeb has jumped 62 slots to 51st place in the latest update, which also takes into account the T20I between the Windies and the ICC World XI played at Lord's on 31 May as a fund-raiser for Caribbean stadia damaged by hurricanes last year. Slow bowlers, six of which are leg-spinners, now hold the top nine positions in the bowlers' rankings.
Afghanistan all-rounder Samiullah Shenwari, who top-scored in the series with 118 runs, has gained 11 spots to reach 44th position among batsmen while the Bangladesh batsmen to advance include Mahmudullah (up four places to 33rd) and Mushfiqur Rahim (up three places to 41st).
Among others to improve their rankings are Windies' Evin Lewis (up one place to fifth among batsmen), Kesrick Williams (up five spots to 41st among bowlers) and Sri Lanka all-rounder Thisara Perera (up three places to 38th among batsmen).
There has been no change of places in the ICC T20I Team Rankings with Afghanistan and Bangladesh retaining their eighth and 10th positions, respectively. Afghanistan though have gained four points to reach 91 points while Bangladesh have lost five and are on 70, only four more than Scotland, who can overtake them in an upcoming two-match series against top-ranked Pakistan on 12 and 13 June.
Pakistan will gain one point with a 2-0 win in that series, finish with 127 points and retain top position with a 1-1 draw but slide to 123 points and third place in case of a 2-0 loss. Scotland, who will go past Bangladesh with a 1-1 result, also feature in a tri-series with Ireland and the Netherlands from 12-20 June.
Upcoming matches:
Scotland v Pakistan
12 June – 1st T20I, Edinburgh
13 June – 2nd T20I, Edinburgh
Netherlands Tri-Series
12 June – Netherlands v Ireland, Rotterdam
13 June – Netherlands v Ireland, Rotterdam
16 June – Ireland v Scotland, Deventer
17 June – Ireland v Scotland, Deventer
19 June – Netherlands v Scotland, Amstelveen
20 June – Netherlands v Scotland, Amstelveen
ICC T20I Team Rankings (as of 8 June):
| | | |
| --- | --- | --- |
| Rank | Team | Points |
| 1 | Pakistan | 130 |
| 2 | Australia | 126 |
| 3 | India | 123 |
| 4 | New Zealand | 116 |
| 5 | England | 115 |
| 6 | South Africa | 114 |
| 7 | Windies | 114 |
| 8 | Afghanistan | 91 (+4) |
| 9 | Sri Lanka | 85 |
| 10 | Bangladesh | 70 (-5) |
| 11 | Scotland | 66 |
| 12 | Zimbabwe | 58 |
| 13 | Netherlands | 53 |
| 14 | UAE | 51 |
| 15 | Hong Kong | 42 |
| 16 | PNG | 39 |
| 17 | Oman | 39 |
| 18 | Ireland | 33 |

(Developed by David Kendix)
ICC T20I Player Rankings (as of 8 June):
Batsmen (top 20)
| | | | | | | | |
| --- | --- | --- | --- | --- | --- | --- | --- |
| Rank | (+/-) | Player | Team | Pts | Avge | S/R | Highest Rating |
| 1 | ( – ) | Babar Azam | Pak | 881! | 53 | 127 | 881 v Win at Karachi 2018 |
| 2 | ( – ) | Colin Munro | NZ | 801 | 33.51 | 164 | 805 v Pak at Wellington 2018 |
| 3 | ( – ) | Glenn Maxwell | Aus | 799 | 34.58 | 166 | 801 v NZ at Auckland 2018 |
| 4 | ( – ) | Aaron Finch | Aus | 763 | 40.2 | 152 | 892 v Ban at Mirpur 2014 |
| 5 | (+1) | Evin Lewis | Win | 753* | 37.57 | 160 | 780 v Eng at Durham 2017 |
| 6 | (-1) | Martin Guptill | NZ | 747 | 34.4 | 133 | 793 v SA at Hamilton 2012 |
| 7 | ( – ) | Alex Hales | Eng | 679 | 31.65 | 136 | 866 v Ind at Edgbaston 2014 |
| 8 | ( – ) | Virat Kohli | Ind | 670 | 50.84 | 137 | 897 v Eng at Edgbaston 2014 |
| 9 | ( – ) | M. Shahzad | Afg | 659 | 31.76 | 135 | 706 v Ire at Greater Noida 2017 |
| 10 | ( – ) | H. Masakadza | Zim | 648 | 29.2 | 118 | 699 v Ban at Khulna 2016 |
| 11 | ( – ) | Hashim Amla | SA | 643 | 34.51 | 133 | 683 v Ban at Potchefstroom 2017 |
| 12 | ( – ) | Lokesh Rahul | Ind | 639* | 45.45 | 147 | 757 v SL at Indore 2017 |
| 13 | ( – ) | Rohit Sharma | Ind | 636 | 30.86 | 136 | 681 v Ban at Mirpur 2016 |
| 14 | ( – ) | Kane Williamson | NZ | 634 | 31.33 | 121 | 760 v Ban at Napier 2017 |
| 15 | ( – ) | Joe Root | Eng | 630 | 39.1 | 129 | 750 v Win at Kolkata 2016 |
| 16 | ( – ) | Eoin Morgan | Eng | 618 | 29.96 | 132 | 872 v Ind at Old Trafford 2011 |
| 17 | ( – ) | Shikhar Dhawan | Ind | 617 | 26.78 | 128 | 634 v Ban at Colombo (RPS) 2018 |
| 18 | (+1) | Kusal Perera | SL | 608 | 30 | 138 | 751 v SA at Chittagong 2014 |
| 19 | (+1) | Faf du Plessis | SA | 594 | 36.09 | 133 | 843 v Ban at Mirpur 2015 |
| 20 | (+1) | David Warner | Aus | 589 | 26.74 | 140 | 826 v Win at St Lucia 2010 |

Bowlers (top 20)
| | | | | | | | |
| --- | --- | --- | --- | --- | --- | --- | --- |
| Rank | (+/-) | Player | Team | Pts | Avge | Eco | Highest Rating |
| 1 | ( – ) | Rashid Khan | Afg | 813 | 13.01 | 5.93 | 816 v Ban at Dehradun 2018 |
| 2 | ( – ) | Shadab Khan | Pak | 733*! | 15.41 | 6.28 | 733 v Win at Karachi 2018 |
| 3 | ( – ) | Y. Chahal | Ind | 706! | 18.45 | 7.92 | 706 v Ban at Colombo (RPS) 2018 |
| 4 | ( – ) | Ish Sodhi | NZ | 700 | 19.33 | 7.43 | 739 v Pak at Wellington 2018 |
| 5 | ( – ) | Samuel Badree | Win | 674 | 19.78 | 6.05 | 855 v Pak at Mirpur 2014 |
| 6 | ( – ) | Mitchell Santner | NZ | 665 | 21.37 | 7.14 | 731 v Pak at Wellington 2018 |
| 7 | ( – ) | Imran Tahir | SA | 650 | 15.85 | 6.8 | 795 v NZ at Auckland 2017 |
| 8 | (+11) | Mohammad Nabi | Afg | 638! | 24.2 | 7.09 | 638 v Ban at Dehradun 2018 |
| 9 | ( – ) | Imad Wasim | Pak | 637 | 20.25 | 6.01 | 780 v Win at Trinidad 2017 |
| 10= | ( – ) | Jasprit Bumrah | Ind | 609 | 20.43 | 6.85 | 764 v Eng at Bengaluru 2017 |
| | (-2) | M. Rahman | Ban | 609 | 18.6 | 7.05 | 695 v SL at Colombo (RPS) 2017 |
| 12= | (-1) | Shakib Al Hasan | Ban | 608 | 21 | 6.74 | 672 v Pak at Mirpur 2014 |
| | (-1) | Mohammad Amir | Pak | 608 | 19.8 | 6.69 | 700 v Aus at Edgbaston 2010 |
| 14 | (-1) | Adil Rashid | Eng | 601! | 30.17 | 7.79 | 601 v NZ at Hamilton 2018 |
| 15 | (-1) | Trent Boult | NZ | 599 | 21.18 | 8.53 | 622 v Aus at Sydney 2018 |
| 16 | ( – ) | Chris Jordan | Eng | 598 | 27.88 | 8.77 | 628 v Ind at Nagpur 2017 |
| 17 | (+1) | Graeme Cremer | Zim | 589 | 18.85 | 6.94 | 669 v Ban at Khulna 2016 |
| 18 | (-4) | Sunil Narine | Win | 587 | 20.68 | 6.02 | 817 v Pak at St. Vincent 2013 |
| 19 | (+1) | B. Kumar | Ind | 562 | 22.07 | 6.74 | 622 v SA at Cape Town 2018 |
| 20 | (+1) | Chris Morris | SA | 561*! | 23 | 8.39 | 561 v Ind at Cape Town 2018 |

All-rounders (top five)
| | | | | | |
| --- | --- | --- | --- | --- | --- |
| Rank | (+/-) | Player | Team | Pts | Highest Rating |
| 1 | ( – ) | Glenn Maxwell | Aus | 389 | 396 v Eng at Melbourne 2018 |
| 2 | ( – ) | Mohammad Nabi | Afg | 321 | 323 v Ban at Dehradun 2018 |
| 3 | ( – ) | Shakib Al Hasan | Ban | 279 | 408 v Pak at Mirpur 2015 |
| 4 | ( – ) | JP Duminy | SA | 235 | 276 v Ban at Mirpur 2015 |
| 5 | ( – ) | Marlon Samuels | Win | 230 | 321 v SL at Mirpur 2014 |

*indicates provisional rating
! indicates best rating